Freedrum Reviews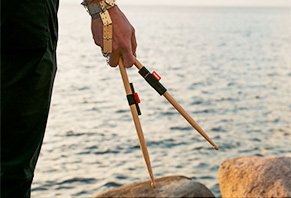 Using a tiny printed circuit board, a gyroscope, and a smartphone connection, Freedrum's sensors promise to give you the ability to play drums anywhere.
About Freedrum
Freedrum's proprietary sensors slip over your drumsticks (and your shoes!) and give you the ability to jam out on the drums, whether you're in the studio, outside, on the couch, or anywhere else, as long as you have a smartphone connection.
Freedrum's modules don't require an Internet connection to accomplish this; instead, they pair with your smartphone via Bluetooth and send real-time MIDI data while you're air playing. On top of this, the battery can last as long as a week on a single charge.
This way, we're told Freedrum's virtual drum kit allows you to play anywhere and deliver an immersive experience, regardless of your skill level. Simply attach, pair with your smartphone, and rock!
No doubt, the concept behind Freedrum is super exciting. But once you have yours in August 2017, will they live up to your expectations? What kind of real-world sensitivity can you expect? In which applications might they work best?
You have questions about Freedrum, and rightly so. Here, we'll talk about what we learned during our research to help you find some answers.
How Does Freedrum Work?
Although Freedrum's "virtual drum kit" is small and looks simple to operate, let's take a look under the hood, as well as the fundamental concept behind it.
MIDI Basics
MIDI (short for Musical Instrument Digital Interface) is a protocol that allows digital music tools to communicate with one another. And although it might sound complicated, it's a fairly simple idea that presents an almost infinite number of creative possibilities!
You see, unlike the notes generated by a traditional instrument (say, a piano), MIDI only generates information—a good way to think of it is as messages, or instructions. These messages are then sent to and interpreted by another digital musical tool, which can perform whatever task it's instructed.
Here's a very basic example to outline how the process works:
If you press middle C on your MIDI-enabled keyboard, it will generate two pieces of information; 1) that a key was pressed, known as "note on," and 2) how hard it was pressed, known as velocity.
Now, if you transferred your synthesizer's MIDI data onto your laptop using popular software like GarageBand and Cakewalk, it would include your note and velocity information. But remember: since it's only information and not notes, you could assign whatever "value," or sound, you like to it.
A drum strike? Check. Birds chirping? Easy breezy. A plane flying overhead? The only limit is the size of your hard drive.
On top of this, MIDI "notes" can be saved in very small files and will always remain in their original position, regardless of the sounds assigned to them.
Now, let's find out how this relates to Freedrum.
The Freedrum Module
While the company doesn't list any sizes, we're told each Freedrum module uses adjustable straps to attach to any spot on sticks, feet, and many other things.
The exterior of each module is made of repairable, shock-resistant ABS plastic, with a single button that turns it on, along with an LED indicator showing connection and battery level.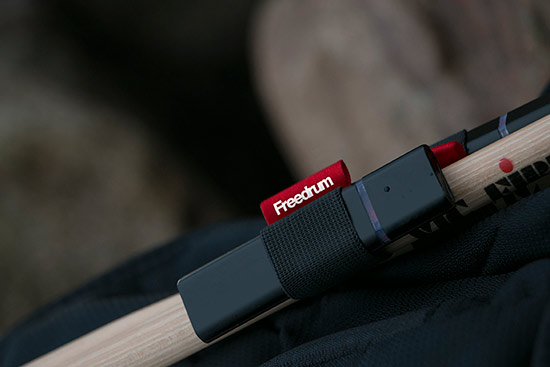 The Freedrum module, shown here strapped to a standard wooden drumstick. Image credit: Freedrum
Inside the module's enclosure, you'll find two main components:
A tiny, high-capacity LiPo battery that can provide power for up to seven hours of drumming, and can be recharged in less than an hour.
A printed circuit board with a gyroscope, which works to detect movement, force, and "a few other magic parameters" and interprets this data as drum hits.
Then, this information is translated into MIDI and sent via Bluetooth to the software on the connected device (again, a good example is GarageBand). Finally, This software assigns a sound to the MIDI data and sends it out through headphones or speakers.
And because you can assign whichever sounds you choose to the MIDI data, you're not limited to just traditional drum sounds with Freedrum.
Compared to other MIDI drumming tools (more about this soon), Freedrum's components are optimized for air playing, versus playing on a traditional surface, like a drumhead or pad, which provides natural rebound. However, we're told you won't damage the sensors if you choose to do so.
Another big difference is that Freedrum's modules track the position of your sticks and feet, assigning different sounds based on this location information. So, your hi-hat, toms, crash and ride cymbals, and even bass and hi-hat pedals are located right where you'd find them on a traditional kit.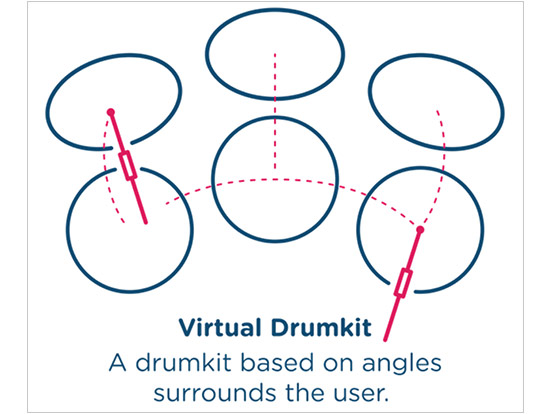 Unlike other MIDI-based drum tools, Freedrum doesn't require a surface to strike, and changes sounds based on module location. Image credit: Freedrum
What's more, the company tells us that you can switch the configuration for left-hand use, play music in the background while you're jamming, and even attach modules to your fingers (and link them up with the appropriate software) to mimic movements associated with hand drums like congas, bongos, and so forth.
But hold on: will you even be able to use Freedrum in the first place?
Which Devices Is Freedrum Compatible With?
Because Freedrum utilizes the most recent Bluetooth MIDI standard, we're told it's compatible with many different devices, such as iOS and Mac OS music software, including GarageBand, DM1 by Fingerlab, MoDrum, and Vatanator Drum Machine.
The company guarantees performance with iOS and Garageband, although other supported devices include those running Windows 10 (with the Anniversary Update is installed), as well as Android.
Important: However, the company is careful to note that some devices running Android OS feature a meaningful amount of audio latency (a lag time between when an action is performed, such as a stick strike, and when the reaction occurs, such as the audible drum sound).
We're told that you might expect a few milliseconds delay when playing, although the likelihood of this occurring decreases if you're running Android 6 or 7. Here's an example of this latency, taken from their Kickstarter campaign:
How much will you pay to become the next air drumming king or queen?
How Much Does Freedrum Cost?
At the time of our research, you could only purchase Freedrum through their Kickstarter campaign, with pledges ranging between $69 and $999. A standard Freedrum package includes:
Two Freedrum units
Micro USB charger
Two straps for drumsticks
Two straps for your feet
The estimated shipping date was August 2017. After your order is placed, it doesn't appear refunds are available, although the company seems very responsive to questions, so be sure to ask yours in advance.
Where Are All the Freedrum Reviews? Does It Have Any Competition?
Freedrum's Kickstarter campaign had ten days remaining at the time of our research, having raised $480K+ based on an original goal of just $150K. And as mentioned earlier, units aren't currently expected to ship until August 2017.
As a result, we found a few quick blurbs about the MIDI devices in popular publications like The Verge and SlashGear, although they were little more than high-level overviews. It doesn't appear the company has released any pre-production units for review.
Speaking of the company, Freedrum was invented by August Bering after he realized how loud traditional drums were when his 10-year old began learning how to play. As a result, he set out to create something that was portable and quiet, but also responsive.
And the reality is that, while there are plenty of other MIDI percussion instruments available online and in music retailers near you, there's nothing quite like Freedrum—especially if these modules are as sensitive as their Kickstarter video makes them appear.
However, AeroDrum appears to allow you to "air drum" quietly and provide a high level of expressiveness, although you'll need a bunch of equipment (including a computer) to operate the system. On the up side, the AeroDrum bundle is currently available for purchase for $199.
Given this, is Freedrum worth the wait?
Will Freedrum Free You From Your Drum Set?
We mentioned it at the beginning, but it bears repeating here: the concept behind Freedrum is undeniably cool.
I mean, what's not to like? It's small and portable, works on any sticks or shoes, is compatible with just about any Bluetooth and MIDI-enabled device, and is priced lower than the competition.
Given this, at the very least, it seems like Freedrum could open up a whole universe of new creative possibilities and help you keep your chops top-notch, without a kit—or the noise—anywhere to be found.
Will you find Freedrum's modules as sensitive as a traditional kit? Will you be able to perform subtle ghost notes, smooth rolls, and all the other nuances that make a great drum track? We can't know, although we are told:
"The product is optimized for use in the air, but we are looking to improve the software to dynamically detect the type of surface you're playing against and adjust for that (soft surface, hard stops, etc.)"
Will the lack of rebound from a traditional head, along with the extra weight of the sensor, negatively impact your real drumming in any way? With continued use, will either of these lead to unforeseen injuries?
These are all as-yet unanswered questions, and something we'll only be able to address once customer feedback begins rolling in August 2017.
Just keep in mind that crowdfunding campaigns have reputations for frequent delays (among other things)—along with the fact that you likely can't obtain a refund—if you're expecting everything to go perfectly in the mean time.
Even once you have your Freedrum modules in hand, remember that the lithium-polymer battery they contain almost certainly isn't replaceable, meaning that you'll have to purchase new sensors once the battery stops functioning properly. The good news is that Li-Po batteries tend to be fairly hardy, so this time might not come for a long time.
What did you think of Freedrum's air drum sensors? Did they ship on time? Did they work as well as your expected? What's their sensitivity like? Tell us all about it by writing your review below!
Company doesn't stand by its customers

By Michael C.

,

Tennessee

,

Oct 22, 2019
Verified Reviewer

I had a horrible experience with this company. They had no problem taking my money, but a big problem shipping me the product and then giving me my money back after weeks of dealing with them and FedEx as to why the product could not be shipped. The company assured me they would deal with the shipping company but then just kept regurgitating to me, the same thing the shipping company was saying. Super helpful guys (sarcasm). The shipping company wanted me to upload documents for customs. I'm an American in India at the moment. The problem is, I had already done that 3 times and they kept denying my documents and responding telling me to upload my documents...which I had already done. This went on for 3 cycles with a plethora of wait time in between emails.

When I finally asked for a refund, Freedrum said no problem. I waited 11 days to get my money back and still nothing. I finally emailed them again and they gave me some excuse about why they had no yet processed my refund and that they would do it again today (11 days after requesting it - and nearly 3 weeks after placing the original order - still not having received my order).

The shipping company then started harassing me after sending them multiple cease and desist letters telling them to stop contacting me asking for the same things I had already done 3 times and to just send the product back. They refused and continued emailing, texting and calling.

The day the refund FINALLY posted to my account, ironically the product also showed up at my door...with $100 customs fee. I told them return it. What a total waste of time it has been dealing with this company.

Bottom Line: No, I would not recommend this to a friend

---

Got 'em!

By Geert V.

,

Rotterdam, Netherlands

,

Aug 8, 2018
Verified Reviewer

After months of hesitating, I ordered my Freedrum limited black edition on Wednesday, August 1, 2018, in the late afternoon.

36 hours later my friends from DHL handed me a small box.

Excellent work by both Freedrum and DHL, thank you both!

Tutorials are a must to learn how to use things, but once you're on the way and technology doesn't let you down, you'll enjoy things just as much as I do!

Great stuff. I can't wait for more additionals and updates!

And maybe W10?

Bottom Line: Yes, I would recommend this to a friend

---

Advertisement

---