Freelancer.com Reviews
Claimed This company has claimed this profile, is getting alerted on any new customer reviews entering this page, and may engage in dialogue with its customers to address their matters.

Companies cannot pay money or provide goods in order to remove or alter customer reviews.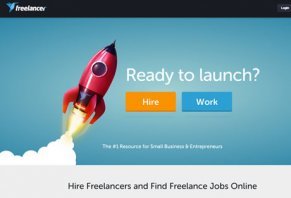 Freelancer.com is an online marketplace where small businesses can find and hire freelancers for a wide variety of project types.
About Freelancer.com
Based in Pyrmont, NSW, Australia, Freelancer.com is an online marketplace specifically designed for freelancers looking for work, and for outsourcers and crowdsourcers looking to have work completed.
In business since 2004, the company claims to be the world's largest outsourcing marketplace, with 4.5 million projects posted, and nearly 8 million verified users.
Freelancer.com focuses on a wide variety of fields, including web and software development, design, writing, marketing, data entry, and according to the company, "anything else you could think of, all for the fraction of the cost."
Freelancer.com Features
If you're using Freelancer.com as an employer or small business, you simply sign up and post a project to begin. You'll need to enter the project title, project details, skills you require for all applicants, in addition to pricing options (e.g. fixed budget or hourly). You will also be able to attach files relevant to your project at this time.
Once you're ready to post your project, you'll be given the option to further promote your listing by attaching additional classifications, such as Featured Project, Urgent Project, Private Project, NDA Required, and more. Keep in mind that these additional classifications will entail fees ranging anywhere from $9-$200, which Freelancer.com claims can increase your project's visibility and attract up to 80% more bids.
Employers on the site can also be proactive and browse through freelancers, which can be filtered by hourly rate, location, skills, and work categories, after which they can be contacted directly and invited to place a bid.
After your project has been submitted, you'll begin receiving bids from freelancers who would like to work on your project. At this point you can review their qualifications by analyzing their portfolio and work history, overall rating, skill sets, and test scores. The hiring process is very personalized and is completely based on your judgment and discretion.
Once your chosen freelancer has been hired, work will begin. If your project is based on a fixed price, you will generally pay the freelancer only after work has been completed. If your project will be billed on an hourly basis, Freelancer.com now offers a "Freelancer Time Track," which ensures that every hour logged by the contractor is actually worked, by tracking their time via a software program that captures frequent screenshots.
Once the project has been completed to your satisfaction, you'll be able to provide feedback to the contractor, as well as to rate their performance.
If you are looking for work as a freelancer, you can browse projects based on type (e.g. featured projects, projects with low bids, projects that are ending soon, etc.), and/or based on category (e.g. graphic design, web development, 3D animation, online marketing, etc.). You'll then only place bids on projects that are relevant to your skillset.
Freelancer.com Membership Plans and Pricing
For those looking for work, Freelancer.com offers four different membership options, which range from no cost to $49.95 per month:
Free
Basic
Standard
Premium
The primary differences between these packages are the number of bids you're allowed, the percentage of the associated freelancer fee, as well as the number of portfolio items and skill sets you're able to display to prospective employers. This means that if you're just starting out, you may be able to get by just fine with a lower package.
However, once your portfolio and skill sets grow, you'll likely need to move up to a more robust package. It's also important to note that these packages are tailored more toward freelancers since employers will rarely need to showcase work or place bids on projects. For an informative chart displaying all Membership options and pricing, please click here.
Once your account is set up, you can easily switch between the packages and make payment via MasterCard, AMEX, Visa, Paypal, and Skrill Moneybookers.
Is Freelancer.com a Scam?
Freelancer.com is a globally acclaimed company that is backed by substantially large investors and is staffed by legitimate management and leadership teams. As such, there are no indications that the company is a scam.
Having said this, since Freelancer.com has been in business for several years and has accumulated a wide variety of user reviews, the most common complaint is that many freelancers (as well as some employers) have claimed that they've experienced payment delays after a transaction has been completed, or that payments have not been processed altogether. They state their accounts are frequently frozen and undergo some sort of "investigation," at which point Freelancer.com's customer service is of little to no assistance.
As can be imagined, when freelancers have worked for days or weeks on a project, completed them to their employers' satisfaction, but then find that they're unable to withdraw their funds, they become angry and immediately begin throwing around the "scam" word. To the company's credit, when responding to these complaints, they have acknowledged that this is an ongoing problem and that they are actively attempting an internal restructuring to address the issue.
Should You Avoid Freelancer.com?
Overall, Freelancer.com seems to have a great vision for the freelancing community and is not necessarily a site that you should avoid. However, as a suggestion, if you do decide to sign up, be sure to contact the company directly and undergo one of their "investigations" before you begin hiring freelancers or bidding on any projects.
By addressing the issue upfront, you can proactively provide them with any additional information they may need, which will help to substantially reduce the risk of running into any future problems.
Another suggestion is to be careful who you hire to work on your projects—use your discretion to judge a freelancer's character and work experience as best you can.
Freelancer.com provides employers with some of the necessary tools to help discern the difference between low and high-quality work, though they do not have the resources to guarantee that all work completed will match your needs. Caveat emptor.
Pros:
Large online marketplace for freelancers looking for work, as well as employers looking for work to be completed.
In business since 2004, and backed by substantial investors and legitimate management and leadership teams.
Wide variety of project types in fields such as web and software development, design, writing, marketing, data entry, and more.
Easy to set up an account and bid on/post a job.
A good selection of payment options.
Cons:
Numerous users have complained of lengthy payment delays as their accounts undergo "investigation."
Customer service has a reputation for being slow to offer assistance.
If you're a Freelancer, you are required to pay monthly payments for membership packages just to be able to place more bids on projects and increase your skill-sets
CON ARTIST

By Tim D.

,

United Kingdom

,

Feb 8, 2020
Verified Reviewer

BEWARE! Stole all my money.

Filed a dispute against a freelancer. I won the dispute for a full refund. Freelancer.com had advised that I had created a new milestone. I had asked why would I re-hire and create a milestone with a freelancer? I am sure they work with the freelancer to create a dispute and steal money from vulnerable customers. Looking at the threads of the same argument, think everyone agrees.

Currently speaking to the time-wasting chat service. I know I am wasting my time but I have to do something. I have been conned. I wish I could get to these guys. Pure thieves.

Bottom Line: No, I would not recommend this to a friend

---

Scam

By Mla D.

,

Brighton, United Kingdom

,

Jan 27, 2020
Verified Reviewer

Both Freelancer developers and Freelancer support are scammers. Support will never protect you if you post a job. Posted a job to modify the app code and agreed on the price. The job was never done, instead, the developer has used a link from GitHub where the application worked but my code was never modified and I was charged. Complaint was made but Freelancer support does not want to know. Remember Freelancer takes 10% of your money. Why would they protect you? Avoid them as there are much better platforms available.

Bottom Line: No, I would not recommend this to a friend

---

Advertisement

---

Horrible experience costing me over $600 USD

By Diana H.

,

Lexington, KY

,

Jan 6, 2020
Verified Reviewer

I wish I could rate them zero stars! Long story short, I performed over $600 USD in work for employers on Freelancer.com. When I tried to withdraw funds, Freelancer.com presented me with multiple requirements for identify verification. Although I did express myself in strong terms, I did comply with all of their requirements, sending ID, utility bill, photographs of myself holding ID and secured codes, and cell phone verification. They denied me at least 7 times, each time saying I had failed to provide the photograph. I took a second photograph and also expressed on my open ticket that although I could not remove the association with my PayPal account (else I could not receive the funds), I did withdraw any permission for them to continue to take funds from my account for their fees. They responded by "unregistering" my account. (I kept screenshots showing my account, including transaction history and PayPal verification - I had read that others had their accounts deleted during "Freelancer verification".)

My research turned up numerous reviews with stories just like mine - I should have gone with my gut, but I chose to give them the benefit of the doubt. I hope this review will help prevent others from a similarly costly experience. Thankfully, I believe in justice in the end - those who steal from others will receive their due.

Bottom Line: No, I would not recommend this to a friend

---

Complete fraud

By Kyle D.

,

California

,

Jan 4, 2020
Verified Reviewer

Hi. Freelancer says you get a free month but immediately takes a deposit from your credit card of $26ish. Then fraudulent individuals offer you projects and if you accept, Freelancer takes a fee from those projects even if they were fraudulent and they never contacted you with a scope of work.

Bottom Line: No, I would not recommend this to a friend

---

Advertisement

---

They stole my $750 of winnings.

By Andrew K.

,

Poland

,

Dec 17, 2019
Verified Reviewer

I've won a $750 design contest among 150 freelancers. I signed the agreement, transferred my design to the contest holder and got the payment. I had to wait a few days to withdraw it. But it never happened. Freelancer.com decided to block the contest holder and after that, they charged my winnings back - the money I already had on my account. Support confirmed it had been done due to security reasons.

Bottom Line: No, I would not recommend this to a friend

---

Rain of hidden fees

By Mitch A.

,

Florida

,

Nov 14, 2019
Verified Reviewer

Please note, Freelancer.com is very shady, everything goes well until later, when you check your card, and you have several small fees charged. I hired one graphic designer for 1 project at $75 and was charged several "processing fees" summing for more than 10% of the project...I email them, has been days and no one answers me...ultimately I will wait another week for an answer and will dispute with my card...DECEIVING COMPANY!

Bottom Line: No, I would not recommend this to a friend

---

Illegal employers who are employees

By Justice W.

,

Online

,

Sep 30, 2019
Verified Reviewer

Any portal is neither good/bad. Freelancer must change the payment policy to pay first and then steal the time or work of freelancers. Freelancers are running the world and employees are not skilled and throwing the experts out of the company with politics. So many employees cheat by trying to hire a freelancer to do their job and have the guts to not pay even if the freelancers gave the results. Stupid employees get credit for the work done by other experts. Highly evil platform encourages evil to rule by not letting the freelancers be paid first. Are the employees not paid first even if they do not show results? The rates are too cheap.

Bottom Line: No, I would not recommend this to a friend

---

Dispute resolution is a joke

By Jamie E.

,

New York

,

Sep 28, 2019
Verified Reviewer

I contracted a freelancer at the beginning of 2019 to help me build my current website on a different platform. We agreed on a 2-step process with payment after step one and the remaining payment upon full completion.

I paid my freelancer $500 for step one and he went dark on me. He would pop in and give me excuses why he hadn't completed step two (holiday, his dad died, sick, etc). He would say he would show me the finished product and then immediately go dark on me. This has gone on for months. I finally simply asked him for the admin login to the site so I could assess what needed to be completed and do it myself or hire someone else to do it. He has not responded to several of my requests to do so. So, I've paid $500 for a site that I have zero access to and a freelancer who is refusing to either finish it or provide me logins so I can do so myself.

After months of this, I finally contacted Freelancer to help resolve the issue so I can get what I paid for. My freelancer reached out to me after the company contacted him and told me he would show me my site "when I reach home". That was almost a week ago and that was the last I heard from him.

Freelancer, the company, has basically told me there isn't anything they can do except reach out to him when they can see from my extensive chat logs that this freelancer ran, and is continuing to run, a scam on me. Yet this freelancer is still on the platform available for hire. The company is complicit in the scam and since everyone got their money, they are absolving themselves of not only their own culpability in the issue, but allowing others to be set up by the same scam by this freelancer. It's evident they don't care about resolving the issue to my satisfaction and they certainly have no plans on refunding me. I've spent thousands of dollars on Freelancer.com the last couple of years with 100% positive feedback and this is my first dispute. My record should speak for itself but retaining a scammer as a freelancer seems to take priority over retaining a good and consistent client.

Bottom Line: No, I would not recommend this to a friend

---

Fraud. They just want your money and would block you.

By Prakhar T.

,

USA

,

Sep 24, 2019
Verified Reviewer

This is a totally fraud website. They do not return your own money back. They blocked my account and would not return my money. They say they need identity documents to return the money to the card on which it was charged. I want to take them to court.

This was simply mental harassment. Never use that website again.

Bottom Line: No, I would not recommend this to a friend

---

Stay away

By Paula A.

,

Charlotte, NC

,

Sep 18, 2019
Verified Reviewer

I know the project fee needs to be taken out but after I have complained that the employers were just scammers, it took them so long to give my project fee money back. They won't care about you because they already have their money regardless if the people who hired you were legitimate or not. This is the second time they have done this. The first time was a charge for a canceled membership, a membership fee I canceled a month before said charge. Never again will I return to this freelancing company!

Bottom Line: No, I would not recommend this to a friend

---

Scam site! Stay away!

I was scammed by Freelancer and I would urge everyone to not allow themselves to be scammed by this site! There are so many better sites and better ways to get work or hire people. The only objective of Freelancer.com is to close accounts without notice and confiscate all the money. On being emailed, a robot would reply back repeating a standard TOS violation email. This is by far the worst scam I have experienced in my lifetime and trust me, I am old enough to have seen quite a bit of life!

Bottom Line: No, I would not recommend this to a friend

---