FreeTaxUSA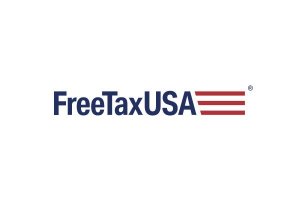 FreeTaxUSA offers free online tax filing for all filing situations including freelancers, business owners, homeowners and investors.
FreeTaxUSA Review: Should You Use It to File Your Taxes?
FreeTaxUSA is a free tax filing software for basic and complex tax situations.
The site is part of a growing group of online tax software companies that will file your federal taxes for free no matter how complex your returns are. This is a big benefit if you're part of the gig economy, own a home or have multiple investments, as paid sites will charge you anywhere from $15 to more than $125 to file.
Yet while FreeTaxUSA's federal tax filing is free, you will pay to file state taxes and for certain add-ons that could be helpful.
Because it can be hard to pick a tax filing software that's right for you, we've created this review to help you decide if FreeTaxUSA is the best solution for your tax situation.
Pros:
Cons:

Truly free if your state doesn't require income taxes
Accepts easy and complex returns
Paid option for priority support and audit assistance is reasonable

Audit assistance is limited
Charges $12.95 for state taxes
Site has had crashing issues on tax day
Features and User Experience
You can use FreeTaxUSA's software to file forms 1040 (main return form), 1040SR (for seniors) and 1040X (amendments). If you need to file taxes from 2017 and before, your 1040EZ or 1040A are eligible, too.
The tax software will begin asking you your name, address and social security number. You'll enter information about any family members and if you want to file jointly with a spouse or individually.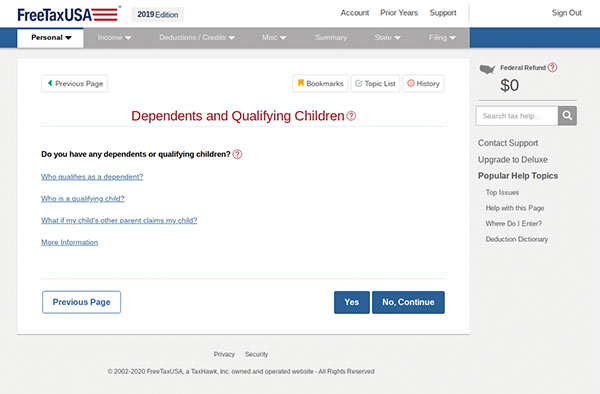 Screenshot of FreeTaxUSA software
From there, you can enter information about your jobs and income sources. If you filed taxes on a different site in previous years, FreeTaxUSA will ask you to upload the previous year's return via a PDF.
The software will gather your data from the document and transfer it to your current year's tax forms. After that, you'll work through any deductions you have.
Throughout the entire application, FreeTaxUSA will use the data you give them to fill out any supporting forms your tax situation requires.
At the end of the process, they'll check your return for mistakes and provide you with a total refund amount for your federal and state taxes.
This simple process is a welcomed benefit if you're looking for a free tax site that can make your complex tax situation easy to navigate.
We found the software to be very easy to use. One of the benefits you get is that you can bookmark various pages of your tax return, get a quick view of which sections you've completed and have not completed, and see the times you've logged in and timestamps for when you visited all pages in your tax return.
These are excellent features if you plan on completing your tax returns over two or three days. You can easily check back on where you left off and see which pages you've yet to complete.
FreeTaxUSA provides a substantial education section that answers questions related to many types of tax situations. However, whenever you click a topic to get more information, the software gives you a list of links that are hard to search through in cases where there are dozens of links to click.
A strength of the software's educational resources is that they've integrated into your tax return. When you click "Help Topics" in the sidebar during the return, the results you get correspond to the topic of the page you're on. If you're entering income information, the education links are income-related.
Accepted Forms
One of the main concerns you probably have about your taxes is which forms you'll need and which forms your tax software supports.
FreeTaxUSA supports all common and less common tax forms, which means there's a good chance you can complete your taxes on their site. Some of the prevalent situations they cover include:
Freelancers and self-employed (Form 1099, Schedule C)
W2 workers (W-9 income)
Homeowners (forms for tax credits and interest deductions)
Investors (forms for dividends, interest and withdrawals)
Again, FreeTaxUSA will automatically fill out the forms you need based on how you answer the questions their application asks you.
As someone who is looking for a way to file for free, the wide number of forms the site accepts ensures you most likely won't run into problems when you're filing.
Forms You Can't File
While FreeTaxUSA allows you to file in nearly any situation, there are certain forms that you can't file:
Form 2555: Foreign employment income
1040NR: Nonresident alien returns
Form 6198: At-risk limitations
Form 8853: Archer MSA
Also, you can't file with FreeTaxUSA if you're living outside of the United States. As such, you should avoid this software if you're an expat permanently living abroad or you're working for your company abroad.
Pricing and Plans
Free Edition
The free plan offers support for nearly every form and schedule you'd need to file. However, it won't support expats living or working abroad. You have access to email support and online educational resources.
FreeTaxUSA's free plan covers all the forms you'll need in nearly every tax situation:
Parent
Homeowner
Investor
Business owner
Freelancer
Deluxe Edition
This is a "peace of mind" package for those who worry about making mistakes and have a lot of questions. The Deluxe Edition costs $6.99 and gives you:
Audit assist
Priority support
Unlimited amendments
Audit Assist
If you're concerned about getting audited or you have substantial deductions you didn't file in past years, Deluxe's audit assist is helpful. Most audits happen when there are deductions in your return that exceed what's normal for returns like yours.
FreeTaxUSA's audit assist will help you understand why you're being audited and how to correspond with the IRS.
What they won't do is represent you if you have a meeting with an IRS agent, nor will they correspond directly with the IRS on your behalf. In other words, they'll educate you but they won't represent you.
While the chances of an audit are low—the IRS audits around 1% of returns—you'll have to handle the bulk of your correspondence and interactions with the IRS.
Priority Support
As a Deluxe user, you get access to live chat support. If you're someone who struggles with certain parts of your return, this is an invaluable benefit.
Whereas a non-Deluxe user may have to wait hours for a response, you can start your return, get questions answered in seconds or minutes and finish your return in one sitting.
However, you do not have phone support. Also, FreeTaxUSA's fine print notes that their live chat representatives cannot give tax advice.
Unlimited Amendments
"Amendments" refers to revisions you make to your tax return after you submit a return with an error. Amendments are relatively rare.
Paid Add-Ons
There are several paid add-ons FreeTaxUSA provides that may help you fine-tune your tax filing strategy:
Printed tax returns: $6.99 for loose-leaf, $12.99 for bound copy
Pay fees with your refund money: $19.99
Current and past state returns: $12.95 or $14.99, respectively
Mailed and Printed Tax Returns
The loose-leaf option benefits you if you file by mail because you don't want a tax software company storing your information online. Otherwise, you can download your completed return from FreeTaxUSA and print it yourself.
The professionally-bound option is good for you if your goal is to keep hard copies of your yearly tax returns for your records. It will last longer than loose-leaf documents.
If you own a business or have 1099 income, this option is a smart way to keep records that don't require computer access.
Paying Fees with Your Tax Refund
Because your fees probably won't top $20, we advise you to pay your fees up-front and save yourself the money. The convenience of paying from your refund doesn't warrant the nearly $20 fee FreeTaxUSA charges.
State Returns
Forty-three states charge income tax, which means you'll need to file state taxes. The seven that don't are: Alaska, Florida, Nevada, New Hampshire, Tennessee, South Dakota, Texas, Washington and Wyoming.
Paying for your state taxes is relatively standard in the online tax software industry. FreeTaxUSA gives you the extra perk of being able to file state returns from past years in addition to the current one.
Maximum Refund
If your tax refund should be bigger than what you get through FreeTaxUSA, the company will refund you any fees you paid to file and let you amend your return for free. You don't get this perk, though, if the refund is smaller because of your mistakes.
Accuracy Guarantee
This guarantee covers any calculation mistakes the software makes resulting in penalties or interest you pay the IRS. The guarantee doesn't cover any interest or penalties you pay as a result of you entering incorrect information into the software.
If you believe the software made a mistake, you need to send a letter to FreeTaxUSA within 45 days of the penalty or interest charge.
FreeTaxUSA vs. Credit Karma Tax and Turbo Tax
| | FreeTaxUSA | Credit Karma Tax | Turbo Tax |
| --- | --- | --- | --- |
| Simple return | Free | Free | Free |
| Fee for a complex return | Free | Free | Up to $120 |
| Fee for a state return | $12.95 | Free | Up to $45 |
| Audit defense | $6.99, does not include representation | Free, includes representation | Free version does not include representation; paid version ($49.99) |
| Access to CPA's and EA's | No | No | Yes |
| Mobile App | No | Yes | Yes |
If you're filing in a state that requires tax returns and you feel confident in your ability to input the right information, Credit Karma Tax is your best choice. The site charges nothing for federal and state taxes. It doesn't have live support but the site's filing process is easy to understand.
If you don't have to file state taxes and you want a hard copy of your return that's easy to view and will last, FreeTaxUSA's $12.99 bound option is suitable.
However, you can file your taxes online, print your return and take it to a FedEx location to bind it with clear covers for $4.95. This option may be worth it to you if you want to keep costs low and have a FedEx or office supply store near you that binds documents.
Finally, TurboTax is the best option if you want live support and access to tax experts. Their TurboTax Live gives you access to a CPA or EA (licensed tax pros) you can video chat with to clear up any confusion and answer questions.
Analysis of Customer Reviews
To help you understand what customers like you are saying about their TaxFreeUSA experience, we analyzed existing reviews of the company and identified the following positive and negative trends.
Common Compliments
Truly Free: Users in states that don't require tax returns praised the site's free returns and lack of hidden charges. This was the most common compliment we discovered in our research.

Easy to Use: Many customers noted that the FreeTaxUSA tax software is simpler than other sites and that finishing your return is a straightforward process.
Common Complaints
Site Down on Tax Day: We read several instances of customers who complained that FreeTaxUSA's site went down on the final filing day, leaving filers frustrated.

Slow Refunds: Customers complained that FreeTaxUSA took months to process their return and send them their refund.

Difficulties with State Returns: We read multiple complaints about how FreeTaxUSA's software filed state taxes using outdated or erroneous tax rules for the state.
Review Takeaways
Based on our analysis, it's important that you file your taxes as early as possible because FreeTaxUSA had considerable issues with site crashes the day of the filing deadline.
Also, based on the complaints about FreeTaxUSA's occasionally slow refund times and state-specific mistakes, we recommend paying $6.99 for expedited customer support. This way, you'll get answers to your questions quicker than the average filer.
The Bottom Line
FreeTaxUSA's fee-free structure for simple and complex tax returns makes it a great fit for you if you have investments, own a home or run a business.
The software's acceptance of the tax forms required for complex returns means you shouldn't run into any issues regardless of your tax situation.
However, if you live in a state that requires tax returns, FreeTaxUSA's fee for tax returns is a drawback, albeit a common one among most tax software sites.
---
Totally free (no fee to file state taxes, either) - very satisfied

By Rob N.

,

Hickory, NC

,

Apr 23, 2019
Verified Reviewer

Overall Experience:

I tried FreeTaxUSA after the TaxAct website, which I used last year (2017 tax year), seemed to bog down on April 14-15. I was almost done with my taxes, so this was pretty frustrating.

FreeTaxUSA calculated exactly the same amount of tax owed, at both the federal and state level, as did TaxAct. So I'm confident that their calculations are correct, and I won't have the problems that Marc K. from New Jersey did - being fined by the state for an inaccurate filing. Also, FreeTaxUSA did NOT charge me to calculate or electronically file my North Carolina tax return. I'm not sure why the author of this article reported that they charge "$12.95 if you want the software to file your state tax return." Maybe my total income is so low that I qualify for a special offer?

One important caveat is that my taxes are both a bit unusual and pretty simple: My only sources of income are dividend income from a money market account and retirement income from rolling over money from a traditional IRA to a Roth IRA. FreeTaxUSA seems to have handled both of those things just fine. Also, I don't own a home, which is a major issue identified in the article. And, for what it's worth, I also had Obamacare, which it handled fine.

Another person complained about being nickel-and-dimed, citing being charged to print copies of her returns. This was not my experience. I was able to successfully download electronic copies (PDF files) of both federal and state returns, although I didn't bother to print them out. I got everything I wanted to do done, at a total cost of "free." Totally free. Honestly, it leaves me wondering how they make their money, and I thought of donating some money to help keep them in business! TaxAct charged me $32 last year, and was going to charge me over $50 this year, so I'd happily have paid $10! Maybe they make money by selling audit protection?

As for FreeTaxUSA not representing you in the case of an audit... Jeez, what do you want for "free?" I'm just happy that they let me use their software for free! And I'm doubtful that many people will get fined for inaccurate filings, although I suppose that's a small risk. Again...will you take that risk, in order to save a hefty charge? In the long run, I think small risks like this are worth taking, since the odds are in your favor. Maybe you can protect yourself from this risk by buying audit protection? I don't even remember being prompted to buy it!

If I have any issues, I'll try to remember to come back and update my review.

Bottom Line: Yes, I would recommend this to a friend

---

Wrong IRA Calculation

By Jane M.

,

USA

,

Mar 5, 2019
Verified Reviewer

Overall Experience:

The program didn't have a provision for correcting the taxable amount on my IRA distribution. Even when I entered the correct taxable amount, the program still used the total distribution amount for calculating my tax due. I had to "dummy" the total distribution amount in order to make the tax calculations come out correct. The difference in my tax liability was almost $1600.

Also, the program may be free to use and free to file with the IRS; but they nickel and dime you to death with things like audit protection and printed copies of your tax return. NO thanks!

Bottom Line: No, I would not recommend this to a friend

---

Calculation errors

By Marc K.

,

New Jersey

,

Nov 18, 2018
Verified Reviewer

Overall Experience:

This software has serious integrity issues. I received an audit from the state, and upon looking deep, I found that it was the result of this software incorrectly using an incorrect amount. I was hugely penalized from New Jersey state along with three years of interest owed for understatement.

Their audit assistance is also a sham; they simply tell you what the issue is, which anyone with basic education would understand from the audit report.

They did not take any responsibility for the calculation error despite my clearly telling them what the issue is.

I would not recommend this software to anyone for tax filing, they are not free first of all; you have to pay for audit assistance which is useless when reality hits and more importantly, there are calculation errors, which will land you into trouble.

For 2018 I am switching to another software, at least there is a peace of mind.

Bottom Line: No, I would not recommend this to a friend

---