Fret Zealot Reviews
Claimed This company has claimed this profile, is getting alerted on any new customer reviews entering this page, and may engage in dialogue with its customers to address their matters.

Companies cannot pay money or provide goods in order to remove or alter customer reviews.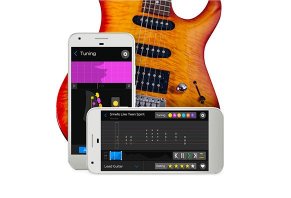 Fret Zealot is an LED learning and performance system designed to help novice students and adept masters alike get the most out of their guitar-playing.
What Is Fret Zealot?
Promising to be a way to play guitar in just 60 seconds, Fret Zealot is an interactive full-spectrum LED learning and display system. The product mounts to any standard-length guitar, and we're told that installation is a simple and intuitive process.
The device comes with its own companion mobile app, which the creators claim is designed with both the seasoned professional and the complete guitar novice in mind. In fact, the entire Fret Zealot platform is designed from the ground up to be applicable to any guitarist, regardless of experience level.
The Fret Zealot first went live on popular crowdfunding platform Kickstarter in January of 2017, going on to raise $248,826 in pledges, 518 percent of their original $48,000 goal. After this initial campaign, the product had a second round of funding on Indiegogo, where it amassed another $352,643 from backers.
Based on these impressive numbers, it's clear that people are excited about the premise of the Fret Zealot, but is it right for you? Let's find out.
How Fret Zealot Works
Fret Zealot uses a non-damaging adhesive to install onto the neck of your guitar. You'll need to de-string it in order to apply, so this may be a good opportunity to change out your strings if you haven't in a while.
The company offers an instructional video that walks you through lining up the LED strips with your fretboard, which looks like a relatively straightforward process that shouldn't take any longer than about 15 to 20 minutes for most users.
Once the Fret Zealot is installed, you'll just need to attach the USB-rechargeable battery (which lasts up to eight hours per charge) and pair it with the app to start playing. This is where the real fun begins.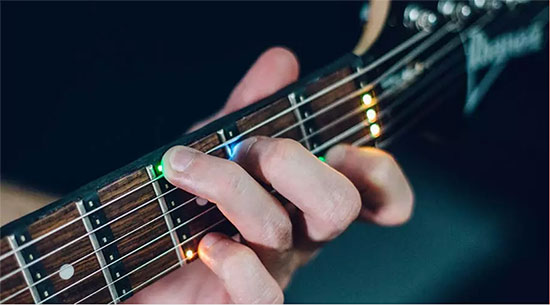 Fret Zealot uses adhesive LED strips that can display almost every chord and scale across the guitar's first 15 frets. Image credit: Edge Tech Labs
The Fret Zealot can display just about any chord shape and scale known to man, as well as individual notes all over the fretboard's first 15 frets (more on this in a moment).
According to the creators, the device only goes upas well as two this high due to manufacturing and cost constraints, but they also claim that 99 percent of your playing will happen in the range covered by the device. Based on our experience playing the guitar without the Fret Zealot attached, we tend to agree.
During the conception phase, the makers state that they were focused on creating a product thin enough to have a negligible impact on your personal playing style. The LED strips are only half the height of the frets themselves, making it clear that your playing won't be impacted by them.
In order to truly understand what all can be done with the Fret Zealot, we need to take a closer exploratory look at its companion application. From there, we'll break down its pricing and availability, as well as look into any potential competitors.
Understanding the Fret Zealot App
The Fret Zealot is closely tied with its companion mobile app, which is due to be released on Android and Apple iOS when the product begins shipping (more in the Pricing section). Upon opening the app and syncing it via Bluetooth with the Fret Zealot on your guitar, you'll be presented with three main sections to choose from: Play, Learn, and Fun.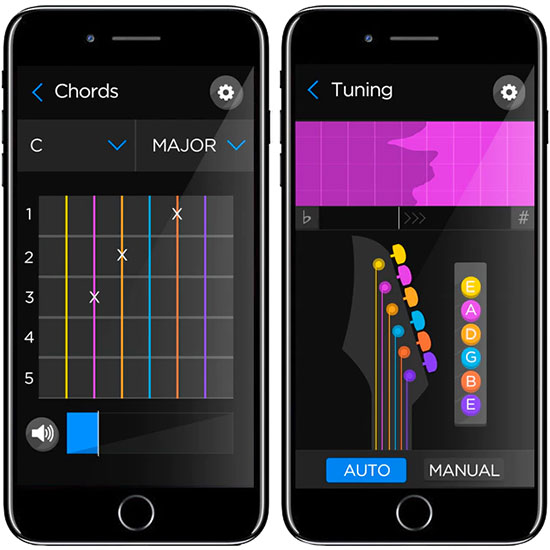 The Fret Zealot companion app looks to induce a dizzying array of features for users when it launches. Image credit: Edge Tech Labs
Fret Zealot's 'Play' Mode
In Play, you'll have access to a growing library of songs that can be displayed across the first 15 frets of your guitar using standard MIDI tablature. If the LED's are not connected, you can still use the app to look up chords or song parts quickly for reference, as it will display them in standard tab formatting.
The developers have made it clear that they plan to add support for popular services like Tab Pro, allowing you to learn and play just about any popular (or even marginally popular) song you can think of using the Fret Zealot.
It's even mentioned that the app will feature a mode where it will listen as you play, automatically showing you the next note or chord as you strum and pick along to your favorite tracks. Songs can be slowed down, looped, and otherwise adjusted as you learn and master them.
Taking a Look at 'Learn'
In Learn, you'll be able to load up and display just about anything you can imagine from a technical standpoint. All major and minor chords are already included in the beta version of the app, and we're told that support will be added for diminished and augmented chords, as well as alternative voicings and shapes, at launch or shortly after.
A noteworthy feature the software will allow for is the use of a capo or custom tunings in conjunction with the Fret Zealot; simply tell the app how you are playing, and it will adjust what it shows you on the fretboard accordingly, thus expanding your creative options substantially.
Of course, you'll have less total surface area available when using a capo, but there's still plenty of room to play the vast majority of songs when used on the first 6 or so frets. This is especially relevant for more advanced players.
In the notes and scales section, you'll be able to see countless variations of (you guessed it) notes and scales, allowing you to choose your root note, how many octaves you'd like displayed, and what type of scale (pentatonic, blues, natural minor, etc.).
Shortly after launch, the company plans to add support for custom lessons using the app interface, though no additional information was available on this aspect as of our research.
Patterns & Programming In 'Fun'
Finally, in the Fun section of the app, the Fret Zealot's more aesthetically-driven features can be found. The light show function will allow you to choose from a number of mesmerizing patterns to be displayed across the entire LED grid on your guitar, with the company planning to add custom light programming in a post-launch update.
Who's Making the Fret Zealot?
The product is being developed by Edge Tech Labs, a three-time creator on Kickstarter with a successful track record of delivering both their previous products (DrinkMate and VineTracks) to market. The company is currently accepting open investment for future projects, and updates on their Kickstarter page for Fret Zealot seem to indicate that they have several long-term plans for the product as an open-source platform for educators.
Fret Zealot Pricing Information
As of this writing, Fret Zealot was available for pre-order through the product's main website. It currently is priced at $199.99 + $6.99 for shipping. They list that the product is on track to be shipped sometime in November 2017. The company's latest Kickstarter update published on October 31st lists that final production quality checks are being carried out, and that they should be shipping out imminently.
One of the risks you take when purchasing a crowdfunded product is that it will arrive later than expected. Seeing as the initial delivery window was estimated to be October 2017, that seems to be the case here with the Fret Zealot, but we're willing to give the company the benefit of the doubt based on the strength of their October 31st update.
Fret Zealot vs. Similar LED Guitar Products
Fret Zealot seems like a visually innovative way to master your favorite songs, but are there any products out there today that claim to deliver a similar functionality?
We were able to find a few products like the Fretlight, which were actually LED inlays pre-installed on branded guitars, but as it turns out, a few different companies are making removable options, including one that was developed nearly in unison with the Fret Zealot on the crowdfunding circuit.
This product, called FretX, differs in that it only attaches to the first four frets on your guitar. It features a similar mobile app, but obviously, it is not able to display full scales and various octaves for notes.
In addition to these differences, the FretX LED's are not full-spectrum like those on the Fret Zealot, meaning they are only capable of displaying red and blue colors. All of this said, the device only costs $49, a fourth of what the product at hand will run you.
In our view, deciding what product is right for you will largely come down to your budget, as well as the scope of your guitar-playing ambitions.
For instance, if you're really only searching for an introductory product (at an introductory price tag) to help you learn songs to play with a few friends, something like the FretX may be ideal. It's cheaper than the Fret Zealot by a wide margin, and will allow you to master the chords used in thousands of popular songs over the first four frets on your guitar.
However, if you are serious about learning the intricacies of the instrument–-scales, advanced chord voicings, custom tunings, lead guitar, etc.–-Fret Zealot clearly has more to offer, allowing you to expand your playing over the majority of the guitar, while also showing you full scales and octave ranges in the process.
The Bottom Line: Is Fret Zealot the Right Learning Tool for You?
Based on everything we've learned about the Fret Zealot, will it truly live up to its promise of helping you play guitar in just 60 seconds? Here's what we think.
From a purely technical standpoint, Fret Zealot appears to be an innovative and intuitive way to learn more about the art of playing guitar. If the device is able to live up to all of its promises, it will likely prove to be an invaluable tool for those of us who are visually-oriented learners in particular, eliminating the barrier between the countless books, tabs and other training materials and your actual application of them in your playing.
On the other hand, we can anticipate a few potential downsides to learning songs, scales and chords in this way. For some users, we could conceivably see the Fret Zealot acting as a musical crutch of sorts, preventing you from truly mastering the techniques and theory in a way that's applicable when playing an instrument that isn't equipped with all of those LED's.
Despite this concern, we do feel that there is immense value to be had here even for intermediate and advanced guitar players, which is something that we can't say with as much confidence about a more abbreviated device like FretX.
From a songwriting and composition perspective, having the ability to display custom scales, tunings, and notes almost anywhere on the fretboard opens up unique creative opportunities, and being able to put on dazzling light shows when performing is an extra layer added to the "cool factor" here.
All told, we're very excited to see what the future holds for the team behind the Fret Zealot. Once the device starts shipping and getting into the hands of backers, we're looking forward to reading more first-hand accounts of how it works in practice.
Just get your Fret Zealot in the mail? Once you've had a chance to play around with it for a bit, be sure and leave a review below to share your thoughts with other Highya readers!
Very satisfied with Service Dept.

By Gary M.

,

Sylva, NC

,

Feb 4, 2020
Verified Reviewer

I purchased mine a year ago and didn't set mine up until 3 days before the 1-year warranty ran out. It didn't light up. I contacted support the day before my warranty was up. They were GREAT. It took a few days of frustrating back and forth e-mails but turns out the broken strip also wasn't the correct size for my guitar. They send me a new strip. Plugged it in and it lit up right off the bat. They sent me a link to an installation YouTube video. Made things easy and it set up perfectly. Haven't started playing as I just set it up, but was VERY pleased with the support given how many companies give their customers the runaround. I can't wait to play it. I have been playing 40 years, but fell away from consistent playing years ago after playing in bars when I was young. I have a feeling this product will get me back into playing regularly. Thanks support folks.

Bottom Line: Yes, I would recommend this to a friend

Feb 4, 2020

Thank you so much for the kind words, Gary! It was a pleasure helping you and thank you for your patience while we figured out the details. Reach out to support@FretZealot.com any time if you have questions, concerns, or feature requests in the future :-).

---

Great training aid - and fun!

By Mark H.

,

Oregon

,

Feb 18, 2019
Verified Reviewer

I purchased my Fret Zealot directly from fretzealot.com, preinstalled on an Epiphone Les Paul VE. Shipping was quick and the instrument was well packed. Personalized follow-up from Fret Zealot was almost immediate from Fret Zealot support. The guitar was set up nicely, and the Fret Zealot hardware and app worked flawlessly. There are so many ways the system can help people learn and improve depending on ones' needs. For me, the scales, notes and chords section is providing the most value at the moment. That will likely change over time as needs change and as new features are added - which is a high priority at Fret Zealot support. Thank you for such an innovative, useful, and high-quality product with features that will expand over time!

Bottom Line: Yes, I would recommend this to a friend

Feb 18, 2019

Thanks so much for the kind words, Mark! I hope you continue to enjoy your Fret Zealot along with the new features and content as we accelerate our timeline for getting those in. Feel free to reach out to us at support@FretZealot.com if you have any specific songs, artist, or lessons that you'd like added into the app.

---

Advertisement

---

Excellent support and exciting new product

By Rob S.

,

Toronto, Ontario, Canada

,

Dec 27, 2018
Verified Reviewer

I watched the development of this product from its early days. The way it can interface with software to download songs or just be used to practice scales is really cool! I got one fairly soon after it was commercially available.

I have to say that the service is exceptional as well. When I had a technical issue, they got back to me within hours and took care of my problem. They are also willing to listen to suggestions to add functionality if you have any thoughts on what else this device could potentially do!

Bottom Line: Yes, I would recommend this to a friend

Dec 28, 2018

Thanks so much for the kind words, Rob! I hope you continue to enjoy your Fret Zealot along with the upcoming new features and added content. Feel free to reach out to us at support@FretZealot.com if you have any specific songs or artists that you'd like added into the catalog.

---

No. Do not buy this product.

By John W.

,

Florida

,

Oct 27, 2018
Verified Reviewer

I've played for 45 years, onstage and in studios. This product is a fantastic idea. If it is ever perfected, maybe...but it is NOT perfected yet. The device interferes with fingering, making your guitar virtually unplayable. The adhesive is insufficient, curling up and causing buzz at higher frets. I contacted the company on day two and they suggested I try "Scotch brand double sided tape" to fix their lousy product. I repeat - save $200. You'll be glad you did.

Bottom Line: No, I would not recommend this to a friend

Oct 30, 2018

Hi John, we're very sorry you had this experience. This is definitely not how the product should be performing. We have some specific questions:

1) Are you using special frets (such as "ultra low action" frets or similar)?

2) What is the make and model of your guitar?

3) Do you treat your neck with oil?

The challenge we face is to provide an adhesive that is strong enough to stay on but doesn't damage the guitar when removed. We're constantly striving to improve and refine the formula, so any and all feedback is welcome! Thanks in advance for helping us continue to refine the product. We are in contact with you via customer support as well, so thank you for reaching out there too.

---

Advertisement

---

Finally seeing progress!

By Dave G.

,

Honolulu, HI

,

Jun 18, 2018
Verified Reviewer

I've had mine for a couple of months now, and so far it's working out great. I still need to keep myself motivated to practice more, but this thing has actually gotten me to start playing. I'm glad the app is free. I don't feel the rush to learn things and can keep up with it as I find the time.

If I was to do it again, I would be more careful during the installation! Line things up and plan it out before taking off the tape. It's almost impossible to move once the whole strip is down.

Bottom Line: Yes, I would recommend this to a friend

Jun 18, 2018

Thanks so much, Dave! We're definitely working to improve the installation instructions, so thank you for letting us know your feedback on that!

---

Love the multi-colored LEDs

By Ed W

,

Richmond, VA

,

Apr 1, 2018
Verified Reviewer

I'm been using a Fret Zealot since they first shipped. They had some challenges with defects early on (what new company doesn't?), but the thing is amazing. This is definitely going to change how a lot of people learn. The multi-color LEDs are a must compared to anything out there. I've seen some other things with one-color LEDs, but it's a huge difference when you can display any color and now I see why the company has insisted on it being important. I'm hoping they add more advanced video lessons and support guitar pro files in the future.

Bottom Line: Yes, I would recommend this to a friend

Apr 2, 2018

Thanks so much Ed! Lots more video lessons are coming soon, and Guitar Pro support is just a couple weeks away! We're beta testing now.

---

What an innovative product!

By Trish V

,

Washington DC

,

Mar 17, 2018
Verified Reviewer

Fret Zealot intrigued me from the day I first learned about it. It almost seemed too good to be true, and I wondered whether or not it would work properly or function the way I hope it would. As it turns out, it exceeded my expectations, and I have been recommending it to all my friends and family.

The visual component is what had been lacking for me in my previous attempts to learn guitar. I found myself picking up the guitar and then losing patience or getting distracted, but Fret Zealot really does make it easy to learn how to play, and helps engrain it into your muscle memory. I am loving the features on the app, and can't wait to see more songs added to the library! Keep up the fabulous work!

Bottom Line: Yes, I would recommend this to a friend

Mar 19, 2018

Hi Trish, thank you so much for the kind review! That's exactly what we're going for with Fret Zealot. Feel free to reach out to us anytime if you have specific questions.

---

Totally worth it!

By Ryan Johnson

,

Washington DC

,

Jan 31, 2018
Verified Reviewer

Fret Zealot has been awesome in updating us on their continued process to get us a first run of an awesome product. They kept us up-to-date and got us our supplies in the mail just in time for Christmas (which they clearly worked hard to get to us, given some of the factory setbacks a starting company like theirs had to deal with!).

It connects fine to three of my devices. I reported one bug, and it was fixed within the day.

Other than that, it's a ton of fun to play on, and it's helping me get better at memorizing scales and some jazz chords (for which a proficient player like me should be better at).

Thanks, Fret Zealot, you're the best!

Bottom Line: Yes, I would recommend this to a friend

---

So easy and fun!

By Courtney

,

Jonesborough, TN

,

Jan 18, 2018
Verified Reviewer

Not all of us have the time or extra money to take guitar lessons. Being able to practice and learn when it's convenient for me is a huge plus! I have zero complaints. Fret Zealot is a fun and easy way to learn how to play guitar! I'd recommend it to anyone with an interest in guitar! Five stars!

Bottom Line: Yes, I would recommend this to a friend

---

Love it!

Washington DC

,

Jan 17, 2018
Verified Reviewer

I got this as a Christmas gift to myself and love it! The delivery was amazing and I had no issues syncing it with my app. Totally worth it and a purchase I don't regret. Best guitar add-on which makes me love playing!

Bottom Line: Yes, I would recommend this to a friend

---

Absolutely awesome

I saw this product at Consumer Electronics Show 2018 last week and I was so impressed, that two days later I hunted down their kiosk to ask if I could buy one. Out of 1,900 booths at CES, that's the only one I went back to on a different day with the intent of actually buying their product. Alas, the rules of CES specify that no products can be sold at the venue, so I had to walk away empty-handed. I had to go to their website afterward to order it.

I did, however, get a hands-on session with the product. I have never played a "real" guitar before, just Xbox ones. The experience hasn't translated to a real guitar until now. Within a few seconds, I was strumming chords on an acoustic guitar. It was easy to learn, easy to do, and (with suitable practice) I can see myself playing without the aid of this product.

Five stars.

Bottom Line: Yes, I would recommend this to a friend

---