Fudget Reviews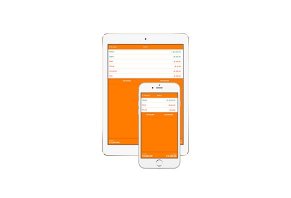 Fudget is a budgeting app that sets itself apart from the competition by offering the user a very simple, easy-to-use way to add income and expenses and track spending.
What Is Fudget?
Fudget is a free budgeting app that claims to offer a simple way to track your expenses.
The app uses a basic interface and a few extra tools to help you track how you spend and what you earn.
Founder Danny Connell has been in the developing space for more than eight years. He created Fudget to bring consumers a simplified way to create a budget that uses one-time and repeated expenses as well as income.
He patterned the app after his own personal budgets he'd create with Microsoft Excel spreadsheets.
"At some point after getting a smartphone, I realized it was stupid to keep doing this on my laptop when I could do it on the go. 'There must be an app for this,' I thought," founder Danny Connell told us in an interview. "Turns out there wasn't, so I built it. I figured even if no one else downloads it, at least I'll find it useful!"
Connell said Fudget is designed to meet the needs of consumers who don't want a complex app managing their budget.
"Somebody who wants a simple way to manage their money without a steep learning curve," Connell said. "Someone that doesn't need lots of advanced features for their budgeting (and) wants to budget quickly on the move."
According to Fudget's Google Play page, between 50,000 and 100,000 people have downloaded the app.
Now, whether or not Fudget lives up to Connell's billing and really is a helpful app is something that we want to find out in this review.
To do that, we'll describe our first-hand experience with the app, talk about the app's Fudget PRO option and then summarize user comments about the app.
Throughout the review, we'll intertwine insight from Connell as well as compare the app to other budgeting apps like Mint and YNAB.
My First-Hand Experience With Fudget
I downloaded the Fudget app from the Google Play store and installed it on my Motorola smartphone, which featured the most up-to-date version of Android at the time.
When I opened the app for the first time, I was met with a pop-up window that notified me of updates to the app:
Data can be saved to and restored through Dropbox
Dates can be added to transactions
Added "Overall balance" and "Paid balance" functionality
Once I tapped "Ok", I was taken to the "Welcome to Fudget" screen, where I was met with Fudget's own explanation of what it does: "Fudget lets you create Budgets – simple lists of income and expenses with the balance displayed at the bottom."
From there, I was taken through a quick, five-screen tutorial on how to create and maintain a budget:
Create a new budget: Self-explanatory
Open/edit a Budget: Self-explanatory
Star an Entry: Repeats a budget item for future budgets
Reorder Entries and Budgets: Can move budget items up and down your list
Back to Budget/Settings: Where to find settings for a budget
In my opinion, the tutorial made everything very easy and I felt a sense of confidence as I read through each facet of the app.
I closed the tutorial and I was met with the heart of Fudget: the Budgets page.
Creating a Budget With Fudget
I chose to create an October budget, so I simply tapped "Add Budget", then named the new budget "October".
If you misspell a budget or make one you don't need, all you have to do is swipe left on the budget in question and you'll have the option to rename it or delete it. This is a key feature, as it's the same method you'll use to start an income or expense and mark expenses as "paid".
I tapped on my October budget and was met with the screen you'll use every day: Add Income/Add Expense.
At this point, I'm enjoying Fudget because you don't have to link any bank accounts to the app. All you do is add your spending and your income.
As I mentioned earlier, swiping left on any expense lets you choose to star the expense or mark it paid.
In the top right corner of this screen is a menu option that lets you see your expenses in a pie chart and gives you the option of adding dates to your expenses and income.
Differences Between App Platforms
At the time of publishing, the Android version of Fudget featured a pie chart that didn't keep a running total of spending in one category.
If you made four $200 purchases in a category named "Groceries", for example, the pie chart would show four separate purchases instead of lumping them together as an $800 running total.
Connell told us that the feature is available on iOS, Mac and Windows and will come to Android soon.
Fudget Pro
What I've just described to you is the free version of Fudget. For $1.49, you can upgrade to Fudget Pro, which unlocks several features within the app:
Calculator: Use it to do quick math
Dropbox: Save budgets to and restore from Dropbox
No ads: Free Fudget has a small banner ad across the bottom of the screen
Export: Send your information to spreadsheet apps
Themes: More choices
Some uses of these added features include storing each month's budget on your desktop or laptop spreadsheet software and storing copies of your budgets on Dropbox.
Fudget PRO essentially allows you to store your budgets in a location that isn't your phone. As for the ads, we didn't really see them as an inconvenience when we tried the app ourselves.
A Quick Comparison of Fudget, Mint and YNAB
One of the things that sets Fudget and YNAB apart from Mint is that transactions are not automatically added to your budget for the month. This is one of the main beefs with YNAB; you have to enter transactions by hand or download them from your accounts and sort them out yourself.
Fudget has the easiest interface to use and adding transactions is a breeze. Based on our experience, adding a single expense is faster on Fudget than it is with YNAB.
What Other People Are Saying About Fudget
At the time of publishing, Fudget had 495 reviews in the Google Play store. Of those 495 reviews, 368 were five-star and 99 were 4-star. Only 5.6% of the reviews were one-, two- or three-star reviews.
To give you an idea of how these satisfaction rates compare to the competition, we also calculated the 1-3 star review percentages of YNAB and Mint, two budgeting tools we've reviewed and arguably the two most popular budgeting apps on the market:
Mint's 1-3 Star review percentage: 14.7%
YNAB's 1-3 Star review percentage: 26.5%
Fudget's 1-3 Star review percentage: 5.6%
As you can see, Fudget has far fewer bad reviews than the other two apps. While there's no exact way to know why Fudget's bad review totals are so low, we'd say that it might have something to do with the app's ease of use.
Both YNAB and Mint are more complex than Fudget and require you, among other things, to connect to your bank accounts and/or credit card accounts in order to open an account. Also, YNAB costs $5 a month.
Connell said the one complaint he hears the most is that Fudget lacks "real-time data syncing across devices." In other words, two people on two separate phones can't share a budget that updates as each user adds transactions.
As for positive feedback, Connell says people compliment the apps "simplicity and ease of use."
"Most budget apps take a long time to learn and make you jump through hoops just to add an expense item," Connell said. "Fudget … only takes a couple of taps to add a new item, making it ideal for budgeting on the move."
See Also: How I Used a Budget to Get Out of $22,000 of Debt
Pros of Fudget
We believe, based on our research, experience, and interaction with Connell, that Fudget's strength is its ease of use. All functions are basic and explained in the introductory tutorial, which only takes a matter of seconds to go through.
Cons of Fudget
If this app has a weak point, we'd say it's the fact that you can't group like expenses together in Fudget's Android app. Another downside to it is that you can't set a spending limit for certain categories like you can in Mint and YNAB.
Who Is Fudget Good For?
We believe the person who would enjoy this app the most is someone who wants an easy app for budgeting and wants to, above all else, record spending without having to connect their bank account.
Love, love, love Fudget

By Janice A.

,

British Columbia, Canada

,

Apr 29, 2019
Verified Reviewer

HighYa's review was very good. I divide each monthly budget into three categories which helps me to set spending limits for each category. This was never a con for me, as was mentioned in the review. I tried Mint and a few others but Fudget won out hands down for its ease of use, the fact that I didn't have to attach a bank account, and the personal touches David has given to this app. Thank you, David, for sharing and not keeping this app to yourself.

Bottom Line: Yes, I would recommend this to a friend

---

Advertisement

---