Full Sail University Reviews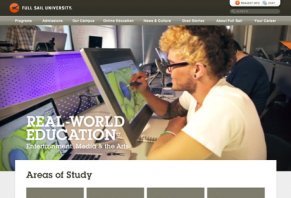 Full Sail University offers 49 different online and on-campus degree programs focused on providing real-world, hands-on experience to each of their students.
About Full Sail University
Based out of Winter Park, FL, Full Sail University provides online and on-campus students the ability to earn 49 different degrees within the media, arts, and entertainment industries, all taught by creative professionals within their respective fields.
Full Sail University claims that their immersive, project-based curricula and professional-level production environments give students the ability to gain real-world experience while attending the school, and to provide a complete, well-rounded education that better positions you for a career you love.
Founded in 1979 by John Phelps in Dayton, OH, Full Sail University originally only offered a handful of professionally taught audio courses. Today, however, Full Sail has grown into a 212-acre campus outside of Orlando, FL, with more than 110 studios and production environments, a current enrollment of 16,100 students, and more than 48,000 total graduates since opening their doors.
Look, you're smart and recognize that the competition within creative industries is fierce. Because of this, you're willing to work hard and separate yourself from the competition, which is a good call on your part.
But when it comes down to it, will the education you receive at Full Sail University help you land your dream job—or even one within the creative industry at all? Let's take a look.
Full Sail University's Degree Programs
Currently, Full Sail University offers 49 degree programs that begin on a rolling (monthly) basis, versus traditional semesters. These include:
On-Campus Bachelor's Programs
Bachelor of Science in Computer Animation, Digital Arts & Design, Entertainment Business, Emerging Technology & Systems Engineering, Film, Game Art, Game Development, Music Business, Media Communications, Mobile Development, Music Production, Recording Arts, Software Development, Sports Marketing & Media, Show Production, Simulation & Visualization, Web Design & Development
Bachelor of Fine Arts in Creative Writing for Entertainment
Online Bachelor's Programs
Bachelor of Science in Computer Animation, Digital Cinematography, Entertainment Business, Game Art, Game Design, Graphic Design, Internet Marketing, Music Business, Media Communications, Mobile Development, Music Production, Sports Marketing & Media, and Web Design & Development
Bachelor of Fine Arts in Creative Writing for Entertainment
On-Campus Master's Programs
Master of Science in Entertainment Business, Game Design
Master of Fine Arts in Film Production
Online Master's Programs
Master of Science in Business Intelligence, EBMS: Sports Management Elective Track, Entertainment Business, Instructional Design & Technology, Innovation & Entrepreneurship, Internet Marketing, and Mobile Gaming
Master of Fine Arts in Creative Writing, Media Design, New Media Journalism, and Public Relations
On-Campus Associate's & Certificate Programs
Associate of Science in Event Production, Graphic Design, and Recording Arts
Certificate for English as a Second Language
Online Associate's & Certificate Programs
Associate of Science in Audio Production
Graduate Certificate in Instructional Design & Technology, and Internet Marketing
Is Full Sail University Accredited?
According to Full Sail's FAQ Page, the University "is licensed by the Commission for Independent Education, Florida Department of Education to offer Associate of Science, Bachelor of Science, Bachelor of Fine Arts, Master of Science, and Master of Fine Arts degree programs," and is "accredited by the Accrediting Commission of Career Schools and Colleges (ACCSC), [School# 055214]."
How Is Full Sail Different Than Other Online Universities?
Taking the words directly from the University, Full Sail claims to provide "a human approach to online education" that uses a "technology-rich management system" to present "creative curriculum in an engaging way."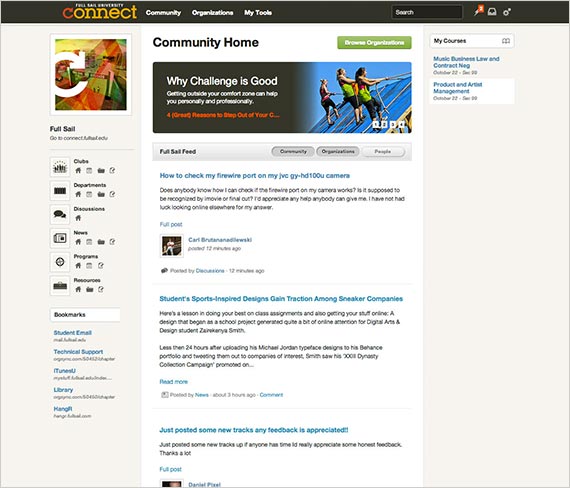 Online dashboard. IMAGE: FULL SAIL UNIVERSITY
Full Sail University's degree programs are accelerated, which means that you'll be able to earn an equivalent degree in half the time it would take you at a traditional college. And one of the primary methods that the University uses to accomplish this is through "40-hour weeks and 24-hour schedules," which are claimed to prepare students "for the tough deadlines and intense creative demands of the entertainment field." In other words, while you might graduate faster, you'll work harder in the process.
From a class size perspective, Full Sail claims their lecture classes will have no more than 120 students, while lab settings will typically have 6, 9, 12 or 24 students to one lab instructor.
Whether you're attending online or on-campus classes, Full Sail University claims to offer all students the same level of services, which include access to development advisors, job search assistance, networking tips, and even portfolio and résumé critique. Other students are available to help you stay on track, and technical support teams help with any hardware or software issues you may encounter. In addition to their Media and Alumni network, Full Sail also helps their entire University—including staff, faculty, and students—to connect with one another through their proprietary online platform, which is what we'll talk about next.
Full Sail's Project Launchbox
If you've been investigating online universities for long, you know that each school claims to offer a unique learning environment, or a central hub where most of your communication and collaboration takes place. And in the instance of Full Sail, their environment is known as Project Launchbox.
Project Launchbox is software that comes pre-installed directly on the Mac that each student receives upon enrollment (more about this in the Pricing section), which provides students with the ability to Facetime with classmates and instructors, utilize cutting-edge industry software and hardware, and to create multimedia projects.
And according to the University, because everyone in your program will be using the same computer and operating system, interacting is seamless.
Who Is the Target Demographic for Full Sail University?
Clearly, Full Sail University is most suited for students who are looking to gain skills they can use within a creative field.
When compared to other online universities though, such as University of Phoenix—whose target demographic is working adults—the average age of a Full Sail on-campus student is 21, while the average age of an online student is 28. As such, Full Sail tends to cater to a younger demographic.
Perhaps because most young students have less responsibilities than working adults, and because the University understands that their students are probably eager to begin working, Full Sail's coursework is all-or-nothing. In other words, you can't take single classes, and you must enroll full time (25-35 hours of class work per week). Also, you'll have to choose between online or on-campus instruction only, as there is no mixing between the two.
Will a Full Sail Degree Improve Your Chances of Employment?
According to Full Sail, the University graduates 77% of its students, and places 75% of its graduates in jobs, although no details are provided as to what qualifies as "placement" (e.g. one reviewer claimed they got a job at GameStop, which counted as placement—more about this in a moment) or how long this took.
Whether you go to an online university or a traditional one, most recent graduates quickly discover that their degree only gets them in the door, and that they'll have to work their way up from there. In other words, most employers want their employees to have real-world experience while on the job, instead of only classroom experiences in college. And it appears to be no different with Full Sail.
In fact, when searching for Full Sail student reviews, the number one complaint we read (specifically regarding after-graduation employment) is that employers are looking more for experience than knowledge from books. Because of this, what you learn (and the money you spend) may not increase your chances of landing a better job.
In other words, even with your Full Sail degree, you might have to start at the bottom anyway, in the same position you might have been able to land without it—especially if you're gifted in your field, which is something that can't be taught.
How Do Full Sail's Numbers Stack Up Against Other Online Universities?
Compared to the above numbers, the College Affordability and Transparency Center puts Full Sail's graduation rates slightly higher at 80.5% (as of 3/11/15) with a 13.4% loan default rate. But how does this stack up against some of the most popular online colleges?
What About Traditional On-Campus Universities?
According to the National Center for Education Statistics, on-campus universities have an average graduation rate of about 59%, which is a fair amount lower than Full Sail.
And when compared to most other online colleges who cater to non-traditional learners, Full Sail University's students tend to match the same demographic (e.g. young, no family responsibilities, part-time jobs, etc.) as those from the NCES. As such, it seems impressive that Full Sail's numbers are so much higher.
But does a high graduation rate necessarily translate into a high success rate in the real world? Let's see what Full Sail students are saying.
What Are Full Sail University's Students Saying?
Overall, it appears that Full Sail University has a mostly positive online reputation among students, with common compliments citing the school's real-world education, the classes taught by industry professionals (some who are award-winning), and its modern, technology-focused approach to learning.
However, there were a total of 117 comments listed for Full Sail University on StudentsReview.com, with an average rating of B- for both education quality and collaboration/competitive. Common complaints included:
Credits don't transfer
Lack of truly cooperative learning
Difficulty finding employment after graduation
Education quality that can vary widely from class to class (in fact, one student even claimed that you can learn much of the same information through Lynda.com)
At the time of publishing, StudentAdvisor.com rated Full Sail 3 out of 5 stars, based on negative factors such as high tuition costs, the fact that classes are only a month long (many students felt they didn't get a full grasp of a class's content before having to move on to the next one), difficulty keeping up with class schedules, and inexperienced staff.
Full Sail had 10 reviews on GradeReports.com at the time of our research, with 80% of students claiming they would recommend the school, and 71% felt the degree they earned at the University improved their career.
Full Sail University also has an A+ rating with the Better Business Bureau, based on 44 closed complaints (as of 3/11/15), nearly all of which had to do with financial matters (repayment of loans, classes that were billed but never taken, etc.).
Full Sail University Tuition & Fees
Currently, depending on your field of study and educational track (e.g. associate's, bachelor's, master's), on-campus tuition for Full Sail University ranges between $10,333 and $14,900 per semester, with between 3 and 5.25 semesters in total.
On the other hand, Full Sail University charges between $5,600 and $12,000 per semester for online programs, with the total number of semesters ranging between 1 and 8.
Important note: These tuition costs include textbooks, manuals, media, production materials, technology fees, and other associated costs. However, they do not include the MacBook Pro laptop and required software, although these are claimed to be available at "deep institutional discounts."
According to the University, tuition costs are the same regardless if you're an in-state or out of state student. Although if you're transferring from another college, any credits you've earned may be applicable to your degree program, although this is taken on a case-by-case basis after you've provided the University with your official transcript.
Like most online and on-campus universities, Full Sail claims to offer a wide variety of financial aid programs and scholarships.
Is Full Sail University Right for You?
If you're looking to break into a creative field, you've got a lot of very tough competition. After all, everyone wants to get paid to do something they love, which means that they'll often take a (sometimes significant) pay cut to do it. As such, even the most talented in their field may have to earn much less than they'd like—at least at first.
The point is this: Will Full Sail University provide you with a fun, immersive, hands-on learning experience? Probably so. Will you have a blast while attending school? If you're passionate about your degree path, very likely. Will you be able to land a decent-paying job in your industry upon graduation? This is where things get murky.
As with most things in life, you get what you give. And as a newbie within the creative industry, the types of jobs you land and the long-term success you'll have depends largely on your innate abilities, your willingness to learn and grow, and your tenacity in finding portfolio-worthy work.
Ultimately, there's no doubt that Full Sail University's programs can put you on the right path toward earning money within the creative industry. But only you can decide if the school's steep tuition costs will provide a solid return on your investment upon graduation.