Fundbox Reviews
Claimed This company has claimed this profile, is getting alerted on any new customer reviews entering this page, and may engage in dialogue with its customers to address their matters.

Companies cannot pay money or provide goods in order to remove or alter customer reviews.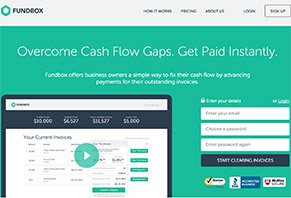 Founded in 2013, Fundbox is a payment advance company that claims to help business owners get the money they need for their unpaid invoices, quickly and easily.
About Fundbox
Whether you're an industry leader, a small business owner, or a freelancer, Fundbox claims to help you fix your cash flow by advancing payments for your outstanding invoices. And unlike traditional business loans, Fundbox claims to only charge a small clearing fee for each transaction (see the Pricing section for more information).
According to the Fundbox website, their process is entirely automated and works over four steps:
Create a free account by entering your email address and choosing a password.
Connect to your accounting app, such as FreshBooks, Xero, QuickBooks, and more, and then add your unpaid invoices.
Pick an unpaid invoice to clear.
An advance is made for the invoice amount, which is transferred directly to your bank account, typically on the next business day.
If you bill on a net 30, 60, or 90 basis, you fully understand that there can be times when you need a quick infusion of cash. But is Fundbox your best option and are they really as transparent as they claim? Consider the following:
Does Fundbox Provide Loans?
In short, no.
According to the company, Fundbox doesn't provide short-term loans, but something they call "payment advances." Compared to traditional business loans, Fundbox's options provide the ability to receive only the exact amount of money you need, and to pay it back in a relatively short amount of time with less associated fees.
Why Doesn't Fundbox Have an Application Process?
Also unlike traditional business lenders, Fundbox claims that there is no application process; simply link to your accounting app and they'll handle the rest.
However, this doesn't mean that your business won't be vetted. According to the Fundbox Terms, they will perform background checks on you and your company after gaining access to your accounting app, which will ultimately determine the fees you're charged (more about this in the Pricing section).
Customer Reviews for Fundbox
GirlMeetsGeek wrote a fairly in-depth Fundbox review in November 2014, where their primary concern was what the company does with your accounting data once it gains access to your app. CEO Eyal Shinar later replied to the reviewer and ensured them that "none of our customers' data is forwarded or sold to anyone." Still, some remained concerned that Fundbox essentially gains access to your entire client list, which doesn't appear to have been addressed in Eyal's response.
With this said, Fundbox's vetting process appears to be much less intrusive than with a traditional business lender.
On GetApp, there were 52 customer reviews for Fundbox, with an average rating of 5 stars. Clearly, most of these reviews were highly positive, with common compliments citing ease of use, favorable terms, and quick payments. On the other hand, common complaints were length of funding (often taking 3-4 business days) and that repayment schedules were limited to 12 weeks.
From a company perspective, Fundbox Ltd is based in San Francisco, CA, and held an A rating with the Better Business Bureau based on 2 closed complaints (as of 5/28/15). One referenced a case of ID fraud, and the other referenced spam. In both instances though, the company appeared to go above and beyond to provide an amicable solution.
Fundbox Pricing
Creating a Fundbox account is completely free.
However, once you take advantage of Fundbox's payment advances, their proprietary algorithm will determine what you'll pay in clearing fees, which is based on your business's health and the invoice you wish to clear. However, based on a $1,000 advance, you can expect to pay between $52 and $72 in fees, which are made up of 3 parts: principal, transaction fees (ACH fees), and advance fees (what Fundbox will take as profit).
Overall, according to NerdWallet, this works out to anywhere between a 43.95% and 63.73% APR. You will be able to manage your funding and view due dates, funding price, and more for each of your unpaid invoices through your personal dashboard.
Fundbox claims that they don't charge any subscription, origination, or hidden fees of any kind.
Once your funding request is made, the advance should appear in your bank account in as little as 1 business day, which you'll repay over the course of 12 weeks. If paid early, all the fees from the remaining period will be waived, although based on Fundbox's fees calculator, it appears that the bulk of the fees will be assessed on your first payment, so you may not be saving much.
The more you use Fundbox, the lower your fees will be.
Can Fundbox Provide the Funds Your Business Needs?
Chopping to the point: In a marketplace where business owners who need invoice advances are relegated to bloated loans with extraordinarily high APRs, businesses like Fundbox can potentially provide a stress-free environment. As such, you might be able to focus on running your business instead of stressing out over loan repayments.
However, any type of loan or "advance" comes with its own set of potential pitfalls, so we'd strongly recommend reading through Fundbox's Terms and speaking with a customer service representative before accepting any money.
Ran my credit and cancelled for no reason

By Grace B.

,

Los Angeles, CA

,

Jun 29, 2018
Verified Reviewer

I applied for Fundbox and was immediately approved for $21k. The next day, they closed my account. Seeing there was no apparent reason, as I have excellent credit and provided them with bank statements that showed $100k monthly in sales, I called to the number provided to find out why and I was unable to reach any customer service rep for an answer all day. I finally received an email to send a written request to their corporate office in Sacramento.

Fundbox, I am really wondering why you ran my credit and requested all my information, reviewed and approved me, only to cancel the next day with no explanation.

Bottom Line: No, I would not recommend this to a friend

---

Fast credit decision, highly recommended

I was skeptical at first just like every other user. I decided to give it a shot after reviewing all the positive reviews and taking into account the negative ones. After giving it a shot, I received a credit decision within minutes by just connecting my bank account.

The fees are very transparent, the terms are fair. This is a company I would recommend giving it a shot. My only issue is that the credit limit is not high enough for me. So I may go straight to a bank.

Bottom Line: Yes, I would recommend this to a friend

---

Advertisement

---

Great company!

By Catrina

,

Illinois

,

Feb 7, 2018
Verified Reviewer

Fundbox is an awesome service! The rates are VERY competitive, and the approval process was extremely quick. I have utilized this service for about a year and I couldn't be happier! Fundbox took a chance with my business, and I am forever grateful and loyal.

Bottom Line: Yes, I would recommend this to a friend

---

Will no longer use

By J. Boston

,

Louisville, KY

,

Aug 2, 2017
Verified Reviewer

We have been using Fundbox for several months now with good results. Repayment has always been on time. Then suddenly today I got an email stating they decreased our credit limit with no reason given. So we have decided not to use them anymore.

Bottom Line: No, I would not recommend this to a friend

---

Advertisement

---

Not as easy as it sounds

By Adrian

,

Maryland

,

Oct 10, 2016
Verified Reviewer

First off I was not sure exactly how the service worked but I called the number and spoke with a service rep by the name of Kamil who did a fantastic job of explaining the product and the benefits of having their service. I agreed that it sounded good and could benefit my type of business in which I have clients who tend to pay slow.

Kamil advised me of the steps that would be necessary in order to add Fundbox. I had to contact my accounting software so they could add a feature that would allow Fundbox to access my company data. This was done easily and the following day I was contacted by the agent who then advised me he needed access to my computer in order to allow this sync to happen. I was a little nervous but he stated that this was the only way that the system would be able to determine if I was a match for their product. I authorized them access so they could sync up.

Please beware, they will have complete access to your entire computer not just company data but all data. Secondly the process is long. It took almost 3 1/2 hours for the entire process to complete. Remember they are going through all your company data, not sure what data because they don't tell you exactly what data is used to determine if you meet the criteria.

After all the waiting, it stated that at this time you do not meet are criteria, but they don't tell you what criteria you didn't meet. You have to request in writing within 60 days in order to find out. Secondly, they want you to keep the product connected to your accounting software so they can periodically without approval or knowledge access your company info to see if you now meet the qualifications.

Once again the customer service is excellent but the actual product is more than likely in some aspects a scam in order to gain as much information about a company as humanly possible without being a bank or legitimate lending institution. If you choose to go with this product just understand that your information is not only yours but another company's, that has complete access whenever they want.

Bottom Line: No, I would not recommend this to a friend

---

Did not get what they were selling.

By Stripes

,

Denton

,

Jan 14, 2016
Verified Reviewer

Our business always gets a little slow this time of year. Fundbox has been trying to sell me on their funding program for months. I decided to give them a try. I am a man of my word and expect others to be the same way until they prove differently. I had decided to spend a few thousand over budget while counting on their program to smooth over the deficit until cash flow increases next month. I went to "fund" my first invoice that would have made up my shortfall. Lo and behold, they said I could not fund an invoice over $1200 dollars until I "proved" my history with them. This was not made clear up front and will cause a tight situation for the next few days. Not devastating but not comfortable. The lady's explanation was "remember buying your first car?" referring to credit. My response was "Yes very well". But I was lead to believe I was buying a Cadillac but got a Chevrolet. Definitely not worth the hassle and expense.

Bottom Line: No, I would not recommend this to a friend

---

Fundbox Misleads

By Bruce Harris

,

Oct 30, 2015

Fundbox will not reveal their "criteria" for approving accounts. They deny you without specifically stating why. They do this under protection of not checking credit as a criteria. We have billed $200K in invoices in the last 90 days, and have been invoicing for 5 months in Quickbooks.

Bottom Line: No, I would not recommend this to a friend

Nov 2, 2015

Hi Bruce, we understand your frustration and appreciate your honest feedback. Unfortunately, our algorithm did not find enough data to make a credit decision. Our algorithm allows us to make a credit decision within 3 hours and solely based on the data in your accounting system without pulling a credit score or requiring any additional paperwork. Of course, we will continue to re-assess your account periodically every few months and we will let you know if you are eligible for credit at another point in time. Thank you for your interest in Fundbox and hopefully we can work together in the future.

---

It's as easy, as a drive thru restaurant.

By Bob

,

Bridgeview Il.

,

Oct 7, 2015

Once approved, it's a simple process, a few clicks on the computer and the next day, you have what the business needed, cash-wise.

It can't be easier than Fundbox.

Bottom Line: Yes, I would recommend this to a friend

Nov 2, 2015

Thank you very much for the kind words!

---