Fundera Reviews
Claimed This company has claimed this profile, is getting alerted on any new customer reviews entering this page, and may engage in dialogue with its customers to address their matters.

Companies cannot pay money or provide goods in order to remove or alter customer reviews.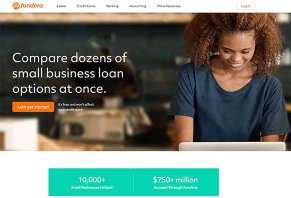 Fundera is an online service that claims to match you with lenders who can provide your business with a quick infusion of cash in as little as 6 minutes.
About Fundera
Founded in 2013 and based out of New York, NY, Fundera is an online company that claims to help small business owners get the credit they need to grow by "looking beyond the world of traditional banks," and by providing a centralized marketplace where you can compare all your options for loans, credit cards and bank accounts.
On top of this, Fundera claims to match you with multiple credit providers in just a few minutes, while remaining completely transparent and easy to understand.
At the time of publishing, the company helped more than 10,000 businesses acquire more than $700 million in funding.
In contrast to many short-term lenders, Fundera claims to only work with handpicked, prescreened credit providers that have a strong reputation for competitive interest rates, great customer support, and positive online reviews.
Ultimately, Fundera claims to do all the hard work, so you can focus on running your business. But is they service they provide worth the price you'll pay? Let's take a look.
What Types of Loans Does Fundera Offer?
Fundera claims to specialize in helping small businesses in almost any industry to obtain credit, although it's important to emphasize that they do not provide any loans themselves. In other words, depending on your needs, they claim to help match you with a credit provider that can provide a solution.
With this said, Fundera's third-party vendors are claimed to offer the following types of loans, credit cards and bank accounts:
Small Business Startup Loans – These offer the possibility of obtaining up to $1 million in financing, with repayment terms ranging between 6 months and 10 years.
Merchant Cash Advance – If you need funding quickly and most of your business's income is through credit card payments, this may present a good option.
Equipment Loan– Can help you purchase business-related equipment by using the equipment itself as collateral.
Invoice Factoring– Gives you the ability to finance 80% of your invoices purchased by a factoring company.
Business Line of Credit – Provides a pre-set amount of available funds, which can be withdrawn at will, much like a credit card.
Short-term Loans – From $2,500 to $250,000 and interest rates starting at 10%
Personal Loans – Loans given to you that you use for business. Rates and terms similar to lenders like Best Egg and Prosper.
SBA Loans – Loans partially guaranteed by the Small Business Administration. Interest rates are competitive and repayment periods are up to 25 years.
Credit Cards and Bank Accounts – Multiple options from reputable bank credit providers
According to Fundera's website, most of their credit providers are focused on providing financing for growing businesses, although some may be able to provide a solution even if you're a startup or are purchasing an existing business.
For full details about all of the options available through Fundera, be sure to read through their Loans, Credit Card and Banking pages.
What Are "Non-Traditional Banks?"
According to Fundera, the many of the alternative lenders they do business with are smaller and more agile, and as a result, are able to "take on the risk and complexity associated with lending to small business owners."
This means that their underwriting criteria for your business loan can be much broader, including factors such as "real-time shipping schedules, records held in a business's accounting software, and even social-media traffic."
However, because these lenders are taking on a greater risk, they'll often charge higher interest rates and associated fees (we'll talk more about this in the Pricing section).
How To Apply For a Business Loan Through Fundera
According to the Fundera website, their application process works over 3 steps:
Answer a few simple questions, such as your business's annual revenue, time in business and credit score. When applying through the Fundera site, you can also connect directly to your QuickBooks or Xero account for an even simpler application process.
Based on your answers to these questions, you'll receive a list of available credit options and providers. If you choose to move forward in the process, these lenders can format your credit based on credit score, revenue, your accounts receivable, and a variety of other factors.
Get your credit, which can take anywhere from 24 hours to 2 weeks.
What Are the Requirements for Obtaining a Loan Through Fundera?
Like any other business, the credit providers that Fundera works with will each have their own specific criteria for approval, although "generally speaking you should be producing 9k to 10k per month in gross sales on a consistent basis, and have been in business for two years." Otherwise, you may be subjected to especially high interest rates and shorter payback periods.
Also, a Fundera rep indicated that, in general, you need to have credit scores of at least 620 to be approved for an affordable credit option.
There are other options if you do not have a 620+ credit score, but your revenue, time in business, and credit score all work together to determine your eligibility for products. If you're higher in one of these categories, being lower in another might be okay.
Unlike many other lending marketplaces we've reviewed here at HighYa, after your application is complete, Fundera claims they'll be your only point of contact -- and that they don't sell your information -- so you won't have to worry about a deluge of cold calls that can sometimes last months.
Fundera's Customer Reputation
Although there weren't any online customer reviews available for Fundera at the time of our research, the company has been featured in a wide variety of popular publications. This includes the NY Times, who wrote that Fundera is "offering a middle path between banks, which lend primarily to the most creditworthy small businesses, and cash advance lenders, which thrive on subprime candidates."
Fundera Interest Rates & Fees
Although it's completely free to send an application through Fundera, interest rates can start at 7% and go up quickly into the high double digits, in some cases, depending on the type of product you choose, the credit provider you choose it through, as well as your business's financials.
In addition, some of Fundera's credit providers may charge a factor rate, which can further increase your costs, as well as early repayment penalties. Because of this, you'll want to run the numbers using Fundera's loan calculator, which is available on each of their loan types pages. Also, make sure to familiarize yourself with their Borrower's Bill of Rights.
Regardless of what you choose though, Fundera claims that, "many, but not all, loan options offered through Fundera would be of a shorter duration (1-2 years)."
If you have a question about Fundera's application process or the types of credit their lenders provide, you can contact customer service at (888) 602-6935 or through live chat.
Fundera's Checking Accounts and Credit Cards
As we mentioned earlier, Fundera also offers connections with banks who can provide checking/savings accounts and business credit cards, including offerings from Chase, Capital One and
Can Fundera Provide Your Business with the Cash it Needs?
Chopping to the point: The short answer to this question is, maybe. This is because, although Fundera's credit providers may have much broader underwriting criteria than traditional banks, you'll still need to meet some fairly stringent guidelines. And even if you do meet these guidelines, you could still pay a fairly high interest rate and/or associated fees, although not as much as a traditional short-term lender.
With this said, it appears that Fundera takes pride in their reputation, as well as the reputation of credit providers they do business with. In addition, it appears that their intent is to arm their applicants with as much information as possible before they decide to pursue a loan.
We're here more as a way to understand your options. The best thing we can do is focus in on the right products that match your criteria.
Honest review of my experience

By Lance I.

,

Florida

,

Jun 26, 2019
Verified Reviewer

To Whom it May Concern,

In my honest opinion, Mr. John Cho performed admirably. He continued to follow up with me through some very difficult times recently. His tenacity and willingness to go beyond was more than impressive. His work eventually paid off, as he was able to get us together with a lender, who was willing to work with us. I thank Mr. John Cho for an outstanding job in helping us at a time of great need.

Bottom Line: Yes, I would recommend this to a friend

---

John was great

By Tony M.

,

Minnesota

,

May 15, 2019
Verified Reviewer

John did a great job and was very responsive. The process itself definitely took longer than expected and for that it was a little disappointing, but I thought that my rep was excellent.

Bottom Line: Yes, I would recommend this to a friend

---

Advertisement

---

Appreciate the support

By Jessica R.

,

Michigan

,

May 9, 2019
Verified Reviewer

The process with Fundera was quick, simple, and exactly what I need. John took the time to listen to my needs and make recommendations based upon what we had been pre-approved for, and what matched my needs. I did not want to take on more debt that we needed, and John was helpful in selecting the right provider to fit our needs. The follow-up and clarity of each step of the process were superb!

Bottom Line: Yes, I would recommend this to a friend

---

Smooth process

By Karen Z.

,

Colorado

,

May 3, 2019
Verified Reviewer

Needed some funding to pay off our credit card debt which had grown as we were expanding. Submitted online, within several hours John Cho called me. Got the process started, even as I was traveling, kept me updated through the process. Made sure I knew if anyone would be calling me or sending me emails requesting information. it was nice to have someone updating me and letting me know what was going on and me just not wondering. At the end, they were able to get me my loan and the final loan even came in 2% lower than the original estimate.

Bottom Line: Yes, I would recommend this to a friend

---

Advertisement

---

Great company to work with

By Ross S.

,

Stuart, FL

,

May 1, 2019
Verified Reviewer

Right from the start my representative John Cho was very informative and made this a smooth quick transaction. We were looking for funding to expand our inventory and the process was easy and quick. Thank you for the great service.

Bottom Line: Yes, I would recommend this to a friend

---

Very helpful

By Keith S.

,

Texas

,

Apr 30, 2019
Verified Reviewer

I was looking for some type of loan to help my small business move forward. Coming across John Cho here was a great experience and highly recommend him and his service. I was hesitant at first and was not pushed one bit. John was there to answer all my questions every step of the way. Thanks again John!

Bottom Line: Yes, I would recommend this to a friend

---

If you are a small business, don't bother with Fundera

By Kevin S.

,

Rochester, NY

,

Apr 23, 2019
Verified Reviewer

I'm not writing this because I am sore, but instead because small businesses shouldn't waste their time with Fundera. They were great on the front end. I was assigned an "account manager," then I had to send along my bank statements and they told me that they would look for lenders.

I am looking for a line of credit to fund some upcoming inventory costs. Thinking that this would be easy for Fundera to do, I found myself emailing my account manager with no reply to find out the status of my application. I never heard back from them after my initial application was filed. I did receive some denial letters in the mail and to this day I have not heard back from Fundera.

I guess they are just done with you if you get denied.

Great way to do business.

Bottom Line: No, I would not recommend this to a friend

---

Owner

By Phillip S.

,

Rhode Island

,

Mar 31, 2019
Verified Reviewer

I was looking for a loan and business line of credit fairly quickly, but I didn't know where to turn. After finding Fundera, JOHN CHO contacted me and was able to help me find what I needed. He was very patient and worked with me the best he could base on my situation and how my paperwork is set up. He was not only able to help explain terminologies, but he was also able to help me land a loan from PayPal and line of credit with Fundbox. He has earned my trust and will be my go-to contact for the future.

Bottom Line: Yes, I would recommend this to a friend

---

John Cho

By Kellee M.

,

Brentwood, CA

,

Mar 28, 2019
Verified Reviewer

John was extremely personable and professional. He was very thorough and followed through on what he said he was going to do. A refreshing personality from what I had previously worked with from another company. I would definitely work with him again.

Bottom Line: Yes, I would recommend this to a friend

---

Ted at Fundera is the best!

By Luis P.

,

Washington, D.C.

,

Sep 27, 2018
Verified Reviewer

I am the owner of a small IT firm. My company has been expanding over the past few years; recently, we were stretched with expenses and cash-flow to purchase equipment to fulfill orders. I originally contacted my bank, I thought they were going to help me. The bank was very difficult to work around, and all the back and forth was very tiresome. In the end, the bank did not help me.

I reached out to Ted, who was kind, understanding and actually took the time to guide me through my financial options, helped me with all the forms and documents that needed to be submitted. He was there through the entire process. I was able to successfully secure an SBA Loan 7(a), and a Line of Credit. This has helped my business tremendously. I HIGHLY recommend Ted and Fundera for their work and dedication to its customers.

Bottom Line: Yes, I would recommend this to a friend

---

Informative, patient, best rates!

By Adam C.

,

Fort Myers Beach, FL

,

Sep 18, 2018
Verified Reviewer

I am a small business owner on a small barrier island, and we were looking to expand the catering and events section of our restaurant business by purchasing a fully equipped food truck. Ben with Fundera was amazing! He was very informative about the entire process, and upfront about the interest rates terms and overall payback. It was the first quote I got so I wanted to shop around and see what was out there. He was very patient because he had confidence in the product he was offering.

After several absolutely outrageous offers, I came back to Fundera and Ben because it was the best loan. At that point, it was such a breeze. I signed the final paperwork and had the money within 48 hours. We bought our truck one week later. We are now busier than ever with events and are booking months out, thanks Fundera and Ben. This is a tumultuous time on our little island with water quality issues and being able to make this happen has not only helped grow our business with additional revenue, but allowed us to supplement a difficult time and keep our full-time staff employed!

Bottom Line: Yes, I would recommend this to a friend

---