Fundrise Reviews
Claimed This company has claimed this profile, is getting alerted on any new customer reviews entering this page, and may engage in dialogue with its customers to address their matters.

Companies cannot pay money or provide goods in order to remove or alter customer reviews.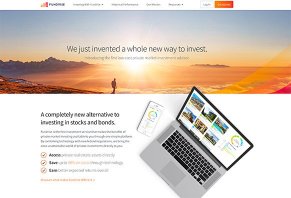 Fundrise's unique eREITs and eFunds represent collections of residential and commercial real estate that could provide investors with higher annual returns.
About Fundrise
By allowing you to gain direct access to high-potential, private market real estate investments, Fundrise's simple, end-to-end eDirect technology promises to represent a real alternative to investing in the stock market.
In fact, by combining this technology with new federal regulations, the site claims it might be the biggest change in the industry since the invention of the mutual fund—one that could deliver up to 30-40 percent higher expected annual returns than a traditional public stock portfolio.
Together, Fundrise claims they're revolutionizing the investment industry and rebuilding it from the ground up, with low-cost advising and having invested more than $1.2 billion in real estate since opening their doors.
But will they help you create a better financial future? Keep reading, and we'll help you answer this important question by discussing what we learned during our research.
How Does the Fundrise Investment Process Work?
After opening your free Fundrise account, you'll choose one of three investment goals:
Supplemental Income – If you have a moderate time horizon, prefer low variability, and are interested in a consistent passive income stream.
Balanced Investing – Moderate-to-long time horizon and low variability, this is focused on broad diversification.
Long-Term Growth – If you're looking for some income but are also interested in earning higher returns over a longer time horizon, with moderate expected variability.
Based on your chosen goal, Fundrise will allocate your investment across a mix of their Securities and Exchange Commission (SEC)-regulated eREITs and eFunds, which the site defines as "portfolios of private real estate assets located throughout the United States."
In short, by combining your investment with tens of thousands of individual investors, they claim to bring you the same leveraging and buying power typically only offered to large institutions, without the high fees. Another meaningful difference is that their Internet public offering (IPO) model also claims to allow investors to become shareholders of the company.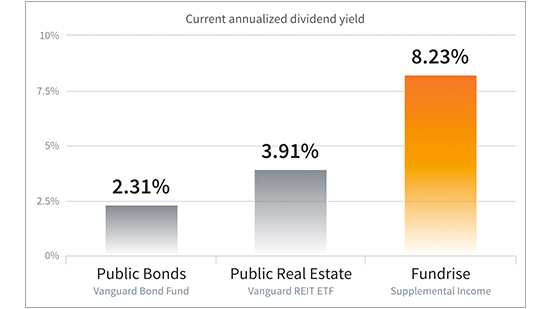 Compared to public investments like bonds and traditional REITs, Fundrise's eREITs and eFunds have provided meaningfully higher annual returns over the past few years. Image credit: Fundrise
Let's take a closer look at each of these products.
What Are Fundrise eREITs?
In a nutshell, an eREIT (electronic Real Estate Investment Trust) is similar to an exchange-traded fund (ETF) or mutual fund, in that it allows investors to diversify their investment across multiple sources. Specifically, it represents "professionally managed, diversified private market commercial real estate assets, such as apartments, hotels, retail, and office buildings from across the country."
The process looks something like this:
Acquire – Fundrise focuses on "commercial real estate properties of institutional quality but sub-institutional size," whose value can be enhanced.
Add Value – The company claims to optimize each property's value through "equity ownership and opportunistic lending."
Cash Flow – Created from a combination of potential profits, rental income, and interest payments, and then paid pro-rata to each investor as a shareholder.
eREITs are offered directly to investors online, and are intended to provide consistent quarterly cash distributions, as well as additional returns paid out at the end of each investment (typically after five years).
How Do eFunds Compare?
Instead of commercial properties, an eFund (or electronic fund) is a professionally managed diversified portfolio of residential real estate. According to the Fundrise site, examples include "single-family detached homes, townhomes, and condominiums tailored to first-time, move-up and active adult homebuyers."
As with eREITs, the eFund process works over three steps:
Buy – Focus on high-growth neighborhoods in major U.S. cities where property is available to develop and sell homes.
Develop – Fundrise constructs these residential properties based on projected homebuyers' needs.
Sell – After completion, homes are sold and any profits are returned to investors.
What will you pay to invest in Fundrise's eREITs and eFunds?
How Much Does It Cost to Invest With Fundrise & How Much Could You Earn?
eREIT and eFunds carry a $1,000 minimum investment. They're offered to accredited and non-accredited investors directly through the company's website, so there aren't any broker or selling commissions.
While a full description of potential fees can be found in their Offering Circulars, Fundrise investors pay up to a two percent asset origination/acquisition fee, along with a 0.85 percent annual asset management fee. Those who utilize both the investment services and management system will pay a 0.15 percent annual investment advisory fee.
Together, the company claims their direct-to-investor model could help you save 20 to 40 percent compared to traditional options.
The Fundrise platform provides direct communication with investors, including ongoing reporting and updates on the status of investments, along with the delivery of tax filing and other relevant materials.
What Are Investors Saying About Fundrise In Their Reviews?
Since writing our original article, three HighYa readers have provided their feedback about Fundrise, giving the company any average rating of five stars. Compliments related to their transparent business model, open communication, consistently high returns, ease of use, and property diversification.
The Washington, DC-based company seemed to come with similar feedback elsewhere online, with an A+ Better Business Bureau rating and no closed complaints as of 7/12/17.
The company has been in business since 2011, although they've recently overhauled their brand and have seemingly distanced themselves from the "real estate crowdfunding platform" they previously advertised.
Fundrise is headed by founder and CEO Ben Miller, who, according to his bio, also co-founded the Popularise real estate crowdsourcing site. He's also managing partner at WestMill Capital, and principal at US Nordic Ventures. Together, he's financed more than $500 million worth of property.
Are There Other Online Real Estate Investing Companies Like Fundrise?
If you're looking for similar end-to-end technology, low fees, and eREIT and eFund products, this is a distinct combination you'll only find with Fundrise.
However, if you're open regarding the specifics, there are several other peer-to-peer (P2P) real estate investment network out there, including popular options like RealtyMogul, Realty Shares, iFunding, and Patch of Land.
How do they compare? Let's take a look at some of their important core details:
| Company | Property Type(s) | Minimum Investment & Fees |
| --- | --- | --- |
| Fundrise | Residential and commercial | $1K min investment; 0.85-1 percent annual fees |
| Realty Mogul | Commercial | $1K min investment; fees vary depending on investment |
| Realty Shares | Commercial & Residential | $5K min investment (must be accredited or institutional); 1% fee of the aggregate invested amount |
| iFunding | Commercial | $5K-$10K min investment for most projects; No fees listed |
| Patch of Land | Residential | $5K min investment (must be accredited or institutional); 0-3 percent fees |
Given these similarities, how can you choose the right option?
As with many other consumer products and services, the right P2P real estate crowdfunding site largely depends on your needs. For example, writing for InvestorJunkie, Jack Reidy notes that you'll want to take into consideration factors like:
Fees & Average Returns – Are their fees higher or lower than competitors? What are you getting for your money? What kind of returns have they delivered in the past? How do the estimated returns compare to actual ones?
Site features, menus, and options – Does the website feel comfortable to use? Does it provide easy access to a wealth of information? Can you quickly learn a lot about your holdings?
Investing ease of use – Is it easy to sign up, transfer money, and execute paperwork?
Communication and customer support – Do you receive timely information about your investments? Is someone available to answer questions?
Financial backing – Are they receiving financial support from big public and private companies? This could indicate that they're really onto something.
Opportunities – Do they regularly update their listings, or is it erratic?
Taking all of this together, where does this leave you in regards to Fundrise?
Our Final Thoughts About Fundrise
Overall, based on what we learned by analyzing the company's site, as well as from reading third-party online feedback, it appears that Fundrise offers unique products, low fees, traditionally higher-than-stock-market returns, a positive reputation with customers, and a clean, user-friendly experience.
It was good, but now I'm disappointed

By Michelle N.

,

Gastonia, NC

,

Jun 26, 2018
Verified Reviewer

Make sure to read ALL the fine print. It's great in the sense you can invest without knowing a lot about investing. The money slowly starts growing immediately, which is nice. The thing I find to be a major con is if you need to withdraw funds, it takes over two months to get your money. I've had several investment accounts and have never seen this kind of delay.

Be aware before you put your money here - if you have any urgent need, and require your money back, this isn't the account to expect to receive it from in a timely manner. I can see taking a week, even two, but over two months seems absurd.

Bottom Line: No, I would not recommend this to a friend

---

Good experience with Fundrise

My Fundrise review thus far has been very positive. I started with them about three months ago now, and I've found the entire experience to be very well run and professional. If I have any questions, they are quick to respond, and everything overall is well documented and easy to understand. Overall, I have a good sense that this operation is run very tightly and working with them is a good investment.

Bottom Line: Yes, I would recommend this to a friend

---

Advertisement

---

Great experience and information provided

By Dietmar Lang

,

Los Angeles, CA

,

Jun 19, 2017
Verified Reviewer

So far, my experience with Fundrise has been really great. They are very transparent in terms of investments made, along with supporting information. Also, communication is good, and you're kept in the loop about the progress of your portfolio development. Also, I like their new concept where you invest along risk/growth preferences.

Bottom Line: Yes, I would recommend this to a friend

---

Love it

By Justin Cox

,

Fort Lauderdale, FL

,

Jun 18, 2017
Verified Reviewer

I have been using Fundrise for almost two years now and have gotten approximately 10% returns consistently. I would love to hear the experiences from other users, but I have nothing bad to say about it. It is so simple; put money in and grow your account. I honestly didn't think it could be real. I thought it was some kind of electronic Ponzi scheme so at the beginning I was careful and tested it, but the SEC is on every move that they make, and it's all backed up by real properties and not strip malls or heavy retail that could be killed by Amazon. These are senior facilities, apartment buildings, condos, townhomes, and hotels; places designed to generate revenue.

I have nothing negative to say about this company, and have yet to find someone that has has a bad experience.

Bottom Line: Yes, I would recommend this to a friend

---

Advertisement

---

Fundrise is the real deal. Excellent returns on great projects.

I've been investing through Fundrise for four years. Every investment has paid out at least 10% annually, and I've really learned a lot about real estate development from their education section.

Bottom Line: Yes, I would recommend this to a friend

---