FURminator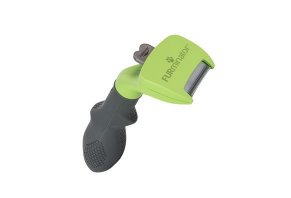 The Furminator is a grooming tool for dogs and cats that claims to reduce shedding by 90% with regular use.
FURminator Review: Is It Effective and Is It Worth It?
What Is the FURminator?
The FURminator is a dog grooming tool that claims to reduce your pet's shedding by more than 90%. This hair reduction system targets the undercoat and removes fur before it falls out without causing your pet any discomfort.
Angie Porter, a professional groomer, invented the FURminator in 2002 when her customers needed a better way to control their pet's shedding.
Though she and her husband sold the company in 2011, the brand has continued to develop pet grooming products designed to limit the time you spend vacuuming fur in your home.
In this article, we'll take a closer look at the classic FURminator. Does it work as described? We'll look at the facts to help you decide.
How Do You Use the FURminator?
The FURminator is designed to remove loose pet hair from your dog or cat's undercoat without damaging their fur or irritating their skin. You can choose a DeShedder based on your pet's size and coat length (more on that later) and use it based on the following instructions.
While marketed towards dogs and cats, you can technically use the FURminator on any pet with an undercoat. You shouldn't use the FURminator on dogs with sensitive skin or on breeds with continuously growing hair, such as poodles and Shih Tzus.
As the FURminator tends to pull out large amounts of hair with every use, the company suggests using it where cleanup is simple: preferably outdoors or on a tile floor.
For best results, you should start by washing and drying your pet so that their fur is clean (FURminator sells bath and grooming products to aid this process). Once their coat is clean and dry, the company suggests removing any visible mats and tangles that the device might get snagged in.
Next, use the FURminator as you would a brush to gently stroke your pet's coat in the direction of hair growth. Start from their head and work your way back, being extra gentle around their belly, legs, and genitals.
Don't apply too much pressure or brush the same spot over and over. Short, gentle strokes are most effective and are less likely to cause irritation.
As the comb clogs with fur, push the FURejector button to release it from the teeth so you can easily pull it out. Continue brushing your pet until their fur feels silky and you feel as if most of the loose hair is out. Repeat weekly for the best results.
What Options Are Available with the FURminator?
When you navigate to the Furminator website, the first step is selecting whether you are shopping for a dog or a cat. If a dog, you'll need to choose a breed from more than a dozen options.
This will bring you to a screen that highlights common breed characteristics and recommended grooming products such as brushes, shampoos, and hair collection tools for cleaning the furniture.
Selecting for cats works much the same way, though instead of choosing between breeds, you will specify whether your cat is small or large with long or short fur.
Below are the styles of deshedders available for dogs and cats at the time of writing and their listed prices on the company website.
Dog Undercoat DeShedding
The standard FURminator DeShedding tool removes loose hair from your dog's undercoat to dramatically reduce shedding. It's built with a curved edge that follows your pet's shape and removes fur without any irritation and without damaging the topcoat.
Each device comes with a FURejector button that works as a quick release to remove collected hair, and they are outfitted with ergonomic handles for better grip.
Options:
Small dog, short hair: $34.99
Small dog, long hair: $34.99
Medium dog, short fur: $36.99
Medium dog, long fur: $36.99
Large dog, short fur: $38.99
Large dog, long fur: $38.99
Cat Undercoat DeShedders
Like the model for dogs, this DeShedder is designed to remove loose undercoat hair and keep your cat's coat clean and free of debris.
It includes a curved SkinGuard that is designed to glide over your pet's skin without any irritation. You'll get the best long-term results from weekly use.
Options:
Small cat, short fur: $34.99
Small cat, long fur: $34.99
Large cat, short fur: $36.99
Large cat, long fur: $36.99
Regarding returns, the official company policy is that you can request a replacement or store credit within 30 days of purchase for any product with defects. These returns must be in the same condition you received them and need to include the original receipt or date of purchase.
How to Take Care of the FURminator
FURminators are designed to last through plenty of use, but the company offers care tips to extend this lifespan even further.
It's best to untangle your pet's fur before starting, as matted hair can break the teeth.
After use, you can clean the edge with warm water and mild soap. This reduces dander buildup that can dull the teeth over time.
Make sure you dry the FURminator entirely before storing it.
What Do FURminator Customer Reviews Say?
The FURminator earns rave reviews online and has an almost zealous following. The DeShedder has close to 15,000 reviews online and averages 4.7 stars.
The situation is similar for Chewy.com, where the device ranks 4.8 stars after 1,400 reviews.
Most reviewer comments concern how shocked users were about the amount of fur they brushed off their dogs with the FURminator.
Some wrote that they had to get a garbage bag to collect it all. Others noted that their pets usually acted up when they tried to brush them, but that the Furminator produced a calming effect and seemed to show that their pets enjoyed the attention.
Most of these reviewers also mentioned how glossy their pet's fur was after a FURminator session and that it seemed to decrease shedding levels for the next few days. Many people wrote that they had used the same FURminator for years and that it still looked and acted brand new.
That's not to say there aren't negative reviews as well. A few people wrote that their pets were too afraid of the brush to let them get close to it, while others said it didn't work on their dog's coats.
Many of these reviewers disclosed they owned poodles, a dog breed that FURminator says the DeShedder won't work on.
There's also a significant number of negative reviews on Amazon from people who said that they received a fake product. They knew it was fake after they investigated the serial codes on the company website and couldn't find them.
These fake Furminators are purportedly lower quality and don't work as well, so make sure you buy yours from a trustworthy retailer or directly from the Furminator website.
Are There Any Quality FURminator Alternatives?
Since its release in 2002, numerous FURminator copycat deshedding tools have hit the market.
Most popular alternatives on Amazon sell for less than half the price of the FURminator, such as the Pet Neat Pet Grooming Brush ($14.97) the Pet Craft Supply Self-cleaning Deshedding Brush ($15).
Both of these brushes have Amazon reviews as impressive as the FURminator. The Pet Craft Supply option comes in multiple sizes as well. This makes it difficult to determine whether the FURminator adds significant value beyond being a name brand.
Saying that, we want to warn you that Amazon reviews can be easily faked and there's evidence on the FURminator listing itself that some suppliers might be selling fake products under the brand name.
You can ensure you're actually getting the product you're paying for if you purchase the FURminator off the company's website.
The Bottom Line: Should You Buy the FURminator?
Let's summarize. Is the FURminator worth buying? Fifteen thousand customers probably aren't wrong, and the overwhelming consensus seems to be that the FURminator does what it promises.
When used correctly, the FURminator will remove the loose fur from your pet's coat.
This is the hair that would otherwise soon land on your floor or furniture, so using the device regularly should dramatically cut down on your pet cleanup responsibilities.
FURminator suggests you can minimize shedding by 90% with regular use, and we have no reason to doubt these claims.
If you feel like you're living with more dog hair than dog, than consider upgrading your pet grooming arsenal to include the FURminator. Just make sure your pet has the appropriate undercoat before you commit.
You should also keep in mind that FURminator doesn't accept returns, so you might be better off selling yours to another pet owner if it doesn't work for you.
We've used ours for years!

By Steph B.

,

Kansas

,

Oct 19, 2019
Verified Reviewer

Overall Experience:

We love our FURminator, and dogs love it, too. Our beagles enjoy sitting down for a comb out with FURminator. It's amazing how much undercoat comes out of a 30 lbs dog! Their groomer uses one, too.

We've owned the same FURminator for over 15 years and it still does a great job.

Bottom Line: Yes, I would recommend this to a friend

---