G2PRO by TheraGun Reviews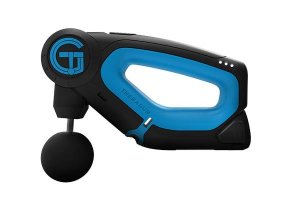 While the G2PRO by TheraGun might look like a standard jigsaw, the company claims its interchangeable heads and specific vibration frequency will deliver real-world pain relief.
What Is G2PRO by TheraGun?
Developed over the course of eight years, the G2PRO by TheraGun is a professional muscle massager that uses percussive frequency modulation therapy to help activate your muscles, boost recovery, relieve spasms and other sources of muscle and joint pain, release knots, break up scar tissue, and increase the range of motion.
Compared to the competition, the company advertises that this neuromuscular treatment device is physician-calibrated with the precise "frequency, amplitude, and torque to achieve the most effective percussive vibration therapy to your nervous system."
In fact, TheraGun advertises G2PRO's impact on pain is so profound that it can be used effectively for more extreme ailments like phantom pain, plantar fasciitis, and multiple sclerosis.
While the company promises the G2PRO could deliver a lot of benefits, it comes at a fairly steep price. The question is: Will you achieve a high level of value for the money? This is the central question we'll help you answer here, starting with the basics.
The Basics of Percussive Massage Therapy
Compared to standard vibration massage, Homedics reports that percussive massage is a low to medium-intensity technique "conducted in the form of rapid movements over specific areas of the body for relatively short but even sequences," resulting in relaxed muscles and " maximum comfort to your back, neck, and shoulders."
As a result, they indicate it can be ideal for athletes looking to boost muscle strength and overall ability in general.
During our research, we encountered dozens of sports therapy-related websites that indicated percussive massage therapy is effective for a wide variety of specific benefits, including breaking down internal scar tissue, boosting circulation, increased range of motion, and reduced stiffness and muscle spasms.
However, we didn't come across any clinical trials on the National Institutes of Health's PubMed website specifically exploring the benefits of percussive massage (whether delivered via human hands, or a machine like TheraGun), or supporting specific benefits like these.
On the other hand, we did encounter thousands of studies exploring the effects of general vibration therapy for conditions like chronic muscle pain and spasms, improved joint reflex, and increased bone density. Healthline even reports that it might have short-term benefits for patients with Parkinson's disease.
With these details in mind, let's take a closer look at how the G2PRO delivers these rapid movements to the body.
How the TheraGun G2PRO Works
With its 8.5" x 5.5" x 2" size, 2.7-pound weight, and a 12-volt LithiumTech battery, the G2PRO's body looks a lot like one of those multi-function power tools you'd pick up at your local home improvement store. It also comes with industrial grade components, balanced weight distribution and stability, ventilated body, and handle-mounted on/off switch (with integrated battery indicator).
While there's no adjustable speed, the G2PRO operates at between 2,000 and 2,500 RPM (33-40 Hz) for 40-45 minutes per charge. A full recharge will take about 50 minutes.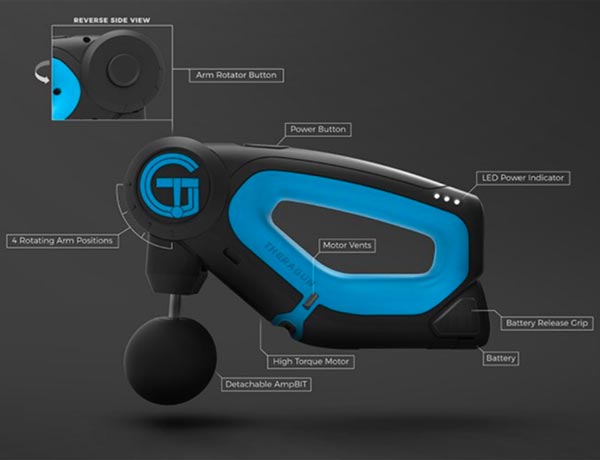 At first glance, with its plastic, wrap-around body, removable battery, high-torque motor, and LED power indicator, the G2PRO by TheraGun looks a lot like a traditional electric jigsaw. Credit: TheraGun, LLC
With the quick press of a button on the opposite side, G2PRO's arm can be adjusted to four different placement angles, allowing you to treat different body parts. At the end of this arm is a mechanism that allows you to change between four differently shaped tips, called AmpBITS, with a simple pull:
Large ball – For large muscle groups (e.g., quads, glutes) or extreme soreness
Standard ball – For general use
Dampener – For extreme tenderness or bony areas
Cone – For trigger points and small muscle areas (e.g., feet, wrists)
Simply turn the G2PRO on, press your chosen tip against your skin until comfortable, and let it float across the area at approximately one inch per second. TheraGun recommends treating each body part for 60-90 seconds up to three times per day, which means each full body session will take about 15 minutes.
With average use, the company recommends these AmpBITS should be replaced every 90 days.
What's the Difference Between TheraGun's G2PRO and G1?
The original G1 percussive massager came with many of the same features as the updated G2PRO, including its unique four-position arm and the specific frequency. However, instead of a button, this was adjusted using a safety latch release.
It also featured a 20-minute run time, a longer 60-minute recharge time, a heavier 3.2-pound weight, and only one removable battery, along with no LED battery indicator, perpetual on/off switch, or carrying case.
Could the TheraGun G2PRO Cause Side Effects?
Other than perhaps those caused by overuse or pressing too hard, we didn't encounter any common side effects related to the use of percussive massage or vibration therapy during our research.
However, the TheraGun website emphasizes that the G2PRO shouldn't be used by children under the age of eight, or those who are pregnant. And as always, you should consult with your physician before use.
How Much Does TheraGun Cost and Where Can You Buy?
If purchased directly from the manufacturer, the TheraGun G2PRO is priced at $599 and comes with the following:
1 Deluxe Protective Carrying Case
1 Standard Ball AmpBIT
1 Large Ball AmpBIT
1 Cone AmpBIT
1 Dampener AmpBIT
2 Rechargeable LithiumTech Battery Packs
1 Lithium-ion Charger
Accessories and replacement parts are priced at:
Charger: $49
Battery: $49
AmpBITS 4-Pack: $39
AmpBITS Standard 3-Ball Pack: $29
AmpBITS Large 3-Ball Pack: $29
AmpBITS Cone 3-Pack: $29
Single Damper: $19
We also found the G2PRO for sale through Amazon and Rogue Fitness for the same price.
All direct purchases come with a 30-day no-questions-asked return policy, as long as you return the original package and all of its contents. They also come with a one-year warranty for the unit itself, and a 90-day warranty for the battery.
Customer support can be reached at info@theragun.com.
What Can We Learn from TheraGun Customer Reviews?
On the product's website, TheraGun held an average rating of about 4.5 stars at the time of our research, among more than 480 customer reviews. Compliments tended to reference ease of use, relief from pain, decreased stiffness and presence of knots, and improved recovery time.
The percussive therapy device had a 3.9-star average customer review on Amazon, with many of the same compliments. On the other hand, the relatively few complaints frequently revolved around loudness—so loud, in fact, that multiple reviewers (including those on third-party sites) recommended wearing ear protection. Many also related to lower quality than expected.
As a company, TheraGun has been in business since 2006 and was founded by Dr. Jason S. Wersland, D.C., a chiropractor in the Los Angeles, CA area. According to his bio on the product's website, he came up with the idea after being involved in a "motorcycle accident that caused a disc herniation, resulting in intense pain and eventual atrophy."
Are There Other Percussive Vibration Massage Devices Like TheraGun?
There are perhaps hundreds of percussive massage devices available in the marketplace, priced anywhere between less than $50 to well over $500. Some of the most popular options competing with TheraGun's G2PRO include:
| Brand | Price | Special Features |
| --- | --- | --- |
| G2PRO | $599 | Four-position arm; special frequency, amplitude, and torque, removable/rechargeable battery |
| Thumper Mini Pro | $199 | Patented percussive action, variable speeds (20, 30, or 40 pulses per second), corded |
| Hyperice Hypervolt | $349 | Quiet Glide technology, cordless, up 3 hours of runtime, 4 interchangeable heads, 3 speed settings (up to 3,200 percussions per minute) |
| Tim Tam Power Massager | $399.99 | Patent pending threaded shaft, cordless, up to 2,000 strokes per minute, 90-degree articulating head, round therapy head only |
| DMS Professional Deep Muscle Stimulator Massager | $2,799 | Only one speed, 20-pound weight, all-metal construction |
| The Warrior Deep Tissue Massager | $249 | 100 - 3,000 stroke per minute, variable speeds, corded, one-position head, no interchangeable tips |
| Wahl Deep Tissue Percussion Massager | $33 | Variable speeds, corded, 4 interchangeable tips |
| Rapid Release Juvenate | $595 | 3-in-1 treatment head, FDA registered Class I medical device, cordless, 2-pound weight |
In addition to these options, you'll also find several online guides instructing consumers how to transform a standard jigsaw (many specifically referenced Worx models)—combined with a rubber chair foot—into a DIY deep tissue percussive massager. Combined, this might cost a handy consumer well under $100, including with a similar multi-position head.
Important note: We're only reporting the information as presented on third-party websites; not making any recommendations. Always discuss your specific situation with a healthcare professional before making any purchase.
As we can see from these popular competitors, there are many different percussive massage devices in the same market as TheraGun's G2PRO, featuring a wide variety of designs, not to mention some expansive price differences.
How to choose which option is right for you? Let's go ahead and bring everything we've discussed to a close, and help you figure out which is your best next step.
Our Final Thoughts About G2PRO Percussive Massager by TheraGun
From a high-level perspective, based on what we learned during our research, there seems to be an overall lack of conclusive clinical evidence on sites like the NIH's PubMed that specialized, high-end percussive massage machines can deliver meaningful benefits not provided by general vibrational devices found at most big box retailers.
Zooming in and referencing G2PRO, specifically, the TheraGun website doesn't list any clinical evidence on their website that its price will necessarily deliver more value (i.e., relief from muscle knots, spasms, and other sources of muscle and joint pain) than a lower-priced percussive machine.
Given this overall lack of substantiation, along with the large investment that most of these companies are requesting of their customers, we'd strongly recommend speaking with your regular doctor about whether or not they'll deliver value on-par with their price, based on your specific diagnosis, needs, and preferences.
If they recommend that you give the G2PRO a try, not only does the device come with mostly positive online customer feedback (despite the investment), TheraGun allows you to try it for 30 days before requesting a refund, which—will the help of a physician—should be more than enough time to discern if it works for you.
G2PRO by TheraGun

By David R.

,

Massachusetts

,

Feb 17, 2019
Verified Reviewer

I ordered on 11/24, was also shipped late, seems to be a pattern. However, the worst of it is that they knowingly discounted the G2 because they had so many complaints about noise to make way for the G3. The G2 tops at over 90 decibels and if you don't have earmuffs, you will be investing in hearing aids.

I called asking if they would take a return for credit on the G3. They could care less and stood by their 30-day warranty. Funny that they shipped 10+ days late, but when I called 10 days late on the warranty, they told me to get lost. No phone number to call into the company and their site will not accept reviews, for good reason. For a company charging this much for their product, they do not stand behind it or their customers.

Stay away! I recommend going with Hypervolt, quieter!

Bottom Line: No, I would not recommend this to a friend

---

2 out 2 people found this review helpful

Would review if I ever received it

By Darlene A.

,

LaConner, WA

,

Dec 4, 2018
Verified Reviewer

I ordered my unit almost 2 weeks ago with the tag of free 2-day FedEx shipping. Money is out of account but there is no delivery, no email explaining the delay and I am unable to contact them in any way attempted, other than driving to California. I am very disappointed with the customer service and am now wondering if they took my money and ran!

Bottom Line: No, I would not recommend this to a friend

---

Advertisement

---