Gabi Reviews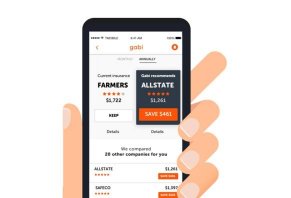 Using proprietary algorithms and artificial intelligence, Gabi is a personal lines insurance broker who can help review your coverage and save you money on auto, home, renters, umbrella, and life insurance policies.
About Gabi
Gabi is a 100 percent free service that uses smart algorithms to review your current auto, home, renters, umbrella, and life insurance policies, recommend the best coverage, and seek out the best rates among the carriers they represent. Together, they claim this powerful technology helps their customers an average of $460.
The website tells us you simply need to sign up for an account in less than one minute, link your existing insurance account (you can also send them copies of your policies if you prefer), and then receive a comparison among 20+ companies. If one meets your needs, you can switch and receive free support, including for claims.
Even after you've signed up, Gabi's intelligent algorithms and data mining tools will continue monitoring rates, and notify you if you might be able to save more. Additionally, "if you move, buy a new car, start a family or make other changes," Gabi's website tells us, their "technology will proactively find the right coverage for you and your family's new situation."
With their algorithm-based coverage and rate monitoring, Gabi certainly seems like a hands-off way of ensuring you're getting the most home and auto insurance, for the least amount of money. But, are they necessarily your best choice?
Before making a decision, take a few minutes and read through everything we learned during our research.
How Does Gabi Work?
Within the online personal insurance industry (e.g., home, auto, umbrella, etc.), there are three main players:
Lead Generators – These websites take your information (personal details, types of policies you're looking for, etc.) and package it as a 'lead,' which is then often sold to independent agents and brokers.

Independent Agents & Brokers – Third parties that typically represent multiple insurance companies, who can talk with you about your needs, find the appropriate carrier(s), and maximize discounts to ensure you're getting the lowest rate.

Quote Aggregators – Carrier-sponsored sites that often represent less of a gamble than lead generators, although your options are typically limited only to those carriers willing to pay for inclusion.
Of these, Gabi is a licensed broker, who represents the following 17 insurance companies: AAA, AIG, Allied, Allstate, Chubb, CSE, Farmer's, GEICO, Kemper, MetLife, Mercury, Nationwide, Progressive, Safeco, State Farm, The Hartford, and Travelers.
Their services are currently available in six states: AZ, CA, NC, OH, PA, and TX. Like many other agents and brokers, they're able to assist with personal insurance policies like auto, home, renters, umbrella, and life.
However, they work a bit differently from most online brokers, since you'll start the process by selecting your current carrier and entering your personal information (name, DOB, email address, physical address), after which Gabi will send a confirmation code via text.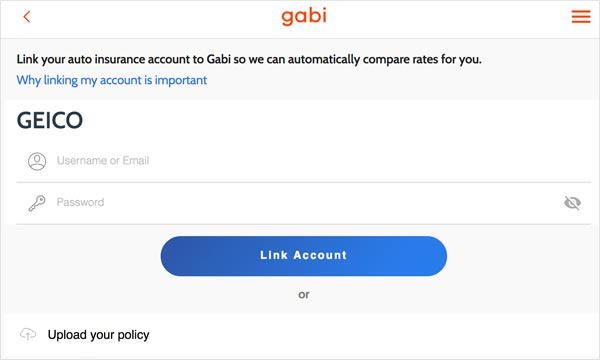 Compared to traditional insurance agents and brokers, Gabi allows customers to link or upload their insurance policy information, while their intelligent algorithms search for the best coverage and rates. Credit: Gabi Personal Insurance Agency, Inc.
From there, you'll provide the company with your existing information by either connecting your online insurance accounts (entering the appropriate username or password), or uploading PDF versions of your policies.
It will then take two business days for you to receive a better offer, after which Gabi's algorithms will continuously monitor your rates.
How Much Does Gabi Cost?
All Gabi coverage reviews are free. And like the majority of insurance agents and brokers, whether brick-and-mortar or online-only, their FAQ indicates they're "paid a commission directly from the insurance carriers when we become your agent of record."
In other words, there's no cost to you as the insured.
If you have additional questions or would like to speak with an agent, you can call 415-842-2411 or send an email to hello@gabi.com.
What Can We Learn from Gabi Customer Reviews?
On Yelp, we encountered nearly 30 customer reviews for Gabi at the time of our research, who had cumulatively given the company an average rating of about five stars. Most compliments referenced ease of use, lower rates, and great customer service, while the only complaint related to a lack of support.
From a company perspective, Gabi Personal Insurance Agency, Inc. is based out of San Francisco, CA has been in business since 2016, and recently raised $9.5 million in Series A funding.
They held an A rating with the Better Business Bureau, based on nine customer reviews (all positive) and no closed complaints, as of 3/21/18. Common compliments referenced reduced auto insurance rates and ease of use.
Gabi was co-founded by CEO Hanno Fichtner and CFO Krzysztof Kujawa. Previously, Hanno worked as Chief Digital Strategy Office for ProSiebenSat.1 Media SE and Partner & US Managing Director for FinLeap, while Krzysztof was VP of Product Mgmt for GetInsured and co-founder and CEO of AMG.net.
Are There Other Algorithm-Based Insurance Brokers Like Gabi?
According to the Insurance Information Institute, the property and casualty insurance marketplace wrote more than $533 billion in net premiums during 2016, with life and health insurance adding another $597 billion. As such, there are a lot of companies—and agencies and brokers who write for them—competing for a piece of the pie.
But, while almost every carrier provides the option to obtain quotes online, there are only a handful of websites competing directly (in at least one way) with Gabi, many of which the HighYa team has written about. Here are some of the most popular and how their core details compare:
| Company | Type | Policies Offered | AI-Based? |
| --- | --- | --- | --- |
| Gabi | Broker | Auto, Home, Renter's, Umbrella, Life | Yes |
| Compare.com | Agency | Auto | No – only compares rates |
| Insurify | Agency | Auto | No – only compares rates |
| Lemonade | Carrier | Home, Renter's | Yes |
| Ladder | Carrier | Life | Yes |
| The Zebra | Agency | Auto | No – only compares rates |
What you'll notice from this table is that, while there are other algorithm-based options like Lemonade and Ladder, they cumulatively offer only home, renter's, and life insurance. Not to mention they're carriers, so all things being equal, you'll only have one rate available.
On the other hand, similar to Gabi, The Zebra, Insurify, and Compare.com are agencies that represent multiple carriers, although they're not AI-based and can only provide rate comparisons.
Together, this means that if you're looking for an online-only, AI-based insurance broker who can provide access to auto, home, renter's, umbrella, and life policies—and who will monitor your policies daily for the best coverage and rates—Gabi's currently the only game in town. But with the recent explosion in fintech (financial technology), this might not be the case for long.
Our Final Thoughts About Gabi
In the meantime, how can you choose the right personal lines insurance option? A lot of this will depend on your comfort level.
If you're unfamiliar with how to calculate your insurance needs or with basic insurance terminology, it might be best to start by having a conversation with a reputable, licensed agent or broker in your area who comes with high marks from other customers. If you're unsure where to start, a solid option is to ask family and friends for recommendations, which can be worth their weight in gold.
On the flip side, if you're interested in a hands-off approach and are comfortable with an algorithm analyzing your insurance needs and subsequently recommending carriers, Gabi seems to come with mostly positive—if somewhat limited—online customer feedback.
Since their services are free, though, you might not have much more to lose than a few minutes of your time if you link your insurance accounts and find they can't immediately save you money. Even then, they can continue searching among their carriers daily on your behalf, so they might be able to help you save in the near future.
» Read Next: How Much Car Insurance Rates Go Up After a Ticket or Accident?
Auto insurance discount site Gabi.com wants your secure password

By Rik B.

,

San Francisco, CA

,

Feb 19, 2020
Verified Reviewer

Gabi.com wants your password for your insurance provider before they will let you use their site.

No, they didn't ask for my Social Security Number but considering the fact that every couple of months we hear of user names and all their info including passwords being hacked from companies like B fo A, Equifax, the US Government and too many others by hackers or foreign entities, it seems like a huge personal security risk to give Gabi the user name and password for your current insurance company account. Does it really make sense to give out a secure password to a company that only gives an email address as a means of contact? The possibility of having any of my passwords become compromised is not worth the savings I may get to just check for discounts I may or may not find on a web site.

Online user beware!

Thanks to HighYa for providing a platform to alert people of a possible lapse in the realization of the ramifications of offering any of your personal info to sites that are asking for something that they can't guarantee is secure.

Bottom Line: No, I would not recommend this to a friend

---

Very happy with the service

By Susanna R.

,

Nashville, TN

,

Nov 14, 2019
Verified Reviewer

I was directed to Gabi from another app. Although I didn't feel my existing car insurance was too high, Gabi offered to explore other rates for me free of charge and with very little effort on my part. After a couple of days she came back with a much lower insurance rate for me. I've always hated shopping for car insurance because it takes forever on the phone to get a quote and you have to call multiple places and they need a ton of information. Gabi made this ridiculously easy and saved me a ton of money.

Bottom Line: Yes, I would recommend this to a friend

---

Advertisement

---

Excellent service

By Timothy L.

,

San Jose, CA

,

Mar 6, 2019
Verified Reviewer

Gabi is super easy to use, great customer service, and they can save you a lot of money with little effort on your part. I was skeptical at first but they saved me over $800 a year.

Bottom Line: Yes, I would recommend this to a friend

---

Some people don't text

By Chester S.

,

Georgia

,

Feb 20, 2019
Verified Reviewer

Some seniors, like my wife and myself, do not use smartphones or use phones that text. We use cell phones for when we are away from home only for voice calls. Gabi requires a phone that can receive a text message.

It's not like we are stupid, but we didn't grow up in an age when you had to have something in your hand 24/7 for communication.

Bottom Line: No, I would not recommend this to a friend

---

Advertisement

---

Doesn't get better than this!

By Leah S.

,

New Braunfels, TX

,

Feb 3, 2019
Verified Reviewer

I was extremely skeptical about going through the process of switching insurance companies. Gabi has made it an extremely smooth transition! They are informative, knowledgeable and have great communication. The friendly reminders are a plus, with my busy life those were very important for me. I am definitely going to tell everyone I know what an absolutely amazing company this is!

Bottom Line: Yes, I would recommend this to a friend

---

Gabi saved me $1439 on my home and auto

By Peter P.

,

Long Beach, CA

,

Dec 7, 2018
Verified Reviewer

I was impressed with how easy it was to find a better deal with Gabi. I uploaded my home and auto policy and within 2 minutes they showed me a list of all the companies they looked at. I selected a bundle of Progressive and Travelers and they emailed me the DocuSign to purchase the policy. That was it. Saved $1439 in total. Same coverage! And I did not receive spam calls or emails. I can really recommend it.

Bottom Line: Yes, I would recommend this to a friend

---

Nice...until it wasn't

By Carlos S.

,

Texas

,

Oct 6, 2018
Verified Reviewer

I would have liked to have given Gabi.com a 5-star review after their analysis showed me how to save a lot on auto and renter's insurance. But then I relied on their independent agent affiliate to follow through and set up my policy. They screwed up both policies, but the insurer could not fix it; the independent agent had to. That's when the hell began. I could not get the agent to return phone calls. And while Gabi did answer emails, their promises to follow up on my behalf fell flat.

Bottom line: My renter's policy was canceled and my auto policy remains only because the insurer felt bad for me one night and fixed the policy error. Never again Gabi!

Bottom Line: No, I would not recommend this to a friend

---