Gaia Herbs Adrenal Health Reviews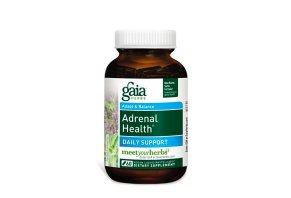 The Gaia Herbs Adrenal Health supplement blend claims to help you reduce stress and improve wellbeing. We'll discuss the price, the competition, and the clinical evidence for its ingredients.
What Is Gaia Herbs Adrenal Health?
Using a unique combination of pure, potent extracts to nourish your adrenals, Gaia Herbs Adrenal Health is a daily dietary supplement that promises to help support your body's response to stress, while aiding overall wellbeing.
According to the website, adults only need to take two capsules, two times daily after meals, and this self-proclaimed #1 formula for adrenal support will go to work.
The American Institute for Stress reports that 77 and 73 percent of us regularly experience physical and psychological symptoms caused by stress, respectively. In fact, about one-third of the population reports living with extreme stress, which costs employers about $300 billion annually in missed work and related health care.
But what, exactly, do your adrenal glands have to do with your body's stress response? And can any of the ingredients found in Gaia Herbs' Adrenal Health formula—or any competing formula—provide real-world support?
Let's take everything step by step.
How Do Your Adrenal Glands Relate to Stress?
WebMD explains that when your body experiences stress, it releases a hormone called cortisol, which regulates blood pressure and heart function.
But, if you experience ongoing stress and your adrenal glands are continually producing extra cortisol, one theory is that they eventually can't keep up and vastly decrease output as a result. This is informally termed adrenal fatigue (also sometimes referred to as adrenal stress).
While the Gaia Herbs website doesn't explicitly reference the condition, and it's something often promoted by naturopaths and alternative medicine practitioners, the article continues explaining that:
"There's no science to back it up. The Endocrine Society, the world's largest organization of endocrinologists (people who research and treat patients with diseases related to glands and hormones), flatly says that adrenal fatigue is not a real disease. And it says the symptoms of adrenal fatigue are so general, they can apply to many diseases or conditions (depression, sleep apnea, fibromyalgia) or stem from everyday life."
With this important caveat in mind, is there clinical support that Gaia Herbs' formula can otherwise address adrenal function, or boost overall health and wellbeing?
Taking a Closer Look at Adrenal Health's Ingredients
According to the supplement facts label listed on the Gaia Herbs website, Adrenal Health contains the following ingredients:
Siberian Rhodiola Root Extract 120 mg
Holy Basil Leaf 90 mg
Proprietary Extract Blend 520 mg: Oats Milky Seed Fresh Extract, Holy Basil Leaf, Schisandra Berry, Ashwagandha Root Extract
What's the best method for determining whether or not these ingredients are effective for a specific claim? After writing about more than 700 dietary supplements, we've learned that sites like the Natural Medicines Database, WebMD, and Examine.com are robust science-based resources for quickly summarizing the overall clinical evidence.
And according to these resources, there's insufficient clinical evidence supporting Gaia Herbs' stress or adrenal-related claims for their Adrenal Health dietary supplement.
However, when it comes to the company's 'overall well-being' claims, oats is listed as likely effective for lowering cholesterol and reducing the risk of heart disease, while Schisandra is possibly effective for improving concentration, attention, and speed of thinking.
Could Adrenal Health's Ingredients Cause Side Effects?
These same resources cumulatively report that most of these ingredients are likely safe when taken short term. However, the long-term safety of Rhodiola and holy basil is unknown.
They indicate that in some instances (no dosages or other specifics provided), Rhodiola might cause dizziness, dry mouth, or excessive saliva production, while holy basil can have a moderate interaction with anticoagulant medications.
The Gaia Herbs website also emphasizes that Adrenal Health should not be taken during pregnancy or lactation, by individuals with bipolar disorder, or by children.
If you have any medical condition (and even if you don't, for that matter), be sure to discuss your intentions with your doctor, who could help identify any potential side effects or medication interactions based on your specific diagnosis and existing treatment plan.
» For Further Reading: Can Dietary Supplements & Vitamins Cause Dangerous Side Effects?
How Much Does Adrenal Health Cost & Where Can You Buy?
If purchased directly from Gaia Herbs, Adrenal Health is priced as follows:
1 Bottle (60 ct): $29.99
3-Pack (60 ct): $85.17 ($28.39 per bottle)
1 Bottle (120 ct): $49.99
3-Pack (120 ct): $143.97 ($47.99 per bottle)
We also found the supplement available through a wide variety of third-party retailers like Amazon, CVS, Vitacost, iHerb, Lucky Vitamin, and Thrive Market, to name just a few. Prices were often meaningfully lower than those from the manufacturer.
All direct purchases come with an 'as soon as possible' satisfaction guarantee, less S&H charges. Third-party refund details will vary by retailer.
A Look at Customer Reviews for Adrenal Health Daily Support?
On Amazon, Adrenal Health had more than 960 customer reviews at the time of our research, who had given the supplement an average rating of 4.1 stars.
There, common compliments referenced ease of use and effectiveness (increased energy, improved sleep, reduced anxiety and fatigue, etc.). The relatively few complaints typically revolved around no results and side effects like increased nervousness and anxiousness.
Overall, ratings and feedback seemed similarly positive elsewhere online.
From a company perspective, Gaia Herbs, Inc. is based out of Brevard, NC and has been in business since 1988. They held an A+ rating with the Better Business Bureau, based on no customer reviews or closed complaints, as of 5/17/18.
Are There Other Adrenal Health Supplements Competing with Gaia Herbs?
We learned earlier that adrenal fatigue isn't a medically recognized condition, with no discernibly distinct symptoms from already acknowledged diagnoses. Still, the market is flush with dietary supplements promising to deliver related support, which you can see for yourself via online marketplaces like Google Shopping and Amazon.
While we didn't encounter any with the same formulation as Adrenal Health during our research, you'll find that many popular competitors feature similar ingredients lists, including Rhodiola, Ashwagandha, ginger, licorice, Schisandra, Gotu Kola, Ginkgo, l-tyrosine, ginseng, and astragalus root.
Here were some of the top results, as well as any ingredients that deviated from this norm:
| Supplement | Price / Quantity | Standout Ingredients |
| --- | --- | --- |
| Gaia Herbs Adrenal Health | $28.39+ (60 or 120 tablets) | Holy basil, Oats milky seed fresh extract |
| Go Nutrients Adrenal Edge (Liquid) | $24.50 (2 fl oz) | Wood Betony herb, Passionflower |
| 1 Body Adrenal Support | $24.50 (60 capsules) | L-tyrosine, Vitamin blend |
| LES Labs Cortisol Support | $30 (60 capsules) | Phosphatidylserine, Magnolia bark extract |
| Skye Naturals Adrenal Power | $20 (50 capsules) | Acerola fruit, Suma root |
| Hidden Nature Adrenal Support & Cortisol Manager | $16 (60 capsules) | Appears to be the same formulation as Skye Naturals |
Given the differences in their blends, as well as their disparate cost per dose, what criteria can you use to decide whether or not Gaia Herbs' Adrenal Health is more deserving of a spot in your medicine cabinet?
We'll summarize everything we've discussed in the final section.
Our Final Thoughts About Gaia Herbs Adrenal Health
Organizations like the National Institutes of Health and Nutrition.gov (to name just a couple) recommend that otherwise healthy individuals (i.e., those not deficient in any of its ingredients) do not need to take supplements.
In addition to potential side effects, we think this is why it's wise to always talk with your doctor before purchasing any new supplement. And this obviously doesn't diminish the fact that—according to resources like WebMD—Adrenal Health targets a condition (adrenal fatigue) that isn't medically recognized, has little-to-no clinical support, and comes with no discernable symptoms.
On the upside, many of these same sites indicate there's sufficient clinical evidence that some of the supplement's ingredients (oats and Schisandra, specifically) may help boost overall well-being, which is advertised explicitly on the Gaia Herbs website.
Furthermore, the company has been in business for decades, they come with a highly positive online customer reputation, and stand behind Adrenal Health with a (reasonable) no-time-limit refund policy if it doesn't meet your needs and preferences.
» For Further Reading: Before Buying a Dietary Supplement, Follow These Steps to Understand Its Claims