Gentleman's Box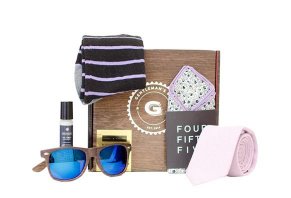 Gentleman's Box is a men's lifestyle subscription service that promises to provide you with dapper lifestyle accessories and fashion-forward apparel.
Gentleman's Box Review: Is This Subscription Service Worth It?
Gentleman's Box is a luxury subscription service that sources lifestyle apparel and accessories for men. The company offers monthly and quarterly subscription options, each with a unique theme designed around a featured gentleman (fictional or otherwise) from the past or present.
The company began in the spring of 2014 with the goal of giving men a way to grow their accessory collection and gain confidence about the ways to look their best. Along with each order, subscribers receive detailed information about the thought process of that month's theme as well as the origins and value of each product and how to best use it.
Does this brand deliver when it comes to gentleman-approved accessories? Let's look at the details to answer that question better.
What Options Are Available with Gentleman's Box?
At the time of writing, Gentleman's Box offered two subscription options: a classic box and a premium box.
The classic box is a monthly delivery based around the life and style of one noteworthy man, and it comes with four to six brand name accessories. This subscription costs $29 per month for a month-to-month subscription, or $25 per month if you sign up for an annual subscription.
Some Gentleman's Box themes in the past included "Our Favorite Narrator," "Our Favorite Mystery Murderer," "Our Favorite Wall Street Mogul" and more. You can buy previous boxes without a subscription for $34 each, and the company states that the items within every box retail for $100 or more.
Do these claims match reality? We looked closer at the contents within the March 2018 "Our Favorite Narrator" box (themed around Morgan Freeman) to find out.
Below are the included products within each box and the listed retail price from Gentleman's Club along with the retail price of each item as listed at the time of publishing:
Rutherford Sock Co: $15 ($7.56–$13.62)
Seasons Playing Cards: $15 ($15.95)
Soft Landing Collar Stays: $29 ($21.18)
Gentleman Collective Saxophone Tie Clip: $19 ($18.37)
G Fox and Co Wayfarer Sunglasses: $25 (No longer available, previously listed for $25)
As this comparison makes clear, Gentleman's Club is fairly accurate with their retail price listings for each product, with the exception of the collar stays.
The company makes it clear that the contents of each box come as a surprise, and that it's not possible to request product swaps or personalization. Options for your box's contents include a trendsetting tie, stylish socks, a grooming product sample, lifestyle accessory, and other apparel accessories.
The premium box is a quarterly delivery that costs $100 per box, and it offers premium quality lifestyle and fashion goods based around the season and inspired by luxury goods from around the world. The total value of the premium box's content often exceeds $400, and the company offers only a limited supply.
What Are the Details Behind a Gentleman's Box Subscription?
All new Gentleman's Boxes are purchased through a subscription, which will automatically renew every month or quarter until you cancel the service. It's possible to skip a month or a quarter at a time through your online account, and the subscription will start automatically after.
If you wish to cancel your subscription, you need to do so before the tenth of the month previous to prevent the next order from being processed. For the quarterly subscription, the renewal dates are December 10, March 10, June 10, and September 10, meaning you need to cancel before these dates to stop your subscription.
Canceling an annual subscription before the time has expired will result in a 20% fee that's taken out of your overall refund for the boxes you didn't receive.
It's also possible to buy gift subscriptions that are set for pre-determined amounts of time. With these subscriptions, your order won't automatically renew once the time expires. While it's not possible to buy the current month's boxes without signing up for a subscription, the company does sell previous month's boxes for one-time purchases.
For further questions about the subscription process, you can message the company directly at support@gentlemansbox.com or by giving them a call at (248)-479-6066.
What Options Compare to Gentleman's Box?
If you're looking for the right subscription service for yourself or the men in your life, there are plenty of other options to consider besides Gentleman's Box. Two others worth considering include Menlo Club and Robb Vices.
Like Gentleman's Club, Menlo Club is a subscription apparel service that promises to help you expand your wardrobe. You'll pay $60 per month for deliveries that average two to four items, and the total value tends to be twice the subscription cost.
One difference between the two is that Menlo Club puts the focus on apparel rather than accessories, so that can potentially be a deciding factor if one piques your interest more than the other. Likewise, you'll pay less than half as much per month for a Gentleman's Box.
Another men's subscription company worth considering is Robb Vices. Rather than providing apparel, this company celebrates luxury with top-shelf alcohol, indulgent treats, and high-end lifestyle pieces. This is a good buy for helping men appreciate the finer things in life, though it won't do much to improve their wardrobe.
You'll pay more per delivery of Robb Vices ($100-$150 per month), but you'll also receive higher caliber items each time. It comes down to personal preference which of these services appeal to you more.
What Do Customers Think of Gentleman's Box?
Are Gentleman's Box contents helping men become better dressers? We looked at reviews from previous users to get a sense what the consensus was.
A report we found from AskMen noted that the quality of items within each box was impressive, as most were from recognizable brand names or made with real leather. The review also stated that the included literature within each box is impressive in its polish and level of detail.
On the negative end, the review didn't like that there's no way for subscribers to switch out their box if they don't want a particular month's theme and that it's not possible to purchase the most recent month's box without enrolling in a subscription.
Trustpilot reviews also showed us that most Gentleman's Box subscribers are happy with the company.
The brand was ranked just under four stars after 461 reviews at the time of writing, and the comments we read showed that many customers were enthused about the quality of products, noting that they loved that items within themed boxes went well together and that they found uses for almost everything they received.
A few reviewers wrote that they received too many similar products over the months (like pocket squares) but that they easily regifted the extra.
Some reviews we read weren't quite as positive. A few subscribers noted that the products were too cheap for the price they were paying and that the premium boxes weren't worth the extra cost.
We also noticed some comments that customer service was slow to address complaints and seemingly didn't want to honor their refund policy for canceled subscriptions.
Overall, we saw many comments from happy customers who thought wearing Gentleman's Box products improved their daily style and helped them feel more fashion-forward. It seems that most men found a few items in each delivery that they liked enough to justify the overall subscription cost.
Our View: Should You Consider Gentleman's Box?
To wrap up this article, what is our consensus about Gentleman's Club? This well-priced subscription company promises to help men build up their accessories collections quickly, and the customer reviews we read show that the company delivers.
Each order is based around a theme, and you'll receive approximately three times the subscription cost in value each month. Though we saw some comments that the provided products aren't top quality and that splurging on a premium subscription isn't worth it, the majority of reviewers had favorable things to say about the club.
We believe that Gentleman's Box is best for those who appreciate the look of the finer things in life but don't necessarily have the budget (or the sense of style) to buy everything individually. A monthly subscription like this lets you build up your accessories fast, and it's possible to cancel your subscription at any time if you decide it's not right for you.
For these reasons, we believe that Gentleman's Box is a low-risk subscription service that's worth looking into.