Get It Free Reviews
Claimed This company has claimed this profile, is getting alerted on any new customer reviews entering this page, and may engage in dialogue with its customers to address their matters.

Companies cannot pay money or provide goods in order to remove or alter customer reviews.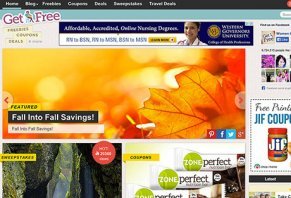 Get It Free is a website that claims to help you find money-saving offers from all around the internet, including gift cards, coupons, freebies, and more.
About Get It Free
From everyday to luxury, including popular restaurants, food, and grocery items, beauty products, and much more, Get It Free is a website that claims to provide you with a variety of ways to save money, including free offers, coupons, discounted gift cards, and strategies from all around the internet.
Get It Free claims to add new money-saving offers all throughout the day, in addition to offering a huge collection of informative articles and videos that can help you get the most out of your money.
Just mentioning the word "free" might get your heart pumping. After all, who doesn't want something for nothing? But when it comes down to it, are most of the products offered on Get It Free actually free?
We'll answer this question in a moment, but first, let's take a look at how Get It Free Works.
How Get It Free Claims to Work
At its most basic, the Get It Free website contains 5 primary money-saving sections:
Freebies – These offers include physical products and services for household items, beauty products, grocery items, and more.

Coupons – Coupons will need to be printed (more about this below), and can help you save money at the register on specific products.

Deals – Features big savings and deep discounts on a wide variety of products.

Sweepstakes – After entering, you'll have the ability to win everything from cookware to cars.

Travel Deals – Similar to travel deals websites such as Trivago and BookIt.com, this feature allows you to search other websites for flight, hotel, cruise, car rental, and vacation package deals. You'll also find some popular travel deals listed below the search area, including location, price, and some included amenities.
Regardless of which section you're browsing through on the Get It Free website, you'll be able to see how many users have redeemed each offer, as well as whether or not the offer remains active. This is because many deals, freebies, and coupons have an expiration date, or are removed once a certain number of customers claim them.
When browsing through Get It Free's popular Coupons section, if you find a coupon you like, you simply need to click on the scissors icon underneath. Doing so will clip it, similar to adding items to an online shopping cart.
When you're finished browsing, you'll just need to print the coupons you've "clipped" by clicking the Print Coupons icon at the top of the page (note: you'll likely need to download Get It Free's coupon installer in order to print coupons, which is claimed to allow the barcode to be seen and to be printed from your computer).
Get It Free has a fairly significant social media presence on Facebook, Twitter, and Pinterest, and you can follow the company in order to be notified any time a new deal is added. If you're not really into social media, you can also sign up to receive email notifications (we'll talk more about this in the Bottom Line section).
Get It Free Pricing
Signing up for a Get It Free account is completely free of charge. However, keep in mind that you're not required to sign up in order to redeem freebies and deals.
If you have questions or concerns about Get It Free, the company can be reached at support@getitfree.us.
What Do Other Consumers Have to Say About Get It Free?
Because of the nature of Get It Free (helping consumers to obtain free, or nearly free, items), the site appears to have a fairly positive online reputation. However, the most common complaints related to the site are excessive emails and phone calls after redeeming a deal.
Get It Free holds an F rating with the Better Business Bureau based on 31 closed complaints (as of 6/27/19), most of which reference excessive emails and phone calls. This is something we'll explore in greater detail in the next section.
Bottom Line: Can the Get It Free Help You Save Money?
After everything is said and done, can Get It Free really help you obtain items for free? The short answer: Yes. However, you've probably heard the saying that "nothing in life comes free," so let's take a look at what you'll really be "paying" when using Get It Free.
Most importantly, keep in mind that redeeming just about anything on Get It Free will take you to another website, which is where you'll fulfill deals and freebies, usually by entering in your contact information.
This is important to note because the top complaint related to Get It Free is excessive spam and phone calls.
However, while Get It Free may provide a centralized place to post these deals, they're typically not the ones engaging in these practices; it's generally the third-party companies.
However, this shouldn't be taken to mean that Get It Free won't pass your information along to third-party companies. In fact, according to the website's Privacy Policy, your information may be shared with other companies for marketing and promotional purposes, which means you can expect phone calls and/or emails.
The good news though is that you can opt-out of Get It Free passing along your information, although this may not always be the case with the companies you redeemed an offer through.
With this said, this WikiHow article goes over some great tips on how you can obtain free products without dealing with any hassles. Out of all the tips provided here, perhaps the most relevant to Get It Free is setting up a new email address exclusively for use when redeeming free offers.
---
Free sample site

By Janice R.

,

Trenton, TN

,

Feb 7, 2020
Verified Reviewer

Overall Experience:

I like the GetItFree.us website. I like receiving the emails too. I know GetItFree.us doesn't send out the freebies but if I go through the effort of looking for the freebies on their site I feel I should receive any freebie that's on the email from GetItFree.us instead of going thru page after page and most time freebies are nowhere to be found. I have, however, received couple of freebies from a couple of the companies on your site. So please make it where when I get a freebie email from your site GetItFree.us, I can go find the redemption page, fill it out, and a few weeks later receive the freebie from said company. Oh and no more "oh looks like you've already received a freebie from us within the last 30 days, here's a free book download." Nobody wants to go through all that for a free book, thanks.

Bottom Line: Yes, I would recommend this to a friend

---

Never received

By Kathy G.

,

Meriden, CT

,

Dec 10, 2019
Verified Reviewer

Overall Experience:

Have completed several requests, all it does it take you to another form to complete and I have never received anything. Just keep getting more emails. I would give this zero stars if it would allow.

Bottom Line: No, I would not recommend this to a friend

---

Advertisement

---

Definitely a hype and a scam

By Jamie L.

,

Mount Pleasant, TX

,

Oct 16, 2019
Verified Reviewer

Overall Experience:

I have never gotten anything from getitfree.us even when I fulfilled a purchase according to their terms.

Just last week I made a purchase from them and I purchased a bubble Bell and I got a cheap ring out of the deal, and I was promised a $500 Walmart gift card, never got the gift card, got the ring though, got the bubble Wiha, what a crock. And they always lead you to another website called Product USA or a Market Flow so be aware, these websites are scams.

Bottom Line: No, I would not recommend this to a friend

---

Thank you Get It Free

By Alex G.

,

California

,

Oct 14, 2019
Verified Reviewer

Overall Experience:

Thank you Get It Free for my earphones. Even though I did not order them I ordered air pods, thank you very much again. I am happy for the thing I got. I am very happy with the new earphones but I would wish for some air pods.

Bottom Line: Yes, I would recommend this to a friend

---

Advertisement

---

Scam

By Autumn P.

,

Louisiana

,

Aug 5, 2019
Verified Reviewer

Overall Experience:

I've been subscribed to Get It Free for over 6 months now and never received ONE item. I get multiple emails with Free Samples just for Me, I do all necessary tasks to ensure my free sample be delivered only to be redirected to the home page of Get It Free with no confirmation. It takes my personal information each time and I never receive anything. COMPLETE SCAM!

Bottom Line: No, I would not recommend this to a friend

---

Love this

By Amy G.

,

Lowell, MA

,

Jul 31, 2019
Verified Reviewer

Overall Experience:

I was impressed. I didn't think it would work, it does. Tons of samples and really decent ones. I just received a Clinique makeup bag and it's super cute. Thanks Get It Free.

Bottom Line: Yes, I would recommend this to a friend

---

Got awesome socks

By Rebekah W.

,

Ohio

,

Jul 30, 2019
Verified Reviewer

Overall Experience:

Was skeptical at first but had an awesome experience. The socks I got were nice and the packaging was also nice. The little card with the crossword was a nice touch too. Will totally recommend and will continue to use the site. Great job guys and keep up the awesome work.

Bottom Line: Yes, I would recommend this to a friend

---

Fisher-Price toy

By Chelsea L.

,

South Carolina

,

Jul 29, 2019
Verified Reviewer

Overall Experience:

I first saw Get It Free on Facebook as an ad. I was very skeptical about this because you think what's the catch...That's the thing, there was no catch! I clicked on a "free" Fisher-Price toy and I received it in the mail a few weeks later. Did it take awhile? Yes, but worth the wait! We received a free rattle that my little one just adores! I do receive emails throughout the day to show you what can be free. Just be careful as there are many ads within the free option you choose. I am very satisfied and have already recommended people to the website!

Bottom Line: Yes, I would recommend this to a friend

---

I love these free samples!

By Donna D.

,

Powell, TN

,

Jul 27, 2019
Verified Reviewer

Overall Experience:

Received my free sample of American flag socks today, arrived faster than I thought, packaging was neat and sealed very well, socks are very well made and very soft and seem very durable. I would definitely buy these at a store.

Bottom Line: Yes, I would recommend this to a friend

---

I received a Yankee candle.

By Sara G.

,

Jul 24, 2019
Verified Reviewer

Overall Experience:

I was playing a game and a Get It Free ad for Yankee candles came on so I clicked on it and did the survey and then it told me that I would receive an email confirming my delivery. Later that day I received the email and confirmed it and about 2 weeks later I received the candle. I loved it I just about used it all in one night. Thank you for the great sample, please keep them coming.

Bottom Line: Yes, I would recommend this to a friend

---

Makeup brush

By Shelby R.

,

Weiner, AR

,

Jul 24, 2019
Verified Reviewer

Overall Experience:

I was sooo skeptical, I didn't really think I was gonna get a sample at all, and well, today it showed up. I'm over the moon excited, and it's great quality! I have not got to use it yet but I cannot wait!

Bottom Line: Yes, I would recommend this to a friend

---