Get My Insurance Reviews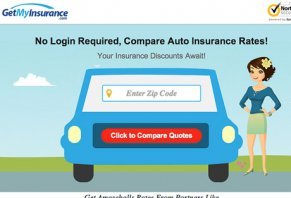 About Get My Insurance
Calling around or searching all over the internet for auto insurance quotes can be time-consuming and frustrating, which is why Get My Insurance claims to make the process as simple as possible. By entering your information just once through Get My Insurance, you can obtain auto insurance quotes from some of the top carriers in the industry.
But is there really anything distinctive about Get My Insurance? Let's take a crash course and find out.
Quick Facts About Get My Insurance
Get My Insurance is a lead generation website that allows you to obtain multiple auto insurance quotes from some the industry's top carriers, including Allstate, Farmers, 21st Century, Progressive, State Farm, and more. According to the Get My Insurance website, the process works over 3 easy steps:
Enter your zip code.
Enter your information, which will be processed in less than 5 minutes. In order to make sure your quote is as accurate as possible, you'll need to have the following information handy:

Vehicle information – Year, make, model, and driving habits.
Driver information for all drivers in your household – Age, gender, employment status, and driving habits.
General information – Physical address, phone number, and email address.
Coverage levels.

Compare quotes from different insurance companies.
In addition to auto insurance quotes, Get My Insurance also includes an in-depth resources section that provides detailed information about everything from why you should regularly obtain updated auto quotes, to tips on choosing the best coverage.
Get My Insurance Pricing & Refund Policy
Obtaining auto insurance quotes through Get My Insurance is completely free of charge.
What Do Other Consumers Have to Say About Get My Insurance?
Get My Insurance is owned by Affluent Ads, an advertising agency based out of Philadelphia, PA and is powered by Leadnomics, which was ranked by Inc. 500 as the 26th fastest-growing private company in 2012. However, neither Get My Insurance, Affluent Ads, nor Leadnomics are listed with the Better Business Bureau
With this in mind, Get My Insurance appears to be a relatively new service, as the URL was originally registered in 2007, although the company appears to have only been operating in its current capacity since 2013.
We were unable to uncover any online customer reviews during our research, which is likely due to the fact that there isn't really anything distinctive about the company that sets it apart from the competition. This is something we'll explore in the next section.
What's the Bottom Line About Get My Insurance?
So what's the deal with Get My Insurance? Is it worth your time? Perhaps, but consider the following:
First, remember that Get My Insurance doesn't actually provide you with an auto insurance quote. Instead, they sell your information (known as a "lead") to insurance agencies, who will then contact you to give you a quote and finalize the details. With this in mind, Get My Insurance is basically identical to most of its competition, including Best Quotes, and doesn't appear to provide any distinctive features that would set it apart.
Also, according to the company's privacy policy, your information could be shared with partnering insurance companies, in addition to business partners, marketers, and other affiliates. This means that you may receive unwanted phone calls and/or emails after submitting your information.
Next, remember that your quote will only be as accurate as the information you provide. In other words, seemingly minor changes in the information (e.g. one letter/number change on a vehicle's VIN, forgetting to include a speeding ticket/accident, failing to have continuous insurance coverage, etc.) can drastically increase the overall price. On top of this, many insurance carriers have moved to a multi-variant rating system, which means that credit score, policy effective dates, etc., can all have an impact on your premium.
Bottom line: While Get My Insurance appears to be a worthwhile service, we couldn't find anything exceptional about the site, which is part of a very competitive industry. Also, remember that most of these lead generation sites sell your information to third-party companies, which may result in unwanted sales calls and/or emails.
2 out 3 people found this review helpful

Waste of time

By Martin

,

St. Louis, MO

,

May 11, 2014

Website doesn't allow you to fully enter information. Contact screen doesn't allow you to enter email address. There is no contact phone number listed anywhere for this company, that is not, like its partners, listed with the better business bureau. So in summary this scam to sell your information to whoever they see fit.

Bottom Line: No, I would not recommend this to a friend

---

Advertisement

---