Gigwalk Reviews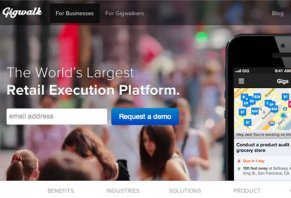 Gigwalk is a mobile application that provides individuals with the opportunity to earn extra money by completing a wide variety of services, while also helping businesses to boost their ROI.
About Gigwalk
Founded in 2010 and based out of San Francisco, CA, Gigwalk is a mobile app that helps you earn money by completing "gigs," which are posted by businesses that need very specific services. For example, you may be required to take a picture of a product only available at a certain store, or you may need to visit a local restaurant and provide detailed feedback regarding the food, service, etc.
Gigwalk has been featured on CNN, CNET, and Forbes, and claims to be used by companies such as Ebay, Red Bull, Nokia, Chartis, and many more. The company is not listed with the Better Business Bureau, and online reviews appear to be mixed. Based on our research, the most common complaints include failing to get paid, poor customer service, and very low pay.
How Gigwalk Works
According to the Gigwalk website, the company was "founded with the goal of reinventing work in a mobile world," and that their app—available for Android and iOS—has been downloaded more than 400,000 times, and has been used to complete more than 1.2 million gigs. With this in mind, there are two ways to use the company's services: As an individual (known as a "Gigwalker") or as a business, which we'll discuss below.
Gigwalk for Individuals
As an individual (aka Gigwalker), you can apply for jobs—known as "gigs" – that need to be completed in your area. Anyone can complete a gig, as long as their skillset matches the employer's needs, and are at least 16 years old and based in the U.S.
In order to start using Gigwalk as an individual, you'll first need to download the app, sign up for an account, and then fill out your profile (e.g. name, date of birth, education level, skillset, etc.). Finally, you'll also need to enter your PayPal information so that you can accept payment after a gig has been successfully completed.
Once your account has been set up, you can begin looking for gigs. To accomplish this, you'll search a Google map of your area, which includes red pins that signify a gig needs completion. By clicking on an individual pin, you can see the gig's details, which will include instructions like, "Take a picture of the menu," or, "Verify the parking situation," as well as the price the client is willing to pay. If you'd prefer, you can also view gigs in list, by-pay, and by-task formats.
To begin working the gig, you'll first need to be within a certain distance of its location. In other words, unless you're physically present, you can't live in San Francisco and apply for gigs in Los Angeles. Once you locate a gig from the map or list view, click on it in order to view information about what needs to be completed. If you're ready to begin, just tap the green "Start Working" button, and full instructions will appear. Keep in mind that you may need to download some third-party apps (such as PhotoSynth) to finish all of a specific gig's tasks. After you've completed everything required, simply upload any relevant files (e.g. images), and press the "Submit Work" button.
Once the business approves your work, your PayPal account will be credited within seven days, less any associated fees. At this point, the employer will also be given the opportunity to award you with "streetcred," which signifies that you've done a good job. Once you accumulate enough streetcred points, higher-paying/higher quality gigs will become available.
So to break it down, the Gigwalk process for individuals entails six main steps:
A business posts a gig for work needed.
You search the database for a gig that meets your needs, and submit your application.
If your background matches the business's needs, they hire you.
You complete the required work, and upload it to your customer via the Gigwalk app.
Your work is either approved, or may require a quick follow up.
Once the assignment is complete, you'll be paid through PayPal.
Gigwalk for Businesses:
If you're a business owner, you simply have to post a gig through the Gigwalk website, and wait for a Gigwalker to accept and complete the job.
In addition, the company appears to provide a suite of services that can help you automate your business's merchandising, and improve your shelf compliance. For instance, their Shelfwatch product helps you "track and fix retail execution," while their Eventwatch product helps make sure you in-store marketing events go off without a hitch. Overall, in addition to the services provided by their app, Gigwalk is focused on giving you real time data that you can use to gain huge insights into how your business operates, and how you can improve these processes to boost your ROI.
With this in mind, the overall process can be complex, so for additional information, as well as a product demo, please click here.
Gigwalk Pricing
For individuals, downloading the Gigwalk app is completely free of charge, though you'll be responsible for covering PayPal fees after you've been paid for a gig. On the other hand, employers will pay a 50% fee for every gig they post. In other words, this means that if you post a $10 gig, you'll be charged an additional $5 by Gigwalk.
Bottom Line: Is Gigwalk a Scam?
Based on our research, Gigwalk gives every appearance of a legitimate company that provides a legitimate service. However, if you're thinking about signing up for Gigwalk, there are a few things you'll need to keep in mind.
First and foremost, the pay is often very low, and the amount you'll earn on a per-hour basis can be affected by any number of factors, including the total number of tasks to complete, whether or not you'll ultimately be allowed to perform a task (for example, taking product pictures in a grocery store), how far you have to travel, and much more. With most gigs ranging between $5 and $20 (and some going as low as $2.50 and as high as $50), even if everything goes smoothly, the reality is that you'll probably only earn $50-$60 per day on a full time basis. So if you're planning to get rich from Gigwalk, you may want to reconsider.
Next, there have been numerous complaints about individuals experiencing difficulty getting paid, and of poor customer service. In addition, frustration with the overall process appears to be predominant, and includes claims that individuals were kicked off gigs after completing all the required tasks, with little to no explanation. This appears to be especially prevalent for those who haven't acquired much streetcred.
So, is Gigwalk a scam? Definitely not. But if you approach the service with the knowledge that you're likely not going to earn a lot of money, and are likely to experience some frustration—especially as a new user—you'll be much more likely to have a positive experience.
2 out 3 people found this review helpful

Totally legit

I don't know why others expect to make a lot of money off of this app. The term gig in the name should be enough to know that you don't use this to replace your regular job. I personally have used this app to buy small items that I wanted. The trick is to not request a job unless you are in the area at the time. You can't expect to get paid a ton of money for possibly 3 or 4 photos. The app is great, there is a great Facebook group with employees of Gigwalk assisting us and tickets are responded to quickly.

Bottom Line: Yes, I would recommend this to a friend

---

3 out 3 people found this review helpful

Completely and utterly useless

By Robert P.

,

San Francisco, CA

,

Mar 18, 2019
Verified Reviewer

Horrible experience. "Gigs" show in your area, then when you try to sign up for them, you can't (even though they still show as "Gigs available"). Some gigs require that you apply. You are never notified of the decision on your "application" and eventually the gig expires. Want to spend your days reloading the page and applying for gigs that never materialize? Want to reach out to customer service only to be told that even though the gigs are "showing as available," someone must have already claimed them, or there must be something wrong with your phone? Then, by all means, become a Gigwalker.

Bottom Line: No, I would not recommend this to a friend

---

Advertisement

---

7 out 7 people found this review helpful

Beware - not worth the time!

By Sarah J.

,

Fayetteville, AR

,

Dec 8, 2018
Verified Reviewer

They find every reason to not pay you. This is a scam. They get hours of work out of you and don't have to pay anything. I have done this type of work for years and never had issues with the quality of my work. However, this app is apparently known for not paying people. Don't waste your time. They need to be shut down.

Bottom Line: No, I would not recommend this to a friend

---

10 out 10 people found this review helpful

Stay away from this ridiculous company!

By Hilary P.

,

Oregon

,

Nov 5, 2018
Verified Reviewer

I just had three out of three restaurant delivery reports rejected due to absolutely bizarre convoluted instructions that kept evolving throughout the process. You are not supposed to use an app, even though it is an app-driven ordering service. You need an incognito window on your laptop, your email needs to be whitelisted, there are confusing error messages that occur, and it's all designed for you to fail while you spend money ordering restaurant meals for a new delivery service. I had done two reviews that took three days to be rejected, even though after each review the GigWalk app invited me to do another review. If they had caught my mistake on day one, I could have dealt with a singular rejection...but no, two reviews got screwed up, and I thought I had it figured out on round three, oh, no, I didn't jump through yet a new hoop...so all three hit the skids. What a joke.

I have decades of mystery shopping experience, and I have never dealt with such a joke of a company before. They even have involved gigs doing candy audits that pay $6 and even others that are $3. NONSENSE. Sorry I ever signed up. Well, maybe it's to help warn others to avoid this scammy outfit.

Bottom Line: No, I would not recommend this to a friend

---

Advertisement

---

12 out 12 people found this review helpful

Tricking and cheating people out of their money

I worked my first day doing 6 gigs, but I did not get paid but for 5 of them, which was the cheapest $5. I think this company, or whatever it is, should be closed and investigated. It is not fair, you go out and do the task, but they decide it wasn't precise enough. Some the drinks are not there, and if there's no SKU for them then what am I suppose to do? I worked in the heat, did my job, but still had issues with the task. Why are you guys tricking and cheating people out of their MONEY?

Bottom Line: No, I would not recommend this to a friend

---

17 out 17 people found this review helpful

Beware

Illinois

,

Apr 29, 2018
Verified Reviewer

I used this app a little over two years, off and on. I have never had any problems before, but the other day I completed six jobs for them, all over town, totaling a little over $20. I was paid for all but two, ehich were in the same grocery store at different locations. However, I'm contacted a week later saying I was removed from the gig. Ummm, I already DID the gig! No opportunity for rework, no explanation, no compensation. Just told me I was removed. I contacted support and never received a reply.

What this company is doing is getting you out there on false pretenses with absolutely no intentions of paying you. Then after you perform the work, they just decide you're not getting paid after you have performed the work and they pocket the money. That is ILLEGAL!

Bottom Line: No, I would not recommend this to a friend

---

4 out 10 people found this review helpful

I like it

By Shannon

,

Jacksonville, Florida

,

Jan 3, 2017
Verified Reviewer

I have a good time doing Gigwalk, although there really is not a lot offered in my area. I'm not going to drive 60 miles to do a gig for $4.50. But when they are in my area, I jump at the chance. Never really had issues with getting paid either. I always submit a bunch of photos, so maybe that's why my gigs don't get rejected. Who knows.

Bottom Line: Yes, I would recommend this to a friend

---

9 out 14 people found this review helpful

I love them.

By KCarey

,

Spokane Valley, WA

,

Oct 26, 2016
Verified Reviewer

I've been using Gigwalk for a little over a year now. I checked the app often daily, just to see if there's anything nearby that I can pick up and get a couple extra dollars out of. I have always been paid for a gig. And I have only had to go back and fix something two or three times.

If anything, my chief complaint is that there aren't enough high-paying gigs in my area. Or that there just are no gigs often. I may need to go in and change my skill set to pick up more gigs. But I have never had a problem with them.

Bottom Line: Yes, I would recommend this to a friend

---

23 out 33 people found this review helpful

Gigwalking

By David

,

Ashtabula, OH

,

Jun 26, 2015

As a merchandiser I find Gigwalk a great way to earn a few more dollars when I'm in the store anyway. I only accept gigs that are close to me and can tie in with my merchandising schedule. I have always been paid for the completed gigs and would definitely recommend but only to compliment other jobs you may be doing.

Bottom Line: Yes, I would recommend this to a friend

---

4 out 16 people found this review helpful

Gigwalking

By David

,

Ashtabula, OH

,

Jun 25, 2015

As a merchandiser I find Gigwalk a great way to earn a few more dollars when I'm in the store anyway. I only accept gigs that are close to me and can tie in with my merchandising schedule. I have always been paid for the completed gigs and would definitely recommend but only to compliment other jobs you may be doing.

Bottom Line: Yes, I would recommend this to a friend

---

49 out 53 people found this review helpful

Gigwalk is a Scam

By Jeremy

,

Santa Barbara, CA

,

Jun 11, 2015

Gigwalk is notorious for refusing to pay people. There are hundreds of stories all over the web of people who submitted their gigs and had them rejected. Myself included. I did a gig and provided the images exactly as was requested. However after they were submitted the client changed their mind and wanted more detailed pictures. The client only gave me 24 hours to submit about 150 more images and was very vague in their instructions.

I asked the client directly for more time and was granted an extra 24 hours. However, despite this, Gigwalk canceled my gigs (keep in mind these were completed) and refused to pay me. I tried to contact them, but they do not give gig walkers a phone number to reach customer service. You can only use the email on their website. They didn't get back to me for two days then shuffled me around to other departments. The result is I worked 6 hours for Gigwalk and was supposed to be paid $60 and I got nothing. This same thing happened to a bunch of other gig walkers on the similar gigs.

We are currently pursuing a class action lawsuit against the company. If you have been screwed by GigWalk please contact us.

Bottom Line: No, I would not recommend this to a friend

---