Gillette TREO Reviews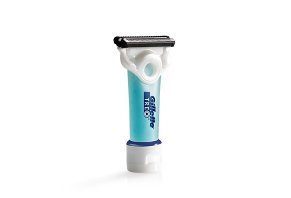 Designed with an all-new safety blade that prevents clogging, a divot-infused handle, and re-formulated gel, the Gillette TREO helps you shave someone else.
About Gillette TREO
Advertised as the first razor designed solely to shave someone else, Gillette TREO is an assisted shaving device with specific features that are advertised to make the process easier and more enjoyable—both for caregivers, and for the person being cared for.
These features include a blade that makes the shave safe, while preventing clogging; a handle that that operates like a paintbrush, and built-in shave gel with a special formula that lubricates, increases comfort, and reduces mess.
There are few things more difficult than shaving someone else—at least, without causing a few nicks. But is the new Gillette TREO positioned to change the situation?
How Does the Gillette TREO Work?
According to the promotional video on Gillette's website, TREO is "engineered to provide control, safety, and comfort, both for the caregiver and the person being shaved." In order to accomplish this, the process works in three steps:
Step 1: Apply Shaving Cream
Start by opening TREO's cap to dispense shaving gel, and then apply liberally to the face and neck.
The video explains this clear gel is specially formulated to hydrate and lubricate skin and hair, leading to more comfort and easier cleanup. It's also built directly into the razor's handle for easy, one-hand access.
Wait 30 seconds to start shaving.
Step 2: Shaving With TREO
The website tells us that TREO's blade is high quality enough to work effectively with little-to-no water, so caregivers won't have to constantly move back and forth between the sink. It's also designed to be safe and clog-free, and easily disposable after a single use to help with infection control.
Instead of a traditional stick-based handle, Gillette developed a divot in TREO's handle which, when operated like a paintbrush, creates a more comfortable angle for the caregiver's wrist, as well as provides far greater control.
After removing TREO's blade overcap, you'll hold the handle with a pencil grip and gently shave the face and neck. Reapply shave gel as needed.
Step 3: Finishing Up
At the end of the shave, caregivers can use any remaining shave gel on the skin as an aftershave.
The cartridge can then be disposed of safely and in accordance with your local protocols by squeezing the arms.

Compared to traditional razors, the Gillette TREO features a specially designed razor, handle, and gel to make shaving comfortable for caregivers and those being cared for. Image Credit: Gillette USA
How Much Does the Gillette TREO Cost?
Currently, Gillette only offers the TREO razor by requesting a sample on their website, which involves providing details like:
Your DOB and gender
Information for the person under your care (age, gender, relation to you, conditions they suffer from, etc.)
Shipping information
Which razors (if any) you currently use
Why you're requesting a TREO
The website indicates Gillette is doing this to garner feedback about each user's experience, as "your insights will help us make improvements that will directly benefit those who need shaving assistance," and will help "ensure TREO offers the utmost care and comfort for caregivers and care recipients alike."
A disclaimer notes that this offer expires 11/30/17, is limited to 10,000 participants, and that signing up "does not guarantee that you will receive a product sample."
For additional questions, Gillette's customer support department can be reached at 800-445-5388, or via online chat or their contact form.
Are There Other Assisted Shaving Razors Competing With the Gillette TREO?
With such an emphasis on their completely new design, including the razor, handle, and shave gel formulation—not to mention creating the term 'assisted shaving razor,' it's no surprise that we didn't encounter anything exactly like the TREO during our research.
However, if you're a caregiver, or if you self-shave but also experience dexterity problems (whether related to arthritis, Parkinson's, or finger, hand, or forearm pain), there are a number of other options available competing for the same consumers as Gillette.
Top results on marketplaces like Amazon.com and Google Shopping at the time of our research included:
| Product | Price | Functionality |
| --- | --- | --- |
| Gillette TREO | Not yet commercially available | Completely new razor and handle design, as well as water-free shave gel formulation |
| Gripeez Built-Up Grip | $15 | Durable, flexible molded rubber material that provides a larger surface area and reduces muscle demand |
| Maggard Thick Stainless Steel Safety Razor Handle | $23-$35, depending on retailer and model | 0.64-inch handle diameter that can be used with any compatible Maggard razor head |
| Long Razor Extension Handle | $20-$40, depending on brand and retailer | Not intended to shave the face, although it can make shaving other areas of the body easier |
In addition to these options, we encountered a variety of cuffs that accept disposable razors and strap around the user's hand, universal weighted handles that can accept razors, toothbrushes, and other slender items; as well as DIY, ultra low-cost methods that involved drilling a hole through a bouncy ball of your chosen material and then inserting a traditional razor handle.
Granted, as Gillette frequently emphasizes on their website, all of these options are designed to help the person shaving—whereas TREO is designed specifically for shaving someone else. In this way, if this aspect is one of your main must-haves, it's currently the only game in town.
Does this necessarily mean that you should go ahead and request a sample?
Our Final Thoughts About the Gillette TREO
Taking care of someone else is never an easy task, but when simple pleasures like a cleanly shaved face can be experienced, without potentially painful nicks and cuts, it can do wonders. Not only for the person being cared for, but for the caregiver as well.
Given this, if Gillette's new TREO razor can help you achieve this, it certainly seems worth the few minutes it might take to request a sample.
And if it ultimately doesn't work out for your situation, it won't cost you a dime, and you could provide the company with valuable feedback that could help other consumers in the future.
Absolutely love it!

By Chris Naugle

,

Winter Haven, FL

,

Apr 27, 2018
Verified Reviewer

I received the TREO safe razors to trial. I absolutely love this! My grandfather's whiskers are rough, and his face is uneven now, making it hard to shave him with a regular razor. This works wonders on him. I highly recommend this product to anyone who does shaving on elderly people. I really wish this was available years ago when I worked in nursing homes.

Bottom Line: Yes, I would recommend this to a friend

---

Very safe design Gillette TREO

By JK

,

Indiana

,

Mar 19, 2018
Verified Reviewer

Going into year number nine with a spouse that had a severe stroke. This is the closest shave my husband has had in years. I was pleasantly surprised at how easy this razor is to use. I felt complete confidence I would not cut him once I started using this razor. My husband felt safe with me using this design to razor shave him. I have not tried sample until today because of fear of using razor verse electric shaver. Sad it looks like a once and done design. Interested in the price.

Bottom Line: Yes, I would recommend this to a friend

---

Advertisement

---

TREO results

By Carie Lynne

,

Mount Holly, NJ

,

Mar 12, 2018
Verified Reviewer

I wanted to let you know that I think this product is phenomenal. I followed very simple directions and had a client who hadn't shaved in several days. He's COPD (end stage). I applied the solution from the razor handle, waited the time I was told, and proceeded to shave the gentlemen. It was gentle, thorough, and very easy to use. I am a very small company (CARIE CARES) and I would like to get my hands on more of this product. Thank you so much for the opportunity to be part of this clinical trial.

Bottom Line: Yes, I would recommend this to a friend

---

Best thing for my autistic son

My son has autism and a bleeding disorder. If you add those factors with the fact that he can NOT stand having hair on his body, a safe razor is a must. We first tried electric razors, but he just couldn't get a feel for it. When I got an email about this one and could get a free sample, it was a no-brainer. If he liked it and it worked well great. If not no big deal, right. He LOVES it. So easy to use, no nicks, soft skin after the shave. I truly need more of these.

Bottom Line: Yes, I would recommend this to a friend

---

Advertisement

---

This razor is a super star!

By Deborah Cave

,

Mount Airy, NC

,

Jan 17, 2018
Verified Reviewer

I absolutely love this razor! I have shaved patients and now shave my husband, and this little razor is remarkable. The ease of gliding it over the skin and hair, not worrying about the nicks and cuts that occur with other razors, and the comfortable grip all are amazing. I declared I would never be without one, until...I found out they are not available for purchase.

I have shared the product information with local hospitals, nursing and rehab centers and home health, all which my husband had been a patient of after receiving our samples. Sorry Gillette, but I have created a monster, because I didn't know they were not available for purchase! These facilities, friends, and families of patients are waiting for you to release them for purchase. Please hurry!

Bottom Line: Yes, I would recommend this to a friend

---

Ok (I suppose)

By Cliff Oakley

,

Wigan, United Kingdom

,

Jan 2, 2018
Verified Reviewer

I am a P.A. to someone who has little movement so he must be shaven by someone else. I normally shave him with a Gillette Fusion 5 blade. I shave first with the growth, then against and can honestly say I do a damned good shave (very smooth).

I used the TREO and came to the conclusion that it is better than an electric (using a Philips 3 head), but far from being as good as the Fusion 5 blade.

The reality is that it is very hard to cut someone with a Fusion, and all that is needed is confidence. So, with that in mind, I have volunteered myself to be shaved by my co-workers who do don't have the confidence to shave with a Fusion. I would rather he had an excellent shave.

I can also say that my co-worker did cut him with the TREO.

Now on the positive side, I get it, it will help people to have the confidence to wet shave. It may be a stepping stone to wet shaving.

Finally (and this is important to me), the plastic waste each day is ridiculous (and that may be Gillette's PR downfall). I personally won't buy it.

Bottom Line: No, I would not recommend this to a friend

---

Amazing assistive shaving razor!

By Janet Porter

,

Everett, WA

,

Dec 27, 2017
Verified Reviewer

My son has Down syndrome and autism and needs someone to shave him. The sound of a razor scraping against his beard frightens him, but this razor doesn't make that sound and he is calm and relaxed during the entire shave. There are no cuts or scrapes with this razor either. This razor is small enough to get into small spaces such as the very small space between my son's upper lip and nose where most razors are larger than the space, but the TREO gets the job done!

I love this razor and can't wait to be able to purchase them! I'm also a hospice nurse and feel this razor would be amazingly comfortable for our patients. Great product and much needed.

Bottom Line: Yes, I would recommend this to a friend

---

Excellent

My husband of 69 has Alzheimer's. Shaving has become difficult, and he often doesn't bother, and when he does it is not done well, with hair left around his lips. I tried to help with his normal razor and was terrified I was going to cut him and gave up. I then received the samples and with three days growth, I managed a good shave, just great, easy and safe. I just wish they were on the market now as I'm not sure what we'll do now the samples are used! I hope they are reasonably priced when produced.

Bottom Line: Yes, I would recommend this to a friend

---

Stress-free shaving

By Alice Nixon

,

Hampshire, England

,

Dec 19, 2017
Verified Reviewer

Despite having shaved men in my jobs as a career, my husband always got jumpy when I had to shave him due to his MS. With this TREO, for the first time he relaxed and was very pleased with the results.

Bottom Line: Yes, I would recommend this to a friend

---

Gillette TREO

By Kathy Wojciak

,

North Ridgeville, OH

,

Nov 28, 2017
Verified Reviewer

I received 2 free samples in the mail. My brother has autism and a severe intellectual disability. Using the electric razor has been the only option to date, but it does not give him a close shave. I was a bit skeptical at first that I could shave him without cutting him, but I cannot believe how easy it was. My brother also has a lot of tactile defensiveness and does not like things touching him. He did not protest at all and he looks so good after the shave. I hope they put this on the open market soon.

Bottom Line: Yes, I would recommend this to a friend

---

We both loved it!

By Juli

,

Illinois

,

Nov 23, 2017
Verified Reviewer

Even though he had about a week's worth of growth, this still worked great. The shortened handle gave me better control, and he really liked the cool gel that came with it. Really hoping they keep it affordable.

Bottom Line: Yes, I would recommend this to a friend

---