Go Fan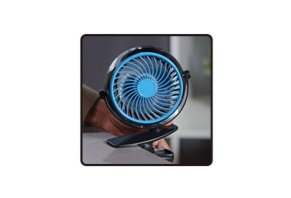 The Go Fan from Spark Innovators features a rechargeable Lithium-ion battery, 360° smart spin technology, and a sturdy clip in back to help cool you down anywhere and at any time.
Go Fan Review - Does It Really Work As Advertised?
With a lithium-ion battery that can last up to eight hours and hold a charge as long as six months, Go Fan is a cordless, portable, rechargeable fan that works indoors or outdoors and promises to cool you anytime, anywhere.
According to the commercial, all you have to do is lock it down using the powerful clip, turn the dial to increase or decrease speed output, and adjust the 360° smart spin technology to shoot air in any direction you need.
Together, the manufacturer calls Go Fan a "portable powerhouse" that can help you stay cool whether you're at the game, strolling through the park, standing next to the grill, laying in bed, cooking in the kitchen, working at the office, or just about anywhere else.
Compared to the competition, is Go Fan really "the fan of the future," as advertised on the website and in the commercial? That's the central question we'll help you answer here, starting with the fan's functionality.
How Go Fan Works
The principle behind Go Fan is pretty simple—its motor powers plastic blades, which spin rapidly and displace the surrounding air.
However, fans don't actually cool the surrounding air. Instead, they work by blowing room-temperature air over your skin, which carries away body heat as it passes. If you're sweating, evaporative cooling will also come into play and release even more heat.
With these details in mind, it makes sense that the more air you pass over your skin, the greater the cooling effect. And when it comes to fans, air output is measured in cubic feet per minute, or CFM, which is calculated by multiplying the average airspeed measured in feet per minute (fpm) by the area of the fan face in square feet.
Using this information as our foundation, medium-sized residential ceiling fans with blade spans between 42 inches and 62 inches typically output somewhere between 3,000 and 4,000 CFM, whereas larger models can exceed 13,000 CFM.
Comparatively, although customer support couldn't provide additional details about Go Fan's dimensions, most competing models (more soon) have blade spans of between 5.7 inches and 6.3 inches, with air speeds between 400 ft/m and 900ft/m.
After running the math, this means these portable fans output between 15.6 and 39.6 CFM.
What's the point in covering all of this?
While blowing room temperature air on your body can certainly help drop your skin temperature a bit, with such small blades, it's important to maintain realistic expectations regarding Go Fan's advertised ability to cool you down anytime, anywhere, or that it's a "portable powerhouse."
How Much Does Go Fan Cost?
Two Go Fans will cost you $19.99, including free shipping, plus a $9.99 fee for the second fan. Each fan comes with a USB charging cable.
Spark Innovators offers a 90-day money-back guarantee on all Go Fan purchases, less return shipping charges and the second fan's $9.99 fee. You can reach support by calling 888-399-8444 or emailing sparkinnovators@customerstatus.com.
Go Fan vs. Competing Portable Rechargeable Fans
There's are several essential pieces of information we don't know about Go Fan, such as its dimensions, weight, battery power, recharge time, airspeeds, and noise levels, to name just a few.
However, based on what's advertised on Go Fan's website and in the commercial, we know that it shares many core similarities with perhaps hundreds of third-party portable fans available on Amazon.
These include cordless operation, 360-degree spin technology, rechargeable Li-ion batteries with hours of runtime, large and powerful clips, adjustable airspeeds, and included USB cables.
Here were some of the top-rated results at the time of our research:
| | | | |
| --- | --- | --- | --- |
| Brand | Price | Size & Weight | Special Features |
| Go Fan | $29.98 | Unknown | Each order includes 2 fans, up to 8 hrs runtime |
| SkyGenius Battery Operated Clip-On Fan | $19.99 | 7.5" x 6" x 4", 16.8 oz. | Max wind speed 10.5ft/s, 2600mAh battery, up to 6 hrs run time |
| COMLIFE Battery Operated Clip-On Portable Fan | $21.99 | 8.3" x 5.7" x 3.7", 16.8 oz. | Max wind speed 10.5ft/s, 4400mAh battery, up to 32 hrs run time, 6-hr recharge time |
| QINUKER Portable USB Rechargeable Desk Stroller Fan | $17.49 | 5.4" x 6.3" x 3.4", 12.8 oz. | 4000mAh battery, 4 speeds, up to 20 hrs run time, yellow and grey color scheme, 1-year warranty |
| Glovian Portable Personal Fan | $22.98 | 7.9" x 6.3" x 4", 15.2 oz. | 2200 mAh battery, up to 48 hrs run time, 2 power modes, only features 350° horizontal rotation and 320° vertical rotation |
How to choose? It's all about where you place your emphasis, and which factors you can compromise on. Let's quickly break it down.
Go Fan is the most expensive option in the table above, but you'll receive two for the higher price. On the flip side, we know the least about it.
Furthermore, you'll automatically lose one-third of your refund if you're dissatisfied with its performance, plus whatever it'll cost you to ship your fans back to the manufacturer.
Price-wise, we can see that LEMOISTAR is the least expensive and also the lightest fan, but it comes with the lowest battery power. QINUKER's price tag comes in a close second, which is also available in a yellow/grey color scheme, followed closely by Antmona, although it features the shortest run time.
Finally, OPOLAR is almost as expensive as Go Fan, and you only get one with your order. But, it also has the longest run time of the bunch, features black or blue blades depending on your design preferences, and the manufacturer provides us with the most information about its features and specs.
Zooming out from a high-level perspective, what does this mean in relation to your future with Go Fan?
The Bottom Line on Go Fan
Given there are perhaps hundreds of portable fans offering most—if not all—of Go Fan's same core features, along with the fact that it comes with the highest price among close competitors on Amazon and the manufacturer provides relatively few specifications, it's difficult to recommend it if you're looking to get the most bang-for-your-buck.
Still, if you're interested in a fan that's small, portable, and easy to fit just about anywhere, Go Fan might deliver what you need in specific circumstances. These include while sitting at your desk, laying in bed, lounging on the couch, or relaxing in your favorite chair while reading a book.
Considering their small size and the amount of air they can displace, though, as well as what we learned during our research, we think this fan might not be able to cool you down in especially hot or humid circumstances. And, it may not work in larger spaces with a lot of air to displace, or in industrial settings.