GoldMax Pink Reviews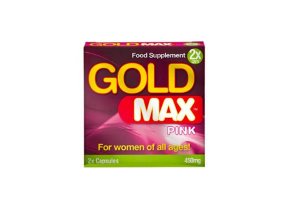 By taking one capsule 30-45 minutes before sexual activity, GoldMax Pink's blend of 11 ingredients allegedly boosts your libido without side effects.
About GoldMax Pink
The GoldMax Pink dietary supplement uses a formula of specially picked, 100 percent natural ingredients to help boost female sexual arousal, increase blood flow to sexual organs, stimulate the brain, and increase orgasm strength and sexual stamina.
Based on what's advertised on the website, these potent, high-quality ingredients are packaged inside discreet, convenient, and easy-to-swallow pills suitable for use by all adult women, without relying on aggressive drugs or heavy chemicals.
Simply take one pill with plenty of water 30 to 45 minutes before sexual activity, and the manufacturer advertises it will support the body's reproductive mechanisms and "target both the physical and mental conditions to support sexual desire."
You're here because you want to know more about GoldMax Pink—specifically, whether or not you can expect it to deliver on the manufacturer's claims. To help you become more informed about which steps to take next, we'll break down everything we learned during our research, starting with the basics.
Does Libido Work Differently Between Women & Men?
Whether for women or men, the word 'libido' simply references the desire to have sex.
But, the reality is that reaching this desire is a much more complex process that involves numerous factors like different parts of the body successfully communicating with one another, the release of hormones, appropriate mental state, and social and cultural norms, to name just a few.
All things being equal, though, numerous studies have shown that—surprise, surprise—men have much stronger and more straightforward sex drives than women. They think about it more often, have less complicated turn-ons, and take a more direct route to sexual satisfaction.
As Edward O. Laumann, Ph.D., professor of sociology at the University of Chicago and lead author of The Social Organization of Sexuality: Sexual Practices in the United States summarizes, "Sexual desire in women is extremely sensitive to environment and context."
In fact, because a woman's sex drive is thought to be less closely tied to biology, it's also been shown less responsive to boosting through traditional options like prescription medications.
But, what does the clinical evidence have to say about the different components in GoldMax Pink's formulation?
Taking a Closer Look at GoldMax Pink's Ingredients
While there wasn't a supplement facts label listed on the website, we're told GoldMax Pink contains the following ingredients:
Panax Ginseng 115 mg
Radix Angelicae Sinensis (Dong Quai) 88 mg
Cistanche Deserticola 85mg
Fructus Lycii (Goji) 60.4mg
Labisia Pumila (Kacip Fatimah) 50mg
Radix Astragali (Huang Qi) 33.6mg
Rhodiola Rosea 18mg
The HighYa team isn't staffed by trained medical professionals. However, according to the summaries provided by sites like Examine.com, the Natural Medicines Database, and WebMD, there's insufficient clinical evidence that any of these ingredients can meaningfully impact sexual desire in women or men.
However, dong quai (whether alone or sometimes combined with American ginseng and other ingredients) is listed as 'possibly effective' for reducing hot flashes, decreasing night sweats, and improving sleep in menopausal women.
Could GoldMax Pink's Ingredients Cause Side Effects?
The website advertises that GoldMax Pink is "free of any kind of unwanted side effects," although they emphasize that you shouldn't take more than one capsule in any 24-hour period.
According to the same sites cited in the previous section, though, dong quai can increase skin's sensitivity to UV rays from the sun, thereby increasing your chances of sunburn and skin cancer.
Furthermore, they indicate it can have a major interaction with anticoagulant medications.
In some instances (no dosages or other specifics provided), rhodiola might cause "dizziness, dry mouth, or excessive saliva production."
How Much Does GoldMax Pink Cost?
GoldMax Pink is available in the following forms and quantities:
2 Caps: $9.95
6 Caps: $22.95
10 Caps: $29.95
20 Caps: $49.95
Daily Pink (should be taken twice daily; 60 capsules): $23.95
Combo (GoldMax Pink and Daily Pink): $49.95
Gold Max Pink/Gold Max Blue Couple Pack: $49.95
All orders over $75 come with free shipping. Otherwise, S&H is charged at a flat $5.95.
GMP Health, who's been in business since 2010, doesn't list a refund policy on their website. If you have additional questions, customer support can be reached during the week at 315-215-1055, or via info@goldmaxpink.com.
Are There Other Female Libido Enhancer Supplements Like GoldMax Pink?
After years of research, we've learned that the vast majority of libido enhancers are targeted toward men, typically in the form of testosterone boosters, muscle growth supplements, and male enhancement supplements.
However, there are a growing number of female-centric supplements competing for many of the same customers as GoldMax Pink. Popular options on online marketplaces like Amazon at the time of our research included:
| | | |
| --- | --- | --- |
| Brand | Price | Active Ingredient(s) |
| GoldMax Pink | $3.95+ per capsule | Panax Ginseng, Dong Quai, Cistanche Deserticola, Goji Berry, Kacip Fatimah, Astragalus, Rhodiola |
| Nutra Mina Natural Libido Enhancer For Women | $17 (90 capsules) | Tribulus Extract (45% Saponins) |
| Feminex Female Mood & Libido Support | $20 (120 capsules) | Ginkgo Biloba, Siberian Ginseng, Turnera Diffusa, White Turmeric, Tribulus Terrestris |
| Femizin Plus+ | $19 | Vitamin A, Vitamin B1, Vitamin B3, Vitamin B5, Vitamin B6, Vitamin B12, Zinc, L-Arginine, L-Tyrosine, BioPerine |
| VH Nutrition Excite | $20 | Maca Root, Epimedium, Vitex, Shatavari, Dong Quai, Black Cohosh, Ginger |
| Zygasm | $35 | Korean Red Ginseng, Maca Root, Ginkgo Biloba, Di Huang, DMG, Horny Goat Weed, Tribulus Terrestris, BioPerine |
Although most of these are priced competitively with one another, considering their vastly different formulations, how can you choose which is ideal for your situation—as well as your unique biology? Everything starts with your healthcare provider.
Interviewed for an EverydayHealth article, board-certified sexologist, marriage and family therapist, and private practice psychotherapist Isadora Alman emphasizes that "if you are considering taking any libido enhancers or vitamins for sex, you really need to speak with your doctor first."
After all, "over-the-counter libido supplements might interfere with other medications you might be taking or have unintended side effects, so opening a dialogue with your health practitioner about your sexual situation and any natural and alternative treatments you're considering is vital."
Even then, she points out:
"No matter what kind of sexual dysfunction you're experiencing — orgasm difficulties, erectile dysfunction, vaginal pain, or low libido — there's probably a better, proven way to treat it than a libido supplement or other "natural" product. Addressing the true underlying cause of your sexual dysfunction may be a far more effective way to go."
Related: Do You Need to Take Vitamins or Dietary Supplements?
If your doctor gives you the green light, based on our extensive research into nutritional supplements, we'd recommend only doing business with manufacturers (whether GoldMax Pink or otherwise) who:
Provide a complete list of ingredients, including dosages
Support their effectiveness claims with related double-blind, placebo-controlled clinical studies
Don't force customers into 'free' trials or recurring shipping programs
Stand behind their products with at least 30-day refund policies, and no restocking fees or unrealistic S&H charges
Bottom Line
Any time you're thinking about purchasing a new dietary supplement, it might be best to think of your primary care physician as a 'gatekeeper' of sorts. In other words, they're the best resource for science-based insight into whether or not any formulation will deliver meaningful value, based on your specific diagnosis, needs, and preferences.
With this important caveat in mind, we think it's important to reemphasize that—according to sites like the Natural Medicines Database, WebMD, and Examine.com—none of GoldMax Pink's ingredients have sufficient clinical evidence showing they're effective at boosting libido (whether female or male).
For this reason alone, we think the supplement's $2.95+ per-capsule price might not deliver a similar level of value. Add to this that the company doesn't seem to offer refunds, and it might make even more sense to hold off on placing an order until you've had time to discuss the situation with your doctor.
Complete snake oil, don't waste money

By Krista H.

,

Durham, NC

,

Jul 18, 2018
Verified Reviewer

I ordered the product and tried a single pill later that same night. It made no different feelings or physical changes even after watching a few moments of porn to get me excited. This product is or has a placebo effect, which says it really does nothing medically.

Bottom Line: No, I would not recommend this to a friend

---

Advertisement

---