Good2Go Auto Insurance Reviews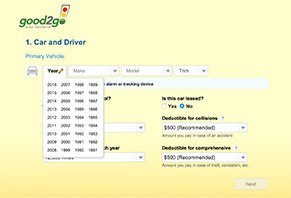 Good2Go Insurance claims to be an insurance comparison engine that can help you find affordable state minimum auto coverage quickly and easily from home.
About Good2Go Auto Insurance
In business for more than 25 years, Good2Go Auto Insurance is an insurance comparison engine that's claimed to specialize in inexpensive, minimum coverage car insurance that can "get you behind the wheel for less upfront"—although you can purchase comprehensive and collision coverage if you'd like.
In order to obtain a quote through Good2Go Auto Insurance, you'll start by entering your zip code, vehicle information (make, model, ownership, primary use, annual mileage, etc.), and primary driver information (name, DOB, marital status, etc.).
Then, you'll complete the quote by indicating your desired coverage level, current insurance carrier, street address, violations/accidents, additional vehicle and driver info, and more. If you'd like to leave the site and retrieve your quote at a later point, you can access it again by entering your last name, quote number, and zip code.
Sounds like an easy, straightforward quoting process, right? But when the rubber meets the road, how much value does Good2Go Auto Insurance really provide? Consider the following:
Does Good2Go Actually Sell Auto Insurance?
Have you ever driven down the road and seen a sign for an insurance agency? One where you could go in, give a licensed agent your information, and then they'll shop around for the best auto policy price?
Well, Good2Go Auto Insurance is kind of like that, except it's up to you to shop around for the best price. In other words, it appears that you'll be doing all the legwork, while the company earns a commission off the sale of your policy (or the sale of your information, as we'll discuss in a moment).
How do we know this? After entering all of our information into the appropriate quote fields on the Good2Go website, we were ultimately brought to a page where a list of auto insurance carriers was provided. Then, if we wanted to pursue a quote with a specific carrier, we had to click on the "View Your Quote" button.
However, this wording is misleading, because the reality is that after clicking on this button, you're simply redirected to the corresponding company's home page, where you have to start the quote process all over again from scratch.
So what is Good2Go Auto Insurance doing with the information you provide in your "quote?"
Good2Go Auto Insurance is a Lead Generator
According to a disclaimer at the bottom of Good2Go's final quoting page:
By clicking this button and submitting this form, I affirm that I have read and agree to this website's Privacy Policy and Terms of Use, including the arbitration provision and the E-SIGN Consent. I consent to being contacted by you, 21st Century, AIS, AllWebLeads Sellers, Allstate, BankRate Sellers, Esurance, EverQuote partnered agents, Farmers, Freeway, GEICO, Hartford, Kanopy, QuoteWizard Sellers, State Farm, Wholesale, or by one or more agents or brokers of your partners which companies I agree may reach me to discuss my interest, at the phone number and/or email address I have provided to you in submitting this form for the purpose of receiving quotes based upon the information I supplied and/or additional information obtained. I consent to being contacted by telephone (via call and/or text) for marketing/telemarketing purposes at the phone number I provided in this form, even if my phone number is listed on a Do Not Call Registry, and I agree that such contact may be made using an automatic telephone dialing system and/or an artificial or prerecorded voice. I also understand my wireless carrier may impose charges for calls or texts. I also understand that my agreement to be contacted is not a condition of purchasing any property, goods or services, and that I may call +1855-840-1737 to speak with someone about obtaining an insurance quote.
In short, Good2Go Auto Insurance doesn't actually provide you with an auto policy. Instead, it appears they sell your information to agents who represent a whole slew of different companies and organizations, so it's very likely that you'll receive a ton of phone calls and/or emails soon after submitting your information.
With this said, it appears that the company only does business in 15 states, and our first quote was not one of these. As such, in order to make sure we were covering all of our bases, we attempted to obtain a new auto quote in one of these states, although we were ultimately presented with the same third-party carrier options.
The Good2Go Auto Insurance Claims Process
On top of the confusion surrounding their quoting process, as well as the company's fuzzy role in providing you with an auto insurance policy, Good2Go's claims service might leave something to be desired as well.
This is because a claims representative is only available M-F from 8a until 7:20p ET. As such, if your claim occurs outside of these business hours, you'll be required to leave your information with the automated system and the claims rep will contact you when they return to the office.
As you might imagine, this could be inconvenient, especially if your accident occurs during the weekend and you need immediate attention (such as getting your vehicle to the appropriate repair shop, setting up a rental car, etc.).
Good2Go's Arbitration Agreement
Finally, keep in mind that by submitting your information through the Good2Go Auto Insurance website, you'll be automatically bound to an arbitration agreement. In the event of damages, this means your legal rights will be severely restricted, including becoming part of a trial by jury or class action lawsuit.
Do Customers Like Their Good2Go Auto Insurance Policies?
From a company perspective, Good2Go Auto Insurance (a subsidiary of American Independent Companies) is based out of Atlanta, GA, who held an A- rating with the Better Business Bureau based on 12 closed complaints (as of 6/23/15), most of which appeared to reference difficulty cancelling policies and/or payment issues.
Finally, Good2Go Auto Insurance is powered by EverQuote, another auto insurance lead generation company.
Good2Go Auto Insurance Pricing
As you might imagine, what you'll pay for your auto insurance policy, whether through Good2Go or another company, depends on dozens of factors, especially any accidents and citations within the last 5 years.
With this said, Good2Go claims your auto insurance rates are guaranteed for a full calendar year, and can be paid via 3 different payment plans:
Economy – Your down payment activates your policy, while your first installment is due 20 days later, and your second installment 17 days after that. Then, all remaining payments will be due every 30 days.
Quarterly – Payments are due every 4 months.
Annual – Pay for your policy in full for 1 year in advance.
Regardless of the payment plan you choose, as soon as your policy is purchased, you'll receive instant proof of insurance via email or fax.
In order to speak with a Good2Go Auto Insurance representative, you can call toll-free at 855-646-4661.
Can Good2Go Auto Insurance Save You Money?
Chopping to the point: Without the ability to obtain auto insurance rates directly through Good2Go's website, it's all but impossible to discern how their prices stack up against the competition.
On top of this, it appears that the company's basic services are duplicated by numerous other lead generation websites, with no obvious benefits over the competition (i.e. you'll probably receive a ton of spam and sales calls).
Because of this, if you're looking to obtain auto insurance rates as quickly as possible, we might recommend a company like The Zebra, who we've found offers a straightforward quoting process, lets you know exactly how they're involved in the transaction, and claims to keep you spam-free throughout.
Good2Go complaint

I got into a car accident on January 4th, 2020 and filed a claim with my insurance company (Good2Go). After I filed the claim I didn't hear from anyone I had to reach out to the company. When I spoke with my adjuster she told me she was going to send an agent out to take pictures and everything. That was on a Wednesday, the field agent came out on Friday. I didn't hear anything from anyone for two weeks, tried calling several times, no one returned my call. Finally, a total loss agent called me and said they were totaling my truck and stated he was going to send some paperwork for me to get notarized and to send it back. Fast forward, the paperwork had been returned weeks ago and I haven't heard from the adjuster Aldo anymore, and I've left several messages. I was charged for the truck being on my insurance the month of January and February. I can't get ahold of anyone to find out what is going on. My truck lender keeps calling saying that the insurance has not paid! I will be canceling my insurance through this company!

Bottom Line: No, I would not recommend this to a friend

---

Awful customer service

By Meredith A.

,

New Jersey

,

Mar 4, 2020
Verified Reviewer

We were in the process of buying a new car. The salesman was on hold for 4 to 5 hours trying to get thru to add it to our existing policy. I then tried and couldn't get anyone. I tried an online chat where the person was not helpful. I said I am going to take my business elsewhere and she said OK and hung up. Just moved everything to progressive. I was only 3 days into my policy so I hope I get a refund.

Bottom Line: No, I would not recommend this to a friend

---

Advertisement

---

Worst insurance company ever

By Morgan M.

,

Philadelphia, PA

,

Oct 31, 2019
Verified Reviewer

Someone from my parking garage fell off a ladder and landed on my windshield completely destroying it. Now you'd think this would be an easy process to get something done but NO! These people never call back or answer the phone to get your claim handled and if you need a rental forget about that so be prepared to miss multiple days from work or events because of this company. Completely overpriced and you don't get any kind of help...I wouldn't be surprised if there's going to be a class-action lawsuit in the future.

Me and my fiancé both called back to back for hours. We were hung up on 4 times and it's been about 24 hours and I have still not heard back from a single person from this company after leaving multiple messages to my adjuster and also a supervisor.

Needless to say, as soon as this claim is closed out I'm done with this company! And am saving nearly $200 a month doing so. And I get to talk to an actual person with my future insurance company instead of being on hold for 2 hours waiting for anyone to pick up the phone.

Bottom Line: No, I would not recommend this to a friend

---

The worst company

By Marilyn A.

,

Warminster, PA

,

Oct 22, 2019
Verified Reviewer

Good2Go has been the worst car insurance company I ever had. They will nickel and dime for everything and they will take forever to fix your car when you need the policy to do its thing. My advice is to avoid this company and find another. It's the best thing you can do for yourself.

Bottom Line: No, I would not recommend this to a friend

---

Advertisement

---

Just put the 5 stars to get your attention

WORST CUSTOMER SERVICE! I wouldn't even give one star! I do not have my insurance car with this company, THANK GOD. But unfortunately the person that hit my car does and oh God it's been HELL. After I spoke with the guy Patrick King who was supposed to be the one working my case and I sent the estimate following with the car pictures, it's been 5 days that I've been trying to talk to him or anybody else on the phone and it's been IMPOSSIBLE. I've left voice messages, emails, and a million calls, even my insurance, which is GEICO (best insurance ever, fast and nicely service) has been trying to reach them as well, I've been on hold for exactly 1 hour and 2 minutes and I'm still not on the phone with anybody. This is ridiculous and I am soooo angry and disappointed, my car keeps breaking down because it's the only car I have and I have to use it and this people is just making my life HELL.

Bottom Line: No, I would not recommend this to a friend

---

Poor customer service

I had been a faithful customer for 3 years. I sold my car, therefore canceled the insurance. I received confirmation of the cancellation prior to my next premium coming due. However, this company proceeded to take the next premium out of my account. I've sent 2 emails referencing this and have yet to hear from anyone. Poor customer service.

Bottom Line: No, I would not recommend this to a friend

---

Good experience

By Karl F.

,

Bucks County, PA

,

Jun 26, 2019
Verified Reviewer

I was rear-ended by a driver who had Good2Go Insurance. I filed my claim with them and Tonesia B. was my claim representative. She handled the claim both professionally and promptly. In no time I had my check for the repair and they set me up with Hertz for a rental car. Once the work began and the bumper was removed, more damage was found underneath. My auto body shop dealt with them and the matter was resolved promptly. I had nothing but a good experience dealing with Good2Go to get my car repaired.

Bottom Line: Yes, I would recommend this to a friend

---

It's a scam

By Thomas M.

,

Spring Run, PA

,

Apr 22, 2019
Verified Reviewer

I just bought a car on 2/25/19. Went through Good2Go and initially paid $218. My monthly payments were going to be around $160. I found car insurance cheaper somewhere else. Naturally, I call to cancel my insurance with Good2Go eleven days later on 3/8/19. The guy I talked to said I would be due a refund and to call back the next day for details (hmm, red flag right there). So I call back and another rude guy tells me I still owe the $70! So I was insured by them for eleven days and they want $288.54. Very shady and unethical practices. DON'T USE "Good2Go," I will warn as many people that will listen.

Bottom Line: No, I would not recommend this to a friend

---

Poor customer service

By Bernadette F.

,

Ewing Township, NJ

,

Apr 1, 2019
Verified Reviewer

My name is Bernadette Fernandez and have been insured by Good2Go for approx four years. I currently have a loss claim and have been trying to receive information as to when my claim is being paid out. I called the loss department and have spoken with Shonda Dean who did not return calls promptly and when she did was very unfriendly and short when I asked for information or clarification about information received. I sent all the information asked for in a prompt manner.

On 3/28/19 Ms. Dean returned a call from a message I left on 3/26/19. She was rude and unprofessional. She never stated she was calling from your company, just gave her first name. When asked about my claim she rudely stated "your check been mailed out" and hung the phone up as I was trying to ask a question.

I truly don't think this is what your company stands for. I've left a message with her supervisor and have not received a call back. I have had no issues with this company and want to continue to be insured by you, but this was truly bad customer service. I hope this can be addressed so that no one else will have to get the same service I did.

Bottom Line: No, I would not recommend this to a friend

---

Went up too much

By Trina C.

,

Philadelphia, PA

,

Feb 17, 2019
Verified Reviewer

I've been with this company for over 6 years. I had no idea that the name I trusted under American Auto Insurance Company was actually with them. That was really deceiving and also a red flag for me. I don't like surprises. But I kept them and was fine paying this set bill every month. I was happy and pleased.

So, today, on February 11, 2019, I get this ridiculous amount in the mail for my renewal coming up. So I called them and the lady tells me she can switch me to someone to talk to so for a better quote. I guess an underwriter. So I give her all my info and she puts me on hold. When she gets back on she gives me a quote with twenty dollars extra from the amount on the letter I received. She said it's according to your state and blah blah blah. She mentioned I had an accident. Yeah, a fender bender which the lady had a small dent from the snowy weather. The thing that is fishy is...she tried to get even more money than I was complaining about from the letter I received today.

I will never trust or get them again. I'm now with an excellent auto insurance company. Now I'm happy, confident, and pleased with the amount I'm paying.

Bottom Line: No, I would not recommend this to a friend

---

The WORST customer service I've experienced

By Becky M.

,

Washington, PA

,

Oct 10, 2018
Verified Reviewer

I've been with Good2Go for at least 4 years. As long as you don't need anything, they're ok.

I bought a new vehicle and wanted to put that vehicle on my policy and remove the old one. I called yesterday at 9 am and the automated system won't let you remain on hold. It says enter your number and you will not lose your place in line and a representative will call you back. I did this 4 times yesterday and NO ONE called back.

I messaged them on Messenger...six hours later a representative messages me back and asks me for my info. Then gives me a link to go to which had an error message and says someone will contact you. No one ever did. I call at 8:30 this morning and after 25 minutes a rude woman answers and is rude from the get-go. If this company had an app like others do, they wouldn't have so many calls. I politely asked the representative which was the best way to contact them. Of course, she answers me rudely and says to call on Tuesday through Thursday, then tells me you can only do two things on their website - make a payment (which they charge you $5 each time) and make a claim.

Bottom Line: No, I would not recommend this to a friend

---