Goodbudget Reviews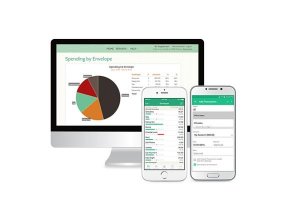 Budgeting can be difficult but it's not impossible. Popular app Goodbuget claims to help you overcome poor budgeting by using a simple interface and the envelope method to corral spending.
What Is Goodbudget?
Goodbudget is a budgeting app that uses the envelope method to help you organize and track your spending through a platform that can be synced across multiple devices to keep all family members up-to-date on how much you've earned and spent.
The envelope theory of budgeting is one in which you have an envelope of cash designated for spending categories that vary each month – gas and groceries are two good examples. Whenever you need to buy something, you take the money out of the corresponding envelope. When there's no money left, you can't buy anything else in that category.
The Goodbudget site is part of DaySpring Technologies, a tech company based in California City, California. The company's product manager is Chi-en Yu, a former civic program director who, while running the scholarship fund for an after-school program.
According to an interview with YouTube series "Behind the Brand," Yu said interacting with parents and scholarships opened her eyes to the day-to-day workings of budgeting and money. Yu said she saw parents having to decide between signing kids up for a soccer team or buying them soccer shoes. Her conclusion? You need both, so let's figure out a way to do that.
Based on the average spending of American households and the average earning, we'd say the margins for breaking even are pretty thin. Sometimes making that margin work is a matter of controlling spending in categories that change from month to month.
Will Goodbudget help you meet your financial goals? Is the envelope method truly effective and does it translate well to an app? Those are the questions we're going to answer and we'll do it by using the app ourselves, talking about how to sign up for and set up your envelopes and then discussing the app's features.
We'll also include user feedback from the iTunes and Google Play app stores.
How to Sign Up and Set Up Goodbudget
Signing up for Goodbudget is a simple process. Provide a name, email address and a password and you're all set. The site/app won't require you to connect to a bank account in order to start your account. For those who are wary of giving away too much personal information to a new app, this is a definite bonus.
Once you've got your account set up, there are two main functions you'll use. First: making envelopes.
As we mentioned earlier, this tool uses the envelope method of budgeting. Basically, you tell the app how much money you want to put in a particular envelope – we'll use groceries – and tell it where you want the money to come from.
Creating an envelope is a matter of clicking/tapping the "Add Envelope" button. From there, you assign a name to the envelope and set how much money should go into it. The free version of the app/site allows up to 10 envelopes (more on that later).
The "where you want the money to come from" is the second part of getting Goodbuget ready to roll. You'll need to add transactions to the "Account" portion of your budgeting page, which, in the desktop browser, is located in the top left of the screen.
In this section, you have the ability to add any money you earn or money that's already there. You also get to add any transactions you've made. You can either do this by hand by clicking "Add Transaction," which ensures you're selecting the transactions that are counted, or you can upload a CSV file from your bank account, which, in most cases, adds all the transactions during the time frame you select.
We did the "Add Transaction" function. It was very easy, giving us a few fields to fill out and letting us choose if it was a recurring or single transaction.
If you've got a bi-weekly paycheck, then this function works beautifully. If you're a freelancer with changing income every week or month, you can just as easily add your income deposits one at a time.
With the money in the bank, you can now fill your envelopes by clicking/tapping the "Fill Envelopes" option.
This is the page where you can select how much money needs to go in an envelope. You can fill the envelopes one at a time or all at once, another efficiency measure we enjoyed.
Once your envelopes are filled, then you're ready to put Goodbudget to work.
Basically, the idea is that you can't spend any more money in an envelope when that envelope is empty.
The Envelope Method: Does It Work?
As you'll read later in this review, Goodbudget gets excellent reviews from iOS and Android users (more on this later). Function-wise, the app is very simple and we're guessing that's appealing.
But what was very interesting was that multiple users indicated that the tool helped them pay for a home remodel and, in one case, was the catalyst for saving up for a mortgage down-payment.
This makes us think that it's the combination of an easy-to-use platform and the envelope method that led to success. To further understand the envelope concept, we did some research and dug up some excellent insight from DaveRamsey.com.
"Remember, envelopes are powerful weapons in the fight against overspending. They can help you manage your money better than you ever have," advocate Rachel Cruze wrote. "Put the envelope system to work for you and get intentional about how you're spending your money!"
The site makes an excellent point about teamwork, too. For married couples, the method works best when you work on it as a team. For those without a partner, it helps to have an accountability partner who can encourage you to stick to the system and stay on budget.
Goodbudget Pricing
Earlier we alluded to the fact that Goodbudget has a free version that gives you up to 10 normal envelopes (monthly) and up to 10 "More" envelopes, which are envelopes you spend over the course of two, three, six or twelve months. These "More" envelopes also include savings goals.
There's a paid version you can buy that gives you unlimited Normal and More envelopes, but it will cost you $50 a year or $6 a month.
The free version gives you one account on up to two devices—good for a married couple – as well as one year of transaction history and access to the Goodbudget user support forums.
The paid version gets you unlimited envelopes and accounts, five devices, five years of history and email support with Goodbudget reps.
User Opinions About Goodbudget
Of the more than 17,600 reviews the app had at the time of publishing in the Google Play store, it received more than 15,000 5- or 4-star reviews for an overall average of 4.4 stars.
The 10 most recent reviews were positive, with six 5-stars, four 4-stars and one 3-star. What we noticed is that several of the recent reviewers indicated that they've been using Goodbudget for years and are happy with it. This type of longevity is a good sign as to how satisfied you might be in the long run.
One reviewer complained about a bug he encountered when he marked bank transactions as paid for. Even though the problem persisted, he closed his three-star review with: "It took me a while to warm to this one but after trying several different budgeting apps, this one remains the simplest and the best. I could now not imagine life without it."
The app/site has equally good reviews in the iTunes store, where it gets an average rating of 4.7 stars from more than 4,000 reviews.
One of the most recent reviews was similar to Google Play reviews – the user is a three-year customer. However, he pointed out that the app isn't optimized for the iPhone X, which is something to keep in mind if you have that phone.
The Final Word: Pros and Cons of Goodbudget
Based on our research, we think the user opinions and concept behind this app point to it being an excellent tool for budgeting your money and spending wisely.
Our first-hand experience with the app proved to be positive – everything is straightforward and pretty intuitive.
We believe the app's simplicity and its use of the envelope system are its strengths. Of all the budgeting apps we've reviewed, this is one of the most basic yet most powerful.
We also like how Goodbudget syncs between two phones, which means you and your significant other/partner will be on the same page throughout the month.
As for disadvantages, we believe that the app is only as helpful as the user's commitment to sticking to the basic principle behind envelopes: Once the money is gone, it's gone.
» SEE ALSO: Why Making a Budget Can Be the Best Financial Decision You've Ever Made
You may be able to move money around from one envelope to another, but even this method strays from the intent of the envelope system.
Another drawback has more to do with the system than the app. As Slate pointed out in an article on household debt, the envelope system gets tricky when expenses like gas go up in price and your budgeted money doesn't take you as far.
If you aren't sure that Goodbudget is right for you, there are plenty of other options out there. Just keep in mind that none of the apps or sites we've reviewed rely solely on envelopes.
As far as simple apps go, take a look at Fudget. The app uses a simple interface and very basic budgeting tools.
If you think you want something a little more sophisticated than Goodbudget or Fudget, take a look at Mint and YNAB. Both of them receive high praise from their users and provide a more robust platform for tracking spending and creating categories.