Gopher Pro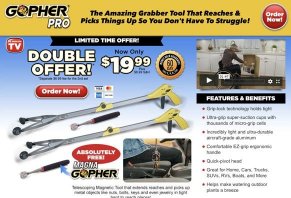 The Gopher Pro's helpful features make it a great grabber for those who need help reaching for things that are in hard-to-get places like high shelves and spaces behind couches.
Gopher Pro Review
The GopherPro is a grabber tool with a suction-cupped, pivoting head that you can use to grab things in hard-to-reach place, change lightbulbs and more.
The product is an As Seen on TV item whose commercial focuses on what you can grab with the tool and, in several scenes, portrays it as a great item to have for those whose reach and movement is limited by a wheelchair.
It can be tough to know everything you need to make a good buying decision, especially when you see a product on TV and call the order phone number – you're limited to what a commercial or website tells you.
in this review, we're going to analyze the Gopher Pro and look for information that you may not think about but that is necessary to make a smart purchase. We'll talk about how much the tool costs, important return and warranty information in the fine print and then we'll compare the product to similar ones you could buy in a store.
The Ins and Outs of How the Gopher Pro Works
As we'll outline in a few minutes, this device is relatively affordable for the convenience it can provide. Consider the following scenario.
You're at home and you want a glass of wine. Your spouse or partner put the dishes away the previous night and the wine glasses are out of reach. You're not super excited about dragging a chair over and would rather get the glass with both feet on the ground.
This is where the Gopher Pro shines. You can grab the device, reach up to the top cabinet, grab a glass with the two suction-cup ends and then slowly bring the glass down to the counter.
A couple of things to keep in mind. First, the Gopher Pro is made out of aircraft-grade aluminum, so It's light. Second, the device has a grip lock on it. So, when you reach to grab something – whether a glass or a bag of flour – once you squeeze down on the item with the tool's trigger, you can slide the lock button forward with your thumb. This allows you to hold the item without keeping your finger on the trigger.
If the item you're trying to grab is in a narrow space, you can twist the neck of the grabber 45 degrees so that the suction cups orient themselves up and down instead of side to side.
While the site gives no maximum weight that the Gopher Pro can carry, it does make mention of five pounds. So, while we can't say for sure what the upper limit of the tool's weight capacity is, we'd say five pounds should be a good rule of thumb.
Other uses of the device include replacing light bulbs. You can clamp down on the bulb and untwist it, then clamp on the new bulb and twist it into place. Keep in mind that the Gopher Pro's clamps don't rotate on your own, so you'll have to twist the whole tool in order to screw in the light bulb.
The final main feature of this device is that you can fold it down into half its length for easy storage in drawers.
Price, Return Policy for the Gopher Pro
To preface this section, we want to point out that pricing and offers on the Gopher Pro could change.
That being said, at the time of publishing, you could buy one Gopher Pro for $19.99 and $6.99 for shipping, for a total of $26.98. Your purchase also came with a free Magna Gopher, which is an extendable magnetic wand you can use to fish metal objects like keys, screws, and bolts out of tight places.
There was also a second offer at the time of publishing, through which you could buy two Gopher Pros for an additional $6.99.
According to the fine print, the grabber(s) ship via FedEx SmartPost and can take up to 30 days after your order to arrive.
Along with your purchase, you get a 60-day, money-back guarantee in which you can return your Gopher Pro and get a refund, minus what you paid for shipping and handling and, if you bought a second device, the additional $6.99 fee. Also, keep in mind you'll have to pay postage to send the tool back to the company.
So, if you buy the two Gopher Pros and want to return both, you'll be out $13.98 for shipping and handling, and the fee for the second tool. Considering that your refund will be $19.99, the initial shipping and handling plus the second-tool fee and the return shipping that you pay means you could lose more money than what you paid for your Gopher Pros.
If you choose to go ahead with your refund, you'll need to call 888-528-5810 to start your return. Phone reps will instruct you on how to proceed.
According to the fine print, you'll need to include the following information inside the return packaging:
Name
Address
Daytime telephone number
Email address
How the Gopher Pro Compares to Other Grabbers
Amazon has dozens of grabbers just that offer various features and color schemes – as well as pricing – that differs from the Gopher Pro.
We did a quick search for "grabber" and then organized the results by the average customer review. The top three results were:
RMS 19" Grabber Reacher – $16.97/ 4.7 stars/ 1,318 reviews
RMS 26" Grabber Reacher – $16.97/ 4.7 stars/ 846 reviews
Ettore 24" Grib'n Grab – $16.91/ 4.6 stars/ 4,247 reviews
As you can see, the top three best-rated grabbers have excellent reviews. While Also, each of these grabbers was eligible for Prime shipping, which means you won't have to pay any shipping fees like you'd have to with the Gopher Pro. Furthermore, the Ettore grabber was eligible for free one-day shipping.
These quick shipping times compound the advantage that these grabbers have over the Gopher Pro, whose fine print notes, as we pointed out earlier, that it could take up to 30 days after your order to arrive at your home.
Price-wise, two Gopher Pros plus shipping is going to cost you $33.97, whereas any two of the grabbers we listed above will cost nearly the same price.
Here's the catch, though. None of the three grabbers have a trigger lock that allows you to take your hand off the trigger while retrieving something. Also, they don't fold in half for easy storage.
Based on this research, we believe that the Amazon grabbers offer the advantage of quick shipping and good value. However, they're missing two key features of the Gopher Pro – they can't fold and they don't have a trigger lock.
Our Final Observations About the Gopher Pro
We think that this particular grabber provides some really interesting advantages that you can't find with the top-rated grabbers on Amazon. As we mentioned a few seconds ago, the Gopher Pro folds down for easy storage and you have a trigger lock that allows you to clamp down on something, then slide a button that locks the grip so you don't have to keep your hand on the trigger.
This can be a great feature for someone with arthritis or weak hands. It allows you to use both hands to guide the Gopher Pro down to where you are.
Also, your grabber comes with a magnetic wand, adding to the value of your purchase.
The downside to the Gopher Pro is that the shipping and return process is cumbersome. It can take up to 30 days for your item to arrive at your shipping address and, if for some reason you need to return it, you lose out on what you paid to ship it to you and to ship it back, plus an additional $6.99 if you bought a second Gopher Pro.
In general, though, we believe the Gopher Pro offers decent value for the number of features you get compared to the Amazon grabbers we looked at.