Gorilla Glue Reviews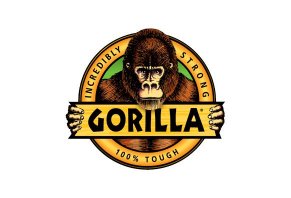 About Gorilla Glue
Gorilla Glue is an industrial strength, waterproof polyurethane glue that claims to be suitable for indoor and outdoor use, and to bond to virtually any material, including wood, stone, metal, ceramic, foam, glass, and more. As such, Gorilla Glue claims to be incredibly strong and 100% tough for essentially any application you need.
Bonding two surfaces together can be a tricky process, and it's admittedly difficult to formulate an adhesive that works across as many different surfaces as Gorilla Glue claims. So when it comes down to it, does Gorilla Glue actually bond as well as it claims? When should you use it, and when is something else a better choice?
Gorilla Glue Products
The Gorilla Glue Company, based out of Cincinnati, OH, manufactures a wide variety of industrial strength adhesives, the most popular of which is Gorilla Glue. This polyurethane-based formula is claimed to provide immense holding power by expanding 3X into the tiny folds and crevices of nearly any material, such as wood, plastic, metal, and much more. Gorilla Glue can also be sanded, painted, and stained, making it useful for almost any situation.
With this in mind, to use Gorilla Glue you'll need to do the following:
Clean the surfaces you'll be applying Gorilla Glue to, and if necessary, roughen them up for better adhesion. Ideally, you'll also need to dampen the surface.
Apply Gorilla Glue evenly and sparingly, and spread with a disposable brush if necessary.
Press the objects together and hold in place using clamps, a heavy object, or even rubber bands if small enough.
Gorilla Glue will be 80% dry in 1-2 hours and fully cured in 24 hours. After using, store the glue in a cool, dry place.
In addition to Gorilla Glue, the company also manufactures a wide range of other adhesives in the USA, including Super Glue, Wood Glue, Epoxy, Clear Repair, Tape, and Self-Standing Bags.
Gorilla Glue Pricing & Refund Policy
Gorilla products are not sold through the manufacturer's website, although their products are available from hundreds of third-party retails, which typically range in price between $3 and $72. As such, returns/refunds will be at the discretion of each retailer.
However, if you'd like to contact Gorilla Glue about questions or concerns, customer service can be reached at 800-966-3458.
What Do Other Consumers Have to Say About Gorilla Glue?
Overall, Gorilla Glue seems to have an overwhelmingly positive online customer reputation, although some of the most common complaints appear to revolve around glue drying inside the nozzle, thereby making it essentially useless after one application, high price when compared to the competition, and that it's not well suited for small, detailed repairs. Also, while many customers like the fact that the glue expands into each surface, many others felt this caused a big, unnecessary mess.
Is Gorilla Glue the Best Option When Joining 2 Surfaces?
Given the fact that the DIY market is filled with all kinds of adhesives, does Gorilla Glue work as well as it claims? Should you use it for your next repair? Maybe, but remember the following:
Adhesion & Versatility
Based on customer reviews, while it appears that Gorilla Glue does have the ability to bond to most surfaces, it may not bond to every surface equally as well. As such, it seems that it bonds firmly to porous surfaces such as wood, although metal to metal seems to form the weakest bond.
On top of this, Gorilla Glue claims that it can be formed and shaped using sandpaper, a file, or even a Dremel, which can make it ideal for filling holes and cracks.
Relearn How to Use Glue
Do you normally apply as much glue as possible when bonding two surfaces? The more the merrier, right?
Not so with Gorilla Glue. Since it expands 3X in order to work its way into whatever surface you're applying it to, it probably isn't like any other adhesive you've previously used. As such, it's important to use Gorilla Glue sparingly. Otherwise, you might have a big, sticky mess to clean up.
Also, compared to most "super glues," Gorilla Glue has a relatively long bonding time, so it might not be ideal for last-minute fixes. And unless you're gluing together 2 relatively heavy items, you'll need to use clamps to achieve the best bond.
A Little Goes a Long Way
Since Gorilla Glue expands up to 3X, a little bit can go a long way. And because it comes with a relatively high price, you'll probably want to purchase the smallest bottle you'll need for your intended application.
Speaking of which: According to numerous customer reviews we encountered during our research, Gorilla Glue tends to dry inside the nozzle after only one use, making it essentially useless thereafter. This makes purchasing the smallest bottle required even more important. Tip: You can also cut a small portion off the tip to gain access to the glue each time you use it.
Bottom line:
For most applications, Gorilla Glue appears to be a strong adhesive that can permanently bond to most surfaces. However, it expands greatly and requires water to activate, so getting everything right might take some trial and error.
---
Fantastic Glue

This will be the last glue you we'll ever use. Top of the line.

Bottom Line: Yes, I would recommend this to a friend

---

Great product but hazardous to dogs

By Lois Williams

,

Marlton, NJ

,

Feb 11, 2015

Gorilla Glue is a great product that bonds and expands. However it is a hazard to pets especially dogs that ingest it. It continues to expand in the stomach. This is a true veterinary emergency! Most cases need surgery. Use Gorilla Glue but keep it out of reach of pets and children.

Bottom Line: Yes, I would recommend this to a friend

---

Advertisement

---

Crazy Use by Husband

My husband uses The Gorilla Glue on everything! Even when the sole of his shoe starts to flop, he uses this glue and he loves it!

Bottom Line: Yes, I would recommend this to a friend

---

Better than Krazy Glue and CHEAPER too.

By Dana Sartell

,

Roseville CA

,

Aug 31, 2015

There's plenty of epoxies out there like Super Glue and the like, my Dad calls them "finger cement," and they're all pretty much the same. But Gorilla glue is different, it expands after contact which is really great if you're working with porous surfaces like wood. While the price tag is usually cheaper than the competition, since it does expand, you'll use less which makes it even more affordable.

Bottom Line: Yes, I would recommend this to a friend

---

Advertisement

---

Gorilla Glue

By Fred

,

Langley City, British Columbia, Canada

,

Aug 16, 2016
Verified Reviewer

Spent $10 to try and fix a $300 fishing reel. Gorilla Glue in the small tubes worked great. Best $10 I've spent.

Bottom Line: Yes, I would recommend this to a friend

---

Lets see Gorilla Glue beat Super Glue

By MissKayCA

,

Oklahoma

,

Nov 21, 2016
Verified Reviewer

My rearview mirror was always falling down. I'd been using Super Glue, it held the mirror in place 2-3 months, then it would fall down. I had no more Super Glue so I bought Gorilla Glue, 15oz bottle with the spout. Easy-peasy to use, held the base in place more than 30 seconds. Today about 12pm noon CST, I put the mirror and I'm impressed so far. I can even adjust the mirror. I believe this Gorilla Glue will do the job. No more Super Glue. Gorilla Glue from here on out.

Bottom Line: Yes, I would recommend this to a friend

---

Best glue I have found

By Dick Roosa

,

Nebraska

,

May 9, 2017
Verified Reviewer

I have NEVER had any luck with adhesives. I needed to repair a part on a lawn mover. I initially used a mix bonding material. Followed the directions, but it did not hold. So I used Gorilla Glue, and it fixed the broken part. I am impressed.

Bottom Line: Yes, I would recommend this to a friend

---

Great for repairs at home

I repaired a part on my Polaris pool cleaner with Gorilla Glue. The part will be under water 95% of the time. No real stress on the part, so from my experience using Gorilla for home repairs it should hold, and the expanding was just what I needed to fill all the voids and hollow part.

Just clean the tip of the bottle with a small piece of rag that can be thrown away after use.

Bottom Line: Yes, I would recommend this to a friend

---

Gun stock bonding

By Robert Picking

,

Huntingdon, United Kingdom

,

Dec 1, 2017
Verified Reviewer

I repair cracked and broken gun stocks. Gorilla Glue works for me. Once glued back together, I drill holes across the glue line and insert metal pins glued with Gorilla Glue.

No stock has failed, and all have been shot with a standard to heavy load afterward. I highly recommend this high-quality product.

Bottom Line: Yes, I would recommend this to a friend

---

Phenomenally powerful, use very sparingly.

By Nigel H

,

British Columbia, Canada

,

Jan 17, 2018
Verified Reviewer

I am into my second bottle now. Outstandingly strong grip when used with wood. It seems to work best when the surfaces to be glued are very slightly damp. Use very sparingly as its expansion will surprise you otherwise, and the bubbling excess needs to be carefully removed prior to full cure otherwise it can look unsightly. Worth an initial trial on scrap wood, so you get the hang of quantities.

Bottom Line: Yes, I would recommend this to a friend

---

Brilliant adhesive!

I've only used this on two occasions, and I've been very impressed so far! I've used it to stick wood to kitchen tiles, and it hasn't let me down! It is so strong!

As regards to some of the negative comments on here, I wonder if those people aren't reading the instructions on the bottle? It says to lightly dampen one of the surfaces and put Gorilla glue on the other as the glue is cured with moisture. Also, it warns of staining, to both skin and clothes, hence the gloves provided! And it warns not to use too much as the glue will expand 3-4 times. As regards to the glue left in the nozzle, it also recommends you wipe the nozzle clean with a dry cloth.

Admittedly for smaller jobs, I wouldn't use it because if the expansion, but for bigger jobs definitely.

Bottom Line: Yes, I would recommend this to a friend

---