goTenna Mesh Reviews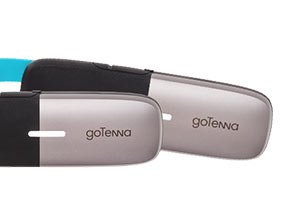 Compared to the original, the more compact goTenna Mesh uses mesh network and message relay technology to send and receive messages completely off the grid.
About goTenna Mesh
By pairing with your iOS or Android device via Bluetooth, goTenna Mesh creates its own mesh network with other local devices and promises to help you stay connected off-grid. The result?
We're told that each goTenna Mesh pair allows you to send 1-to-1 or group messages, download offline maps of any location in the world, use GPS, share and request location information with other users, and more, all without cellular service.
What's more, compared to the original model (more soon), we're told that goTenna Mesh automatically routes messages through other users in range, which can double or triple your normal range of 3 miles in open environments (one mile in more congested areas).
Considering the fact that you can use goTenna Mesh without cellular service, along with its self-proclaimed rugged, weatherproof construction, it seems like a no-brainer, whether you're an avid outdoors person or just looking to prepare for an emergency.
But how much usefulness can you expect goTenna Mesh to deliver in the real world? Sure, its cool factor seems off the charts, but when it comes down to it, is the device worth your hard-earned money?
Here, we'll talk about what we learned during our research so you can make a more informed decision.
How Does goTenna Mesh Work?
At 4.2" long, 1.3" wide, 0.9" thick, and weighing in at 1.7oz, goTenna Mesh is designed to fit unobtrusively just about anywhere, whether a pocket or a backpack.
Mesh features a weatherproof exterior that can withstand "all kinds of rain and grime," a thermoplastic elastomer attachment strap, a LED indicator light, and is compatible with iOS and Android devices.
Under the hood, you'll find a 1-watt UHF radio, a rechargeable lithium-polymer battery with a 24+ hour life on standby, and flash memory that can hold hundreds of messages.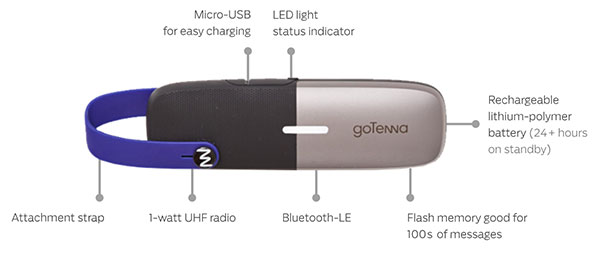 The new goTenna Mesh can relay messages through other users and double or triple your range. Image credit: goTenna.
This is in addition to goTenna Mesh's Open SDK, which allows you to build any application you like, such as allowing goTenna Mesh to relay messages without any other users within range.
The goTenna Mesh Network
To accomplish this, as the name suggests, two or more goTenna Meshes create their wireless mesh network.
From there, they can use a mobile ad hoc networking (MANET) protocol called Aspen Grove "to intelligently relay your messages through other users to get to your recipient(s) when they are out of point-to-point range of you."
And all of this is performed automatically and privately, without relying on towers, routers, or satellites.
Pro Tip: However, keep in mind that it doesn't appear you can send larger files (other than location information) like images or videos with goTenna Mesh. So, if this is what you're expecting, you might end up disappointed.
For a quick idea of how goTenna Mesh's relay technology works, this 1-minute video is worth a watch:
How Does goTenna Mesh Compare to Walkie-Talkies?
Compared to traditional walkie-talkies and 2-way radios, the company tells us you won't have to worry about channel-switching with goTenna Mesh since it intelligently selects "frequencies and power levels that are permissible in your region."
You also won't have to worry about sucking your battery dry, since we're told that goTenna Mesh works in Airplane Mode, as long as you remember to toggle Bluetooth on.
Considering everything we've just covered, what are some of the major differences between it and the original?
goTenna vs. goTenna Mesh
There aren't a whole lot of differences between the original goTenna and the newer goTenna Mesh, but the ones that do exist are fairly meaningful.
Both devices share the same rechargeable lithium-polymer battery (although Mesh's standby life seems to be about 4 hours longer), as well as flash memory, LED status lights, and Micro-USB recharging capabilities.
You'll receive read receipts and also be able to use the Shout feature (allows you to transmit information to any goTenna devices within range), although there's no mention if Mesh shares the same 160-character limit and ultra-detailed maps as the original goTenna,
Since they likely use similar apps though, we guess this is the case.
However, the original goTenna is about 1.5" longer than Mesh (add another 2.2" when its antenna is extended), although they both weigh about the same.
The original features a 2-watt VHF radio that makes it ideal for broadcasting through or around obstacles (e.g. trees, buildings, hills), but these signals are easily impacted by electromagnetic interference.
On the other hand, because of this electromagnetic resistance, Mesh's 1-watt UHF radio might be preferable for more urban environments.
Based on what we've discussed, here are the major differences between the original goTenna and the newer goTenna Mesh:
| | Original goTenna | goTenna Mesh |
| --- | --- | --- |
| Ability to Relay Messages? | N | Y |
| Networking | Point-to-Point | Mesh |
| Battery Life | 20+ hours | 24+ hours |
| Size | 5.8" x 1" x 0.5" | 4.2" x 1.3" x 0.9" |
| Radio | 2-watt VHF | 1-watt UHF |
| Extendable Antenna? | Y | N |
How Much Does goTenna Mesh Cost?
Perhaps the biggest difference of all is that the original goTenna has been available for quite some time, whereas the Mesh version is still going through a Kickstarter campaign. As of writing, the company had raised more than $416K on an original goal of $150K.
There, goTenna Mesh packages ranged between $129 (sold out) and $2,000, with an estimated delivery date of December 2016.
Since writing our original review, the company has released their goTenna Plus service, which provides topographic maps, location tethering, trip statistics, and group delivery confirmation, all for a limited introductory price of $9.99 per year.
With the Plus service, you'll even be able to relay messages using your original goTenna device!
Although goTenna Mesh hasn't been released yet, is there any online feedback?
Are There Any Reviews Yet for goTenna Mesh?
Based on the immense success of the original, we found short articles about goTenna Mesh on authority websites like CNET, Digital Trends, TechCrunch, and more, although these were primarily high-level overviews or based on brief in-office demos.
In other words, none of this feedback was based on real-world testing.
However, since their original goTenna has been around for much longer, we found a ton of customer feedback on Amazon and REI.com.
Here, common compliments appeared to revolve around ease of use, effectiveness in a variety of different terrain, and quality, rugged construction.
On the other hand, what few complaints there were seemed to reference that goTenna didn't work as advertised. Customers gave goTenna's iOS and Android apps similar ratings as their hardware.
Obviously, this is a completely different product, so there's no way to know (yet) whether you'll experience any of the same with goTenna Mesh. Either way, though, goTenna's customer satisfaction ratings are very high.
Should You Preorder goTenna Mesh?
Despite many of their similarities, goTenna Mesh's UHF radio, mesh network capability, and relay feature might make it ideal for urban environments where electromagnetic interference can be high—but where you're also much more likely to encounter other Mesh users (which is required for relaying).
The only concern is that, for this relaying to function optimally, you'll need a lot of other Mesh users near you.
And after checking on www.imeshyou.com—despite the fact that I live in a very outdoor-oriented city—there were only three others in my area as of the time of writing.
Another factor to consider is that, while the original version seems to have been released on time, crowdfunded projects have notorious reputations for delays. In some instances, backers have been left without their money for years.
And in a lot of cases, even once a final product is delivered, it might not provide all the features originally promised or the same level of quality.
Finally, although goTenna is arguably the best-known name in this niche, keep in mind there are several up-and-comers that might be worth considering, including Beartooth.
Great product but...

The goTenna Mesh exceeds stated distance transmission goals on point to point communication. My only complaint is there does not seem to be enough saturation in my area to utilize the mesh capacity. I've done "shout-outs" and never gotten a response. I've only seen one other users "shout," about three hours late to respond. So, while I think it's a great solid product, unless many others buy and begin to use it, it will remain a cool gadget that only some people use.

Bottom Line: Yes, I would recommend this to a friend

---

Advertisement

---