goTenna Reviews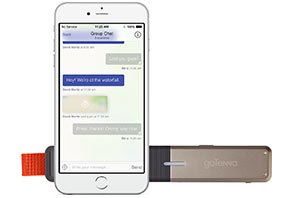 goTenna is a small, portable, and rugged antenna that pairs with your smartphone and allows you to connect with others in range, without cell phone service.
About goTenna
30 minutes ago you were enjoying your hike with friends. But somehow, you got separated from the group, and now you can't find them and it's about to get dark. Just when you're about to freak out though, you get a text showing their exact location on a detailed map, along with a text that reads, "Back at camp. Where are you?" All is saved!
Whether you're deep in the woods or venturing into a new city, goTenna is a sleek, rugged, weatherproof and water-resistant antenna that pairs wirelessly with your smartphone and allows you text and share your location with anyone—even when you don't have service or a Wi-Fi connection.
In less than a minute, goTenna's patent pending technology also allows you to connect with other goTennas up to several miles away, save pins on detailed offline maps, send encrypted messages in private 1-to-1 and group chats, broadcast to anyone within range, all without towers, routers or satellites. This makes goTenna useful for just about anywhere, whether outdoors, at events, when traveling, or during emergencies.
Pretty cool, right? goTenna almost seems like the walkie-talkies of the 21st century! But is goTenna as useful and practical as these old options? What considerations should you keep in mind before ordering? These are just a couple of the topics we'll cover in this review.
To get things started, let's take a look at goTenna's details and specifications.
How goTenna Helps You "Stay Connected Off-Grid"
goTenna is a two-part system:
A cognitive digital radio that broadcasts its own signal, housed inside an industrially designed metal, nylon, and silicone casing. This includes "a circuit board, radio chips, a custom antenna, and a lithium-polymer battery which can be recharged with any micro-USB cable."
When collapsed, goTenna is about 5.8 in x 1 in x 0.5 in, and the length increases by 2.2 in when extended and "listening." Weight is 1.8oz.
iPhone and Android apps that connect to the antenna using Bluetooth LE, giving you the ability to chat 1-to-1, with a group, or broadcast openly to any other goTennas within range (known as the Shout feature).

​goTenna's different features. Image credit: goTenna
Sending Messages with goTenna
After downloading goTenna's free app, you'll need to set up you goTenna ID (GID), which can either be your phone number or random numbers generated by the software. If you choose your current phone number, you'll be able to integrate the app with your contact list and find other goTenna users you know.
Once you're up an running (in about a minute, according to the company), you'll be able to type and send messages up to 160 characters and share your location using detailed maps. So detailed, in fact, that they'll show specific city blocks and even trails in certain parks.
Pro tip: Even though goTenna uses GPS to track your location, it doesn't work like Google Maps, for example. In other words, you'll have to download maps for your location (or wherever you're going) in advance, or risk losing the ability to share locations. And since the files are large, the company recommends downloading them using a Wi-Fi connection.
If you choose to send a message, your smartphone will send the information to your goTenna using Bluetooth LE, which will then send "it out, via long-range radio waves (151-154 MHz)" to other goTennas within range. Although it sounds like a lengthy process, the company claims it only takes milliseconds.
If the message doesn't go through, you can either manually retry sending it, or you can use the automatic retry feature, which will send the message another 3 times before giving up.
What Kind Of Range Does goTenna Have? What About Battery Life?
If it's in standby mode (i.e. not "listening" for transmissions from other goTennas), you'll have about 20 hours of battery life, although this will be "much shorter" if you're sending lots of messages and retries. The battery takes about 1-2 hours to fully recharge, and although it can't be replaced, it should last "several years."
Like just about any other antenna, goTenna's range is highly dependent on terrain and elevation (as little as 3 to 5 feet additional elevation can make a "huge difference."). In other words, the higher your altitude and the more open the terrain, the better your signal will be. In general, you can expect about 1-mile reception in urban areas, and up to 4 miles in outdoor areas.

According to the company, your goTenna will have about a 1-mile range in urban areas, and up to 4 miles in outdoor terrain. Image credit: goTenna
In either case, goTenna needs to be within 20 feet of your phone to work properly, and is best when attached to the top of your backpack, on a belt loop, or in a chest pocket.
What about tablets? The company claims goTenna can also work with iPad, Kindle, and other Android tablets, although since the maps are designed for smaller screens, the image quality may not look as great.
How much will all this technology cost you?
How Much Does goTenna Cost?
goTennas are sold in pairs (one for you, one for a friend) for $199. While the antenna body is the same color, the nylon attachment strap comes in four colors; green, blue, orange, and purple.
You can also purchase a Family Pack (2 pairs, or 4 units) all four colors for $389.
Regardless of how many you purchase, each of your goTennas will include one micro-USB cable for recharging.
Outside of the purchase price, you won't have to pay any fees or additional charges to use goTenna, or to download maps. However, you can earn free merchandise through the company's referral program.
All goTenna purchases come with a 30-day return policy, as well as a 1-year limited warranty against defects in material and workmanship.
Given the technology and the price, what are goTenna's customers saying?
See Also: goTenna Mesh Review
Is goTenna Within Range Of Satisfied Customers?
At the time of our research, goTenna articles were featured in some pretty high profile websites, including CNET and TechCrunch, although they didn't actually test the device or its performance.
However, Outside Magazine tested two goTenna units at opposite ends of Prospect Park in Brooklyn. How'd they perform? The author claimed that the texts "came through flawlessly," GPS "worked as promised," and that pairing was super easy.
On the opposite side of the country, The Wall Street Journal noted, "I tested a pair around San Francisco and in some wilder stretches of California. I found GoTenna's radio tech has some serious range limitations over rocky or urban terrains. Inside the dense, hilly City by the Bay, it was only able to beam a message only over half a mile. But along a relatively flat stretch of beach it eked out a signal across 3 miles."
Finally, MoreThanJustSurviving.com provided an in-depth look at goTenna, who really appreciated its high quality. In fact, they said, "If the branding said Garmin I wouldn't be surprised, as this slab of tech unabashedly delivers on all fronts with no issues or even quirks."
Overall, they appreciated the easy setup, that generating a user ID occurred without "hangups or delays. No waiting," and that full map downloads of "just about anywhere" were available, although they emphasized that "they are sizeable."
The author concluded by saying, "Not much to complain about overall. I'm overwhelmingly happy with this product; one of the best small startup products I've come across yet."
Regarding their apps, the iPhone version only had 10 customer reviews at the time of our research, with an average rating of 4.5 stars. On Google Play, goTenna had more reviews (38), with a slightly lower 4-star rating. In either instance, the most common complaint seemed to reference the app's stability (tended to crash frequently).
Is goTenna the Walkie Talkie Of the 21st Century?
According to Daniela Perdomo, goTenna's CEO and co-founder, she came up with the idea after experiencing the blackout and downed cell phone towers during hurricane Sandy. And according to customer and industry feedback alike, it seems that her team has done a solid job of cramming a lot of revolutionary technology into a small, portable, and rugged device. This, along with the ubiquity of cell phones, means that we could definitely foresee it becoming must-have technology in the near future.
For the time being though, just be sure to keep your expectations realistic. Why? Because you'll only be able to connect with other goTenna users, and depending on where you live, your range might be as little a half a mile. On top of this, you won't be able to send voice messages or images.
What's your experience with goTenna? Tell us about it by writing a review below!