Gotham Steel Crisper Tray Reviews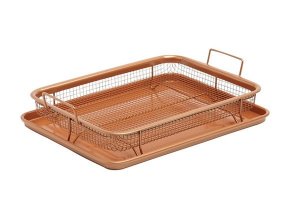 Using a Ti-Cerama surface, Gotham Steel Crisper Tray promises to deliver the fried taste you love, but without the butter, oil, grease, and fat of deep frying.
About Gotham Steel Crisper Tray
Gotham Steel Crisper Tray is an elevated non-stick cooking rack that allows air to circulate all around your food and fries it right in the oven.
And since it can help you cook without oil or butter, while all the fat and grease drip into the lower tray, the manufacturer claims Gotham Steel Crisper Tray can help you consume fewer calories.
Constructed of a super slick Ti-Cerama surface, which combines non-stick ceramic with super strong titanium, Crisper Tray allows your food to slide right off, while remaining safe for use with metal utensils.
You can also use Gotham Steel Crisper Tray on outdoor grills, since it's flame-proof up to 500 degrees. When you're finished, toss it in the dishwasher for easy cleanup.
It certainly seems like Gotham Steel's Crisper Tray might deliver a lot of useful benefits in the kitchen. But will it actually allow you to fry foods? What about "saying bye-bye to burned food"? Are there other options?
Stick with us to the end and we'll help you make a more informed Gotham Steel Crisper Tray purchase. Let's start with price.
How Much Does the Gotham Steel Crisper Tray Cost? What's the Refund Policy?
One Gotham Steel Crisper Tray is priced at $19.99 plus $6.95 S&H. During checkout, you'll be able to purchase a bonus 9.5" Gotham Steel Pan (which normally retails for $19.99) for separate $6.95 fee
All Crisper Trays come with a 90-day money-back guarantee, less S&H. This means if you also ordered the Pan, you could lose as much in shipping as you'll eventually get back as a refund.
Refunds can be requested by calling customer service at 888-822-3220.
How To Choose the Best Oven Crisper
When choosing your next oven crisper, we think there are three important factors to keep in mind:
Size Matters
As discussed earlier, if Crisper Tray is the same size as Copper Crisp, you're looking at something that's about half the size of a traditional baking sheet.
So, while it might be ideal for cooking a meal for one or two people, or whipping up some snacks for a handful of last-minute guests, if you think you'll frequently cook for larger gatherings, you'll want to purchase the largest size possible.
Obviously, you could double your order, although this will also double your overall expenses.
What Makes It Non-Stick?
Another important consideration is what the manufacturer uses as a non-stick coating. Why?
Traditional non-stick coatings often contain polytetrafluoroethylene (PTFE) or perfluorooctanoic acid (PFOA), which are generally safe to use. As they're exposed to high heat and degrade with regular use, though, they can be released as gasses or flake off in food.
When ingested, these substances can lead to health concerns such as flu-like symptoms and even increased risk of certain types of cancer. For birds, inhaling PTFE fumes can be fatal.
Contrastingly, many manufacturers have started using ceramic coatings on their cookware, which provides much of the same non-stick ability as chemicals, but without many of the health concerns.
Should Price Be a Factor?
As with any buying decision, price plays a role. However, you might be missing a lot of solid options by focusing solely on price.
In other words, while some options might cost more than Gotham Steel Crisper Tray, the ASOTV product comes with fairly high (and non-refundable) S&H costs.
In addition, ASOTV products (as a whole, not just those from Gotham Steel) tend to come with low customer ratings related to longevity. So, if some options cost more but potentially last longer, they might provide a greater level of overall value.
Will Gotham Steel Crisper Tray Have Your Frying In Your Oven In No Time?
Although we found that the essentially identical Copper Crisper delivered on most of its claims, it won't fry foods—at least not similar to a deep fryer.
This is because the hot oil in deep frying quickly seals the exterior and traps moisture in the interior, while also creating a delicious, golden brown Maillard reaction on the outside.
Even in job-specific devices like the Power AirFryer XL and AirWave Fryer, though, they don't move air fast enough to mimic this same chemical reaction. So, while they can help quickly heat up pre-fried frozen foods, unless you're making french fries, they won't provide anything close to traditional fried foods.
What's the point? Even if you have a high-powered convection oven, it still won't move air fast enough around the Crisper Tray to fry the food it contains.
Can it cook these pre-fried foods like chicken strips, french fries, and fish sticks in less fat and grease? It seems so. But since these foods are already fried and often loaded with fat and calories, the health and nutrition benefits might be negligible.
Bottom line: If you're looking to quickly heat up frozen foods without having to flip them—and without having to worry about a burned, stuck-on mess—then Gotham Steel Crisper Tray seems like it might deliver.
Just keep in mind that if you're not satisfied and decide to take advantage of the company's 90-day refund policy, you'll lose a decent chunk of change in S&H charges.
Crisper Tray

By Sue T.

,

Greenville, TX

,

Jan 27, 2020
Verified Reviewer

First time to use it. No book or instructions came in the box so have to guess or spend time trying to google it. One site says it can't go in the dishwasher, the box says dishwasher safe. Bacon grease splashes all over the bottom and some splashes the oven.

Bottom Line: No, I would not recommend this to a friend

---

Cleaning issues

By David W.

,

N6K 4L8

,

Dec 4, 2019
Verified Reviewer

Using this tray for about a year for fries, wings, etc. The screen itself is easy enough to clean with a soak and a scrub with a plastic scrub pad. It's the pan I have a problem with.

Grease splatter bakes on and is difficult if not impossible to get off. I've tried soaking and dissolving a dishwasher pod and letting it sit but still can't scrub it off nor will it come off in the dishwasher. The finish is not the same as the frying pans so can't resist abrasives.

All in all, it's a good product except for the cleaning issue. Anyone have any suggestions for a good cleaner?

Bottom Line: Yes, I would recommend this to a friend

---

Advertisement

---

50/50

By Ana N.

,

Georgia

,

Nov 1, 2019
Verified Reviewer

The cooking is great. The cleanup does not match the description. After a year of careful use and maintenance, items stick. I wish it worked as promoted. I will never buy any Copper Crisper item again.

Bottom Line: No, I would not recommend this to a friend

---

Like the product

By Reg R.

,

West Kelowna, British Columbia, Canada

,

Dec 29, 2018
Verified Reviewer

Everything we cook turns out well. Our only complaint is the tray does stain and the marks won't come off. No big deal, but the ads do show everything wiping off easily. Also, I bought a bacon cooker but it is a pain to clean. The bacon was delicious.

Bottom Line: Yes, I would recommend this to a friend

---

Advertisement

---

Gotham Steel Crisper Tray

By Jennie S.

,

Hermitage, PA

,

Nov 13, 2018
Verified Reviewer

Love the tray, but no cookbook came in the box. I've had to guess how to use it. Some things are ok but I still wish it came with the book it was advertised to have in the box. SAD...

Bottom Line: Yes, I would recommend this to a friend

---

Crisper Tray

By Gail Roe

,

Alberta, Canada

,

Jan 4, 2018
Verified Reviewer

I love my Gotham Steel Crisper Tray. It fries what it says it does and is perfect for fish and chips, chicken strips, nuggets, etc. It cooks the food evenly so you do not have to turn it. I don't even own a deep fryer anymore; I don't need one. The only issue with it is it's not very big, but I solved that issue by buying two.

I have several Gotham Steel cookwear items, and I recommend them; they are great and are so easy to clean.

Bottom Line: Yes, I would recommend this to a friend

---

Great

By Tracy Owens

,

Denton, TX

,

Dec 30, 2017
Verified Reviewer

I received the Gotham Steel Crisper Tray, and it works great, with no sticking. I used frozen fries, and they came out perfect; nice and crispy and golden brown. I do not like buying frozen fries but with this product, I will now.

Bottom Line: Yes, I would recommend this to a friend

---

Rip off

No directions or recipes. You have to go online and buy the book or go on Kindle. Ridiculous! Nothing that I have tried to fry has worked. Totally disgusted. What a rip off. Don't waste your time or money.

Bottom Line: No, I would not recommend this to a friend

---

Awesome!

I love all my Gotham pots and pans. If you go to Bed Bath and Beyond to buy these products, you don't have to pay shipping and handling (FREE SHIPPING). There is no sticking when you cook with these pans. Very easy clean up. I don't know what you other people are doing wrong (how can you screw up using these pans?). Nothing sticks. Read the instructions.

Bottom Line: Yes, I would recommend this to a friend

---

Cooking food as pictured with the crisper

The item came with little instructions. I didn't know how to make the chicken or fries as pictured. I seasoned chicken and placed it on the crisper. I was pleased. Though not as shown, the chicken was fairly crisp outside and juicy inside.

Fries fries were a disaster. I tried lightly oiling them and baked, and the grease remained on top and left a greasy product. I tried cooking without the oil, and the potatoes took forever to cook and were too hard to eat. I had tested them along the way. AWFUL is the word. Perhaps frozen fries or frozen breaded chicken might work. I must say it was a disappointment.

I purchased three; gave one away and still have one I can't give to anyone else. DISAPPOINTED.

Bottom Line: No, I would not recommend this to a friend

---

Tricked senior citizens

By Sandra

,

Florida

,

Jul 3, 2017
Verified Reviewer

I love the product, but they trick you by upgrading your order without authorization. My 81-year-old mother ordered the "$19.99 and get one additional" by phone. What she got was three "Deluxe" trays and then charged over $76.00. She did NOT upgrade. Watch out for these people; they also don't give you a total at the end! This from the customer sales person I spoke to.

Extremely bad customer service!

Bottom Line: No, I would not recommend this to a friend

---