Gotham Steel Double Grill Reviews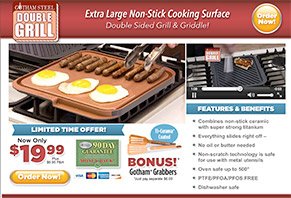 Gotham Steel Double Grill is a dual-sided stovetop grill/griddle that can be used to cook almost anything, while its non-stick surface makes cleanup a breeze.
About Gotham Steel Double Grill
On one side, Gotham Steel Double Grill features a raised grilling surface with ridges. Flip Double Grill over, and you'll find a flat, extra large griddle surface with a built-in basin that catches grease. It's even over safe up to 500°!
On both of these sides, Double Grill uses "ultra-strong" titanium and ceramic to deliver a non-stick cooking surface that promises to never scratch—even when using metal utensils. Now, you won't need oil or butter to make all your food slide right off.
The company claims that Gotham Steel Double Grill is perfect for any stovetop, free from PTFE/PFOA/PFOS, can be used indoors and outdoors, and is dishwasher safe for easy cleanup.
These are definitely great features, but can you expect Gotham Steel Double Grill to work as well as the commercial makes it seem? Is there any competition? Is it worth the price? Here's what we learned during our investigation:
What is Gotham Steel Double Grill's Ti-Cerama Technology?
Like other cookware in the Gotham Steel lineup (more about this shortly), it appears that Double Grill is constructed from titanium. However, we're not told what portion contains titanium, and what advantages it provides.
We're framing it this way because, while titanium is an exceptionally lightweight and strong material, it's very poor at conducting heat. So poor, in fact, that it's only about 1/10 as conductive as aluminum and 1/20 as copper.
Regardless, based on Double Grill's price point, it's not going to be constructed of pure titanium. Instead, it likely features a cast aluminum base (to provide quick, even heat distribution), an aluminum core, and then a titanium-infused ceramic cooking surface to take advantage of its non-stick capabilities.
With this added perspective, is there anything quite like Gotham Steel Double Grill?
Does Gotham Steel Double Grill Have Any Competition?
Even if you're just a college student getting your first taste of cooking on your own, you probably know (and perhaps even own) a stovetop grill/griddle. After all, they're typically inexpensive and extraordinarily versatile, allowing you to expand your cooking area and prepare just about any food.
As a result, if you're looking for something similar, you literally have hundreds of different options, many of which can be purchased locally. If you try searching online for "double-sided grill" or "reversible grill", you'll get a fairly good idea of what to expect.
Granted, not all of these options will feature the exact same design as Double Grill, and may not necessarily feature titanium (many will), but they'll serve the same basic purpose. How does Double Grill compare from a price perspective?
How Much Does Gotham Steel Double Grill Cost?
One Double Grill will set you back $19.99 plus $6.95 S&H. At checkout, you'll also be able to purchase a set of Ti-Cerama coated Gotham Grabbers for an additional $6 S&H.
All Double Grills come with a 90-day money back guarantee, less S&H charges. In order to request one, customer service can be reached at 844-822-2346.
Are Customers Happy with Their Gotham Steel Double Pan?
The HighYa team specializes in reviewing ASOTV products as soon as they hit the market, so Double Grill hadn't had enough time to garner any online customer reviews at the time of our research.
The good news is that Double Pan is part of a larger Gotham Steel line of products, including Steel Pans and Knives. Among nearly 60 reviews, these products had an average rating of 2.5 stars. Common complaints cited poor performance (usually that the non-stick surface stopped working after only a few uses), with less-than-stellar customer service as a distant second.
Now, does this have any bearing on what you can expect with Double Grill? Not necessarily, but given their similar claims and construction (at least based on what we can surmise), we certainly think it's something worth considering.
Before wrapping up, let's learn a little more about Graham Elliot.
Who is Graham Elliot?
Born a Navy brat in Seattle, WA, Graham Elliot was able to travel extensively growing up, which he claims led to a great deal of interest in food and music.
After graduating from Johnson & Wales University, Graham appeared on the popular Iron Chef and Top Chef Masters television programs, and was a six-season judge on MasterChef. He also became the youngest 4-star chef in history, and has even cooked for President Barack Obama.
Graham opened his Graham Elliot Bistro in 2012 in Chicago, was inducted into the Chicago Chefs Hall of Fame, and had September 19th declared "Graham Elliot Day" in Chicago by Mayor Rahm Emanual.
Despite all of Graham's fantastic accomplishments, keep in mind that celebrities often don't use the products they endorse.
Is Gotham Steel Double Grill Worth Your Money?
Let's quickly reiterate what we've learned: Double Grill almost certainly doesn't contain a meaningful amount of titanium (which isn't a good cooking material to begin with), nor does it seem to be especially unique compared to the multitude of other non-stick stovetop grills and griddles from other manufacturers.
However, at about $27, one big advantage that Double Grill has on the competition is price. Does this mean you should order one?
If money is your main motivating factor, it'll probably be difficult to beat the Gotham Steel Double Grill. Keep in mind, though, that you'll probably lose half your purchase price in S&H charges if you're dissatisfied. On the other hand, local options might be priced higher, but could provide an easier return process and provide many years of reliable use.
How did you like you Gotham Steel Double Grill? Give us some insight by writing a review below!
Gotham Steel Griddle

This product is over hyped and does not perform as seen on TV. The first time I used it to fry 2 eggs, both stuck to the surface and was a totally scrambled mess. I'm sending it back for a refund. Don't get fooled like I was. This product in my experience is a too good to be true.

Bottom Line: No, I would not recommend this to a friend

---

Not happy

By Dave

,

Kelowna, British Columbia, Canada

,

Aug 4, 2016
Verified Reviewer

I purchased these two items over a month ago and still haven't received anything. I tried going on their website but it says they can't find my order. I tried calling them and just get an answering machine.This Outfit is a SCAM. Do not order from them as they will take your money and you will get nothing.

Bottom Line: No, I would not recommend this to a friend

---

Advertisement

---

Poor delivery and contact

By Robert Davis

,

Rockingham, VA

,

Jul 20, 2016
Verified Reviewer

Having received a notice that my shipment was delayed I tried to call to cancel. The phone number is unavailable. Now I am apprehensive about the quality.

Bottom Line: No, I would not recommend this to a friend

---

Easier just to throw your money down the drain

By Bernie

,

Pennsylvania

,

Nov 20, 2016
Verified Reviewer

I bought mine at Bed Bath and Beyond.

Clearly I misunderstood the concept of 'non-stick surface'. My bad. I thought it referred to the surface one is trying to fry the egg on. It apparently refers to the other brand you didn't buy and is still in the store.

Make sure someone is around to video you trying to lift the egg. Try not to laugh as you fail miserably. Give up on the egg idea and pour yourself a glass of wine. Upload the comedy routine to YouTube and watch the hits pour in.

One star rating is too high, but that's all you offer. This gets a minus star, but I would definitely recommend it for the comedy value.

Bottom Line: No, I would not recommend this to a friend

---

Advertisement

---

Can't review because it never came

By Amy Buckman

,

Pennsylvania

,

Jul 17, 2016
Verified Reviewer

I ordered the Gotham Steel Double Grill two months ago. It never came. I've called back twice and both times was told it was "on back-order" and they couldn't say when it would arrive. I finally canceled the order. I'm concerned this is just a scam to get people's credit card information.

Bottom Line: No, I would not recommend this to a friend

---

Scam - Never Delivered, Still Waiting, Can't Contact Gotham

By John B.

,

Rochester, NY

,

Dec 15, 2016
Verified Reviewer

Product was never delivered. Their website just gives you the runaround. I am seriously worried that such a poor company has my credit card info. I will try to see if my bank will suspend or reverse payment since the product has not been delivered.

Bottom Line: No, I would not recommend this to a friend

---

Burnt surface

By Bill C

,

Fort Lauderdale, FL

,

Aug 30, 2017
Verified Reviewer

I purchased a double reversible grill after owning and using the 10" pan many times without issues. However, the grill did not live up to its expectations. I used it to grill sausages, and the grill has a burnt surfaces that cannot be cleaned. I tried to contact the phone numbers provided by Gotham and no luck in speaking with anyone. Not worth the money spent on it.

Bottom Line: No, I would not recommend this to a friend

---

Poor quality

By Stan Carson

,

Maryland

,

Oct 14, 2017
Verified Reviewer

I bought it from Bed Bath & Beyond, used one time on a camping trip and can't get it clean. Nothing sticks they say, but mine won't come clean after one use. It's over the 90-day warranty now, so I don't stand a chance of return or refund.

Bottom Line: No, I would not recommend this to a friend

---

Another let down

By Deb Peters

,

Perth, Ontario, Canada

,

Aug 10, 2017
Verified Reviewer

The first couple of times we used it, it was great. The third time we used it, we couldn't believe how burnt the grill was. Cleaning it was completely impossible and we couldn't even use it again. Don't waste your money.

Bottom Line: No, I would not recommend this to a friend

---

Cheap product

By Old Ranger

,

Arkansas

,

Oct 23, 2017
Verified Reviewer

A friend bought this for me as a gift, and he was really excited for me to use it. Well, first time, not too bad. Second time, disaster.

So I thought maybe I did something wrong, so I checked online and found this site. Too bad my friend hadn't looked a bit further as he fell for the commercial online. My feeling is that the 2 high ratings are those who work for this company. There is no answer available on how to rectify the situation. Customer service is a joke; I got disconnected 3 times and finally gave up.

I called my friend and told him about the problem and told him he needed to check for feedback from users before ordering. I feel bad for him because he thought it would be a great gift.

Bottom Line: No, I would not recommend this to a friend

---

False advertising - pan does stick!

By Cheryl

,

San Francisco, CA

,

Aug 17, 2017
Verified Reviewer

We purchased this double grill for $24.99! Not a bargain for such a small grill either, but we went by the gimmick of it being supposedly non-stick.

Well, the first time we grilled lamb chops it was okay. But grilling a salmon filet with skin on the other night resulted in the skin sticking so badly that it was in tatters, burnt up.

So we found out that this pan is not at all non-stick as the company is claiming. False advertising!

I do not recommend.

Bottom Line: No, I would not recommend this to a friend

---