Gotham Steel Low Fat Grill Reviews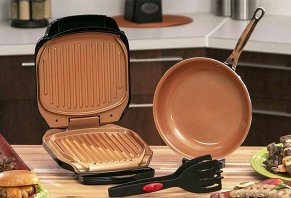 Because Gotham Steel Low Fat Grill features heated top and bottom plates, the manufacturer advertises it will cook food twice as fast as the competition, while draining away unhealthy fat and grease.
About Gotham Steel Low Fat Grill
Using no-flip technology, heating elements built into the top and the bottom sections, deep channels that drain away fat, and a grease trap that catches all the bad stuff, the indoor Gotham Steel Low Fat Grill promises to help you make healthy food in double the time of other grills.
According to the website, this means you can make juicy burgers in five minutes and delicious Panini sandwiches in two minutes. And because all Grills come with scratch resistant Ti-Cerama-coated cooking surfaces, we're told nothing sticks, and it cleans up with ease once you're finished whipping up a meal.
All of these advertised benefits certainly sound great, but is Gotham Steel Low Fat Grill the only game in town? And if not, what criteria can you use to choose the best option for your needs?
Stick with us over the course of the next few minutes, and we'll help you find some actionable answers—starting with price.
How Much Does Gotham Steel Low Fat Grill Cost?
One Gotham Steel Low Fat Grill is priced at $39.99, plus free S&H. During checkout, you can purchase a 9.5" Gotham Steel Pan for an additional $6.95 fee.
All orders come with a 90-day money back guarantee, less S&H and any fees associated with the additional pan offer. To request one, customer support can be reached at 844-475-3586.
Who Manufactures the Gotham Steel Low Fat Grill?
The Gotham Steel Low Fat Grill is brought to us by E. Mishan & Sons, Inc. (Emson), a company who's based out of New York, NY and has been in business since 1906.
Other popular As Seen on TV products they've released include the original Gotham Steel Pan, along with other cookware in the lineup like Double Grill, Crisper Tray, and Smokeless Grill, to name just a few.
Emson held an A rating with the Better Business Bureau, based on eight customer reviews and nearly 100 closed complaints, as of 6/14/18. No complaint details were available, although negative customer reviews tended to reference less-than-stellar ordering or support experiences.
Gotham Steel Low Fat Grill vs. Competing Countertop Electric Grills
The original—and perhaps best known—name in electric grills is the George Foreman Grill, which was initially released in 1994 and has sold more than 100 million units worldwide across its different incarnations. Like most of its followers, one of its most advertised features was its channels that allow fat and grease to flow into a trap at the bottom.
Related: Non-Stick Cookware 101: Is Teflon Safe?
In fact, you'll still find several popular George Foreman Grill models available in a variety of sizes, typically priced between $20 and $100. Many also feature heated tops and bottoms for faster, as well as dual-sided simultaneous cooking, as with Gotham Steel.
Compared to almost 25 years ago, whether you're browsing the aisles at just about any local retailer with a housewares sections, or online marketplaces like Google Shopping, Amazon, or Walmart (to name just a few), there are perhaps hundreds of different indoor electric grills available at just about every imaginable price point, design, and feature set.
Here were some of the most popular options on Google Shopping and Amazon at the time of our research:
| | | |
| --- | --- | --- |
| Product | Price | Standout Features |
| Gotham Steel Low Fat Grill | $40 | Dual heating elements, fat-draining channels, Ti-Cerama non-stick coating |
| Hamilton Beach (25601) Indoor Grill & Electric Griddle Combo | $60 | 100 sq. in. grill, 200 sq. in. griddle, includes three interchangeable grill and griddle plates |
| George Foreman 4-Serving Removable Plate Grill and Panini Press | $39 | Dishwasher safe removable plates, 1-inch adjustable floating hinge |
| Hamilton Beach (25371) Electric Indoor Grill with Non-Stick Plates | $29 | 90" cooking surface, non-stick plates, power and 'ready' lights |
| Cuisinart GR-4N 5-in-1 Griddler | $74 | 5-in-1 functionality, floating cover, removable/reversible non-stick cooking plates, adjustable temp. controls, indicator lights |
Note: We called and spoke with several customer representatives regarding a handful of important unknowns regarding Gotham Steel Low Fat Grill, including:
The actual size of the grill in square inches
The wattage
Cord length
If different temperature settings are available, or if it simply turns on and off
If a timer is available
If the hinge is floating to accommodate larger foods
Temperature ranges available, and if it's adjustable
If any indicator lights are present (power, ready to cook, etc.)
However, since it was such a new release, none were able to provide additional details other than what was presented on the grill's website.
With all of this in mind, considering the different options and price points available, how can you decide whether to go with Gotham Steel Low Fat Grill or another countertop electric model?
Writing for BobVila.com, Amy Lynch explains that you'll probably want to start off choosing an appropriate size, based on your cooking needs. For example, some models deliver as little as 25" of cooking space, while some of the models in our table above exceeded 200".
So, if you're a singleton, you might be able to get away with a smaller model, while bigger families will almost certainly require maximum cooking space.
Along these same lines, it makes sense that the more power you have (as measured in watts), the faster your grill will heat up and therefore the speedier it will cook your food. Amy explains that indoor models typically offer somewhere between 1,200 and 2,000 watts.
Assuming you already have adequate counter space, a final big consideration is cord length, as well as additional helpful (but not necessary) features like removable/dishwasher safe grilling plates for easy cleanup, adjustable temperature settings, and timers.
Where does all of this leave you when it comes to Gotham Steel Low Fat Grill?
Should You Place an Order for the Gotham Steel Low Fat Grill?
The bottom line is that the Gotham Steel Low Fat Grill comes from a manufacturer with decades in business, a mostly positive online customer reputation, and who stands behind the product with a 90-day money back guarantee.
As far as the product itself, while we didn't test it ourselves to provide firsthand feedback, it seems to come with a competitive price, basic useful features, and the ability to reduce fat and grease in the foods you cook.
It's important to balance these positives by noting that the Low Fat Grill doesn't seem to come with higher-end features like temperature control, LED indicators, or a floating hinge to accommodate larger foods.
Pro tip: We performed in-depth testing on the original Gotham Steel Pan and found that the Ti-Cerama coating (the same one shared by Low Fat Grill) can scratch if you're especially rough with it. As such, you might want to avoid using metal utensils with the Low Fat Grill.
Also, since you'll have to pay to return your grill to the manufacturer if you're dissatisfied, as well as lose any fees associated with the additional Pan offer, it's not a completely risk-free transaction.