Gotham Steel Pro Reviews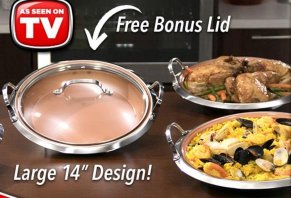 The newest addition to the lineup, Gotham Steel Pan features a 14" design, ceramic nonstick cooking surface, tempered glass lid, and is oven safe up to 500 degrees.
What Is Gotham Steel Pro?
With its Ti-Cerama nonstick technology, Celebrity Chef Daniel Green tells us that Gotham Steel Pro is a professional fry pan that combines super strong titanium with slick ceramic to help everything slide right off—without added butter or oil.
According to the manufacturer, a 14" cooking surface, tempered glass lid with stay-cool helper handles, and 500° heat resistance also makes Gotham Steel Pro large enough to cook stuffed hens, omelets, pizza, and desserts, whether on the stove or in the oven.
The website even indicates you can use metal utensils like electric beaters right in the pan, without worrying about scratching. And since Pro's surface is made of ceramic, you won't have to worry about PTFE, PFOA, or PFOS.
Gotham Steel Pro seems to offer a lot of cookware at a very competitive price. But does it really feature a breakthrough nonstick surface? How does it stack up against other nonstick pans? Are there any considerations to keep in mind?
We're here to help you find the answers you need to make an empowered purchase. And speaking of price…
How Much Does Gotham Steel Pro Cost?
One Gotham Steel Pro pan is priced at $39.99, plus free shipping.
Like all Gotham Steel Pans, the Pro model comes with a 90-day money back guarantee, less S&H. And considering that this is a large pan, you might expect it to cost somewhere in the neighborhood of $8-$10 to ship it back to the manufacturer, depending on your location.
Nonetheless, if you choose, customer support can be reached at 888-406-4353.
Gotham Steel Pro vs. Other Nonstick Pans
Traditional nonstick cookware delivers its slipperiness because of a proprietary compound known as Teflon, formally known as PTFE (polytetrafluoroethylene). In the process of making PTFE, another chemical called PFOA (Perfluorooctanoic Acid) is used.
In Non-Stick Cookware 101, we explained the fact that there's some evidence linking environmental PFOA with increased cancer risks, but nothing associated specifically with off-gassing from cookware. PTFE is also largely an inert compound, although this hasn't stopped manufacturers from advertising that their cookware is PTFE-free.
Largely because of these potential health concerns, ceramic cookware coatings have become increasingly popular over the last several years, since they're advertised as a natural alternative to Teflon and the chemicals often associated with it.
As a result, a flood of ceramic nonstick pans has entered the market, including ASOTV lines like Gotham Steel, Red Copper, and Copper Chef. This is to say nothing of the hundreds of other online and in-store options at local retailers from popular brands like Calphalon, T-fal, and GreenPan, some of which you'll find for as little as $20.
Further, purchasing locally could save you S&H charges, including making the return process as easy as driving to the store.
Given this, how can you choose the best option for your needs?
In How to Buy the Best Non-Stick Cookware, we outlined that, while ceramic nonstick options might assuage any fears (although perhaps unfounded) about PFOA and PTFE, we discussed that they tend to feel more slippery after purchase. However, ceramic options from all brands might have a reputation for losing their nonstick qualities faster and are more prone to scratching from utensils.
During our research for the buyer's guide, we found plenty of 8"-14" traditional nonstick options, many of which were priced about the same (or even meaningfully less) than Gotham Steel Pro. And given their reputation for longer service, a traditional option any brand might offer meaningfully more bang-for-your-buck, even when priced slightly higher.
Our Review of the Gotham Steel Pan
Here is a review of our first-hand experience with the Gothan Steel Pans:
For more product tests: Click here to subscribe to HighYa's YouTube channel
If you don't have time to watch the whole thing, here's what we encountered in a nutshell.
In our sunny side up egg test, everything stuck. However, our parmesan crisp melted quickly and evenly, was easy to move around the pan, and slid right off onto the plate. Probably due to its high-fat content.
The caramel didn't burn or stick to the pan, but we needed to scrape it with a spatula or sponge to fully remove.
Baked s'mores? The marshmallows and condensed milk slid right out, but the chocolate chips didn't follow and definitely stuck to the pan. This required quite a bit of scraping to remove.
Overall, we found that metal utensils, even an electric eggbeater, didn't seem to leave any scratches. However, we weren't confident that this would continue to be the case, since it's not necessarily the best way to care for any nonstick pan (Gotham Steel or otherwise).
We also found it was generally easy to clean, but not entirely scrub-free, since cleanup after the stuck egg and s'mores required a good amount of elbow grease.
Bottom line: We didn't find that the original Gotham Steel Pan was quite what it seemed to be from the commercial. It did, however, meet three of the company's main claims (didn't leave scratches when used with metal utensils, was ok after one dishwasher session, and was oven-safe, although we only tested up to 350°).
On the other hand, we found it didn't perform well without butter, oil, or at least some kind of grease. In the end, we could appreciate its versatility but probably wouldn't consider the original Gotham Steel Pan to be meaningfully different than something you might pick up at an average store.
Granted, this is a different product than the new Pro version. But considering that they both come from the same manufacturer and feature the same Ti-Cerama nonstick cooking surface (and aren't much different, other than size), we think it's relevant information that you need to know.
Our Final Thoughts
If you're looking for a large, competitively priced, ceramic nonstick pan, it might be difficult to do a whole lot better than Gotham Steel Pro. And if you're not satisfied, you can always send it back to the manufacturer within 90 days for a full refund.
But does this pan necessarily represent the best value? The highest use of your money?
We did test the original Gotham Steel Pan and found that it delivered middle-of-the-road performance. Or, about as well as something you might find with a local option that's priced about the same.
But, as we learned earlier, there's not much clinical evidence that PTFE causes ill effects in humans (even when it flakes off from cookware) and there isn't any PFOA contained in the final version of traditional options, either.
As a result, you might want to at least consider traditional Teflon options during your search, which might provide longer lasting results and more value for the money.
Either way, we wouldn't recommend using metal utensils on nonstick cookware, regardless of the option you choose—and regardless if it's endorsed by a celebrity like Chef Daniel Green.
Before clicking away, be sure to tell us about your experience by writing a review below.
See Also: How to Season, Use, and Store Your Non-Stick Cookware
I like the cookware.

By Larry P.

,

Crowley, TX

,

Mar 13, 2019
Verified Reviewer

I was a bit afraid to buy my first two cooking pans but decided to anyway. I've owned the cookware for a month now and I'm so happy. Time will tell. Everything this site has is right on the button. A little butter doesn't hurt. Grill cheese sandwiches with butter on them, great! Cooking spam, eggs, sticks a little at first. I use just a little butter now, I don't use metal utensils. As long as the ceramic doesn't chip, I'll be happy. I expect them to last longer than a year with taking care of them. I've ordered 3 more, the square pot, 9 and 12" skillet with the steamer plate and the basket for frying. I can throw all of my old pots and pans away now.

Bottom Line: Yes, I would recommend this to a friend

---

Everything sticks

By Vin R.

,

Pennsylvania

,

Mar 1, 2019
Verified Reviewer

I bought a two-pack (titanium pro) at Costco, thought it was going to be great.

I do preheat the pan as advised, and no matter what I cook, it sticks with or without a bit of oil.

What I really can't understand is why is the cooking surface convex - all that I put in the center rolls to outer edge.

I find these pans not a good choice.

Bottom Line: No, I would not recommend this to a friend

---

Advertisement

---