Gotham Steel Square Pan Reviews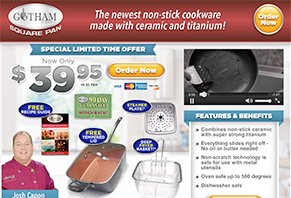 Gotham Steel Square Pan features titanium construction with a non-stick ceramic coating that can go from stovetop to oven, while your food slides right off.
About Gotham Steel Square Pan
With its Ti-Cerama coating, the 9.5" Gotham Steel Square Pan promises to combine super strong titanium with non-stick ceramic. This way, we're told all your food will slide right off, without the need for oil or butter.
According to the manufacturer, you can even use metal utensils on Square Pan's non-scratch surface; cook with it on gas, electric, and induction cooktops, and even place it in the oven (up to 500°). Then, when you're finished, you can put Square Pan in the dishwasher for easy cleanup.
Celebrity chef Josh Capon certainly made Gotham Steel Square Pan appear immensely useful in their commercial. Once it lands at your doorstep (and on your cooktop) though, will its non-stick surface perform as advertised? Is it a quality piece of cookware? To help you shop smarter, let's start off by talking about the competition.
Is Gotham Steel Square Pan a Unique Piece of Cookware?
Over the past couple months, you might have noticed an increase in the number of square pan commercials on TV. What you might not realize is that, despite the fact that many of these pans come from different manufacturers, they're functionally identical.
For example, taking a look at options like Square Copper Pan Pro, Red Copper Square Pan, and Copper Chef, you'll find that they all use the same ceramic coating and dual handles, and feature the exact same accessories. In fact, if you removed the name from their pictures, you might not be able to tell a difference between them.
Before you start thinking your brain has short-circuited, we should note that it's fairly common for ASOTV companies to "share" products between them. Sometimes this occurs when one company sells the product rights to another company; other times, this can occur with big successes, as with these square pans.
Related: Finding the Perfect Pots & Pans for Your Cooking Style
Just because they're popular though, does this mean customers are happy with these pans?
What's Everyone Saying In Their Gotham Steel Square Pan Reviews?
While Square Pan hadn't been around long enough at the time of our research to garner any online feedback, by far the most common complaint among other companies' square pans was that the nonstick coating quickly disappears, making it difficult to cook with.
Now, it's important to emphasize that these other options come from third-party companies, so we're certainly not saying you'll experience the same with Gotham Steel's version.
However, the company manufactures a whole line of Gotham Steel-branded products, including their own Pans, Steel Double Grill, Knives, and more, which could provide some useful insight. Among these (like most ASOTV products, regardless of manufacturer), HighYa readers gave them an average rating of about 2 stars. Why?
While some customers claimed to have been pleased with their performance, the most common complaint (again) cited quick loss of nonstick coating, leading to a burned, stuck-on mess.
Consumer complaints aside, will you pay a lot for Gotham Steel Square Pan?
How Much Does Gotham Steel Square Pan Cost?
One Gotham Steel Square Pan will cost you $39.95 plus $6.95 S&H, which includes a free recipe guide. For an additional $10 fee, you can also purchase a tempered lid, steamer plate, and deep fryer basket.
Regardless of how many you buy, all Square Pans come with a 90-day money back guarantee, less S&H. Keep in mind that the extra accessories count as a "fee," so you could lose more than half your return in non-refundable S&H if you chose this option and process a return.
Still want to request a refund? Customer service can be reached at 877-206-6766.
We've talked a lot about business practices up to this point, but now, let's discuss the cookware itself.
Your Crash Course in Non-Stick Cookware
Traditional non-stick cookware is coated with Teflon, which contains the chemicals PTFE and PFOA. While they provide excellent non-stick ability, if these chemical surfaces are subject to repeated wear and/or exposed to excessive heat, they can flake off in food. Then, repeated consumption can lead to some potentially severe side effects, like increased cancer risks.
Enter ceramic. This natural material has become increasingly popular over the past few years in response to these health concerns. While the trend began in higher-end brands, the technology is now affordable enough that you'll even find it featured in ASOTV cookware like Square Pan.
Pro tip: However, keep in mind that ceramic coatings aren't necessarily any stronger than chemical non-stick coatings. As a result, it's generally a good idea to avoid using metal utensils with them, despite what's shown in the Square Pan commercial.
Another increasingly popular cooking technology is the use of induction cooktops, which utilize electrical currents to generate magnetic fields, which then heat the cookware directly above it. This is in contrast to traditional cooktops, which rely on heat transfer from flames or heated coils.
The only caveat is that you must use cookware with iron bases, since they have to conduct magnetism in order to work. From this perspective, it seems Gotham Steel Square Pan delivers.
When it comes down to it though, will Square Pan deliver the level of value you deserve, or should you keep looking? Let's answer this question as we wrap things up.
Is Gotham Steel Square Pan a Genuine Deal?
When it comes to a question of value, dozens of personal factors can come into play that might make something worthwhile for you, while a complete waste of time and money for someone else.
Fortunately, when it comes to cookware, we can break it down to one main question: Will it provide long-term use in line with its price? While Gotham Steel Square Pan might be priced meaningfully lower than professional ceramic coated pans, it's often priced about the same as most of its direct competition—some of which can be found locally, saving you a decent chunk of change in S&H charges.
And although celebrity chef Josh Capon owns 4 restaurants in NYC and one in Miami, you should understand that his endorsement doesn't necessarily mean he uses Square Pan—or any other ASOTV cookware—in his kitchens.
Did you purchase Gotham Steel Square Pan? Was this your first introduction to ceramic non-stick coatings? Did it deliver on its promises? We want to hear from you in your very own review below!
See Also: Comparing Cookware: Stainless Steel vs. Copper
Convenient shape and size, but poor quality finish.

By Gary Lee

,

Salt Lake City, UT

,

Mar 18, 2018
Verified Reviewer

We have found the shape and size of our Gotham Steel square pans very convenient. We are using one right now as I write this. We especially like that they work with our induction cooktops. However, the coating/non-stick on the pans is very, very poor. It will literally come off if you accidentally contact it lightly with any utensil, or in the sink. Much of it will be missing after only a few uses.

Bottom Line: No, I would not recommend this to a friend

---

5 out 6 people found this review helpful

Absolutely love, and just as advertised!

By Andrea

,

Florida

,

Feb 20, 2017
Verified Reviewer

I purchased the 9.5" square high side pan set with the steamer plate, fry basket, and glass lid for $29.95 from BJ's Wholesale. It was a very good deal, and I knew is was an "as seen on TV" product, so I remained skeptical.

The pan works exactly as promised. Foods glide out, and cleanup is a breeze. Keep in mind that I do not push it when it comes to my pots and pans. I have learned that if you treat things properly, they will last for years. I do not use metal utensils in any of my cookware, and I DO NOT put my cooking pans in the dishwasher. Why should you, when the pans are so easy to clean? Also, if you do this, I can tell you for sure that they stay looking new and behaving like new.

I would definitely recommend this pan to anyone. I love how it performs and how much it holds (it holds enough chili to feed a family of six)!

Bottom Line: Yes, I would recommend this to a friend

---

Advertisement

---

7 out 8 people found this review helpful

Excellent value for the money!

By Kenneth Roche

,

Ottawa, Ontario, Canada

,

Jan 30, 2017
Verified Reviewer

At first, I was skeptical, so I purchased a beginner set of the small frying pans. They performed exactly as advertised.

My wife had been vocal about needing new pots and pans, so in agreement with her, I secretly began to replace our older trusty set with Gotham Steel.

In time for Christmas, my order from Giant Tiger arrived at my door, and my wife was quick to switch the old with the new Gotham Steel series. If not for my wife, I would have missed this opportunity to appreciate my cooking contribution too!

Bottom Line: Yes, I would recommend this to a friend

---