Grand Canyon University Reviews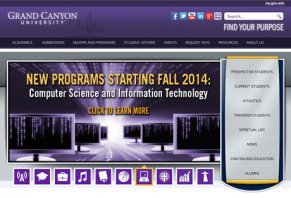 About Grand Canyon University
Founded in 1949, Grand Canyon University is a private Christian university located near Phoenix, AZ that specializes in online and campus-based education. With more than 100 undergraduate, graduate, and doctoral degree programs, Grand Canyon University is regionally accredited by the Higher Learning Commission of the North Central Association of Colleges and Schools, and also holds both college-specific and program-specific accreditations. These include:
Business & Leadership
Teaching & Education Administration
Psychology & Counseling
Health Care
Nursing
Theology & Youth Ministry
Health Sciences & Pre-Med
MBA & EMBA
Performing Arts & Digital Design
Liberal Arts
If you're currently attending another college, but are thinking about transferring to Grand Canyon University, the school makes transferring your credits an easy process, as long as they meet all necessary requirements.
Grand Canyon University's Online Learning Experience
Like many other online universities, GCU's goal is to make higher education accessible to busy individuals with job and family commitments, by bridging the gap between online and campus-based learning. The University's Angel technology gives each student access to course syllabuses, staff information, discussion boards, assignments, tests, and supporting materials.
While Grand Canyon University provides students with the flexibility to study at their own pace, assignments and tests have schedules that must be followed, and online discussions are mandatory. Courses are taken during sixteen-week semesters, which are divided into two eight-week segments—one class at a time. This unique structure allows students to concentrate on one topic at a time, and to receive the maximum benefit from each. All exams are taken electronically, and new classes begin every two months.
Grand Canyon University provides all video and audio coursework via their iTunes U channel, and recommends that students devote 10-12 hours per week to studying.
Grand Canyon University Tuition & Financial Aid
Depending on your degree program, and whether or not you're a member of the military, tuition and fees for Grand Canyon University can vary widely:
Online undergraduate degrees range from $350 to $465 per credit hour
Online graduate degrees range from $495 to $600 per credit hour
Doctoral graduate degrees are $630 per credit hour (residency fee not included)
Discounts to military current military personnel and their families include:

Undergraduate: $250.00 per credit hour
Graduate: $400.00 per credit hour
Doctoral: $598.50 per credit hour
Like most other higher-level educational institutions, Grand Canyon University offers a variety of grants, loans, and scholarships to students. However, we did find numerous complaints about the University's financial aid staff, so this is something you should pay close attention to if you decide to enroll.
Grand Canyon University Student Services & Support
Grand Canyon University provides a unique "cohort-based" online learning model, which allows students to collaborate on a series of core courses with one another, and then to focus on individual areas of emphasis. As a result, students develop lasting relationships, receive support, progressively expand their knowledge base, focus on one course at a time, and plan for graduation.
All of GCU's full-time and adjunct faculty are specifically trained to serve the unique needs of online students, and their in-depth video tutorial addresses many of the most common questions and issues faced.
» See Also: Is It Still Worth It to Go to College? The Experts Say, Yes!
3 out 3 people found this review helpful

Run away from here

By Aura R.

,

Florida

,

Feb 19, 2019
Verified Reviewer

I would advise any future students, do not apply to this school, just run away. Anything else is better than this one. This is a scamming institution. I enrolled in an online RN-BSN program and as soon as I noticed (less than 4 days) how hard was the professor, I requested to drop the class, counselors delayed to respond or help as long as they could. I was attending just less than a week and I was so frustrated that I decided to withdraw from school. I was in class less than a week and they are charging me north of $1700, (I have the invoice to prove it, and now they are sending me to collections).

Please don't take the bait and fall into their scamming tactics, they may look nice, they will make you feel good to convince you to enroll with them, you will regret it.

Bottom Line: No, I would not recommend this to a friend

---

5 out 5 people found this review helpful

Derek Harada and Sheia Dwyer are wonderful GCU staff members

By Samuel Choi

,

California

,

Nov 26, 2015
Verified Reviewer

I am an online student in the Master of Science in Professional Counseling program at Grand Canyon University.

Getting enrolled was effective and easy. Derek Harada, my enrollment advisor, was available to help guide me through the process. Professor Sheia Dwyer is organized, helpful, and informative.

My enrollment advisor, Derek Harada, is a wonderful enrollment advisor who gives me a phone call every week to see how I am doing in my online class.

My professor, Sheia Dwyer, gave me a phone call because she was concerned that I wouldn't successfully pass the online class. Professor Sheia Dwyer is very responsive and asks thought-provoking questions during the class.

This is the final week of my online class, and I am sad that the class is coming to an end. My experience as an online student at Grand Canyon University has been very positive and wonderful. I highly recommend Grand Canyon University.

Additionally, I have definitely felt that the overall quality of instruction has been great, and I feel that my paper writing skills, critical thinking skills, and research ability have definitely improved.

In my experience, you won't find another college where the professors genuinely care about helping their students be successful.

For my undergraduate degree, I graduated from the University of California Irvine. My online experience at Grand Canyon University is so much better than my UC Irvine traditional classroom experience.

The work is challenging, and the flexible schedule of online courses is hard to beat. I would definitely recommend Grand Canyon University's online programs!

Bottom Line: Yes, I would recommend this to a friend

---

Advertisement

---