Granite Rock Pan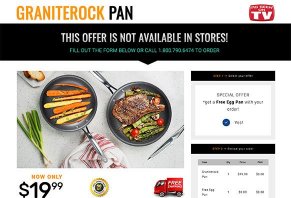 The 10" Granite Rock non-stick pan claims to be able to do non-stick cooking without the use of butter or oil, all the while being able to withstand metal utensils and other surface-harming situations.
About Granite Rock Pan
The Granite Rock pan is a new as-seen-on-TV frying pan from Emson that claims to be the world's best non-stick pan and has a lifetime guarantee.
The pan is similar to others that have been marketed on TV, some of which we'll talk about later in this article.
Promotional material on the pan's website shows a variety of different scenes in which the pan is used to cook eggs, candy and steak. It's used in the oven and, in one scene, a man with a giant hammer smashes rocks inside the pan to demonstrate its toughness.
Exactly how this pan is made, how it works and how much it costs is something we'll cover in this review. And, because there are plenty of options out there for nonstick pans, we'll talk about how this one compares to others that we've reviewed.
What the Granite Rock Pan Is Made Out of and How It Works
According to the Granite Rock website, the pan is made from one solid piece of aluminum that is then coated in three layers of the pan's Granite Rock finish. The process through which the manufacturer makes the pan also rates the pan for 500 degrees in an oven.
The pan's finish does not include PFOA's (perfluorooctanoic acid), which, according to the American Cancer Society, is a man-made chemical that "has the potential to be a health concern" because it can stay in the human body for a long time and could be linked to several different types of cancer.
Now, while we know what's not in the pan's non-stick coating, Granite Rock doesn't indicate what's actually in it.
What we do know is that, according to the pan's website, the coating is strong enough to withstand "the worst abuse" and that you can use metal utensils on the pan, which is usually a cardinal sin with nonstick pans.
Now, as it pertains to actually using the pan, the product's promotional material says that you don't even have to use butter or oil to cook. Eggs, cheese, steak – all of it can cook, they say, without sticking to the pan.
Whether or not you want to use oil or butter is up to you but, in most cases, oil and butter impart a flavor that you can get from cooking food on a bare pan.
In our opinion, Granite Rock saying you don't have to use butter or oil isn't so much a cooking tip as it is a testament to how non-stick the pan actually is.
The pan itself is 10-inches across and, according to the site, lightweight. The website did not provide any specs about the pan, so we were not able to confirm how much it weighs.
Pricing and Return Policy
At the time of publishing, you could buy the Granite Rock pan for $19.99 and your purchase came with a free egg pan. Shipping is free but it could take up to 30 days for the pan to ship out. If you want to check in on how the shipping of your pan is going, you can log into www.customerstatus.com and type in the tracking number the company gave you when they confirmed your purchase.se.
As a side note, residents of California, New Jersey, Nevada and New York will have to pay sales tax. Residents of Alaska and Hawaii, the site says, will have to pay a $10 shipping surcharge.
You have 90 days to return the pan if you don't like it. Returning items like this can be tricky, as some companies will require you to send the item back in perfect condition and others don't. We were curious about the parameters of the Granite Rock return policy, so we dug into the fine print.
We could find nothing on the website that addressed the fine points of the return policy, so we called the company's customer service line but could not reach a representative.
The pan also comes with lifetime replacement. We wanted to get details on this warranty but were not able to get someone from the company.
Based on our research, companies won't do a warranty placement if the cause of the item breaking is something outside of bad workmanship. For example, if you accidentally run the pan over and it cracks down the middle, there's a good chance the company won't accept a return.
However, if you used a credit card for the purchase, call your credit card company and ask them what kind of protection they offer on the purchase. In some cases, they may have a warranty program in place that will replace the pan for you or reimburse you.
Pro tip: The pan is dishwasher-safe.
How Granite Rock Compares to Other Nonstick Pans
We've done numerous reviews of pans that you can buy online or on TV. Three of the more popular ones we've analyzed are Copper Chef, Gotham Steel and Blue Diamond. The following chart details some of the differences between these three pans and the Granite Rock:
| | | | | |
| --- | --- | --- | --- | --- |
| | Granite Rock | Copper Chef | Gotham Steel | Blue Diamond |
| Price | $19.99 | $24.99 | $19.99 | $19.99 |
| Coating | Proprietary | Copper-infused | Titanium-infused ceramic | Diamond-infused ceramic |
| Oven Rating | 500 degrees | 800 degrees | 500 degrees | 850 degrees |
| Avg. User Rating | 3.7 on Amazon | 2.2 on HighYa | 1.6 on HighYa | 2.0 on HighYa |
As we look over this chart, we want to point out some differences between these various pans. First, the Copper Chef pan is more expensive than the Granite Rock but it also has raised sides and is touted a pan in which you can roast, cook rice, steam, simmer stock, use as a wok and use as a baking dish.
The material used in the Granite Rock pan is a proprietary formula but we do know that it expresses the same non-stick and non-PFOA characteristics as the other pans on the list. As for which surface is best, we'd have to defer to the consumer reviews because they indicate how well the pan wards of foods that stick.
Those reviews seem to indicate that the Copper Chef, Gotham Steel and Blue Diamond aren't quite as non-stick as advertised. Among those three pans, more than 66 percent of reviews were one-star, with many people claiming that the pans flat-out don't work as advertised.
Meanwhile, more than 150 people on Amazon reviewed the Granite Rock at the time of publishing. Of those reviews, 525 were five-star and the overall rating was 3.7 stars. Positive comments about the pan included that it is easy to clean, that nothing sticks to the pan and that it works great.
Negative comments focused on the same shortcomings that HighYa reviewers mentioned about the other pans in the chart: that food stuck to the pan after only a few uses.
In general, we believe the customer reviews of this pan indicate that it will work for some and won't work for others. This conclusion is based not only on the reviews we've read about Granite Rock but reviews about non-stick as-seen-on-tv pans in general.
The Final Word: An Analysis of the Granite Rock Pan's Strengths and Weaknesses
The research we've done on this pan indicates that past customers are more often than not happy with how their pan performs, but there's always the lingering chance that the non-stick aspect of the pan won't work as good as you want it to.
Another aspect of the pan that we liked is that its website was offering a free egg pan to go along with your purchase. The Blue Diamond pan, for example, offers a paperback cookbook while Gotham Steel was offering two pans for the price of one.
Depending on what your kitchen needs, it may benefit you more to get a smaller egg pan as opposed to a second full-size pan.
As far as downsides go, the pan's oven rating is lower than what you'll find with Copper Chef or Blue Diamond, which means those pans may be the better choice if you like to throw your pans in the oven to finish off your dish.
Also, we'll revert back to the litany of reviews of non-stick pans in general that seem to indicate the pan may not always work as advertised. The type of oven you use, the heat with which you cook your food and other factors could contribute to how effective your Granite Rock pan is.
To increase your chances of the pan working as it should, take a few minutes to read through our guide to non-stick cookware. In the guide, we give you expert tips on how to season your pans, how to use them correctly and how to clean them in a way that maintains their longevity.
One of the key tips in using a non-stick pan is to read the directions that come with the pan. Granite Rock will most likely give you details about the environments in which the pans will work best, as well as how to process a warranty claim in the event that the pan fails prematurely.
1 out 1 people found this review helpful

Warped pan

By Steven K.

,

Bloomery, WV

,

Jan 9, 2020
Verified Reviewer

I ordered it from TV ad and it has nowhere lived up to the ad. My pan has knife marks and will not cook a steak without sticking. It also is warped. I am very dissatisfied with this product.

Bottom Line: No, I would not recommend this to a friend

---

4 out 4 people found this review helpful

Received this square pan for Christmas 2018.

By Lawrence S.

,

Georgia

,

Sep 20, 2019
Verified Reviewer

This pan worked for approximately 4 months. After that all eggs would stick, sunny-side up even broke trying to remove. Bacon stuck the worst. This item is used at least 90% of the time for bacon and eggs. I did sear shrimp and garlic to prepare shrimp scampi and when done I still had to use hot water and Dawn with a soft sponge to remove stuck residue. I am totally never purchasing any more of these phony non-stick skillets. P.S. I do own the RED COPPER large pan, for at least two years and nothing sticks to that, I deep fry everything in it and no breading that comes off sticks at all, you can literally wipe it out with a paper towel but I always put it in dishwasher and that has no effect on the unit.

Bottom Line: No, I would not recommend this to a friend

---

Advertisement

---

3 out 4 people found this review helpful

Worthless

By Anthony P.

,

Oklahoma

,

Sep 4, 2019
Verified Reviewer

I have to continually put oil in this pan to keep stuff from sticking. I can't cook a grilled cheese without it sticking. Eggs burn before I even have to flip it. Waste of money. I give it 1 star because it won't let me give a negative 10 stars.

Bottom Line: No, I would not recommend this to a friend

---

5 out 6 people found this review helpful

Granite Rock is not non-stick

By Dale F.

,

Oklahoma City, OK

,

Jun 27, 2019
Verified Reviewer

My wife used the pan to cook sauerkraut, this was the first use. The pan turned black and I have tried to clean it three times it still has black burnt in the pan. I wish I could attach a photo. This pan did not preform anywhere near my expectations.

Bottom Line: No, I would not recommend this to a friend

---

Advertisement

---

3 out 6 people found this review helpful

Great product

By Joseph D.

,

New York

,

May 18, 2019
Verified Reviewer

I have been a chef for 35 years and to be honest, I bought this pan to beat the crap out of it to prove to myself these are always a scam. I used metal utensils on it, cut stuff in the pan and put it through all the bad stuff we were told in culinary school NOT to do to a pan. I have to admit it's a great pan. I was wrong. It's now my fav pan.

Thanks for a great product.

Bottom Line: Yes, I would recommend this to a friend

---

9 out 9 people found this review helpful

Disappointed

By Debbee A.

,

St. Louis, MO

,

Mar 26, 2019
Verified Reviewer

I need a pan that can handle everyday use. I received one as a Christmas gift and a second one for my birthday. It cooks well. So far, food does not stick, but residue from the food does. Since I can use a metal spatula, I just scrape it off and then the pan cleans up just fine; however, I have noticed areas on both the inside and outside of the pan where the finish is disappearing. One of the pans even has spots on the cooking surface that are starting to look like rust. This has happened with both pans and only after a month or so of use. I stopped using the one that looks like rust is forming. They may be able to smash rocks on it, but it doesn't seem to handle cooking very well.

Bottom Line: No, I would not recommend this to a friend

---

9 out 15 people found this review helpful

Best pan

By Amanda W.

,

Seattle, WA

,

Jan 20, 2019
Verified Reviewer

I love this pan! I think it's super cool with the rock detail. It browns my meat perfectly. I add a little oil for taste. I've had my pan for almost five months now...still looking new.

Bottom Line: Yes, I would recommend this to a friend

---