Grassology Reviews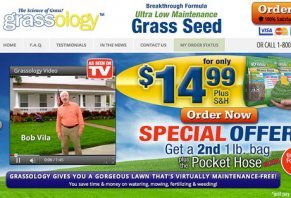 Grassology is an As Seen on TV grass seed mix that claims to reduce the need for mowing, watering, and fertilizing. But does it work?
About Grassology
Grassology is a patent pending grass seed mix that claims to reduce mowing, fertilizing, watering, and weeding. In addition, Grassology claims to guarantee "great green grass," while also defending against insects and disease.
You want the greenest grass on the block, and you probably just watched a commercial for Grassology, hosted by none other than Bob Vila. And it totally sounds awesome, right?
But is there any merit to these claims? Let's find out in our review.
How Grassology Works
Grassology is a "dwarf height," ultra-low maintenance grass seed mix that claims to grow a longer root structure than other types of grass seed. As a result, you'll have to mow, fertilize, water, and weed less. On top of this, Grassology is even guaranteed to give you "great green grass," while also defending against insects, and disease.
What about the Claims?
Are the claims true? Probably not and here's why: In short, Root length and growth rate often have much more to do with the amount of water your grass receives, not necessarily the type of seed you use. For a full explanation, please see the Bottom Line section.
Grassology Pricing & Refund Policy
Grassology is currently priced at $14.99 plus $7.99 shipping and handling. Like most "As Seen on TV" products, you can purchase a second bag of Grassology for $9.99, at which point you'll also receive a 25' Pocket Hose Ultra.
Grassology comes with a 30-day, 100% satisfaction guarantee, less shipping and handling charges. In order to begin the refund process, you'll need to contact customer service at 800-597-1622.
What are Consumers saying in their Grassology Reviews?
Based on a few months worth of Grassology Reviews we've accumulated, most customers complain of poor service, difficulty cancelling orders, and underhanded selling tactics. Regarding the product specifically, the most common complaints cite failure to work, poor seed quality, and that Grassology is simply a rebranded mix of Pearl's Premium. Also, Because of the fescue and Kentucky bluegrass mix contained in Grassology, if you live anywhere in the Southern region where summer temperatures can be extreme, you may want to steer clear.
Bottom Line: Should you buy Grassology?
With all this in mind, what's the deal with Grassology? We might hesitate to call it a scam, but there are definitely some red flags to consider. These include:
There is no seed mix list provided on the Grassology website, so you don't know exactly what you're putting on your lawn. On top of this, seed types are best suited to different climates (also known as "growing zones"), so you can't be sure that the Grassology seed mix will even be ideal in your climate. However, it's very likely that you could purchase a better quality mix specifically tailored to your climate at your local lawn maintenance store.
Next, while Grassology claims to come with a 30-day money back guarantee, this really isn't enough time to see if it works for you. Because of this, we would highly recommend purchasing Grassology at your local Wal-Mart, Target, or Bed-Bath & Beyond. This way, you'll be able to avoid poor customer service should you wish to return it.
Finally, keep in mind that if your lawn has numerous dead patches, excessive weed growth, or bald spots, Grassology will not be enough to make it green. Instead, you'll need to apply additional lawn treatments beforehand.
Do you have your own experience with Grassology? If so, help others keep their lawns green—and maybe save some green as well—by writing a review!
1 out 1 people found this review helpful

Waste of energy, water, and money.

By Maria Bacchus

,

Orlando, Florida

,

Jul 19, 2017
Verified Reviewer

This was the worst thing I've ever done to my yard. This is a scam. All I got was a high water bill and WEEDS, mainly crab grass and others. It's best to put down new sod.

A Grassology NIGHTMARE.

Bottom Line: No, I would not recommend this to a friend

---

4 out 5 people found this review helpful

Love Grassology

Grassology was planted alongside my house that rarely sees the sun. It was very bare, and I had tried everything, including sod, and it just would not grow. Grassology, however, grew in fast and thick and beautiful! I've used it in bare spots in other areas of my yard, and again, I had good luck. In fact, I am ordering more today. It requires little attention, and it works!

Bottom Line: Yes, I would recommend this to a friend

---

Advertisement

---

11 out 12 people found this review helpful

Doesn't work

By Remington

,

Georgia

,

May 20, 2016
Verified Reviewer

I bought 2 pounds of the Grassology seeds a few weeks ago. I tilled and fertilized the backyard, watered everyday for a week, and never saw any grass. I then tilled and watered for a second week, and still saw no grass. I believe the seeds were 2 years old.

Bottom Line: No, I would not recommend this to a friend

---

11 out 11 people found this review helpful

Grassology Grass Feed

By Robert Dixon

,

Hartsville, SC

,

May 19, 2016
Verified Reviewer

Not sure what the seeds consists of, but I never got one blade of grass. I've seen the seed but it did not germinate.

Bottom Line: No, I would not recommend this to a friend

---

Advertisement

---

7 out 10 people found this review helpful

Very Happy

By Lennie

,

Washington DC

,

Nov 10, 2015

Had nothing but weeds, used weed killer and seeded with Grassology and got great results. Will definitely use it again.

Bottom Line: Yes, I would recommend this to a friend

---

11 out 14 people found this review helpful

So far so good

By Kory

,

Dontana, CA

,

Oct 9, 2015

I saw the bag of Grassology and bought it. I thought why not. I have nothing but dirt and I really want grass. So I read the directions and went for it. 4 days later I see grass appearing. I couldn't believe it. Bright, lime green grass. Wow! Everyday it gets thicker and more shows up. Thank you Grassology.

Bottom Line: Yes, I would recommend this to a friend

---

11 out 11 people found this review helpful

Grass seeds are no good

By C. Campbell

,

Sep 13, 2015

This Grassology is a scam. It does not grow. I bought 20 lbs. as filler for my lawn nothing grew. I wish I could get my money back. No. I would NOT recommend it to anyone. Take it off the market.

Bottom Line: No, I would not recommend this to a friend

---

10 out 10 people found this review helpful

it doesn't grow

By Terri

,

San Diego, CA

,

Aug 29, 2015

This is a scam of sorts. I bought about $250 worth of grass seed and received four pocket hoses. Two of the hoses are no good, leak like sieve. The grass just simply doesn't grow very well. In the two places it did grow, it is very tall and not very dense. I would not waste a dime on this product.

Bottom Line: No, I would not recommend this to a friend

---

13 out 13 people found this review helpful

Very bad.

By Brett K.

,

Omak, WA

,

Aug 21, 2015

I replanted my back lawn with this seed and I have no grass. It's an entire back yard of weeds. I am so upset with this. Don't buy it. Now I have to save money and start over. This product is a crock. Don't buy into there scheme. I'm sure Bob doesn't care what he puts his name on. He should endorse toilets, but then again I'm sure they wouldn't be worth what you put in them either. It only lets you give a minimum of 1 star. I don't give it a speck of one.

Bottom Line: No, I would not recommend this to a friend

---

10 out 12 people found this review helpful

So far, so good

By Doug Walker

,

Desoto, TX

,

Aug 10, 2015

This will be short and to the point. Today in Desoto it was 100 degrees. Hot. My backyard has kind of resembled a desert for quite some time. Except for the occasional winter grass seed that I might use from time to time. Bare. I used a spreader to spread Grassology on August 17. Today is Aug. 22 and the grass seed has already germinated, and grass has began to grow. Probably 1/4 inch. I am impressed. A friend of mine used it, but he he did not cover the seed with any soil, and water everyday, it did not work. I only water once per day for about 10 minutes, and I already see results. Don't listen to the negative reviews. Try it for yourself. And oh yeah, follow the directions. I only rated it a 3 because it's only been 5 days.

Bottom Line: Yes, I would recommend this to a friend

---

33 out 33 people found this review helpful

Scam.

By Claudia

,

Tucson, AZ

,

Aug 6, 2015

Scam, used my credit card to pay and charges from another business showed up on my credit card. This is not legitimate.

Bottom Line: No, I would not recommend this to a friend

---