Gravity Weighted Blanket Reviews
Claimed This company has claimed this profile, is getting alerted on any new customer reviews entering this page, and may engage in dialogue with its customers to address their matters.

Companies cannot pay money or provide goods in order to remove or alter customer reviews.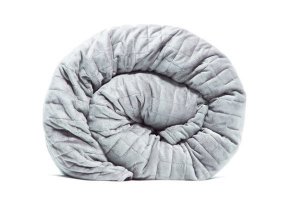 Using cotton, microfiber fleece, and food-grade high-density plastic poly pellets (HDPE), Gravity Weighted Blanket claims to provide stress and anxiety reduction.
What Is Gravity Weighted Blanket?
Similar to swaddling an infant, the Gravity Weighted Blanket is engineered to represent about 10 percent of your body weight and provide a 'hugging' sensation, delivering near-instant relief from stress and anxiety, increasing relaxation, and deepening REM sleep.
But the company is quick to point out that the Gravity Weighted Blanket isn't just for sleep; it can also be used while reading in bed, relaxing on the couch, recovering from a long day, and even while meditating.
In fact, their Kickstarter pitch notes that weighted blankets in general (although not Gravity specifically) can be used to treat a variety ailments outside of stress and sleep, including insomnia, post-traumatic stress disorder, obsessive-compulsive disorder, autism spectrum disorder (ASD), and attention deficit hyperactivity disorder.
If weighted blankets have been used to provide meaningful benefits in medical settings for decades, it certainly seems that a consumer-focused version like Gravity is a product whose time is long overdue.
But can you expect it to deliver on its promises? Does it have any competition? If you decide to take the plunge, will you find that it's "the most comfortable blanket you've ever experienced"?
Let's get cozy and quickly discuss what we learned during our research so you can make a more informed decision.
How Does Gravity Weighted Blanket's Deep Touch Pressure Stimulation Work?
Everything we hear, taste, feel, smell, and see (sensory input) helps us function effectively within our environment. However, there can be times—especially with our modern work habits and addiction to electronics—where our brains become overloaded with sensory input, thereby creating stress and anxiety.
To potentially help combat this overstimulation, Gravity uses something called proprioceptive input, or deep touch pressure stimulation, to stimulate pressure points on the body that may help focus our senses, relax the parasympathetic nervous system, reduce cortisol (stress hormone) levels, and boost serotonin production.
There are numerous device types that can provide this deep touch pressure stimulation in medical settings (used for those on the autism spectrum, as well as those with ADHD and depression), including weighted and pressure vests, weighted lap pads, and even specialized furniture.
What Materials Is the Gravity Weighted Blanket Constructed From?
The company describes Gravity as a 48" x 78", premium-grade, therapeutic weighted blanket that gently distributes deep pressure across the body to maximize relaxation and minimize body movement. It's also engineered with breathable materials to help prevent overheating while you're relaxing.
Inside Gravity's 100 percent cotton inner shell you'll find high-density plastic poly pellets (HDPE), an odorless, nontoxic, food-grade material that adds weight, but is also soft enough to provide a nice texture. The company tells us they're also durable, pet and kid friendly, and washer and dryer safe.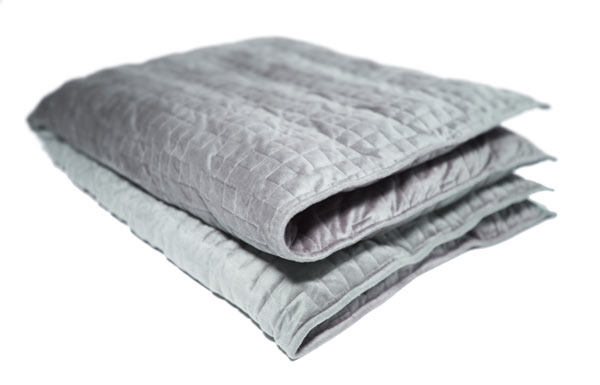 With an inner shell filled with high-density plastic poly pellets (HDPE) and an outer shell woven from microfiber fleece, Gravity Weighted Blanket's deep touch pressure stimulation promises to help you relax. Image credit: Gravity Products, LLC
Gravity's outer zippered shell is constructed from ultra-soft microfiber fleece that's easily removable for washing, or for warmer months to help ensure you don't overheat. It's sewn in a grid-like pattern that promises to evenly distribute the poly pellets to "specifically target pressure points throughout your body."
How Much Does the Gravity Weighted Blanket Cost?
As of writing, the Gravity Weighted Blanket was raising funds through a Kickstarter campaign ending May 30, 2017 (estimated delivery was Sept-Oct 2017). Just eight days in, however, they had already raised more than $2.5 million on an original goal of just $21,500.
In fact, they raised more than $30K just while we were researching the product.
Since we're all different weights, Gravity is available in 15, 20, and 25-pound options for the following pledge amounts:
Single: $169, $189, or $209, depending on when you order
Couples Pack (2ct): $320
Store Pack (20ct): $2,800
Distributor Pack (40ct): $5,200
While their FAQ indicates Gravity might eventually be available in different colors, it's currently only available in Space Grey.
Their FAQ also notes, "Because of the extensive discount that we're providing on Kickstarter, we're unable to offer a refund or return policy at this time." So make sure you're ready to hand over your money before processing your order.
Although Gravity wasn't released at the time of our research, they seemed to have received quite a lot of media attention already, due in no small part to their smashing crowdfunding success thus far. Can we learn anything meaningful from these articles?
What Do We Know About the Company Behind Gravity Weighted Blanket?
Even on popular sites like Business Insider, Mashable, and Huffington Post, we found only high-level overviews for Gravity; little more than a reiteration of what's listed on their Kickstarter campaign.
From a company perspective, the weighted blanket is brought to you by Gravity Products, LLC, a health technology company based out of Brooklyn, NY and headed by John Fiorentino.
According to their promo video, Gravity Weighted Blanket was developed over the course of 12 months after poring "over medical research and studies about the effects of weighted blankets on serious conditions like autism, PTSD, and insomnia." Then, they translated this science into a consumer-focused product that could help everyone.
As it stands now, the company indicates that their manufacturing partners are ready to go; they just need the financial support from Kickstarter to help turn it into a readily available product.
Before creating Gravity, John founded the product creation company Good Ones, co-founded Podium, a digital advertising company, and worked as Product Manager for You Technology, Inc.
Clearly, there's a great deal of unmet demand for Gravity. But are there other weighted blankets currently available that might provide much of the same deep touch pressure stimulation, but without the wait?
Gravity vs. Other Weighted Blankets
According to Gravity's Kickstarter campaign, "Weighted blankets are well known within the medical community, where they've been used as a natural stress reliever for decades. However, society at large hasn't had access to them."
With a few clicks of your keyboard, though, you can quickly see that, while you might not be swimming in weighted blankets, there are several meaningfully similar options:
| Brand | Price | Weight(s) | Materials & Construction | Size(s |
| --- | --- | --- | --- | --- |
| Gravity Weighted Blanket | $169-$209 | 15, 20, 25 lb | Inner cotton shell, HDPE pellets, outer woven microfiber fleece shell | 48" x 78" |
| Brookstone NAP | $150 | 12 lb | Cotton and polyester, PET pellets (BPA, phthalate, and lead-free) | 54" x 72" |
| Mosaic Weighted Blankets | $140-$215 | 5-20 lb | Nontoxic poly pellets, fabric polyfill | 42" x 72" |
| Autism-Products.com | $75-$295 | 3-20 lb | Nontoxic steel shot, softly textured fabric | 30" x 40" - 58" x 58" |
| Sommerly Sleep Tight Weighted Blanket | $150-$300 | 5-25 lbs | 100% cotton fabric, PET pellets fill (BPA, phthalate, and lead-free), Polyester pellet bags, Pocketed construction | 36" x 32" - 80" x 57" |
In addition to these, we found more than a dozen different weighted blanket options available through independent Etsy shops, priced between $45 and $170, many of which were also constructed of cotton and fleece. Given all these options, how can you choose the right one for your needs?
According to Karen Moore, an occupational therapist in Franconia, N.H. interviewed for a Psychology Today article:
"The best weight depends on your body size and personal preference. However, 15 to 30 pounds is typical for adults." Also, "input from a doctor or occupational therapist is advised for elderly individuals and anyone with a medical condition."
Also, Karen notes that "weighted blankets are not recommended for people with respiratory, circulatory, or temperature regulation problems or those recovering from surgery."
Given this, the right weighted blanket for you seems to largely come down to your specific needs and preferences. For example, if you're focused on the least expensive option above, it seems that Autism-Products.com's blankets start at $75, although this price will only provide you with a 3 lb blanket.
Speaking of weight, both Gravity and Sommerly's blankets go up to 25 lbs, although at $300, the latter was also the most expensive on our list, followed closely by Autism-Products.com.
Size-wise, Sommerly's weighted blanket was the largest at 80" x 57", and it, Mosaic, and Brookstone were each filled with PET pellets, while Gravity was the only one with HDPE (a more porous material that might—like the company claims—deliver improved breathability).
Autism-Products the only one with steel shot (a denser material that might not provide the same level of breathability).
Our Final Thoughts About the Gravity Weighted Blanket
Taking everything together, compared to the competition, the Gravity Weighted blanket is priced somewhere near the middle, features one of the larger designs, is available in three different weights, and is filled with a material we didn't encounter anywhere else.
Perhaps the biggest downside? As it stands (assuming no delays occur, which is not uncommon with crowdfunded projects, although the company tells us their manufacturing partners are already prepared), Gravity won't be available until late September or early October.
This means if you're looking to test out deep touch pressure stimulation, a clinically validated treatment for stress and anxiety, you'll have to be patients when it comes to Gravity.
Again, returning to the needs and preferences discussed in the last section, this means that only you can decide if the wait is worthwhile.
Do not buy

By Gunn C.

,

Utah

,

Jun 26, 2019
Verified Reviewer

I bought one on their sale a few weeks ago. It claimed to be cool and a good size. I was looking for a cool one because I tend to be warm. Was I ever disappointed with what I got. The blanket is very small and is hot. I tried to get a refund but unfortunately, I didn't read their return policy before I bought the blanket and there is a no return policy for clearance which I didn't know my blanket was. I got suckered into buying something I am never going to use for $189.00. The company should be shut down for deception. I will tell everyone I know to avoid this company.

Bottom Line: No, I would not recommend this to a friend

---

Do not buy

I purchased two blankets that have yet to be delivered. Have contacted repeatedly regarding delay and always excuse given due to weather, mix up in shop, delivery trucks didn't show up, that it's on the delivery truck, which ends up not being the truth and the list goes on. Given a tracking number that serves no purpose as it appears not updated on delivery system EVER. Always promised I would receive an email later in the day confirming status of purchase. Never received one.

Very very poorly run business and so dishonest when communicating the reasons for the delay.

If possible I would give 0 stars.

Bottom Line: No, I would not recommend this to a friend

---

Advertisement

---

Worst customer service ever

By Houston W.

,

Alberta, Canada

,

Dec 28, 2018
Verified Reviewer

Gravity is a joke. I ordered a blanket on the 3rd of December and was told it would ship right away and guaranteed delivery for Christmas. It's now the 23rd and still no blanket. Tracking number has no information. I call Gravity...no answer. Leave a message...no call back. I email...no response. It's like the company doesn't exist. Now I guess I contact Visa and report fraud. Buy from someone else!

Bottom Line: No, I would not recommend this to a friend

---

Total scam - someone should prosecute this company

By Breck N.

,

Chicago, IL

,

Dec 28, 2018
Verified Reviewer

I ordered a blanket as a Christmas gift. Supposed to receive within 10 to 14 business days. About two weeks after ordering I received a canned email saying they were out of stock but were expecting another shipment and I would receive my blanket before Christmas. Two days ago I received a Gravity Mask. They got my order WRONG and gave me a product that cost $200 LESS than what I ordered but STILL TOOK my money! I wish I had read all these reviews before ordering. As many reviews have stated, there is no customer service phone number and they do not respond to emails. We desperately need to pass laws that require online stores like this to be accountable or face prosecution. Worst online ordering experience I have ever had. Would give zero stars if I could.

Bottom Line: No, I would not recommend this to a friend

---

Advertisement

---

No contact number and no response to emails.

By Paul H.

,

Pennsylvania

,

Oct 4, 2018
Verified Reviewer

Customer service is lacking. The order shipped incorrectly. I can't get it resolved. These young folks would learn a lot by working on customer service techniques.

Several emails were sent, with form email responses. No way to have direct contact with the company. This is a very expensive product on which to take that approach.

Thanks.

Bottom Line: No, I would not recommend this to a friend

---

Be warned, don't buy it!

By Mary W.

,

Metro Detroit, MI

,

Sep 13, 2018
Verified Reviewer

I would have provided zero stars if it was an option.

I loved the idea of this blanket. I ordered it through the Kickstarter program. It was a long time coming, and when it finally arrived, I put the box aside for this season. Opening the box last night was the biggest purchase disappointment to date!

First, I was expecting (and paid for) a queen/king sized blanket. $250. What I received was not large enough to cover a single bed. Secondly, it was poorly packed, and there were no instructions. Though the duvet covered the weighted part, it wasn't secured. It took some time to unzip the duvet, find ties and loops and put it together. The zipper is poorly made and sewn in, such that it will seem impossible to launder.

I contacted customer service and expressed my disappointment at their product, and though the response was timely, it appeared to be a prepared automatic response that, among other unhelpful things, told me they are working on a queen-sized version. Why was I not notified and asked if a smaller size would work for me? I would have shipped it back to the manufacturer, telling them to keep it, but refuse to spend another cent on the fiasco.

Do not purchase this item!

Bottom Line: No, I would not recommend this to a friend

---

Gravity Blanket has a Chemical Smell

By Jeff F.

,

Colorado

,

Jul 16, 2018
Verified Reviewer

I just received my Gravity Blanket. The First thing I noticed was the odd smell. I am going to return it if Customer service replies back. I am not that picky but a blanket should not be off gassing.

Bottom Line: No, I would not recommend this to a friend

---

Got my blanket, but not evenly distributed

By Amie K.

,

Georgia

,

Jun 19, 2018
Verified Reviewer

I was so excited about this blanket. When it arrived, it was beautiful. But the pellets are absolutely not evenly distributed. They all fall to one side of the blanket. I paid on Kickstarter, and had to wait longer than the estimated ship date; however, that never bothered me because I expect delays on products just starting. With all this being said, I like the blanket enough to consider the cooling one.

Bottom Line: Yes, I would recommend this to a friend

---

No customer support

By Laura U.

,

Kentucky

,

Jun 9, 2018
Verified Reviewer

I ordered two blankets a couple of weeks ago and immediately realized I accidentally ordered the regular ones versus the cooling ones. Thus began my adventure attempting to contact customer service. I have emailed and texted numerous times to no avail. The regular blankets eventually came, and my daughter and I are pleased with the calming effect. However, I must turn the AC to 68 in order to be able to sleep without perspiring profusely. I would have given the blanket a 5-star value, but because the customer support was nonexistent, I gave it a 2.

Bottom Line: Yes, I would recommend this to a friend

---

Took my money, but never sent blanket

By Melissa R.

,

Austin, TX

,

Apr 23, 2018
Verified Reviewer

This blanket, that Gravity Blanket that they claim to have, doesn't reduce stress, it only adds to your stress. This company is scamming people. They scammed me out of $250. I selected to pay with my PayPal account and selected to be paid after delivery, and they never delivered it, but they sure took my money really fast! I placed the order in January and here it is April 17th, 2018, and I have nothing. THEY rarely respond to my emails, and if they do, they simply say there is nothing they can do about it. I ask several questions, and I get no answers. I ask them for a phone number, and they said they don't have a phone number for service. SCAM.

Bottom Line: No, I would not recommend this to a friend

---

I regret being a sucker.

My mother and I purchased two blankets from them at over $300 on a special before Christmas, and it was going to be months before they were sent out. It became past the time for them to be sent as per the initial date they gave us. So we contacted the company. We heard nothing from them. We contacted the credit card company to make a complaint. They no doubt contacted the company and once having been prompted by officials who could take our money back they sent out our blankets. In the meantime, we decided that we weren't sure we wanted to do business with the company because they seemed shady.

You cannot contact them for a return. They only had the email address, no phone number, and no one was getting back with us. So what were we to do? We returned them. Two weighted blankets in boxes of that size sent USPS costs over $70. We were willing to take a $70 hit for a refund on the blankets.

We were finally contacted by the company, no doubt only after threatening them via the credit card company, and they refused the return.

Now they have the money for the blankets, the blankets, and were out a lot of money. They are free to resell the blankets to some other unsuspecting sucker.

I implore you, don't let it be you.

Bottom Line: No, I would not recommend this to a friend

---