Gravity Weighted Blanket Reviews
Claimed This company has claimed this profile, is getting alerted on any new customer reviews entering this page, and may engage in dialogue with its customers to address their matters.

Companies cannot pay money or provide goods in order to remove or alter customer reviews.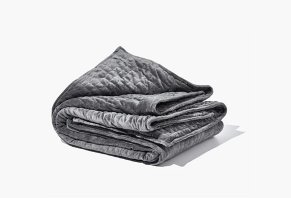 Using cotton, microfiber fleece, and food-grade high-density plastic poly pellets (HDPE), Gravity Weighted Blanket claims to provide stress and anxiety reduction.
---
Do not buy

By Gunn C.

,

Utah

,

Jun 26, 2019
Verified Reviewer

Overall Experience:

I bought one on their sale a few weeks ago. It claimed to be cool and a good size. I was looking for a cool one because I tend to be warm. Was I ever disappointed with what I got. The blanket is very small and is hot. I tried to get a refund but unfortunately, I didn't read their return policy before I bought the blanket and there is a no return policy for clearance which I didn't know my blanket was. I got suckered into buying something I am never going to use for $189.00. The company should be shut down for deception. I will tell everyone I know to avoid this company.

Bottom Line: No, I would not recommend this to a friend

---

Overall Experience:

I purchased two blankets that have yet to be delivered. Have contacted repeatedly regarding delay and always excuse given due to weather, mix up in shop, delivery trucks didn't show up, that it's on the delivery truck, which ends up not being the truth and the list goes on. Given a tracking number that serves no purpose as it appears not updated on delivery system EVER. Always promised I would receive an email later in the day confirming status of purchase. Never received one.

Very very poorly run business and so dishonest when communicating the reasons for the delay.

If possible I would give 0 stars.

Bottom Line: No, I would not recommend this to a friend

---

Advertisement

---

Worst customer service ever

By Houston W.

,

Alberta, Canada

,

Dec 28, 2018
Verified Reviewer

Overall Experience:

Gravity is a joke. I ordered a blanket on the 3rd of December and was told it would ship right away and guaranteed delivery for Christmas. It's now the 23rd and still no blanket. Tracking number has no information. I call Gravity...no answer. Leave a message...no call back. I email...no response. It's like the company doesn't exist. Now I guess I contact Visa and report fraud. Buy from someone else!

Bottom Line: No, I would not recommend this to a friend

---

Total scam - someone should prosecute this company

By Breck N.

,

Chicago, IL

,

Dec 28, 2018
Verified Reviewer

Overall Experience:

I ordered a blanket as a Christmas gift. Supposed to receive within 10 to 14 business days. About two weeks after ordering I received a canned email saying they were out of stock but were expecting another shipment and I would receive my blanket before Christmas. Two days ago I received a Gravity Mask. They got my order WRONG and gave me a product that cost $200 LESS than what I ordered but STILL TOOK my money! I wish I had read all these reviews before ordering. As many reviews have stated, there is no customer service phone number and they do not respond to emails. We desperately need to pass laws that require online stores like this to be accountable or face prosecution. Worst online ordering experience I have ever had. Would give zero stars if I could.

Bottom Line: No, I would not recommend this to a friend

---

No contact number and no response to emails.

By Paul H.

,

Pennsylvania

,

Oct 4, 2018
Verified Reviewer

Overall Experience:

Customer service is lacking. The order shipped incorrectly. I can't get it resolved. These young folks would learn a lot by working on customer service techniques.

Several emails were sent, with form email responses. No way to have direct contact with the company. This is a very expensive product on which to take that approach.

Thanks.

Bottom Line: No, I would not recommend this to a friend

---

Be warned, don't buy it!

By Mary W.

,

Metro Detroit, MI

,

Sep 13, 2018
Verified Reviewer

Overall Experience:

I would have provided zero stars if it was an option.

I loved the idea of this blanket. I ordered it through the Kickstarter program. It was a long time coming, and when it finally arrived, I put the box aside for this season. Opening the box last night was the biggest purchase disappointment to date!

First, I was expecting (and paid for) a queen/king sized blanket. $250. What I received was not large enough to cover a single bed. Secondly, it was poorly packed, and there were no instructions. Though the duvet covered the weighted part, it wasn't secured. It took some time to unzip the duvet, find ties and loops and put it together. The zipper is poorly made and sewn in, such that it will seem impossible to launder.

I contacted customer service and expressed my disappointment at their product, and though the response was timely, it appeared to be a prepared automatic response that, among other unhelpful things, told me they are working on a queen-sized version. Why was I not notified and asked if a smaller size would work for me? I would have shipped it back to the manufacturer, telling them to keep it, but refuse to spend another cent on the fiasco.

Do not purchase this item!

Bottom Line: No, I would not recommend this to a friend

---

Gravity Blanket has a Chemical Smell

By Jeff F.

,

Colorado

,

Jul 16, 2018
Verified Reviewer

Overall Experience:

I just received my Gravity Blanket. The First thing I noticed was the odd smell. I am going to return it if Customer service replies back. I am not that picky but a blanket should not be off gassing.

Bottom Line: No, I would not recommend this to a friend

---

Advertisement

---

Got my blanket, but not evenly distributed

By Amie K.

,

Georgia

,

Jun 19, 2018
Verified Reviewer

Overall Experience:

I was so excited about this blanket. When it arrived, it was beautiful. But the pellets are absolutely not evenly distributed. They all fall to one side of the blanket. I paid on Kickstarter, and had to wait longer than the estimated ship date; however, that never bothered me because I expect delays on products just starting. With all this being said, I like the blanket enough to consider the cooling one.

Bottom Line: Yes, I would recommend this to a friend

---

No customer support

By Laura U.

,

Kentucky

,

Jun 9, 2018
Verified Reviewer

Overall Experience:

I ordered two blankets a couple of weeks ago and immediately realized I accidentally ordered the regular ones versus the cooling ones. Thus began my adventure attempting to contact customer service. I have emailed and texted numerous times to no avail. The regular blankets eventually came, and my daughter and I are pleased with the calming effect. However, I must turn the AC to 68 in order to be able to sleep without perspiring profusely. I would have given the blanket a 5-star value, but because the customer support was nonexistent, I gave it a 2.

Bottom Line: Yes, I would recommend this to a friend

---

Took my money, but never sent blanket

By Melissa R.

,

Austin, TX

,

Apr 23, 2018
Verified Reviewer

Overall Experience:

This blanket, that Gravity Blanket that they claim to have, doesn't reduce stress, it only adds to your stress. This company is scamming people. They scammed me out of $250. I selected to pay with my PayPal account and selected to be paid after delivery, and they never delivered it, but they sure took my money really fast! I placed the order in January and here it is April 17th, 2018, and I have nothing. THEY rarely respond to my emails, and if they do, they simply say there is nothing they can do about it. I ask several questions, and I get no answers. I ask them for a phone number, and they said they don't have a phone number for service. SCAM.

Bottom Line: No, I would not recommend this to a friend

---

Overall Experience:

My mother and I purchased two blankets from them at over $300 on a special before Christmas, and it was going to be months before they were sent out. It became past the time for them to be sent as per the initial date they gave us. So we contacted the company. We heard nothing from them. We contacted the credit card company to make a complaint. They no doubt contacted the company and once having been prompted by officials who could take our money back they sent out our blankets. In the meantime, we decided that we weren't sure we wanted to do business with the company because they seemed shady.

You cannot contact them for a return. They only had the email address, no phone number, and no one was getting back with us. So what were we to do? We returned them. Two weighted blankets in boxes of that size sent USPS costs over $70. We were willing to take a $70 hit for a refund on the blankets.

We were finally contacted by the company, no doubt only after threatening them via the credit card company, and they refused the return.

Now they have the money for the blankets, the blankets, and were out a lot of money. They are free to resell the blankets to some other unsuspecting sucker.

I implore you, don't let it be you.

Bottom Line: No, I would not recommend this to a friend

---

Overall Experience:

DO NOT buy directly from Gravity unless you are 100% sure you want this blanket. The return policy is this:

"After inspection, you will be refunded within 5 to 7 business days.

If the blanket needs to be cleaned or is damaged, you will receive a partial refund to cover the expenses of repacking and restocking the product."

Read that as if you open the bag to look at or try your blanket you'll pay $80 when you return it for it to be re-stocked. No questions. My blanket was returned in perfect condition. I only took my blanket out of the package and realized instantly it wasn't for me. So I returned it.

Return postage cost me $65 from Chicago.

Purchase price: $229.

Return postage: $65.

Re-stocking cost: $80.

Out of pocket: $145.

I'm sure for some people this blanket is great, but I really wish I hadn't bothered. If there was somewhere else I could warn people not to buy unless they are sure they will not want to return the blanket I would post this review anywhere I could.

Bottom Line: No, I would not recommend this to a friend

---

Advertisement

---

Overall Experience:

I ordered a Gravity Blanket in October 2017. I paid in full with my credit card. It is now April 2018. No Gravity Blanket. I received an email in December stating that my Gravity Blanket was on its way. I never received it. I've got a request into my Visa to get a refund, we'll see if that happens.

Do NOT do business with Gravity Blanket, they like and steal your money!

Bottom Line: No, I would not recommend this to a friend

---

Scam! Never received and no response.

By Lori L

,

Pennsylvania

,

Apr 7, 2018
Verified Reviewer

Overall Experience:

I ordered this blanket over 11 months ago. Despite numerous attempts to contact them over the last almost year, I've neither received a response (other than their mass emails saying they're coming) nor do I have my blanket. I lost almost $200. BEWARE!

Bottom Line: No, I would not recommend this to a friend

---

I ordered 2, got 1 almost 5 months later. I have never received the 2nd one.

By BJ Lang

,

Maryland

,

Mar 30, 2018
Verified Reviewer

Overall Experience:

I have written a dozen emails to Gravity (no phone number ANYWHERE) after ordering two blankets in the beginning of September 2017. After several emails, I finally received ONE just days before Christmas. I have never received my second blanket. I paid $250 for each, POST Kickstarter.

Is there a civil suit somewhere that I can join?

I continue to send unanswered emails. I'm livid. I have messaged and posted repeatedly on their Twitter site and Facebook page. They simply DO NOT CARE.

DO NOT order from this company!

Bottom Line: No, I would not recommend this to a friend

---

Worst customer service ever!

Overall Experience:

While a Gravity Blanket is a great thing (I ended up getting mine from Mosaic - amazing company), the company GravityBlanket.com has the absolute WORST CUSTOMER SERVICE ever. No way to communicate with them. Multiple emails went unanswered. No packing slip in the box. No return address given for returns. No response from multiple for a request for the return address. If I had the choice of doing business with these people or a root canal with no anesthesia, I would choose the root canal in an instant. Most frustrating purchasing experience I ever had (can you tell?!). Do yourself a favor and choose another company because the Blanket idea is genius.

Bottom Line: No, I would not recommend this to a friend

---

Draconian return policy

By S Miller

,

San Mateo, CA

,

Mar 15, 2018
Verified Reviewer

Overall Experience:

I received my Gravity Blanket and opened the bag to try it out. I felt it was too heavy and contacted them to return it. They told me if you open the bag, you can't return the item. I find that pretty outrageous.

The return policy is buried in fine print and should be prominent in the order process. The Gravity Blanket didn't help me relax or sleep; it actually kept me awake longer than normal. I don't have a big issue with that because everyone is different, but I have a huge issue with the non-return policy. They say you can return the Gravity Blanket if you don't open the packaging/bag, but how else is a person going to know whether it is suitable or not?

Bottom Line: No, I would not recommend this to a friend

---

Advertisement

---

Gravity Blanket scam?

By Tom Kerr

,

Omaha, NE

,

Mar 13, 2018
Verified Reviewer

Overall Experience:

Suffice it to say, every negative review about poor customer service and returns from Gravity Blanket has also happened to us going back to October 2017. The matter is still being contested as of this writing (March 2018). It is impossible to speak to a human being at the company, and email responses are pure delaying tactics. We have provided them with written confirmation from UPS that the product has been delivered and accepted by them and they still have not sent a refund for the product or the shipping.

The company needs to be investigated by the authorities so future consumers can be protected.

Bottom Line: No, I would not recommend this to a friend

---

Gravity Blanket - NOT worth the money!

Overall Experience:

The product was not worth the wait. Not at all what we expected; much smaller than anticipated (no dimensions provided) and the "weight" shifts in the blanket. Extremely disappointing!

Bottom Line: No, I would not recommend this to a friend

---

Absolutely disgusted with this company

Overall Experience:

I ordered my blanket back in November. Around February when my blanket had still not arrived, I decided to cancel my order, especially after seeing some of the reviews lately. So I contacted them to cancel my order, and I receive no response.

I then contact PayPal to charge back my order, and that's when I finally got a response from the company. Except they didn't offer to finally cancel my order and give me my refund, they instead made a UPS shipping label. So I thought whatever, at least I'll finally be getting my blanket.

Well, almost a month later they still hadn't shipped my blanket. So once again I contacted them demanding a refund, and finally, I got a hold of someone who offered a refund, but too late! They finally shipped the product, and they said now that it's shipped, I would have to pay the return shipping fee, which isn't cheap for a 27 lb package. Instead, I decided to keep it and just be done with this whole ordeal and be thoroughly rid of them.

Okay, so a day after I take the blanket out and use it I discover BED BUGS. Granted I've only found two (so far), but this is absolutely disgusting and mind-boggling how a company this bad has not been shut down with how awful their service is. So, do not make the same mistake I did. Stay away from Gravity Blankets!

Bottom Line: No, I would not recommend this to a friend

---

Overall Experience:

I ordered my gravity blanket. I received it three days later. Quality seems great. It's beautiful as far as blankets go. I love how affixed the blanket is inside the duvet, and the blanket itself brings me great comfort. I went up in weight from the recommended, but that was a personal preference.

I think most people giving it poor reviews probably ordered it in the Kickstarter campaign, or shortly after and then got mad that manufacturing delays happen. Whether or not the company did all it could to address said delays is above my pay grade, but I can attest to their work being prompt now.

Bottom Line: Yes, I would recommend this to a friend

---

Worst experience I've ever had!

By Ryan

,

Seattle, WA

,

Mar 6, 2018
Verified Reviewer

Overall Experience:

Follow the other one-star reviews, don't buy this product. Stephanie from the customer service line has been by far some of the worst interactions with a business I've ever had! Don't go through the same mistake I did.

Bottom Line: No, I would not recommend this to a friend

---

Advertisement

---

Horrible customer service

By Alesia

,

Bessemer, AL

,

Mar 4, 2018
Verified Reviewer

Overall Experience:

I wish I'd read the Gravity Blanket reviews before buying the blanket. The customer service is horrible. I actually never found a phone number and only corresponded via e-mail. Gravity sends emails, but did not respond to any emails I sent to them.

After waiting over 30 days, I sent an email requesting an ETA so that I could decide if I'd just rather get a refund. Then 15 days later team Gravity sends an email saying that the blanket has been shipped. Fifteen days later, I received the blanket, but was not sure that I wanted to open it after reading the return policy stating that in order to get a full refund, the blanket must be returned in the original bag "unopened."

So, due to the overwhelmingly negative reviews, and the fact that I wanted a full refund, I decided to return the box unopened. Then UPS tells me that if I write "Refused" on the unopened box, the box would show that it was delivered to me but not show the tracking for the return. I'd ordered the 15 lb blanket, and it cost another $43 to return it with tracking. Just to be sure the $249 package did not get lost in route.

Please save yourself the hassle/headache of dealing with Gravity.

Bottom Line: No, I would not recommend this to a friend

---

Well worth the wait

By Mary Jane Wolf

,

Chilliwack, British Columbia, Canada

,

Feb 22, 2018
Verified Reviewer

Overall Experience:

I ordered two blankets; one for myself and one for my son. I will write a review on my autistic, ADHD, and anxious son's experience later. The blankets were exactly as I had hoped. They are beautifully made and the 20lb weight is perfect. The blanket is comfortably heavy, soothing in fact and (it is indeed), warm. I find myself needing to come out to cool down once in awhile but I haven't had such a good night's sleep in ages.

Bottom Line: Yes, I would recommend this to a friend

---

Horrible

By Amelia R

,

New Orleans, LA

,

Feb 13, 2018
Verified Reviewer

Overall Experience:

Well, to start off, the blankets were supposed to ship in October, but mine didn't ship until the 3rd of February when I was told I would have it much sooner. The beads move around far too much. The blanket is not the size they listed but a smaller version than what's on the website; it's actually 68x46 not 72x48. I am 5'5" and it's not big enough.

Bottom Line: No, I would not recommend this to a friend

---

Overall Experience:

Hi everyone. I wanted to try the Gravity Blanket, so I spent the money hoping it was worth it. I got the 15 pounds version of it.

I asked customer service to change the shipping address and they didn't. Luckily I was still at my old address when the blanket arrived.

This product didn't work for me.

Their return policy is absurd for such a pricey product. Now I am stuck with something that takes a LOT of space, and I'm out $350. Please see below:

Items must be returned unopened (in their original bag - you can open your box) and undamaged, just like you received them.

Returns made within 7 days of delivery date will be issued a full refund in the form of original payment. Returns made within 8-14 days will be issued as future credit for Gravity products.

If your item(s) has a manufacturing defect or damage you can return within 30 days of purchase for an exchange.

Please note that customers will bear the responsibility of return shipping costs, and should address returns to the warehouse address listed on your shipping label.

Bottom Line: No, I would not recommend this to a friend

---

Say no to Gravity blankets. A bunch of crooks!

Overall Experience:

DON'T BUY. Seriously, you'll thank me.

I bought mine in August and was excited. I finally got it around the 20th of December (which was a huge wait, and I was charged in August itself, so it's not like they charged me when they finally sent it out for delivery). I had it a couple of nights before I tried it 3 nights later. New York was going through an arctic freeze, and it was really cold, the perfect time to try the product.

It was WAY too hot and short, so my legs stuck out! I mean, if it's that hot in the winter, summer would be ridiculous.

So I wrote to them on the 23rd that I wanted to send it back and requested a refund, as I tried to try the product for one night, but could not go past maybe 2 hours! They said they were busy then, and that I should write back in February, which I did. Come February, they refuse to give me a refund. They said they give refunds only if the product has not been used! And it is still in the bag, unopened. I don't know about you but, I am not in the habit of buying something just to return it.

Who does that?! Who has a policy to not give refunds if a customer is not happy with the purchase and responses in a timely fashion? Well, people who don't stand behind their own product, that's who.

So do yourself a favor, and don't buy something a company themselves does not stand behind.

Bottom Line: No, I would not recommend this to a friend

---