GrayBan Reviews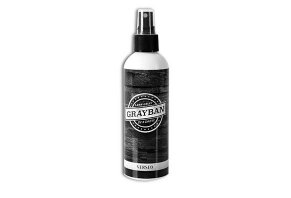 Brought to you by Verseo, GrayBan is a spray-on progressive colorant that uses bismuth citrate to return your hair to its natural, youthful shade gradually.
What Is GrayBan?
By spraying easy-to-use GrayBan onto your hair each morning, the manufacturer advertises that it will combine with your scalp's natural proteins, bolster the amount of melanin pigment present, and restore your hair's natural, youthful color.
The website advertises that the spray accomplishes all of this without the use of harsh chemicals that can damage your hair, unpleasant odors, or messy dyes or creams that can rub off on your clothes or make a mess in the shower. And with gradual, realistic results within three to 14 days, we're also told that drastic color changes are a thing of the past.
Just what is GrayBan, though, and can you really expect it to deliver on the manufacturer's advertising claims? Give us a few minutes, and we'll help you come to an information-based conclusion.
What Causes Hair to Turn Gray?
Interviewed for a Men's Health article, Melissa Piliang, M.D., a dermatologist at the Cleveland Clinic, explains that gray hair appears when the melanocytes in your hair bulb "gradually stop producing melanin pigment. The result is initially hair graying and then whitening over time."
And while she emphasizes that the medical community "still has limited knowledge about the actual genes responsible," it's widely understood that exactly when your hair starts turning gray (and up to 90 percent of other variations) "can be explained by genetics."
What about the protein mentioned on the GrayBan website? According to a brief May 2018 article in Nature, Melissa Harris explains "Scientists know that a protein called MITF controls many of the functions of melanocytes, including pigment production." Additionally, hair is also primarily made up of a protein called keratin.
Given these basic details, exactly how do the ingredients in GrayBan interact with your hair's protein to gradually reduce the appearance of gray?
Taking a Closer Look at How GrayBan Hair Spray's Ingredients Work
We called several customer service representatives looking for additional details about GrayBan's ingredients formulation, although each one told us that it was a new product, and they didn't have more information than what was on the ASOTV website. Even Verseo's site includes an image that was far too small to read the ingredients from.
With this said, AsWeChange.com, one of GrayBan's retailers (more soon), listed the following:
Aqua, Triethanolamine, Glycolic Acid, Sulfur, Bismuth Citrate, Parfum, Panthenol, Polysorbate 20, Alcohol Denat, Citronellol, Geraniol, Hexyl Cinnamal, Butlyphenyl, Methylpropional, Hydroxyisohexyl, 3-Cyclohexene Carboxaldehyde, Alpha-Isomethyl Ionone, Methylchloroisothiazolinone, Methylisothiazolinone, Benzyl Alcohol
According to sites like Truth In Aging, EWG.org, and Paula's Choice, most of these ingredients are used for scent purposes, including parfum, citronellol, geraniol, hexyl cinnamal, butlyphenyl, methylpropional, hydroxyisohexyl, 3-cyclohexene carboxaldehyde, and alpha-isomethyl ionone.
Others are used as surfactants (triethanolamine, polysorbate 20), skin conditioners (panthenol), solvents (alcohol denat.), and preservatives (methylchloroisothiazolinone, methylisothiazolinone, benzyl alcohol).
Glycolic acid is a type of alpha-hydroxy acid (AHA), which is commonly used in skincare products as an exfoliator that breaks apart dead skin cells (in this instance, on the scalp), while sulfur can also help dry and disinfect the skin.
Finally, CosmeticsInfo.org tells us that bismuth citrate "helps impart color to hair follicles," although they emphasize that "the exact color obtained will depend on the other ingredients that are used in the preparation and the starting color of the hair."
Specifically, whether with GrayBan or another 'progressive colorant,' GreyHairLoss.com explains the process this way:
"First, the colorant must coat and penetrate the hair and then, as the mixture dries in the air, the chemical reaction, in the presence of atmospheric oxygen, turns its components into a synthetic pigment which remains deposited on the surface, in the pores and some of it also on the cortex of white hair. This synthetic pigment becomes a substitute for the missing melanin (natural pigment)."
From there, we're told the "chemical reaction typically lasts till the next shampoo wash, so the less frequently you wash your hair, the more effective these agents become."
How Much Does GrayBan Hair Restorer Cost & Where Can You Buy?
If purchased through the Verseo's GetGrayBan.com ASOTV offer, customers will pay $19.99, plus $13.98 S&H, for two 8 oz bottles of spray-on colorant. On the other hand, you can find a single 8 oz bottle on Verseo's website for $19.99, plus $7.99 S&H.
GrayBan is also sold through a variety of popular third-party retailers like Amazon, Walmart.com, Newegg.com, and Walter Drake, to name just a few, at about the same prices.
GrayBan's ASOTV offer comes with a 90-day money back guarantee, less S&H, which you can request by calling Spark Innovators customer support at 844-771-2616. Purchases from the main Verseo website come with a 30-day guarantee, and the company's support department can be reached at 877-261-1570 or cs@verseo.com.
Third-party shipping and refund details may differ.
What Are Customers Saying in Their GrayBan Hair Color Reviews?
On Amazon, more than 70 customers had provided feedback about their experiences with GrayBan, giving the spray an average rating of about three stars.
Compliments often referenced ease of use, and that it effectively returns hair to its original color. Complaints frequently cited no effect, and that it has a distinct aroma (some didn't mind and noted that it seems to dissipate quickly, while others stated outright that it smelled terrible). Several others noted it's time-consuming to apply and wait overnight for it to take effect, and that your gray hair will return once you stop using it.
We encountered an additional 37 reviews on Verseo's website, where GrayBan had a meaningfully higher average rating of 4.6 stars, with many of the same compliments and complaints found on Amazon.
GrayBan vs. Other Progressive Colorants
We found several other progressive hair colorants competing with GrayBan during our research. Here were some of the more popular options:
| | | |
| --- | --- | --- |
| Brand | Price | Active Colorant |
| GrayBan | $19.99 | Bismuth Citrate |
| Grecian Formula | $13.50 | Lead Acetate |
| Youthair Lead-Free Crème | $6 | Bismuth Citrate |
| Restoria Discreet Cream & Lotion | $13 | Lead Acetate |
| Just For Men Touch of Gray | $8 | P-Aminophenol, P-Phenylenediamine |
| Clairol Advanced Gray Solution | $7 | 4-Amino-2-Hydroxytoluene |
| Control GX Shampoo by Just For Men | $9 | P-Aminophenol |
How to choose which of these—if any—is right for you? The bottom line is that everyone's hair needs are a bit different. Therefore, it will likely require some trial and error before finding the solution that works best.
Ingredients-wise, while the FDA reports clinical testing hasn't shown that lead acetate enters users' bloodstream when used as directed in progressive hair colorants, its potential toxicity means that any products containing it must include the following label warning:
"For external use only. Keep this product out of children's reach. Do not use on cut or abraded scalp. If skin irritation develops, discontinue use. Do not use to color mustaches, eyelashes, eyebrows, or hair on parts of the body other than the scalp. Do not get in eyes. Follow instructions carefully and wash hands thoroughly after use."
From a price perspective, we can see that GrayBan is meaningfully more expensive than any of the third-party progressive colorants above, although it's also the only one available in a spray formula if this is an essential factor to you.
Comparatively, all others are either shampoos or comb-in formulas that are briefly left in place and then washed out, and always present a possibility of staining in the interim. In the instance of Touch of Gray, you'll also need to choose between a variety of shades, similar to traditional hair dye.
Speaking of which, while some of these third-party formulas only need to remain in your hair for a matter of minutes, many online customer reviews indicate that GrayBan must be left in overnight. And with its reportedly strong scent, more than one claimed they woke up with a headache. However, the company emphasizes their formula won't stain as shampoos could.
Does this necessarily mean that GrayBan's worth the premium price?
Should You Place an Order for GrayBan?
The fact of the matter is that the HighYa team isn't here to tell you how to spend your hard-earned money. Instead, it's our goal to provide you with all of the relevant details about a product or service and leave the final decision in your hands.
With two 8 oz bottles for a total of $33.97, GrayBan's ASOTV offer might offer the most bang-for-your-buck. The offer also comes with a 90-day refund policy, whereas direct purchases only feature 30-day policies.
However, it's important to balance these potential benefits by emphasizing that if you give GrayBan a try through the ASOTV offer and aren't satisfied with the results, you'll immediately lose nearly $14 in S&H charges—plus whatever it'll cost to send your bottles back to the manufacturer.
As such, purchasing a single bottle from Verseo (or a third-party retailer) might present less of an overall monetary risk if this is your first time using GrayBan.
>> Read next: How to Choose a Hair Loss Product, Even if You Don't Know What to Do
5 out 6 people found this review helpful

Love it!

By Gerald C.

,

Florida

,

Mar 29, 2019
Verified Reviewer

I have been using this product for about 40 days. It works well for me, and keeps my hair with just a tinge of gray by using three sprays per week. It looks natural, and so much so, that when I actually tell people that I color my hair; they don't believe me. I have seen reviews that say the smell is bad; I disagree, and actually like the smell. The only criticism that I can give is that the spray nozzle should not have so wide of a spray...the spray nozzle needs to be more focused, so I can direct the spray directly where I want it.

Bottom Line: Yes, I would recommend this to a friend

---

Advertisement

---