Grease Police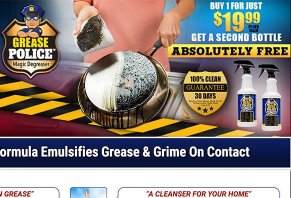 Grease Police contains an ingredients formulation that's safe to use on most surfaces and quickly and effectively breaks down organic and inorganic matter.
Grease Police Review
Grease Police uses a super-concentrated, biodegradable formula the manufacturer advertises will instantly emulsify grease and grime on contact, giving you the ability to clean nearly all stubborn messes—even ones that have been baked on for years.
They tell us the cleaner and degreaser is safe to use on a wide variety of surfaces in and around the home, including shower doors, scummy tile and grout, refrigerators and other appliances, greasy kitchen equipment, barbecue grills, car wheels, and even oil spills on your driveway.
In this article, we'll take a detailed look at how much Grease Police costs and how its formulation compares to other spray-on multi-purpose cleaners and degreasers, all aimed at helping you decide if it's the right option for you.
How Does Grease Police Work?
Whether in your kitchen or bathrooms, on the windows, your outside grill, car, or concrete driveway, a combination of organic (anything derived from living matter) and inorganic matter can accumulate on surfaces and create a film that can dull appearance, reduce serviceable life, and even harbor potentially harmful contaminants. For the purposes of our discussion, this film is referred to as "grease."
Consequently, products like Grease Police designed to clean this filmy substance—cumulatively referred to as "degreasers"—work using a variety of ingredients that penetrate the matter, separate it from the surface, and make it easily removable by wiping away or spraying with liquid.
The ingredients in a degreaser's formula depend on the type of grease it's intended to help remove, although chemical company Cantol's website explains, "cleaners and degreasers are mostly aqueous in nature and are composed of a combination of surfactants, sequestering agents, and alkaline builders."
Still, they emphasize that most work using the same chemical principle:
"One end of the molecule in the cleaning agent has a long hydrophobic chain, which is attracted to oil and grease and a hydrophilic end, which is attracted to water. The hydrophobic molecules surround the oil particles and dislodge it from water."
What will you find in Grease Police? There wasn't a label listed on the spray's website, and an online search for its material safety data sheet returned no relevant results.
We reached out to several customer service representatives looking for additional details, and each advised that it was newly released and they didn't have anything available other than what was listed online.
With these details in mind, household degreasers—especially organic and biodegradable ones like Grease Police—are mostly made from water, so they're typically OK to use on any water-tolerant surface.
How Much Does Grease Police Cost?
Two bottles of Grease Police are priced at $14.99, plus $7.99 shipping. A second bottle is available with your an additional $7.99 fee.
We asked multiple customer support representatives about how much cleaning solution was included in one bottle, none of whom were able to offer additional insight, other than confirming that it's a "large" bottle.
Based on the images and video shown on the Grease Police website, though, and compared to competing cleaners of the same approximate size, it appears to be somewhere around 32 oz.
Nonetheless, the site offers a 30-day money-back guarantee on all Grease Police purchases, less return shipping charges.
Are There Other All-Purpose Cleaners and Degreasers Like Grease Police?
A glance down the cleaning aisle at your local home improvement or big-box retailer, or down the virtual aisles of their online counterparts, makes it easy to see that consumers have plenty of options when it comes to household spray-on cleaners and degreasers.
Since we discussed above that most of these options are water-based, many also advertise the same core features as Grease Police, including biodegradable formulations that emulsify and dissolve grease and grime on contact, are useful on a wide variety of surfaces, and feature trigger spray bottles with ergonomic handles.
Here were some of the most popular options on Amazon at the time of our research and how they compared:
| | | |
| --- | --- | --- |
| Formula | Price / Quantity | Active Ingredient(s) |
| Grease Police | $27.98 / Two bottles (unknown quantity per bottle) | Unknown |
| Simple Green All-Purpose Cleaner | $11.70 / 22 oz | C9-11 Alcohols Ethoxylated, Sodium Citrate, Sodium Carbonate, Tetrasodium Glutamate Diacetate, Citric Acid, Methylchloroisothiazolinone, Methylisothiazolinone |
| SuperClean Multi-Surface Degreaser Spray | $14.94 / 32 oz | Sodium Metasilicate, Sodium Hydroxide, Surfactant Blend |
| Krud Kutter Original No-Odor Concentrated Cleaner Degreaser/Stain Remover | $11.67 / 32 oz | Alcohols, C9-11, ethoxylated; Disodium Metasilicate Pentahydrate |
| Easy Off Heavy Duty Degreaser Cleaner Spray | $6.99 / 32 oz | Sodium Carbonate |
| pHAdvantage Multi-Surface Cleaner/Degreaser | $17.95 / 32 oz | Unknown |
| Citrus Magic Heavy Duty Cleaner/Degreaser | $5.49 / 32 oz | Unknown |
| ZEP Heavy-Duty Citrus Cleaner | $8 / 32 oz | D-Limonene, Monoethanolamine, Diethylene Glycol Monobutyl Ether, Dipropylene Glycol N-Butyl Ether |
With these details in mind, what's the best way to go about choosing the best cleaner and degreaser?
First and foremost, consider your application. All-purpose options can be a great way of tackling a wide variety of greases on many different surfaces.
So, if you need a formula that works just as well on your kitchen grime as oil stains on your driveway, an all-purpose formula like Grease Police might fit the bill.
Now, just because a degreaser is advertised as biodegradable (or even organic, in some instances), this doesn't necessarily mean that it's nontoxic or that it shouldn't be handled with care.
In this regard, it's always a good idea to wear a mask and rubber gloves the first time you use a new degreaser and make sure to carefully follow any of the manufacturer's safety recommendations printed on the bottle.
On the other hand, if you expect to primarily use your degreaser for one cleaning task, such as on stained concrete, your car's engine, or kitchen and bathroom tile and grout, you might achieve more value by focusing a product formulated accordingly.
Speaking of value, the next factor to consider is your budget.
Looking at the options above, we can see that Grease Police is the most expensive, although customers will get two bottles with their order. Still, Telebrands' support staff couldn't tell us how much degreaser is contained in each bottle, which is an important point to consider.
At the other end of the spectrum, customers can purchase as many as five bottles of Citrus Magic Heavy Duty Cleaner/Degreaser for the price of two bottles of Grease Police.
Keep in mind that many degreaser formulations are concentrated as well, which means that you can dilute them with water and maximize their lifespan.
For example, although SuperClean Multi-Surface Spray comes with a $15 price tag, the manufacturer advertises that it can be diluted down to a 16:1 ratio, effectively bringing its price per ounce down much lower than Citrus Magic's.
The former is also available in foaming and aerosol versions if you're looking for something other than a spray bottle.
Our View: Does Grease Police Offer the Best Value Among Degreasers?
It's important to reemphasize that you can't know how much degreaser each bottle of Grease Police contains, so—even though it comes with a meaningfully higher cost—it's impossible to calculate how its price per ounce compares to close competitors.
The company doesn't tell us anything about its formula, so consumers also can't know which ingredients they'll spray in and around their home.
Finally, many of Grease Police's competitors are available locally, which could help you save time and money compared to ordering online and paying the associated shipping charges. And if you're dissatisfied, returning to a store is typically more convenient and less expensive than shipping a package back to the manufacturer.
In fact, between the original $8 charge and whatever it would cost to you send your bottles back to Telebrands, you could lose more than half of your refund in shipping fees should you decide to request a refund.
Pulling all of these components together, we think that searching for a local degreaser will likely deliver greater value than Grease Police, considering all of the details we don't know about the product.
When shopping, we'd recommend looking for common ingredients like alcohols, sodium carbonate, sodium metasilicate, and sodium tripolyphosphate, which break down grease and oils and act as binding agents and pH buffers.
» See Also: DIY Natural Cleaning Products That Actually Work
Grease Police is a total scam!

By Jeffrey F.

,

Wisconsin

,

Mar 23, 2020
Verified Reviewer

I tried Grease Police on the bottom of a new fry pan that had some grease on it, I tried many times, different applications with total failure, it's a total scam! I rate it from 1 to 10, a 0! Don't waste your time and money on this crap product!

Bottom Line: No, I would not recommend this to a friend

---

Worst product ever

By Milo R.

,

Fort Collins, CO

,

Mar 19, 2020
Verified Reviewer

This has to be the worst cleaning product that I have ever purchased. I have bought cleaning products from the Dollar Store that have cleaned better. I just ended up cleaning my kitchen with good ol' Fabuloso, and an old kitchen scrubbie. That and a Brillo Pad is what seems to work. I would NOT recommend this product to anyone. Waste of money.

Bottom Line: No, I would not recommend this to a friend

---

Who cares...

By David B.

,

Georgia

,

Nov 14, 2019
Verified Reviewer

I personally would not buy this because of the stupid name, how original?! That in itself tells me all I need to know, along with the early morning hours when their ads are aired...enough said!

Bottom Line: No, I would not recommend this to a friend

---

Police degrease does not work as advertised on TV

By Ro A.

,

Miami, FL

,

Oct 21, 2019
Verified Reviewer

The product does not work on any grease surface as advertised on TV. I don't recommend the purchase and use of this product. The product is expensive if you compare it with similar products in the market.

Bottom Line: No, I would not recommend this to a friend

---

Advertisement

---

Not that great!

By Rose A.

,

Texas

,

Sep 13, 2019
Verified Reviewer

Bought it from Bed Bath & Beyond. Used it on the bottom of my pots like on TV. It did not work. Used it on a toaster oven and it worked very little. Waste of my hard-earned money. Would like a refund. I was looking for something to take a lot of hard work out of cleaning because I am a senior citizen.

Bottom Line: No, I would not recommend this to a friend

---