Great Lakes Reviews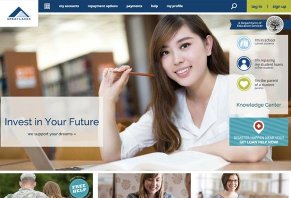 Student loan borrowers who have Great Lakes as their loan servicer will most likely be pleased, as the company has a good customer service track record and a website that's easy to use.
About Great Lakes
The company is based in Madison, WI., and is under the umbrella of Nelnet, who acquired Great Lakes in 2018 to become the largest student loan servicer in the country.
According to 2017 numbers from MarketWatch, Great Lakes services more than $235 billion in student loans, making them the second largest loan servicer in the country.
The company, according to their website, launched in 1967 as the Wisconsin Higher Education Corporation. In 1988, the company changed their name from Wisconsin Higher Education Corporation to Great Lakes. And, in 2018, they merged with Nelnet.
In our review, we're going to give you insight Great Lakes' services, what you can do to make sure you're successful in your interactions with them and how their customer-complaint rate compares to Nelnet and Navient.
We'll also provide insight into what it's like to be a Great Lakes customer, via the first-hand experiences of a current borrower.
The Services You Get with Great Lakes
Student loan servicers all perform the same basic task; Great Lakes is no different.
The federal government sends your student loan information to Great Lakes whenever those loans are issued to your school. The servicer contacts you to let you know they're handling your student loans.
At that point, you head online to set up an account with them and track your student loans. Each new semester in which you get a loan amount sent to your school, those loans will show up in your account.
Once you graduate from school or drop below half-time, you'll have a six-month grace period in which you don't have to make payments and interest does not accrue on your account.
When that six-month grace period is up, though, your interest rate will kick in and interest will start compounding. Great Lakes will then ask you to start making payments on your loan.
This is where their role in your student loan becomes the most critical. You'll work with Great Lakes to understand which repayment plan best fits your situation. Since there are eight different types, this advice is invaluable because all those different plans can be confusing.
As you're using Great Lakes, remember that they are there to help you understand how to most effectively manage your student loans.
If you have questions about which repayment plan is best, ask their phone reps or send them an email. If you want to know how much interest you'll pay over the life of your loan based on your current monthly payments, ask them.
As a borrower, asking questions is a crucial tool in making sure you're equipped to be an expert in handling your loans.
In summary, Great Lakes' services encompass getting your loan from the federal government, informing you that they're your servicer, providing you basic information to get you set up with your online account, implementing the payment plan you choose and processing your monthly payments.
What You Can Do to Make Sure You Succeed in Your Relationship with Great Lakes
The key to succeeding in your interactions with Great Lakes is to become an expert in your loans. Some of the aspects of your loans that you should know, or at least know how to find quickly, are:
The type of loans you have (subsidized vs. unsubsidized, Direct loans, Stafford, etc.)
The type of repayment plan you're in (standard, graduated, income-driven)
Your loan balance (principal plus interest)
Your monthly payment
Another interesting data point is how much your loans go down or up each month. You can find this out by signing up for a free credit score website like Credit Karma. In your account, you'll see how much each student loan balance went up or down the previous month.
If you're in an income-driven repayment plan (PAYE, REPAYE, IBR, etc.) and your payment is either $0 or really low, then you might see that your loan balances have gone up despite your payment. This is because interest on your loans is calculated every day. So, if your payments don't exceed the principal payment and the interest that's accrued, then your balances won't go down.
This is information that Great Lakes can tell you but I've found that seeing how much your balance is decreasing or increasing provides a good visual reminder of where you're headed.
As we mentioned in the previous section, gaining an understanding of your student loans is key to you having a sense of control over them. Plus, if you're an expert in your loans, then you can properly understand and analyze the advice that Great Lakes gives you.
In most cases, their advice about which repayment plans to choose and how to go about re-certifying an income-driven repayment plan will be solid. However, there could be situations in which a phone rep who is new or having a bad day may provide inaccurate information.
Great Lakes Customer Complaints and First-Hand Experiences
Trying to understand how good or bad a student loan servicer's customer service is can be pretty tough because it is dependent on finding the right source of data.
We like to use the Consumer Financial Protection Bureau's Consumer Complaint Database. It is here that we can go in and find out how many complaints have been filed with the CFPB, the topic of those complaints and the word for word grievances of borrowers.
Here is a list of the complaints filed by consumers in the two months previous to publishing this review:
Great Lakes: 60
Navient: 766
Nelnet: 164
Of the 60 complaints filed with the CFPB, the CFPB notes that they were split up in the following categories:
Interactions with servicer: 43
Credit reporting issues: 9
Debt collection: 8
We read through the complaints ourselves and found that there weren't very many recurring themes and that, in many cases, the complaints were one-sentence long without much explanation. We noticed that there were instances in which the borrower said that Nelnet misinformed them about various types of information.
What's important to note is that, according to MarketWatch, both Navient and Nelnet have fewer customers but they have considerably more complaints than Great Lakes. This data tells us that the chances of you having a positive experience with Nelnet are higher than with the other two companies.
In an effort to give you insight into the average borrower's experience, we did an email interview with Marissa Connell, a 2016 graduate of Loyola University Chicago and a customer with Great Lakes.
We asked Connell a variety of questions about her experience, from what her interactions were like to how their website is and how she'd sum up her experience with Great Lakes.
Connell told us she first contacted Great Lakes when she graduated and had to choose a repayment plan to fit her financial means.
"I wasn't going to be able to make the full payments they were asking for, so they worked with me," The changes to my account were visible almost instantly, as well."
When we asked about what it's like to use her online Great Lakes account, she said it's "extremely easy to figure out where to go to make payments."
She said she's had issues with the payment page every once in a while and that logging in requires a username, PIN and password that can be tough to remember at times.
However, she told us her overall experience with Great Lakes has been good. When we asked her to tell us about an experience that sums up her opinion of Great Lakes, she told us:
"Honestly, it's got to be when they adjusted my payment plan in a snap. I wish I had a better example, but I haven't had to interact much with the website or customer service. I go on once a month to pay my loans and I've never had such a serious issue that I couldn't solve through website tools."
Our Bottom Line
In our opinion, Great Lakes is really strong in their customer service. The CFPB Customer Complaint Database indicates that the company gets at least half as many complaints as Nelnet and less than 10% of the complaints that Navient gets even though it has more customers.
As for downsides, there's really not much we can say. Our research shows that they were involved in a 2017 lawsuit about the Public Service Loan Forgiveness, a lawsuit that came during a season in which news trickled out that certain borrowers though they fulfilled the criteria to have their loans forgiven through the PSLF program but didn't.
Overall, we think that, as long as you educate yourself about your loans, the research we've done indicates that you'll have a positive experience with Great Lakes.
» For Further Reading: A Beginner's Guide to Student Loan Servicers