Green Gobbler Reviews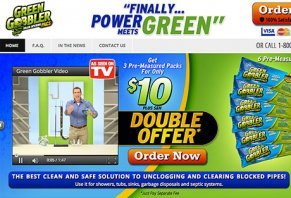 Green Gobbler is a brand of individually packaged drain opener that's claimed to contain EPA-approved ingredients that are safe for most piping materials.
About Green Gobbler
Green Gobbler is not the latest Marvel villain – it's the name of a drain opener sold by Telebrands that's claimed to be EPA-approved and safe for all pipes. Because Green Gobbler comes in pre-measured packages, the company claims all you have to do is pour it into the sink and add hot water, while grease, hair, soap scum, paper, and other matter is "gobbled" away.
From a company perspective, Telebrands has been in the "As Seen On TV" business for 30 years. Recently, they had a fall from grace with the Better Business Bureau, with their accreditation removed and their rating dropping from an A- to a C, partially due to the length of time it takes to resolve complaints.
How Green Gobbler Works
They don't specifically list the ingredients of Green Gobbler, except to say it's a proprietary formula that's "eco-friendly" and safe for all pipes, including PVC, copper, or metal. They add it can be used with garbage disposals and septic tanks, and that is also EPA-approved.
To use Green Gobbler, you are instructed to take one of the pre-measured packages and pour its contents down the drain of any clogged sink, shower, or tub. Next, add hot water and they promise any debris will be emulsified and dissolved. However, they do not give a specific timetable for this to happen.
Green Gobbler Pricing and Returns
Green Gobbler sells for $16.99 ($10 plus $6.99 shipping and handling) for 3 packages. At the time of your order, you can add another 3 packages for $6.99 in additional S&H fees.
Telebrands touts a 100% Satisfaction Guarantee, however, since this is a "consumable" product, you can only get your money back if you return it unused/unopened. In addition, you must include a written explanation that must be "detailed" as to why you did not like Green Gobbler. And even if they do approve your request, you will only get back your initial $10—not any S&H fees.
Bottom Line: Is Green Gobbler a Scam?
Green Gobbler may unclog certain drain problems, but there are several things we'd like to point out.
First, we don't know what's in it. It says "EPA-approved" but not "natural" or "organic." This could mean it's made from sodium hydroxide, an ingredient commonly found in many household drain cleaners that is considered safe, but still needs to be carefully handled. It could also mean it's just baking soda and vinegar, a popular home remedy that does work to open clean drains from hair and debris.
Also, Green Gobbler comes in pre-measured packages, which essentially means you get less for your money than a bottle (If you buy 3, it's $5.60 per use). And, if you do open one and pour it down the drain and it doesn't work as advertised, you will still not get your money back because of Telebrands's policy on consumable items.
Speaking of Telebrands, it should be noted again that their BBB rating just took a precipitous drop. In the last 3 years (as of August 2014) they had 1684 complaints, primarily about their products, advertising, and billing practices.
The solution? We suggest trying these natural drain cleaning alternatives as well as taking these steps to prevent future clogs before buying Green Gobbler.
---
Not helpful

By Michelle L.

,

Illinois

,

Apr 25, 2020
Verified Reviewer

Overall Experience:

Not only did this product not un-clog my kitchen drain problem, but when trying to get a refund from the company so far after 2 and 1/2 weeks I have had no luck. In addition to not yet getting my refund I went on a chat page with the company and so so rudely spoken to and berated from customer service manager Anthony Ferraro that I can't believe he even holds that position. He is a terrible choice for representation of customer service for this company. I started out asking for an updated status on my refund as it has been 2 weeks since I completed my refund form as asked. When Anthony came into the chat he asked for my patience and said the process would be prolonged due to my lack of having a receipt and the COVID-19 crisis. He then went on to be even more nasty and say "maybe you have heard of it, it's going on in the country right now." It was completely uncalled for and very nasty. He continued to say things with attitude when I never said anything to him in such a manner. He then proceeded to say maybe I was projecting something onto him. I could not believe this man works in customer service. I will continue to pursue my rightful refund as they claim a money-back guarantee and I will never buy any products from this company or recommend to anyone else.

Bottom Line: No, I would not recommend this to a friend

---

This product is useless.

By Pauline E.

,

Pembrokeshire, Wales, United Kingdom

,

Apr 22, 2020
Verified Reviewer

Overall Experience:

Bought this last week hoping it would unblock my toilet, followed the instructions carefully, left it overnight as suggested, flushed the toilet the next morning, result - nothing! Toilet is still blocked and I've wasted money on a completely useless product?

Bottom Line: No, I would not recommend this to a friend

---

Advertisement

---

This is useless

By Pat B.

,

Florida

,

Jan 22, 2020
Verified Reviewer

Overall Experience:

This has got to be the worst drain cleaner for any amount of money. I have used 2 packs gallons of hot water and still it's clogged. You people are making money scamming people. This stuff should be taken off of the market.

Bottom Line: No, I would not recommend this to a friend

---

TRY IT

By JP Y.

,

California

,

Jan 6, 2020
Verified Reviewer

Overall Experience:

Try it, maybe it will work for you. It did not for me. Customer service sounded like he was on lunch and talking to me and still chewing his food. So unprofessional!! Now I have to go back to Home Depot for my refund, since it did not work for me!

Bottom Line: No, I would not recommend this to a friend

---

Advertisement

---

This works

By Lyn W.

,

Houston, TX

,

Jan 2, 2020
Verified Reviewer

Overall Experience:

I saw the Green Gobbler commercial on TV. About 2 days later I purchased it. IT WORKS IT WORKS! I tried Drano, liquid plumber, a plunger, everything, and my tub was still stopped up. I would recommend this product to ANYONE and EVERYONE because IT WORKS!

Bottom Line: Yes, I would recommend this to a friend

---

Where? Does nothing!

By Diane G.

,

Utica, NY

,

Dec 20, 2019
Verified Reviewer

Overall Experience:

I purchased Green Gobbler Drain Opener from QVC since I have a tough kitchen sink drain clog and it is supposed to be guaranteed to work. I specifically followed the directions but, the drain is still clogged, the product did absolutely nothing to unclog the drain.

After using the product, I noticed that it discolored the inside of the sink drain. I had also used Green Gobbler in my bathroom sink because the water was going down slowly but, Green Gobbler did not work. Nonetheless, the bathroom sink has a mechanism above the drain that rises up and down when the lever on the faucet is pressed if you want to fill the sink with water. The mechanism is a deep bronze color, which matches the faucet but, after using Green Gobbler, it removed the bronze color from the mechanism and now the mechanism is a brass color.

Throughout the years, I have used drain uncloggers and none of them have ever caused any damage. I am very disappointed not only because the drain is still clogged but, because of the damages the product caused in my two sinks.

Bottom Line: No, I would not recommend this to a friend

---

Did not work...do not buy...zero stars!

By Manetta C.

,

Georgia

,

Dec 2, 2019
Verified Reviewer

Overall Experience:

Purchased Green Gobbler Power Plunger. Used as directed. Did not work! Also, I bought it because it said GUARANTEED! However, if it's open...no money back...I read that part after I used it and it DIDN'T WORK! DO NOT BUY. TERRIBLE guarantee! How will you know if it works or not if you DO NOT use it?! SCAM.

Bottom Line: No, I would not recommend this to a friend

---

This does not work

By Patricia F.

,

Virginia

,

Nov 21, 2019
Verified Reviewer

Overall Experience:

I ordered a two-pack of 3 packages. Tried 3 times per directions. Bathroom sink. Could not be a "bad" block. Did not work at all. Worthless. Waste of $21.00! Never again. I will not recommend this product to anyone. I will try another national brand.

Bottom Line: No, I would not recommend this to a friend

---

Didn't work

By Brian D.

,

Virginia

,

Nov 20, 2019
Verified Reviewer

Overall Experience:

I read the reviews and I thought I would try it on my kitchen sink. Poured one container in and let it sit for 2 hours and then poured boiling water down the drain...NOTHING! So I poured the 2nd bottle in and let it sit overnight. In the morning I again poured boiling water down the drain. Didn't work AGAIN...so I'm trying a different product.

Bottom Line: No, I would not recommend this to a friend

---

Negative

By Andrea F.

,

Massachusetts

,

Oct 30, 2019
Verified Reviewer

Overall Experience:

Tried product as recommended and it does not at all work. Waste of money, plus how can you return it dissatisfied if you don't use it? Lousy, lousy, lousy, lousy, lousy, smelly, smelly smells of sulfur.

Bottom Line: No, I would not recommend this to a friend

---

Oh, yeah! Great results.

By Margaret W.

,

Richmond, VA

,

Jul 10, 2019
Verified Reviewer

Overall Experience:

I have grandchildren and a daughter that go through a roll of toilet paper in a day. I don't skimp either. Due to this, my toilet had a clog from hell. I plunged and snaked my clogged toilet for over an hour. I was desperate for any kind of help.

After my family left, I took a trip to my hardware store to find a solution. The ONLY thing on the shelf that stated it was for toilet use (everything else touted drains), was Green Gobbler. The name sounded gross, so I figure it had a gross job to do, and I purchased it.

I came home, put a bag into the toilet, which was still clogged and the water level (and stuff) was almost to the top. I waited for about 30 minutes and plunged again. PRESTO! I heard that beloved gurgling sound as the whole bowl emptied.

At $11.99 for 3 packets, it beat the heck out of a $150 plumber.

I can't say it would work all the time for every occurance, but it did wonders for me. I am getting some for my daughter's home today. I have 2 packets left and will let you know if they produce the same outcome. Thanks Green Gobbler (sounds like a superhero and works like one!).

Bottom Line: Yes, I would recommend this to a friend

---