Grill Circle Reviews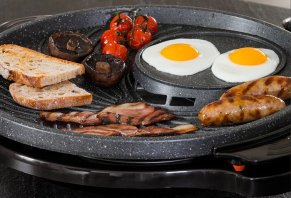 Using dual cooking zones, raised channels to drain away oil, along with an adjustable temperature, Grill Circle promises to deliver healthier, more convenient meals.
What Is Grill Circle?
Grill Circle is an indoor/outdoor 7-in-1 countertop device that promises to help you grill, sauté, boil, steam, fry, BBQ, and fondue in one easy-to-use package.
With its round shape, the device features dual cooking zones: Raised griddle bars that claim to create delicious "steakhouse results, while allowing oil, fat, and grease runs down to the removable drip tray. The integrated flat hotplate can also be used to heat saucepans, cook directly, or even steam vegetables.
Grill Circle's adjustable temperature control features five different settings (60C-210C) for the right amount of heat, while the cool touch handle allows you to move it around—or even place it on the table as a warmer—without having to worry about burning yourself.
Then, when you're finished cooking, the base and non-electrical parts are dishwasher safe, or the premium nonstick surface can be rinsed off in the sink, without scrubbing or creating a mess.
The Grill Circle commercial places a lot of emphasis on the fact that it could help make the cooking process easier and healthier. But is this what you might realistically expect once you have it in your kitchen? Keep reading, and we'll help you make a more empowered purchase.
How Much Does Grill Circle Cost?
One basic Grill Circle (device only) is priced at £69.99 / €84.99, including free Standard shipping within the UK.
However, you can also upgrade to the Deluxe offer for an additional £10, which adds a pot and steamer, recipe guide, and four fondue forks.
All Grill Circle orders come with a 30-day money back, less P&P. In order to request one, you'll need to contact JML Direct's customer support department at 0800 781 7831 FREE or via the contact form on their site.
How do these prices compare to the competition?
Grill Circle vs. Other Electric Grills & Griddles
If you've already browsed elsewhere online, you probably already know that Grill Circle is up against dozens (perhaps even hundreds) of competing electric, multi-zone grills and griddles. After a quick search on Amazon.co.uk, here was a handful we encountered:
| Brand | Price | Size / Weight | Special Features |
| --- | --- | --- | --- |
| Grill Circle | £69.99 / €84.99 | 50cm W x 40cm D x 10.5cm H; 3.7kg | Nonstick coating, Adjustable temp., Removable drip tray |
| George Foreman 10-Portion Grill and Griddle | £49-£51.99 | 57.5 x 33.5 x 13 cm; 3.7 Kg | Grill w/floating press hinges, dual temp. control |
| VonShef Half Traditional Raclette Grill | £31.99 | 56.8 x 26.8 x 19.6cm; 4.7 Kg | 2-tier design, 2 cooking surfaces, Removable grill plates, 8 individual mini raclette pans, Variable temp. control |
| Charles Jacobs Large Electric Grill | £34.99 | 50 x 32 x 13cm; 4.1 Kg | 2 surfaces (flat & raised grill w/press), nonstick, adjustable temperature |
| Andrew James Table Top Grill & Griddle | £28.99 | 60 x 6 x 31cm; 2.7 Kg | 2 surfaces (flat & raised grill), 8 wooden spatulas, no adjustable temp |
Given all these options, how can you decide which is best for you? Like most other cooking and kitchenware products, it largely comes down to your specific needs and preferences.
For example, if you're focused primarily on price, Grill Circle seemed meaningfully higher than many other options. In fact, you could purchase two of the Charles Jacobs models for the same price as one Grill Circle.
Despite its higher price, Grill Circle also tied with the Charles Jacobs model for the smallest surface area, while the Andrew James model was the largest. From a weight perspective, Grill Circle seemed to fall somewhere in the middle.
With all of this said, each of these products was rectangular, so if a round shape is your primary preference, Grill Circle seemed to be the only game in town.
What Can We Learn From Reviews For Grill Circle's Manufacturer?
While Grill Circle was too new at the time of our research to have garnered any online customer feedback, the device is manufactured by JML Direct, a large UK-based company that's offered a range of ASOTV products since 2002.
Despite the company's size and the length of time they've been in business, we didn't find a whole lot of consumer reviews. The few we encountered typically referenced lower product quality than expected, along with less-than-stellar support experiences.
Does this mean you'll experience any of the same, whether with JML or Grill Circle, specifically? Of course not, but we're here to help ensure you have a complete picture of the situation before handing over your hard-earned money.
Based on what we've learned, let's go ahead and come to an informed conclusion about Grill Circle.
Our Final Thoughts About Grill Circle
As mentioned earlier, if your main factor is that your electric grill or griddle is round, Grill Circle is currently your only option. The manufacturer also seems to stand behind it with a 30-day refund policy if you're dissatisfied, so you might not be out much more than return P&P for giving it a try.
As consumers ourselves, though, we think it's important to raise a couple of points before you buy.
First, if you're planning on cooking for more than 1-2 people at a time, Grill Circle's size—while perhaps making it convenient for a small apartment or dorm room, or while traveling or even camping—might not make this a quick or easy process.
This might be especially pertinent if you'll be using the flat portion frequently, as it only appears large enough to fit a single egg.
Second, while the device features adjustable heat, the flat and raised portions can't be adjusted individually for cooking two different foods. This same concern could foreseeably come into play when attempting to boil or steam foods using the cookware included in the Deluxe set.
Next, ChoosyKitchen.com recommends looking for the following features when choosing your next electric grill:
Built-in temperature gauge
Adequate power and cord length
Adjustable thermostat up to 315C (to properly cook meat, like steak)
Removable cooking plates or grates
Floating hinge
Although Grill Circle seems to tick many of these important boxes, it doesn't come with a built-in temperature gauge, a floating hinge, or the ability to reach up to 315C. This is something that many other competitors, including lower priced options, often include.
Finally, it's worth pointing out that the "health" of your food largely depends on the seasonings and other ingredients present in your recipe, such as salt, preservatives, and so forth. As such, while draining away oil and grease can certainly reduce fat content, this alone won't necessarily make you or your food healthier.
What did you decide? Were you pleased with Grill Circle's performance, or did another model better suit your needs? Give us all the details by writing your review below.