Gripeez Reviews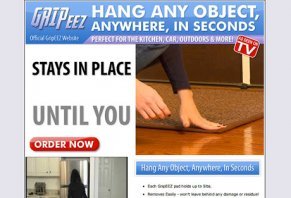 Gripeez is a special adhesive pad they say allows you to hang anything under 5 lbs to almost any surface.
About Gripeez
Gripeez practically dares you to "hang any object, anywhere" with its special clear adhesive pads. They say Gripeez replaces tape, hammer-and-nail, or any other hanging method, are washable, and reusable up to 1,000 times.
The Gripeez website is run by Permission Interactive, a company specializing in setting up web stores for ASOTV products. The BBB has accredited this company since 2000 and they currently have an A+ rating; however, no information is available about the actual seller of Gripeez.
How Gripeez Works
Gripeez is a small pad with an unnamed adhesive on both sides that give it its grip. To use, they say simply take a Gripeez pad and stick it to any non-porous surface, including stainless steel, tile, plastic, wood, cement, glass, metal, and non-textured drywall. (They note that dirty or uneven surfaces may cause Gripeez not to work.)
Next, take any object 5 lbs or under that you want to stick and press it on. According to the website, in "seconds" your item will adhere to the Gripeez for as long as you need it to. They say it's great for decorations, posters, cell phones, tablets, and more. It suggests to cut a Gripeez pad into fourths and use on each corner of a picture frame or poster for better grip. If you hang it crooked, they say you can easily separate the object and reattach.
They claim you can also use it to get organized, hanging things like razors and shampoo bottles in the bathroom or using with Gripeez hooks (sold separately) to hang keys in the house. They state you can also use to secure mats on the floor and in the car to hold a GPS; Gripeez claims it can be used in extreme cold outdoors.
They say you can also easily remove Gripeez without leaving any sticky residue or holes. They tout that it is safe and non-toxic. Even if it gets dirty and loses its grip, they say you can wash it and put it to work again, up to 1,000 times.
Each Gripeez order comes with:
10 Gripeez (3"x2.5")
10 Gripeez "free" (extra S & H)
Gripeez Pricing, Shipping, and Returns
Gripeez costs $10 plus S & H of $4.95 for 10 - but they automatically throw in 10 more Gripeez for another $4.95 S & H making the total $19.90 for 20 Gripeez. They promise your order will ship in 48 hours. If you do not like Gripeez they claim they will return your money (minus the initial S & H and what it costs to ship back) as long as you return the items with 30 days along with a "detailed explanation" of why you did not like it.
The Bottom Line
Sure, at $1 a sheet, Gripeez could be considered a little pricey. However, if it works as advertised, then it's high price might be worthwhile. But does it?
Based on 31 customer reviews here on HighYa (as of 12/31/15), Gripeez had an average rating of 2 stars, with only 16% stating that they'd recommend it to a friend. Overall, it seemed like most complaints referenced that it didn't work as well as the commercial made it seem (or at all)—more than one actually called it "useless," as well as difficulty getting ahold of customer support. Several customers also complained that they never received their orders, despite being charged.
Based on the similarities among all these complaints, what's our opinion? We think your money would be better spent on a mainstream product from a local retailer. Otherwise, your frustrations might rise as your cherished pictures fall to the floor.
22 out 22 people found this review helpful

Absolute garbage

My precious framed wedding picture stayed up on the wall for about two hours. Now the frame is ruined with shards of embedded glass. I should have known better. The stuff is garbage. Save your money. Save your photos. Save yourself the aggravation.

Bottom Line: No, I would not recommend this to a friend

---

23 out 23 people found this review helpful

I wasted my money.

By Barbara D. Murphy

,

Clearville, PA

,

Jul 8, 2015

I tried hanging things on metal (washer and refrigerator), wood (door), and pegboard. Nothing stayed up. I chose light objects, a small pan, a light sweater, a light robe. All fell within a minute. I am thoroughly disgusted. Lesson learned. I won't order from a TV ad again.

Bottom Line: No, I would not recommend this to a friend

---

Advertisement

---

16 out 16 people found this review helpful

Empty promises

By Anonymous

,

Rancho Cucamonga, CA

,

Jul 9, 2015

My first issue is the length of time it took for the product to arrive. It was near 2.5 months.

Second complaint is the product at first use seems as described in the infomercial and seems sturdier than one could imagine but within minutes whatever you have hanging will soon become floor art. Over and over I tried hanging objects and not even the lightest thing would stay.

And the very last problem is trying to get a hold of a live representative. That in itself is literally impossible. Whatever you do, please don't buy this product.

Bottom Line: No, I would not recommend this to a friend

---

17 out 17 people found this review helpful

Crap and scam because no customer service to return

By Rebecca Morris

,

Virginia

,

Jul 10, 2015

If you try to buy they have an automated person trying to sell you ten other items. I called back and told them not to send anything and to cancel. Someone called me and I told them not to send but they did anyway. My lovely picture fell and was damaged within an hour. And guess what, no one answers customer service. How do these guys get away with something like this on TV? I will call my MasterCard and dispute because I am done calling.

Bottom Line: No, I would not recommend this to a friend

---

Advertisement

---

20 out 21 people found this review helpful

Total Crap

By MaLinda S.

,

San Diego, CA

,

Jul 13, 2015

Product took almost three months to arrive, first of all.

Once they did arrive, I tried hanging some small canvas photos on the wall, (each weighs maybe a half pound (pound at most), and each one fell after a few hours. The one that lasted the longest fell after about 24 hours. I also tried using the "Gripeez" in my car to hold my cell phone to the dashboard, but when I tried removing it, the "Grippeez" came with it. It is not as easy to just "twist it off" as the ad claims. It's a worthless product. I'm glad I didn't spend too much on it, at least.

Bottom Line: No, I would not recommend this to a friend

---

21 out 21 people found this review helpful

Garbage

By Christy

,

Aurora, CO

,

Feb 22, 2015

I cleaned the wall and tried to hang a cork board but it fell within 5 minutes. I tried three times but it kept falling. Don't waste your money please!

Bottom Line: No, I would not recommend this to a friend

---

17 out 18 people found this review helpful

Marketing scam - 100% S&H

By Johnnie Ringo

,

Washington D.C.

,

Jul 17, 2015

I fell for it. Ordered 2-sets at $10, but wait, they "give" you another set for an additional S&H charge. So $10 for the product and $9.90 for shipping and handling for something the size of stamps?

Then, instead of just taking the order, they parade half a dozen other products that I didn't want before getting to the final order page.

They didn't show me my total with the massive overcharges for S&H until after I placed the order. I got taken and I regret it.

Bottom Line: No, I would not recommend this to a friend

---

19 out 19 people found this review helpful

Doesn't Work At All

Jul 18, 2015
Verified Reviewer

I have tried to hang various lightweight items using Gripeez, and have yet to have something stay in place for longer than a day. I'm talking items as lightweight as a small wall calendar and a piece of fabric. Have also unfortunately had two items break from falling off the wall (one was a snowflake made out of popsicle sticks that my son made, so it was lightweight). Very disappointed.

Bottom Line: No, I would not recommend this to a friend

---

22 out 22 people found this review helpful

Horrible Customer Service and Company

By Jennifer L

,

Leeds AL

,

Apr 12, 2015
Verified Reviewer

We order this product through the internet site and the way they have it set up you don't have a chance to go back and change your order if you don't like your total purchase. Then when we got them, we find out that you can't stick them to any thing porous (like sheet rock, paneling, wood), so if your house is made of these things, they won't stick period. The infomercial states that it will stick to anything. NOT TRUE.

Then to top it all off, we state getting calls from another company claiming to be with Gripeez, trying to sell us something else. They have sold our phone, address and part of our credit card information. When I try to call their customer service all I get is a voice mail. No response. Then when I send them an email all I get is an I am sorry. Avoid this company. Total RIP OFF.

Bottom Line: No, I would not recommend this to a friend

---

16 out 16 people found this review helpful

Wow, are you kidding me?

I wish I had read the reviews before I wasted $10 plus $9.95 for s/h. What a scam, indeed. I waited several weeks for the company to send me the item. I did exactly what the instructions said to do, I hung 2 cork boards with Gripeez all around the frame, hung light weight necklaces on both boards and within 30 minutes, the boards and necklaces came crashing to the floor.

I left a detailed email on their website and when I arrived home, there was a message from a gentleman from the UK telling me they do not make Gripeez and he suggested I try another route. I will call my bank tomorrow to ask that they reverse the charges.

In the future, I will also be sure to change the channel when Infomercials try to make something look better than it is. I thought bate and switch is against the law.

Bottom Line: No, I would not recommend this to a friend

---

20 out 20 people found this review helpful

Horrible!

By Jessica

,

Fremont, IN

,

May 13, 2015

I purchased this online, new, and had high hopes for it. I started by attaching my old iPad to the wall with a pillow under in case it fell. It seemed to stick ok so I got brave. I used four full strips to hang my wedding photo (less than 5 pounds and I used four strips) and it fell. It ruined my photo. It only held for about 5 hours.

Bottom Line: No, I would not recommend this to a friend

---