Grubhub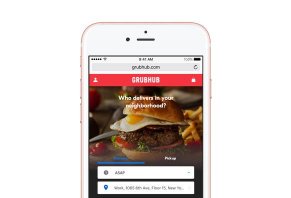 Founded in 2004, Grubhub Holdings Inc. connects 85,000+ restaurants in 1,600+ U.S. cities with diners, who can pick up their food or have it delivered to their doorstep.
Grubhub Review: Best Food Delivery Service?
Advertised as the nation's leading online and mobile food ordering company, Grubhub promises to help connect local takeout restaurants with millions of diners and the food they love.
In fact, the website indicates their platform provides delivery or takeout from more than 85,000 restaurants in over 1,600 U.S. cities, in addition to London. Together, they promise to offer the largest selection of restaurants among the competition, with 423,000+ orders processed daily.
Just because Grubhub's been around since 2004 and processes all of these orders each day, are they necessarily the best option for you? We'll quickly walk you through everything we learned during our research.
How Does the Grubhub Work?
Whether using the Grubhub app or website, you'll start by entering an address on the home screen, or by browsing by city, restaurant, or cuisine categories.
Based on your choices, you'll see a list of restaurants that deliver to your address, along with recommendations based on what people near you are enjoying. Or, as their FAQ clarifies, "restaurants that are within a reasonable distance offering pickup." Keep in mind that each restaurant determines their own delivery range, so you might notice that some will go farther than others.
Each listing will include an image, as well as:
A brief description (e.g., lunch specials, hamburgers, Chinese, Latin American, etc.)
Number of diner ratings
Average star rating
Overall pricing level (based on a metric ranging between one and five dollar signs)
Minimum order amount
Distance to your location
Using these criteria, you can further filter results based on whether or not they offer free delivery, delivery time available, if order tracking can be used, if the restaurant is currently open, price, and star rating.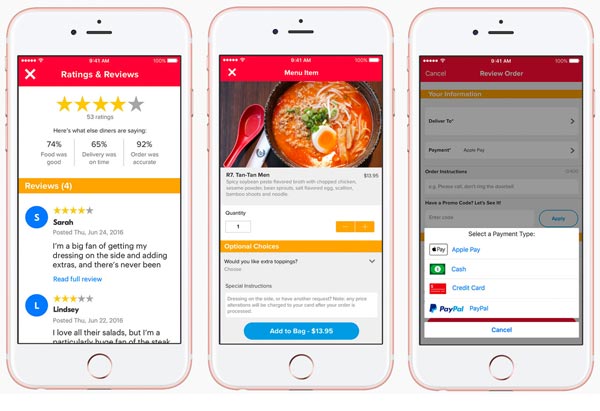 Credit: Grubhub Holdings Inc.
Clicking on a restaurant allows you to view the menu items available, their descriptions, and pricing. It's here that you can choose the quantity, delivery or pickup (if available), set a date and time (up to four days in advance), select options (protein, dressing, etc.), and leave special instructions.
Then, add your order to your bag and check out when you're ready. You can pay using Apple Pay, Android Pay, PayPal, eGift and credit cards, or cash, as well as using Venmo via the app.
After your order is submitted, Grubhub will send the details to the restaurant, who will confirm that your food is being prepped. They'll also email you a receipt and text you a confirmation.
If you placed a pickup order, the restaurant will let you know when to expect the food to be ready, at which point you can grab it at your leisure. Make sure that you have an ID handy in order to verify you're the order's rightful owner.
If you placed an order for delivery, Grubhub offers real-time order tracking and push notifications via the app "so you know exactly when to dash to the door for your delicious meal." You can also check the status by reaching out to the restaurant (their phone number is located in the confirmation email you received), or to the company's support line.
If you choose to set up an account, Grubhub will save your history so you can see everything you've ordered in the past. This not only allows you to Express Reorder anything in just a few clicks (as well as make any adjustments you'd like), but you can also view and print receipts for expense tracking purposes
How Much Does Grubhub Cost?
According to Grubhub's FAQ, "the restaurants we work with are contractually obligated to match the prices they have set on their menus." However, if you opt for delivery instead of pickup, the restaurant might charge a delivery fee, which they set themselves and would apply even if you didn't order through Grubhub.
However, most restaurants will have a minimum order requirement, which can vary widely depending on the establishment.
Along with your past order details mentioned above, you'll also have the ability to save a credit card for future use to help make the process more streamlined.
If you run into any issues, Grubhub's 24/7 customer support can be reached via phone at (877) 585-1085 or via live chat on their site.
A Look at Grubhub Customers Reviews
We encountered more than 470,000 combined user reviews between iTunes and Google Play at the time of our research, who had given Grubhub's apps an average rating of about 4.6 stars. Compliments frequently referenced ease of use, low/no fees, and the wide selection of restaurants and dishes available.
On the other hand, the relatively few complaints tended to cite delivery issues (delays, aloof drivers, incorrect orders, etc.), functionality problems, and lack of available options. On both platforms, the company responded to much of this feedback.
There were another 1,000+ customer reviews on Yelp, where Grubhub held an average one-star rating, and a meaningfully higher average rating of three stars among 2,100+ reviews on Trustpilot. Again, most of these compliments and complaints were related to the company's mobile app.
Grubhub vs. Other Online Food Delivery and Pickup Services
The HighYa team has written about many popular food delivery services and their competitors, including DoorDash, Caviar, Uber Eats, OrderUp (owned by the same company as Grubhub), and Postmates.
And after researching all of these services, we've found that choosing the best option fundamentally comes down to two factors: 1. Availability (the number of restaurants in your location), and 2. what you'll pay:
| Service | Pricing | Availability |
| --- | --- | --- |
| Grubhub | Free; each restaurant sets their own delivery fee, if any | 85,000 restaurants in over 1,600 U.S. cities, as well as London |
| DoorDash | Delivery fees vary; waived on orders $15+ | 600+ U.S. cities and 110K restaurants |
| Uber Eats | $4.99 delivery fee, add'l fees possible depending on the time | Currently only available in 12 U.S. cities |
| Postmates | $3.99 - $9.99 delivery fee per order; possible $1.99 small cart fee; Blitz pricing during busy times | 25,000 partner merchants |
| Caviar | 18% service fee; $1.99 delivery fee | 20 U.S. cities (Boston, Brooklyn, Chicago, Dallas, Fort Worth, Greater Philadelphia, Los Angeles, Manhattan, Marin County, Orange County, the Peninsula, Philadelphia, Portland, Queens, Sacramento, San Diego, the San Francisco Bay Area, Seattle, Seattle Eastside, Walnut Creek, DC) |
Pulling all of these details together, should you go ahead and place an order through Grubhub?
Our Final Thoughts About Grubhub
While many of the services we've written about in the past offer free pickup, Grubhub's no-fee structure and guarantee that you'll pay the same prices as in-restaurant makes them the least expensive so far. As a result, if this is your top criterion, you won't currently pay any less.
Grubhub has also been in business the longest among their online food delivery competitors, and they claim to provide access to the largest network, which consists of 85,000 restaurants in 1,600+ U.S. cities (and London).
However, if you're looking for additional items, such as liquor and alcohol (or even Craigslist items if payment is arranged in advance), Postmates is one of the only games in town. Depending on the retailer your order from, your order total, and the time of day your order is placed, though, you could pay a hefty handful of fees.
Another thing to keep in mind is that while their apps seemed to come with mostly positive online customer feedback, Grubhub held a D- rating with the Better Business Bureau, based on 210+ customer complaints over the past three years, as of 8/20/18. Most related to ordering, delivery, and customer support issues, and all but 14 were answered by a company representative.
Avoid Grubhub

By Michelle H.

,

Frisco, TX

,

Dec 27, 2019
Verified Reviewer

With all the delivery app choices out there, AVOID Grubhub and thank me later. We placed an order through the app for a local restaurant at 4:38 this evening. At 5:08, the restaurant called and asked if I had received the order. I had not. My app still showed the order had not been picked up. Apparently, a driver had shown up and picked up my order and shortly after, a second driver showed up to pick up my same order. I could hear the driver in the background. I told her we still wanted our order. Within 2 minutes I got a call from Grubhub customer service, explaining the same thing. They apologized for the inconvenience and asked If I was willing to wait for the order to be remade which I was.

I watched the app show my order as picked up and on the way and then at 6:30 it showed the order had been delivered at 6:15 which it had not been. I called customer service and they explained the restaurant "refused" to remake the order. I asked to speak to a manager and while on hold with Grubhub, I called the restaurant and spoke to the same girl who had called me initially. She said they had remade the order and given it to the second driver who came back in shortly after leaving and said I had canceled my order.

Once the supervisor got on the phone he proceeded to read a script taking zero accountability, blaming the restaurant, and saying the order had been refunded. I understand mistakes can happen but what I have zero patience for is LYING. Grubhub lied to me and the restaurant. I called the supervisor, Mark, out on the lies and explained I wanted to know what happened. The restaurant had not refused to remake the order. He promised to research and call me back which he did within the hour. Only to tell me that they had recorded calls with the restaurant and had spoken to Christian and HE refused to remake the order. When I said Christian was a woman and not a man, Mark got quiet and said thank you and the call was over. This is not an ethical company and certainly not a company I will EVER do business with again. This isn't how you earn or retain customers especially with so many options out there.

Pro tip - Don't lie to your customers when you screw up - especially not while they are hangry.

By the way Grubhub - it's 5 days before Christmas and I have a lot of things to do, however, as a matter of principle, I have nothing better to do with my time other than leave a negative review in every single social media and review website there is letting people know what a shady company you really are.

Bottom Line: No, I would not recommend this to a friend

---

Grubhub doesn't deserve one star!

By Dianna K.

,

New York

,

Nov 13, 2019
Verified Reviewer

Grubhub doesn't even deserve one star. I placed an order from McDonald's for my cousin. He was hospitalized so the food would go there. I added very detailed information about the hospital's location (including cross street). I also added the room number and his name. I received a call from the driver but I couldn't understand a word he was saying because he could not speak English. The driver harassed me with over three phones calls. Each time I could not understand a word he was saying. I called Grubhub and the customer service gentleman had broken English so it made it very hard to communicate with him as well. I finally found out that the driver had left the food in the hospital lobby. It took over an hour to get this situation settled. The food was cold and inedible by the time my cousin received it. I have filed a complaint with the Better Business Bureau.

Bottom Line: No, I would not recommend this to a friend

---

Advertisement

---

Why offer timed delivery if you are going to deliver early and drive off when nobody is home yet?

By Michael P.

,

St. Clair Shores, MI

,

May 16, 2019
Verified Reviewer

I would give them ZERO stars if that was possible. I went online and placed a dinner order and put down that I wanted it delivered at 6:30 pm. The order showed it would be delivered between 6:30 and 6:40 pm. I got home at 6:25 and my neighbor told me that driver just left. They showed my food delivered at 6:24 pm, which was a flat out lie. Now, why would you ask what time to deliver the food if you are going to try to deliver it earlier and then NOT call or wait for me to get home?

I called customer service and was told that they tried to deliver and nobody was home so I could NOT get the food and I could NOT have a refund. I yelled and yelled and they could care less. I hung up and went online and spoke with the customer service and they said the same thing. I was not home and they would not bring me the food I paid for and I could NOT have my money back. After much arguing, I was told they would send me a voucher for the $30 I just spent and I could use that voucher to just order the food again. Well, that also turned out to be a big fat lie! They sent me 2 vouchers with one for $25 and one for $5. The fine print on the voucher said they could not be combined and that I could not pay for the delivery charge, the taxes or the tip with the voucher. Now I already paid all those things one the order I did not get and now I could not get the order replaced using the vouchers they sent. Talk about 100 percent rip-off!

So I got no food. I got charged $30 that they will not refund and I have 2 vouchers that I can not use to pay for the order I never got. Honestly, how do you think I feel about Grubhub?

NEVER AGAIN! Not even for FREE!

Bottom Line: No, I would not recommend this to a friend

---

Horrible customer service, doesn't deliver product

By Cori B.

,

Wisconsin

,

Feb 20, 2019
Verified Reviewer

Doesn't even deserve one star! Two hours I waited only for them to text me the notification that they canceled my order. DON'T WASTE YOUR TIME, use DoorDash or Postmates app.

Contacted CS twice and they said the order was on the way only to get the text saying sorry order has been canceled.

Bottom Line: No, I would not recommend this to a friend

---

Advertisement

---