GuideVine Reviews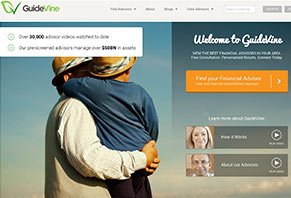 GuideVine is a free financial services site that pairs you with financial advisors according to a few questions you answer about your financial situation.
About GuideVine
Do you find yourself at a point in life where you need a financial advisor but you don't know how to choose?
That's totally understandable. Hiring an advisor means you'll be paying someone you barely know to manage thousands to millions of dollars.
GuideVine, a financial services startup based in New York, claims to put your fears to rest by matching you (for free) with a financial advisor who best suits your needs.
But how exactly does GuideVine work? What criteria do they use to match you to an advisor? Is it worth it to sign up for the service?
We think these questions are important; after all, the decision you'll make has a huge impact on your future. So, we're going to look at the nuts and bolts of the website over the next few minutes so you can get a better idea of how GuideVine can help – or hinder – your search for a financial advisor.
How Does GuideVine Work?
When you click on "Find an Advisor" you're met with a series of questions that determine your preferences, including zip code, total investable assets and 14 types of financial services for which you're looking.
You can make your search even more specific by adding details about your stage of life, your income and whether or not you currently have an advisor.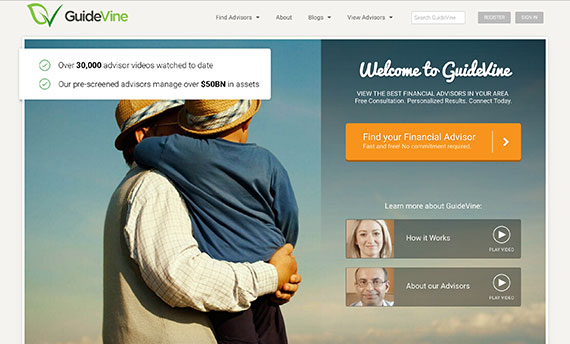 GuideVine's home page and "Find an Advisor" tab.​
We did the detailed search and received 10 results (all searches provide 10 results). Our zip code didn't render advisors within a 150-mile radius. Turns out there are few GuideVine advisors located in small towns, but the majority of them are found in the following big cities: Atlanta, Boston, Chicago, Dallas, Denver, Houston, Los Angeles, New York, Philadelphia, San Francisco, Seattle and Washington D.C.
If you find yourself in one of these dead zones, you'll be out of luck if you want a face-to-face meeting with your advisor.
But once you have your list advisors, what do you do with them? That's what we'll talk about next.
How Do You Choose an Advisor?
Each person who pops up in your search has a profile that includes:
Biographic information
One or multiple videos of the advisor explaining what they do and their philosophies
A 0-100 customer satisfaction score based on certain GuideVine criteria (more on that in a second)
Fee structure
Services offered
Focus areas
Languages spoken
The Customer Satisfaction Score
The advisor's score is based on GuideVine's analysis of customers' answers to seven questions about their advisor. Those questions focus on the ability to understand the client, to provide tailored investment advice, preparation for each session, professionalism, range of services offered, strength of advice and the depth of relationship with the advisor.
According to the site, strength of advice accounts for 30% of the score while the first five categories we listed each account for 15% of the rating.
We feel as though this ranking system is helpful because it is weighted toward the qualities that matter: a professional, understand advisor who provides specific, actionable advice to clients.
Using Profiles to Choose an Advisor
So, as you can see, you get a lot of information about the advisor in just a few quick seconds. In our opinion, this is a convenient way to narrow down a sea of advisors into just 10 you can choose from (we'll talk about how reliable those advisors are in just a second).
Once you've decided which advisor is best for you, you can set up a time for a free consultation, you can ask the advisor a question and you can see what other users have said about the advisor.
GuideVine's CEO, Raghav Sharma, said this fluid process is what makes his site so unique.
"We narrow down your search to a few advisors and show you videos. It helps you feel comfortable and makes choosing someone easy," he said. "You'll know if the advisor gels with you or if they're like nails on a chalkboard."
In Above Your Head? Concierges Can Help
If you realize you're a bit out of your league as you get a read on your financial situation, you can set up a time to talk with a GuideVine concierge. He or she will talk you through where you are in your financial life and help you understand what your investment needs are.
One of the things that really jumps out at us about this site is how easy it is to use their search and learn about their advisors. And the best part might be that you don't have to offer any personal information at all in order to connect with an advisor.
How Secure is GuideVine?
Like we just mentioned, you don't have to give up any personal information (address, credit card info, etc.) in order to connect with an advisor. We think that makes your preliminary advisor search a relatively safe thing.
We run across a lot of scams that want you to give out your information and ask questions later, but that's not how this site works.
But using GuideVine should make you question the background of each advisor that turns up in your search. How do you know they haven't been hit with penalties from the Securities and Exchange Commission? What about their licenses and their ability to work in multiple states?
Raghav cleared this issue up for us. Each advisor who wants to be on the site goes through background checks. The most powerful tool they use is the Financial Industry Regulatory Authority's (FINRA) BrokerCheck tool.
BrokerCheck is a free search that provides you with the advisor's:
Criminal background
How long they've been in financial services
Which exams they've passed
Whether or not they're licensed to advise you on investments and/or buy and sell investments on your behalf.
Raghav gave us an example of someone who applied to GuideVine and was rejected because, even though the advisor had a clean financial services record, he had a prior conviction for kidnapping and another crime.
In our opinion, GuideVine's vetting process is reliable because they use an easily accessible background-check tool as part of their selection process. Why is that good for you? Because you can always go to FINRA's BrokerCheck and review the advisor's record with your own eyes.
We wanted to put the site to the test by randomly selecting five advisors from five different regions: New York Tri-State, Southern California, Florida, New England and Texas. Of the five advisors we checked, only one had a disclosure (a resolved consumer complaint dating back nearly 30 years).
Based on our random search, it seems as though GuideVine is selecting reputable advisors. In fact, four of the five advisors we found had at least 10 years of experience in the financial services industry. It's hard to get a comprehensive read on what customers are saying about their advisors, but a decisive majority of the customer satisfaction scores we saw were in the 90s. One advisor we saw scored 78.
The Final Word: Our Conclusions
In our opinion, GuideVine seems to be a reputable advisor service. Based on our experience with the site, we think it provides enough data about each individual (bio, videos) to give you a solid preliminary sense of who the advisor is. Also, the company sources vetted advisors for Fidelity, a fact that adds to GuideVine's credibility.
In terms of how secure your information is, we think GuideVine does a good job of asking as little vital information from you in order to match you with advisors.
And those advisors, as we found through our spot-check, seem to be pretty trustworthy and properly vetted by the site.
However, as we pointed out in our recent article about finding a good financial advisor, we always recommend running their name through FINRA's broker check just to make sure.
Now, we need to point out that GuideVine isn't the only service of its type. Rightfinancialadvisor.com is a similar service, and you're more than welcome to head to their site and compare it to GuideVine.
Also, if you don't like the idea of a third party matching you to an advisor, you can always call local firms to set up a face-to-face appointment.
More on Investing: