Gundry MD Advanced Basil Formula Reviews
Claimed This company has claimed this profile, is getting alerted on any new customer reviews entering this page, and may engage in dialogue with its customers to address their matters.

Companies cannot pay money or provide goods in order to remove or alter customer reviews.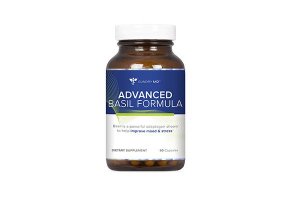 Using just two all-natural ingredients, Gundry MD's Advanced Basic Formula promises to help address cellular stress and deliver a plethora of health improvements.
About Gundry MD Advanced Basil Formula
Gundry MD Advanced Basil Formula is a dietary supplement formulated with 100 percent natural ingredients that provide a wide variety of benefits, including reduced cellular stress, boosted cardiovascular and immune health, an improved ability to produce "detoxifying enzymes," and better digestion.
Together, the company advertises that it's ideal for those over 40 who want to sharpen their cognitive function, fight against fatigue and low energy, and maintain a healthy, balanced body from the inside out—and even fend off the most common signs of aging.
By taking just two capsules of Gundry MD's Advanced Basil Formula per day with water, can you really expect it to deliver benefits like these? Is there sufficient clinical support to indicate it will deliver a solid value? Let's start with a solid foundation.
Cellular Stress, Oxidation, & the Aging Process
'Cellular stress' is an extraordinarily broad term that references any "noxious factor (physical, chemical, or biological), which triggers a series of cellular and systemic events" aimed at restoring "cellular and organismal homeostasis."
Did you just go cross-eyed? In other words, a cellular stressor is anything that's potentially destructive and causes a cell to 'fight' for proper functioning. In today's world, this could involve exposure to pollution and other chemicals, on-the-job stress, or eating a poor diet or not getting enough exercise, to name just a few candidates.
According to this same article, while aging is an extraordinarily complex process that isn't fully understood by the medical community, there's mounting clinical evidence that "the process of aging both influences and is influenced by cellular stress responses."
Therefore, it might make sense that reducing cellular stress could positively impact aging, and vice-versa. But is there clinical evidence supporting basil's ability to accomplish this task?
Taking a Closer Look at Advanced Basil Formula's Ingredients
The supplement facts label listed on the Gundry MD website indicated Advanced Basil Formula contains the following ingredients:
Holy Basil Extract (Ocimum sanctum) 225 mg
Basil Extract (Ocimum basilicum) 225 mg
When determining whether or not an ingredient is 'effective' for a claim, we rely on the summaries of the existing clinical evidence as reported by sites like Natural Medicines Database, WebMD, and Examine.com.
Although we found 20+ studies on PubMed exploring the relationship between basil and cellular stress; and holy basil (also called Tulsi) has been used in Ayurvedic medicine for centuries, these sites report there's insufficient clinical evidence indicating that its supplementation can deliver any real-world benefits in humans.
Could Advanced Basil's Ingredients Cause Side Effects?
WebMD, Natural Medicines Database, and Examine.com didn't report any common side effects related to basil supplementation. Still, the Gundry MD website emphasizes that you should consult with your healthcare provider before beginning any new dietary supplement regimen.
How Much Does Gundry MD Advanced Basil Formula Cost?
As we've found with many of Gundry MD's other products, the website you purchase from will have the biggest impact on what you pay. For example, on the company's Advanced Basil Formula landing page, it's priced as follows (including free S&H):
1 Jar: $27.95
3 Jars: $74.85 ($24.95 per bottle)
6 Jars: $137.70 ($22.95 per bottle)
On the other hand, if ordered directly through the Advanced Basil Formula link on the Gundry MD website, you'll pay (in addition to $4.95 S&H):
1 Bottle: $40.95
3 Bottles: $110.85 ($36.95 per bottle)
6 Bottles: $203.70 ($33.95 per bottle)
Regardless of which page you order from, all bottles come with a 90-day customer satisfaction guarantee, less S&H, which you can request by calling (800) 852-0477.
What Do We Know About Gundry MD as a Company?
Founded in 2016 by Dr. Steven R. Gundry, a California-based cardiac surgeon with nine device patents to his name, Gundry MD has created a long line of dietary supplements, skin care formulations, and other health and wellness products over the last several years. Popular options include Vital Reds, Primal Plants, and Dark Spot Diminisher.
Gundry MD held an A- rating with the Better Business Bureau, based on 28 customer reviews (20 of which were negative) and more than 40 closed complaints, as of 4/25/18. Most of these related to service concerns, although a company representative responded promptly in each instance.
Are There Other Basil Supplements Competing With Gundry MD's Advanced Formula?
The Internet has made it easier than ever to search vast online marketplaces like Amazon and Google Shopping for just about any product imaginable, and quickly gain an understanding of what the competition looks like.
In this instance, we encountered dozens of basil formulations that also included additional ingredients. And while none contained the exact formula and dosages found in Gundry MD's Advanced supplement, many were clearly in competition for the same customers.
Here are a handful of the more popular examples:
| | | |
| --- | --- | --- |
| Brand | Price | Ingredients / Dosage Per Serving |
| Advanced Basil Formula | $22.95+ | Holy basil extract 225 mg, Basil extract 225 mg |
| Organic India Tulsi-Holy Basil | $14.50+ | Holy basil leaf, East Indian basil leaf (900 mg proprietary blend) |
| Swanson Full Spectrum Holy Basil Leaf | $5.12+ | Holy basil leaf 800 mg |
| Gaia Herbs Holy Basil Leaf Liquid Phyto-Capsules | $25+ | Holy basil leaf extract 292 mg, Holy basil leaf supercritical extract 190 mg |
| New Chapter Holy Basil Force | $19+ | Holy basil leaf hydroethanolic extract 268 mg, Holy basil supercritical extract 268 mg |
| Source Naturals Holy Basil | $8.75+ | Holy basil extract (5:1) 450 mg |
| Nature's Way Holy Basil, Standardized | $8.29+ | Holy basil extract 450 mg |
Other than the fact that Gundry MD Advanced Basil Formula has a lot of competitors—many of whom are priced meaningfully lower, what can we surmise from this information?
The biggest takeaway is that even among competing supplements containing only basil and/or holy basil, dosages ranged anywhere between 268 mg and 900 mg. We think this underlines the reported lack of clinical evidence supporting basil's benefits on humans, which obviously includes an effective dose.
Similarly, while the Gaia Herbs version was the only liquid formula in the table above, WebMD and Natural Medicines referenced no clinical evidence indicating basil is more bioactive (i.e., effective) when consumed via a liquid, instead of a capsule.
Bringing it all together, does this mean you should place an order for Advanced Basil Formula?
The Bottom Line
The HighYa team is here to pass along essential information related to popular products and services; not to tell you how to spend your money. In other words, the final decision is up to you.
But based on what we learned during our research, the supplement comes from a company with years in business, an almost wholly positive online customer reputation, a renowned doctor as their founder, and who provides a 90-day satisfaction guarantee.
It's important to balance these positives, however, with the fact that all of the authoritative sites referenced earlier reported insufficient clinical evidence for basil's beneficial effects in humans.
For this reason—as well as to avoid any potential side effects or medication interactions—we'd strongly recommend speaking with your primary care physician before placing an order.