Gundry MD Glucose Defense Reviews
Claimed This company has claimed this profile, is getting alerted on any new customer reviews entering this page, and may engage in dialogue with its customers to address their matters.

Companies cannot pay money or provide goods in order to remove or alter customer reviews.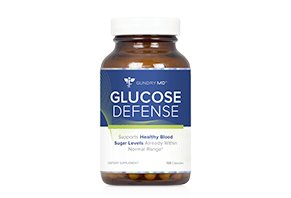 Gundry MD Glucose Defense promises to use a blend of five ingredients to help maintain healthy blood sugar and cholesterol levels, improve energy, and more.
About Gundry MD Glucose Defense
Called the "most advanced natural blood sugar support supplement ever developed," Gundry MD Glucose Defense claims to use five potent, all-natural compounds to help support insulin sensitivity and healthy blood sugar levels.
Once your blood sugar is optimized using Glucose Defense, Gundry MD tells us that you could experience higher energy levels, boosted concentration and focus, and even improved weight loss. Worried about cholesterol levels and/or high blood pressure? Glucose Defense promises to help there, too.
To accomplish this, Gundry MD claims you should take two capsules of Glucose Defense once in the morning and again in the evening, preferably with meals. Despite its efficacy, the company claims Glucose Defense is side effect-free.
Given the fact that about 1 out of every 3 Americans has prediabetes, you're certainly taking a step in the right direction by trying to take control of your blood sugar. But when the rubber meets the road, is Glucose Defense an effective, valuable tool for achieving this?
That's exactly what we'll help you decide in this review.
What Is Blood Sugar? How Does It Relate to Insulin Sensitivity?
When we eat food, our body digests it and breaks it down into smaller components, allowing the nutrients it contains to be utilized by our body. Different nutrients perform different "tasks" and have different effects on our physiology.
For example, foods like bread and pasta, in addition to many types of fruit, contain high levels of glucose (a type of sugar, along with fructose and sucrose), which is an important source of energy for every cell in your body.
Despite this importance, the problem is that glucose can't pass through cell walls without the help of a hormone called insulin. A good way to think of insulin is that it's a "key" that allows a "door" to open in a cell wall, giving the opportunity for glucose to pass through, which can then be turned into usable energy.
Prediabetes & Diabetes
When your body is consistently flooded with excess glucose (by eating a lot of refined grains, for example) over a long period of time, your cells can actually become resistant to insulin. This, along with other important factors like genetics, causes glucose levels to rise in your bloodstream; a condition known as prediabetes.
The good news is that prediabetes—or type 2 diabetes—can often be reversed (with the help of your doctor, of course) by carefully monitoring your blood sugar levels, watching what you eat, and exercising regularly. But if you don't address your diabetes in a timely manner, it can morph into full-blown type 1 diabetes, which is where you'll need to inject insulin directly into your bloodstream to avoid a condition known as hypoglycemia.
Now, with this foundation to work with, let's take a closer look at how Gundry MD claims their Glucose Defense supplement addresses these concerns.
What Does Gundry MD Glucose Defense Claim to Do?
You're right; we already talked about what Glucose Defense is supposed to do in the introduction. In this section though, we're going to take a closer look at what—exactly—this means for you. Here's what Gundry MD claims:
"This formula is designed to help support healthy blood sugar levels in people whose blood sugar is already within normal range."
We're also told the supplement will assists in "achieving higher energy levels," increasing concentration and focus, supporting weight loss, and maintaining healthy cholesterol levels and blood pressure.
In other words, Glucose Defense isn't intended to help reduce your blood sugar or address prediabetes or diabetes in any way. It's simply supposed to help keep your healthy blood sugar levels as they are.
But we have to ask: If your blood sugar levels are already healthy (i.e. you're obviously doing something right), why would you need a supplement like Glucose Defense in the first place? In this instance, wouldn't your current diet and exercise habits be much more impactful on maintaining healthy blood sugar levels than a supplement?
Given this, based on Gundry MD's claims, it seems like they're saying that Glucose Defense will optimize your existing insulin sensitivity. This way, it will be able to help your cells better utilize glucose, which can then boost energy, help you lose weight, and so forth.
Let's keep this at the front of our mind as we move to the next section and discuss Glucose Defense's ingredients.
Will Glucose Defense's Ingredients Deliver Real World Results?
According to the supplement facts label listed on the Gundry MD website, Glucose Defense contains the following ingredients:
Manufactured by InterHealth USA, Zychrome is a proprietary "high-grade chromium complex" of chromium, niacin, and l-cysteine that's promoted as a healthy way of supporting "healthy insulin levels." The only clinical evidence provided to support these claims is a 2010 study on rats.
According to WebMD:
"Some evidence shows that taking chromium picolinate (a chemical compound that contains chromium) by mouth, either alone or along with biotin, can lower fasting blood sugar, lower insulin levels, and help insulin work in people with type 2 diabetes. Also, chromium picolinate might decrease weight gain and fat accumulation in people with type 2 diabetes who are taking a class of antidiabetes medications called sulfonylureas."
However, keep in mind that the recommended dose of chromium to achieve this is 200-1,000 mcg daily. However, it's unknown how much is found in Zychrome.
Niacin is listed as likely effective for addressing high cholesterol, but only in very high doses (1,200-3,000mg per day), yet the amount of niacin Zychrome present is unknown.
Some specific selenium supplements (not Glucose Defense) have been shown to modestly reduce cholesterol in patients with abnormal cholesterol levels. However, it's noted that many of these individuals already had low selenium levels, so it's unclear if this same benefit would manifest in those with normal selenium levels.
Similarly, taking 500 mg of berberine 2-3 times daily might also help slightly reduce cholesterol and maintain healthy cholesterol levels. It appears Glucose Defense contains about half this amount.
Turmeric has also been shown to help reduce cholesterol and triglycerides, although much of the clinical evidence only relates to overweight individuals. To achieve this, 1.4g daily is recommended (Glucose Defense only contains 100mg).
Finally, black pepper extract is claimed to help other ingredients absorb better into the body, but doesn't provide any related benefits itself.
Will You Experience Any Side Effects From Glucose Defense's Ingredients?
Before diving in, we think it's important to address Gundry MD's claim that "There is nothing artificial or synthetic or man-made [in Glucose Defense], so there's no risk of side effects."
Many supplement brands often state "it's-safe-because-it's-natural" claims. Although this is surprising coming from a physician (more soon), remember that many ingredients that are natural aren't necessarily safe for human consumption—think cyanide.
With this said, most of Glucose Defense's ingredients likely won't cause any side effects worse than mild digestive upset, if anything at all.
However, niacin is known to cause flushing, especially in higher doses. In rare instances, WebMD claims that l-cysteine can cause "rashes, fever, headache, drowsiness, low blood pressure, and liver problems."
How Much Does Glucose Defense Cost?
Gundry MD prices Glucose Defense as follows:
1 Bottle (120 capsules): $49
3 Bottles: $127
6 Bottles: $235
The manufacturer provides free shipping on all US orders.
Regardless of where you're ordering from, all Gundry MD products come with a 90-day customer satisfaction guarantee, less S&H, which you can request by calling (800) 852-0477.
How does this price compare to the competition?
What's Everyone Saying In Their Glucose Defense Reviews?
Type the phrase "blood sugar supplement" into your favorite search engine, and you'll quickly learn that there are literally thousands of products claiming to offer something very similar to Glucose Defense.
In a lot of cases, you'll find these supplements contain many of the same ingredients found in Glucose Defense, and many are even priced in the same range.
One of the biggest differences, however, is that many of these other supplements have been available for some time, whereas Glucose Defense was a brand new product at the time of our research, without any customer feedback. The good news is that we've also written in-depth reviews about several other Gundry MD products, including Vital Reds, Dark Spot Diminisher, and Primal Plants.
Here on HighYa, most of these products seem to come with positive customer feedback, including real-world results and great taste/quality products.
Will you experience the same with Glucose Defense? We'll be sure to answer this as we wrap things up.
Is Glucose Defense the "Most Advanced Natural Blood Sugar Support Supplement Ever Developed"?
Dr. Steven Gundry is a board certified thoracic cardiovascular surgeon with more than two decades of experience, and is also the founder of the Center for Restorative Medicine in Palm Springs and Santa Barbara, CA. He's even developed several innovative medical technologies, and is the author of Dr. Gundry's Diet Revolution.
Given this, Dr. Gundry certainly has a lot of medical experience under his belt. But does this necessarily mean that Glucose Defense will deliver on its promises? To help you answer this, we think it's important to reiterate what we learned above:
First, five of Glucose Defense's seven ingredients (more than 70%) are clinically shown to address some aspects of cholesterol—not blood sugar.
Second, among the proprietary blend that is intended to address blood sugar (Zychrome), some of its ingredients may have clinical support. However, the company doesn't disclose the amounts of these ingredients are found in the blend, or if there's enough to provide any real-world benefits.
Speaking of which, even among Glucose Defense's cholesterol-fighting ingredients (again, based on the available clinical evidence), it doesn't appear the supplement contains enough to deliver results.
Where does this leave you? If you think you might have prediabetes or diabetes, the first person you should speak with is your doctor. Then, they'll be able to formulate an effective treatment plan based on your diagnosis. At that same time you can speak with them about Glucose Defense, and whether or not it's worth the money.
On the other hand, do you already have healthy blood sugar levels? Even though you're Glucose Defense's target audience, you're clearly doing something right. You may not need any supplement as an addition to your diet.
And if you're looking for something to address cholesterol, there are hundreds of standalone supplements (such as selenium, zinc, and berberine) that might be offered in the appropriate doses, while costing meaningfully less than Glucose Defense.
Did you place an order for Glucose Defense? Did its ingredients provide you with any benefits? Would you say it delivered a solid value? Be sure to tell us in your review below!
So far so good.

By Joseph S.

,

Seaford, NY

,

Mar 16, 2019
Verified Reviewer

I have been taking Glucose Defense for three weeks, after two weeks I noticed my numbers coming down. The first two weeks my numbers were 130s. After the second or the third week, my numbers went down to the '80s. I will continue to take Glucose Defense for two more months. I have recommended this to my friends.

Bottom Line: Yes, I would recommend this to a friend

---

My doctor and I love you - thanks

By Patricia A.

,

San Jose, CA

,

Jan 7, 2019
Verified Reviewer

As a diabetic, my MD wants my cholesterol to be less than 200. It has been high for centuries. After taking Glucose Defense, it is now 160 and my doctor and I could not be happier. We did not jump up and dance, but it crossed my mind.

I have been a customer for quite a while, and I definitely trust Gundry MD products.

Bottom Line: Yes, I would recommend this to a friend

---

Advertisement

---

Glucose Defense

By Nicholas P.

,

Marietta, GA

,

Nov 27, 2018
Verified Reviewer

Because I take many of the Gundry supplements, I think that Glucose Defense is an important part of my overall plan for healthy living. It is one of the six that are mentioned in The Plant Paradox, so along with the other five, it complements my overall health plan.

Bottom Line: Yes, I would recommend this to a friend

---

I have PCOS

By Yasmeen B.

,

The Garden State, NJ

,

Sep 18, 2018
Verified Reviewer

I have baseline normal fasting blood sugar, but my endocrinologist, several years ago, had recommended metformin to help manage my PCOS. I was not happy with the side effects and stopped the Metformin. There is no formal medication to treat PCOS. I lost 65-70 lbs six years ago and maintained it until I became pregnant in 2015 and 2016 and had gained 50 lbs both times. Post-baby #2, it was very hard to lose the weight gained because my history of PCOS. Although going to the gym nearly 3-4 days for 2 months, the scale was not really moving. I noticed scale changes after starting Glucose Defense with my exercise routine, plus Vital Reds, plus Primal Plants every day. Just a week ago, I started following a Paleo diet in addition to the above regimen. The Glucose Defense does not have all of those nasty side effects like bloating and diarrhea that occurs with the use of metformin. I hope it will be a useful supplement to manage my PCOS.

Bottom Line: Yes, I would recommend this to a friend

---

Advertisement

---

Glucose greatness

By Johanna M.

,

Gaithersburg, MD

,

Sep 14, 2018
Verified Reviewer

I have always craved sugar, almost like a drug. Since taking Glucose Defense I have given up Diet Coke, cookies, and even bread. It has literally helped to change my eating habits and lifestyle. I take it and Lectin shield religiously, along with Vital Reds.

I highly recommended that combination to anyone who wants to have a better quality of life. It must be taken as indicated.

Bottom Line: Yes, I would recommend this to a friend

---

Plant Paradox vs Gadolinium

By David W.

,

Pendleton, OR

,

Jul 19, 2018
Verified Reviewer

Hello Dr. Gundry,

I hope that at some point you get to read this yourself.

My wife, Dawn, has had severe problems for many years. She was diagnosed with Neurofibromatosis type I as a child, but had no problems for years, then she had a series of traffic accidents and has had constant problems since then. We were unable to get her blood sugar under 360, even on very high doses of insulin, then we discovered she is insulin resistant. We have tried all kinds of diets and supplements since then and were able, at times to keep her blood sugar levels in the mid- to high 200s. We then discovered that heavy metal toxicity, principally Gadolinium from the numerous MRIs she has undergone, has been the cause of her health problems all these years.

I ordered Glucose Defense for her because her blood sugar was out of control once again. It seemed to be helping somewhat, but not enough. Knowing that we needed to change our eating habits, and having read some on it, she wanted to try your Plant Paradox program. I am very happy to tell you that, utilizing both the Plant Paradox and Glucose Defense, Dawn's blood sugar levels have been near normal for about a week. Her levels dropped from 600+, sometimes so high that her meter just read "HI," to the 400 range, then 200s and then 100s. Her sugar level is now in the mid-100s with the lowest reading at 142.

Her conditions are rare and the combination even rarer, but we think she needs to be studied in order to help people who are afflicted as she is. Chuck Norris' wife, Gena, is also afflicted with Gadolinium toxicity. It affects the body systemically causing problems with inflammation, bones, brain, nerves, etc., and adversely affects mitochondrial function. You recently sent a message asking if we were interested in mitochondrial function. The answer is "Yes, extremely interested." We are members of a growing group of people who have proven the link between their health problems and Gadolinium (www.gadoliniumtoxicity.com). There are many thousands of people, victims of Gadolinium, who do not know what is causing their health conditions, but are increasingly becoming aware of the truth and looking for help. Dawn has shared your name and her experience, so far, with the Plant Paradox program with the group. We need all the help and advocates we can get for those afflicted so that we can find a cure for these conditions caused by Gadolinium.

Dawn would like to meet and talk with you. Since we have an account on your website, you have our phone number, and also our email address.

Thank you very much. You have given us some hope that there are some things we can do to improve her health, despite her conditions.

Bottom Line: Yes, I would recommend this to a friend

---

I'm not sure...I don't use it as much as their other supplements

By AnnMarie H.

,

Princeville, HI

,

Jul 19, 2018
Verified Reviewer

Honestly, I didn't think I had a glucose problem but bought the supplement when I bought a bunch of others. I've used it a few times but not regularly. I'm not entirely sure of what to expect of it and when to take it, and if I even need it. I am very in love with their other products though, and their program is the only thing that cured my chronic cough and lung congestion, so I'm a believer and on the program.

Bottom Line: Yes, I would recommend this to a friend

---

I see "some improvement"

By Edith B.

,

West Virginia

,

Jul 3, 2018
Verified Reviewer

I ordered Glucose Defense without realizing that my blood sugar level should be within normal range. Unfortunately, mine was not; I saw a lot of high spikes and a lot of low levels before I started taking the Glucose Defense.

Since I started taking this supplement, the percentage of my blood sugar levels within normal range has increased and the high/low levels have decreased. I haven't changed much in my life (no diet or exercise changes), so I must assume that it is the Glucose Defense that has helped.

I will continue to take them.

Bottom Line: Yes, I would recommend this to a friend

---

Helped take away cravings for sugar

By Tami M.

,

Rancho Palos Verdes, CA

,

Jun 29, 2018
Verified Reviewer

I felt by taking the Glucose Defense that most, if not all, of my cravings for sugar or desserts were gone. It's such a relief to feel content with eating real food and not craving anything for dessert. If you know anything about me, this is not how I lived my life up to this point. I would have rather had dessert instead of the meal itself. In fact, when I was younger, that is exactly what I would do a lot of the time. Bring me the mud pie instead of dinner!

Wow, I have things changed in my life regarding food. Pretty phenomenal is all I have to say.

Thank you Dr. Gundry!

Bottom Line: Yes, I would recommend this to a friend

---

Feeling good

By Lorin B.

,

Oklahoma

,

May 26, 2018
Verified Reviewer

I have a feeling of well-being with this product.

However, I do a lot of things for my health, so I need a little more time to say what is working.

I have been diabetic for 25+ years and this the first time that my blood test (H B A 1 C) has been this low, it is 5.5, it was 14.5 25 years ago. So I am seeing a lot of improvement on my way to curing diabetes, I know it can be cured, with the right foods and the and the proper supplements, and the hand of God.

Bottom Line: Yes, I would recommend this to a friend

---

Glucose Defense

By Elizabeth Palmer

,

Sunshine Coast, Queensland, Australia

,

May 9, 2018
Verified Reviewer

I am into my third week of taking Glucose Defense. I have noticed subtle differences in combination with Vital Reds and Primal Plants such as experiencing greater clarity of thought and concentration. It is still early days to discovering the longer term improvements though there is enough evidence confirm that these products are definitely doing their job. I feel much more balanced daily and am pleased about making the choice to take Glucose Defense. Thanks Dr. Gundry.

Bottom Line: Yes, I would recommend this to a friend

---