Gundry MD Heart Defense Reviews
Claimed This company has claimed this profile, is getting alerted on any new customer reviews entering this page, and may engage in dialogue with its customers to address their matters.

Companies cannot pay money or provide goods in order to remove or alter customer reviews.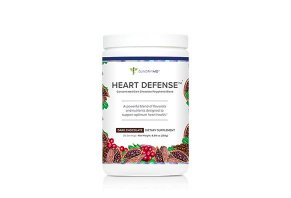 Packed with 100mg of cocoa flavanols per serving, the Gundry MD Heart Defense powdered supplement claims to deliver antioxidants and improved heart health.
About Gundry MD Heart Defense
Using a precise, powerful blend of cocoa flavanols and anti-aging nutrients, Gundry MD Heart Defense is a dietary supplement that promises to protect your cardiovascular system, support heart health and longevity, and optimize your weight.
Specifically, the website reports the supplement works to dilate blood vessels and improve circulation, leading to healthy blood vessels and a strong heart. We're told this could also result in boosted energy, physical stamina, and mental clarity, along with effective appetite control for weight management.
To experience these benefits, Gundry MD indicates you'll need to mix one scoop of Heart Defense with six to eights ounces of water (hot or cold; your choice) and drink, with or without a meal. If continued daily, the site advertises that most users report a noticeable increase in energy within an hour of use, with decreased appetite and cravings for unhealthy foods within the first two weeks.
Despite all these benefits, the company claims that the supplement is 100 percent safe with no known side effects, and that the formula is tested for content and purity at an independent, third-party facility.
Is cocoa really this good for your health? Even then, is Gundry MD's Heart Defense formula the best way of achieving these benefits? Does it provide a high level of value?
You need answers to important questions like these before handing over your hard-earned money. Give us a few minutes, and we'll help you find some answers, starting with the basics.
What's the Link Between Flavanols & Heart Health?
According to the Cleveland Clinic, the cocoa beans used to create chocolate contain high levels of a plant nutrient classification known as flavonoids.
In their natural environment, they report that flavonoids help protect plants from environmental toxins, as well as help to repair damage. And when humans consume these nutrients, they similarly act as antioxidants; i.e., they can help "protect the body from damage caused by harmful molecules called free radicals."
These free radicals can also cause an increase in the formation of low-density lipoprotein (LDL), or "bad" cholesterol, on artery walls, which could eventually lead to heart disease.
Thus, as frequently promoted on the Heart Defense website, the National Institute of Health's PubMed reflects hundreds of studies linking cocoa flavanols with improved cardiovascular health. According to Dr. Miguel Alonso-Alonso, a neuroscientist at Harvard-affiliated Beth Israel Deaconess Medical Center, 200mg of cocoa flavanols are recommended, along with a balanced diet.
However, he also emphasizes that "flavanols are often destroyed in the production of chocolate," so highly processed foods like candy bars often don't have a lot of flavanols remaining; at least in relation to their sugar and fat content.
For this reason, the Cleveland Clinic article emphasizes that you should "enjoy moderate portions of chocolate (e.g., 1 ounce) a few times per week, and don't forget to eat other flavonoid-rich foods like apples, red wine, tea, onions, and cranberries."
What about the Heart Defense supplement? Does it represent a better way of obtaining heart-healthy cocoa flavanols, without the sugar or calories?
Taking a Closer Look at Heart Defense's Ingredients
Per the supplement facts label listed on their website, Gundry MD Heart Defense contains the following ingredients:
Vitamin D3 (Cholecalciferol) 200IU
Calcium 9mg
Iron 2mg
Sodium 68mg
Cocoa (Theobroma cacao) 2.5g
Flaxseed (Linum usitatissimum)(seed)(BevGrad) 1g
NeuroFactor Whole Coffee Fruit Extract 100mg
Inulin (from Chicory (Chichorium intybus)(root) Extract (Frutafit)) 10mg
According to resources like the Natural Medicines Database, WebMD, and Examine.com, vitamin D3, calcium, iron, and sodium are all important vitamins and minerals for optimum health. However, they also indicate that unless you're deficient, supplementation won't provide meaningful benefits for otherwise healthy individuals.
We contacted customer service and learned that while each dose of Heart Defense contains 2.5g of cocoa, it only contains 100mg of flavanols.
These sites also report that 40-50 grams of flaxseed daily could help reduce LDL cholesterol, although the supplement in question only delivers 1g per dose.
The NIH's PubMed references 30 clinical studies looking at some aspect of whole coffee fruit, although none made a direct correlation between its consumption and improved cardiovascular health.
The manufacturer of the proprietary NeuroFactor whole coffee fruit ingredient advertises that it's been clinically researched to "deliver support for naturally declining neuroprotein levels in humans." However, they don't provide any of this evidence for third-party review.
Next, 10-14g of inulin daily is reported to help lower triglyceride levels by up to 19 percent after eight weeks of treatment.
Finally, while Gundry MD's Heart Defense might not contain all the same ingredient dosages found in supporting clinical trials or professional recommendations, it only contains 35 calories, 1g of fat, and 68mg of sodium (the recommended limit is 1,500-2,300mg per day), so it certainly seems to represent a healthier way of ingesting flavanols than via processed chocolate.
Will Gundry MD Heart Defense Cause Any Side Effects?
According to the Natural Medicines Database and WebMD, these ingredients, when taken in the dosages above, likely won't cause any side effects. And if they do, it likely won't be worse than mild digestive upset (no specific circumstances noted).
However, they indicate that inulin could have a moderate interaction with diabetes and anticoagulant medications. This is why it's always a smart idea to speak with a healthcare professional before taking any new dietary supplement, Heart Defense or otherwise.
How Much Does Gundry MD Heart Defense Cost?
Gundry MD has priced Heart Defense as follows:
1 Jar: $49.95 (8.99oz, 30-day supply)
3 Jars: $134.85 ($44.95 per jar)
6 Jars: $259.70 ($43.28 per jar)
All orders come with free shipping and a 90-day money back guarantee, less S&H. In order to request one, customer support can be reached at (800) 852-0477.
What Can We Learn From Heart Defense & Gundry MD Online Customer Reviews?
The only site we encountered any online feedback for the Heart Defense supplement at the time of our research was on Amazon, where one customer gave it a five-star rating due to their experience with increased energy, without jitters.
However, Gundry MD has been in business since 2016 and has released many popular supplements and skincare products in that time, including Vital Reds, Primal Plants, and Dark Spot Diminisher.
And among well over 1,000 HighYa readers, their products have nearly a five-star overall average rating, with common compliments citing effective results, despite sometimes-higher prices than the competition.
From a company perspective, Gundry MD held an A rating with the Better Business Bureau, based on nine customer reviews (56 percent of which were negative) and 24 closed complaints, as of 10/17/17. When details were available, most of these appeared to revolve around customer service issues.
However, it's important to point out that a company representative responded in each instance with a resolution.
How to Choose a Chocolate Flavonoid Supplement
Searching online marketplaces like Google Shopping and Amazon.com, we found dozens of chocolate flavonoid supplements competing with Heart Defense; some of which were also powdered, while others came in capsule or chewable form.
Price-wise, some could be purchased for as little as $3, while others exceeded $70. So, at $50 for a single-order option, Heart Defense certainly seems to be on the upper end of the price spectrum. How can you decide if it's right for you?
According to ConsumerLab's testing (note: membership required for full study access), many cocoa supplements are "contaminated with cadmium at several times established limits," so be sure to thoroughly research this aspect, or even contact any manufacturers you're considering to learn more.
Related: Can Cacao Replace Your Morning Cup of Coffee
They also emphasize that most companies don't list their flavanol content (as we learned with Heart Defense), although customer support should be able to provide this information. If not, you might want to consider a competitor.
Finally, they note that you should make sure the cocoa powder hasn't been dutched, or alkali processed, which could reduce flavanol content by anywhere between 60 and 90 percent. Again, this isn't typically something advertised by companies, so you might need to contact them directly when researching.
How does all of this add up?
Our Final Thoughts About Gundry MD Heart Defense
The bottom line is that organizations like the Natural Medicines Database, the National Institutes of Health's PubMed, Harvard Health, and the Cleveland Clinic report that ingesting 100-200mg of cocoa flavanols per day could provide a variety of antioxidant and cardiovascular benefits, if consumed on a regular basis.
However, outside of verifying cadmium and flavanol levels, as well as ensuring the powder hasn't been dutched, none of these sites reported that customers would obtain meaningfully better results by paying a higher price.
Note: We contacted customer support, who advised that Heart Defense isn't tested for cadmium, and (even after speaking with a supervisor) they didn't have any information as to whether or not the cocoa powder is dutched.
With this said, Gundry MD's products come with highly positive online customer ratings—including here on HighYa, and the company stands behind them with a 90-day refund policy, which should be more than enough time to decide if Heart Defense is right for you. Just remember that if you're not satisfied, you'll have to pay a few bucks to return the supplement to the manufacturer.
Gives you a spring in your step

By Michael Q.

,

Sydney, Australia

,

Jun 25, 2019
Verified Reviewer

I have just started taking Heart Defense and it tastes great, especially in a glass of A2 milk.

However, the benefits of this product are that it gives you a spring in your step in the morning and evening, it makes it easier to walk faster and longer, and you feel as if you have more energy when walking or running. Your heart feels like it's working better than before, after taking this product daily, even after just a few days when you first start taking it.

I highly recommend Heart Defense, not just for the great taste but for the energy you feel when walking or jogging (especially uphill).

Bottom Line: Yes, I would recommend this to a friend

---

AFIB patient 63-year-old male

By Paul B.

,

Michigan

,

Jun 19, 2019
Verified Reviewer

Was I hesitant to try out this product? Sure, why wouldn't I be? However, with that being said, take a look at the person behind this product. A Doctor and Cardiologist!

I am an AFIB patient. I am on a prescription drug for this ailment. For the most part, it does control my heart rhythm, but, there are times when I am really stressed that I feel the flutter in my chest.

Since taking the Heart Defense by Dr. Gundry, I haven't had a single flutter and I have been on it for about one month. Is it a peace of mind, you bet it is! I am a believer and a follower of Dr. Gundry for the rest of my life.

Bottom Line: Yes, I would recommend this to a friend

---

Advertisement

---

Great product

By Dick M.

,

Ione, CA

,

Jun 19, 2019
Verified Reviewer

Ingredients contain components that I have been looking at with interest. I do add a small amount of the following to please my pallet: glycine, MTC oil, and goat milk. I have been drinking it hot but plan to with ice as the weather is turning warmer. I have been drinking two out of three days to break the monotony and diversify my intake. I really enjoy the cocoa flavor and hope that I am not disrupting my fasting period with it. I leave the goat milk out if I am really concerned about disrupting my fasting period. Keep up the good work.

Bottom Line: Yes, I would recommend this to a friend

---

Great taste

By Theresa M.

,

Wisconsin

,

Jun 18, 2019
Verified Reviewer

I am almost done with the products and have enjoyed the flavor.

I mix it in my smoothie in the morning. I love the texture and chocolate taste.

I love all the benefits I have received from this product.

Bottom Line: Yes, I would recommend this to a friend

---

Advertisement

---

Heart Defense review

By James S.

,

Swarthmore, PA

,

Jun 11, 2019
Verified Reviewer

I've been using Heart Defense and feel more energy after a short time. Comes in powder form, which I mix with orange juice. A nice chocolate flavor, which I enjoy. I will tell my friends about this.

Bottom Line: Yes, I would recommend this to a friend

---

Heart Defense

By Joanne K.

,

Utah

,

May 9, 2019
Verified Reviewer

I am an 82 and 1/2-year-old female. I am the only one of 6 siblings that hasn't had a heart bypass and am the only one living out of the 6. Before you introduce Heart Defense I was trying to find a healthy drink. I don't drink coffee or tea and I had been buying a commercial "health" drink. It wasn't helping me.

I hope I don't shock you but I have to admit I use Heart Defense with milk. I also took your advice and now add a bit of salt. It makes lovely, healthy chocolate milk. I love it and look forward to it every morning.

I just had a stress test and my heart passed with high praise from my doctor.

Thank you, Dr. Gundry, for offering and affording me this good part of my day.

Bottom Line: Yes, I would recommend this to a friend

---

Heart Defense

By Lynne H.

,

San Diego, CA

,

Apr 8, 2019
Verified Reviewer

After using this product most of last year and this year, I can say I am having a significant amount of reduced inflammation and much less coughing mucous. Finally, I have found a healthy way of getting my favorite in a liquid form of chocolate that does not make me feel sick.

Bottom Line: Yes, I would recommend this to a friend

---

Ingredient list

By Anthony I.

,

Illinois

,

Apr 4, 2019
Verified Reviewer

I had a quadruple bypass in 2007. In 2011 I had an aortic aneurysm removed and a live tissue aortic valve inserted. In 2018 I had a pacemaker and defibrillator implanted. I have died twice on the operating table, the last time having an out of body experience.

I started eating all organic in 2007 and began taking pharmaceutical grade supplements. I am fit and trim and active with Golf, Curling, Qigong, Kundalini Yoga, Jujitsu, Working Out, Walking. I do not smoke, do drugs, gamble or drink (except an occasional cordial or glass of wine). I turned 70 on March 21st. At 5'7" I keep my weight around 180 lbs. I have tried and continue to take supplements from various companies by selectively taking the best from each company. I am pleased to say when I saw the first Gundry video a few years ago about PrebioThrive I was convinced to try the product. I have my blood analysis performed by an expert who looks at my blood live. My samples dramatically improved after I began with the Gundry line.

Today I am slowly adding more to the weekly intake of Gundry products. I want to thank you for your research. As you have experimented on you, I experiment on me.

Bottom Line: Yes, I would recommend this to a friend

---

Phenomenal product! Love.

By Gayle B.

,

Illinois

,

Mar 31, 2019
Verified Reviewer

I love this product, thoroughly read about its benefits before ordering. Very impressed with this, as well as all Dr. Gundry's products. I highly recommend this one as well as all of them.

Bottom Line: Yes, I would recommend this to a friend

---

Lower blood pressure, better digestion, weight loss, more energy, makes great tasting shakes.

By William M.

,

Hideaway, TX

,

Jan 7, 2019
Verified Reviewer

I just turned 74 and have used Dr. Gundry's Vital Reds product for over a year. Great product for your gut. I bought the Heart Defense product about the same time; but, found it less than delicious.

Recently, I started combining the Vital Reds and the Heart Defense in a delicious shake: 1 big scoop of Heart Defense and 1 scoop of Vital Reds in a blender. Add a .7 oz packet of Stevia, and half to a three-quarter liter of Silk unsweetened vanilla almond milk. I use the low, puree setting on the blender for 2 to 3 minutes. Wow! Just about the best thing that you've ever had. It's hard to wait until the next day to have another.

Three years ago I had a triple bypass and an artificial aortic heart valve replacement. Recently, my daily blood pressure has been much better and I am off of all medication for blood pressure or cholesterol. Thanks, Dr. Gundry, for your research and caring.

Regards.

Bottom Line: Yes, I would recommend this to a friend

---

Improved vascular health

By Jan G.

,

New Paris, IN

,

Jan 1, 2019
Verified Reviewer

Taking Dr. Gundry's Heart Defense has improved our vascular health bloodwork numbers without statins. Our physician asked what we were doing differently and we told her about the Gundry products. The products we use have improved our energy, decreased our achiness, and improved our overall health.

Bottom Line: Yes, I would recommend this to a friend

---