GutConnect 365
Claimed This company has claimed this profile, is getting alerted on any new customer reviews entering this page, and may engage in dialogue with its customers to address their matters.

Companies cannot pay money or provide goods in order to remove or alter customer reviews.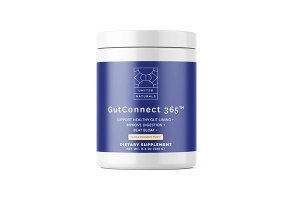 For those who believe they're suffering from leaky gut, GutConnect 365 claims to offer the solution through a water-soluble supplement containing nine-different ingredients. Although mostly safe, strong support for the ingredients is lacking.
---
Helps my weight and overall feel

By Mark C.

,

Lineville, NC

,

Sep 30, 2020
Verified Reviewer

Length of Use: 3–6 months

Overall Experience:

Pleasant taste, helps curb my appetite and I feel better. Easy to drink, helps regularity and overall wellbeing. Nice drink in the morning. The cinnamon taste makes it more inviting.

Pros and Cons:

It works
Pleasant taste
Helps regularity
Viscosity
Bit messy to mix

Bottom Line: Yes, I would recommend this to a friend

---

Amazing!

By Afifa S.

,

Montréal, Québec, Canada

,

Sep 30, 2020
Verified Reviewer

Length of Use: Less than 3 months

Overall Experience:

Since I've started using GutConnect 365 I feel so much better. I can eat and digest food! I used to suffer from cramps and my tummy was always bloated. After about 1 week of using GutConnect 365 I started seeing a difference...my tummy was flat and less cramping. As the weeks passed, it got better and better. And because I could actually digest properly I felt so much better and my energy level went up. And it tastes delicious. I'm so happy and grateful for this product.

Pros and Cons:

Better digestion of food
Less bloated
Flatter stomach
More energy
Because I live in Canada, with the exchange rate it's a little expensive

Bottom Line: Yes, I would recommend this to a friend

---

Awesome benefits

By Rogelio F.

,

San Diego, CA

,

Sep 30, 2020
Verified Reviewer

Length of Use: Less than 3 months

Overall Experience:

Since I started using GutConnect I've been feeling so much better without stomach pains and cramping, I drink it every morning and feel great all day.

Pros and Cons:

Benefits
Easy to use
Flavor
No "cons" were specified in this review

Bottom Line: Yes, I would recommend this to a friend

---

Excellent product!

By Erin C.

,

Minneapolis, MN

,

Sep 29, 2020
Verified Reviewer

Length of Use: 3–6 months

Overall Experience:

I was skeptical about how effective this product would be, but turns out I didn't need to be. It worked almost immediately for me, and I couldn't be happier with it. The taste is awesome, too!

Pros and Cons:

Effectiveness
Taste
Simplicity
Cost
Not able to order easily online
Trouble with trying to get the referral discount; had to contact customer service multiple times to help resolve

Bottom Line: Yes, I would recommend this to a friend

---

Advertisement

---

I believe in it

By Fileza H.

,

Fort Hood, TX

,

Sep 29, 2020
Verified Reviewer

Length of Use: Less than 3 months

Overall Experience:

The flavor, taste, and smell are way better than I thought it would be. After Dr. Pedre advised putting it in my coffee (I use almond liquid creamer) I mix a scoop in my creamer and place it on my Keurig mixer to whip it and I haven't looked back. Now I'm officially hooked. I add a teaspoon of MCT oil and coconut oil and I'm officially regular. Still bloated but I'm regular. I haven't been regular in years. I def approve of this product.

Pros and Cons:

The smell
The taste
How easily it dissolves
Not sure how well it's working in my system

Bottom Line: Yes, I would recommend this to a friend

---

Gut feeling better after 10 days

By Talyn N.

,

Federal Way, WA

,

Sep 29, 2020
Verified Reviewer

Length of Use: Less than 3 months

Overall Experience:

I started GutConnect 365 in hopes I might have less bloating, less days with stomach pain, and upset stomach. Before it was about 3-4 times a week that I had discomfort or felt like I don't want to leave the house. I could feel something going on in my lower abdomen about 5 days after taking GutConnect. It was just noticeable enough like something is working there but not uncomfortable. By day 10 I already could tell I only had 1 day of discomfort. By day 30 I think I had about 3 days the whole month that I had discomfort. The flavor is pretty okay. Not great, I definitely don't crave it, and I kind of make a face after gulping it down, but not so bad that I can't take it. I'm really happy with the results and am definitely excited about my next jar coming in!

Pros and Cons:

Easy to take
Feel better fast
Flavor is not the best

Bottom Line: Yes, I would recommend this to a friend

---

I have tried many products but this one works!

By Leslie N.

,

Carville, LA

,

Sep 29, 2020
Verified Reviewer

Length of Use: Less than 3 months

Overall Experience:

There were some foods that my stomach would not consume and all that has changed. I had the worst monthly periods, but not anymore. I was constantly bloated, but not anymore. GutConnect 365 is the greatest product that I have ever used! I am healthier, more energized, and no longer bloated. I was sluggish all the time. But now, I have more energy than ever each and every day. I feel like a new person.

Pros and Cons:

It works better than described
Dr. Pedre knows what he's doing
It gives me energy
No "cons" were specified in this review

Bottom Line: Yes, I would recommend this to a friend

---

It works

By Mora G.

,

Bradenton, FL

,

Sep 28, 2020
Verified Reviewer

Length of Use: 3–6 months

Overall Experience:

It was amazing. I had been struggling with bloating in my abdomen. I had tried every probiotic, I had tried changing my diet, and it wasn't until I started using this product that within a month I noticed my belly was flattered, I didn't have as much gas, and I was able to fit into my clothes. And I didn't look perpetually pregnant. So I want to thank you very much and tell you I will continue to use this product.

Pros and Cons:

Easy
Tastes good
Works
Price

Bottom Line: Yes, I would recommend this to a friend

---

Gut relief

By Monica T.

,

Tacoma, WA

,

Sep 28, 2020
Verified Reviewer

Length of Use: 3–6 months

Overall Experience:

I am at the end of my 3rd container. My stomach issues have really calmed down. I am rarely constipated and my body now discharges body food waste on a regular, daily schedule. I generally feel all-around better.

Pros and Cons:

The taste is really good
It is convenient and easy to include in my daily routine
It truly seems to really work
United Naturals has not been sending me any discount coupons

Bottom Line: Yes, I would recommend this to a friend

---

I've got a gut feeling

By Charly D.

,

Manhattan, KS

,

Sep 28, 2020
Verified Reviewer

Length of Use: Less than 3 months

Overall Experience:

So far so good. I usually work late and of course, eat dinner late. Well, that leads to indigestion and a few tums. Now with the GutConnect 365, I haven't been getting indigestion that bad.

Pros and Cons:

Taste
Health effects
Good product help
A little pricey

Bottom Line: Yes, I would recommend this to a friend

---

GutConnect 365 - nothing unusual

By Ron J.

,

Houston, TX

,

Sep 28, 2020
Verified Reviewer

Length of Use: Less than 3 months

Overall Experience:

I tried this product regularly but it didn't seem to work for me.

Anyway, I continued to use it for 3 months, and I didn't get the desired results.

As a result, I stopped further use.

Pros and Cons:

Tub size
Taste
Smell
Cost

Bottom Line: No, I would not recommend this to a friend

---