Hagerty Insurance Reviews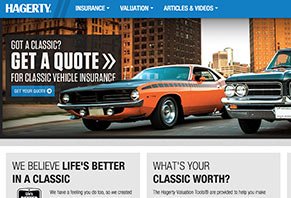 In business for more than 30 years, Hagerty Insurance specializes in providing coverage for classic and antique automobiles, boats, motorcycles, and more.
About Hagerty Insurance
Founded in 1984 by Frank and Louise Hagerty, Hagerty Insurance has specialized in insuring classic and antique automobiles and boats for more than 30 years. Today, the company claims to insure more than 700,000 vehicles, 10,000 boats, and 25,000 motorcycles worth a total of $19 billion.
Because of this, Hagerty Insurance claims to be bigger than all of their specialty competitors combined and to "protect the physical connections to the best moments in your life."
In addition, compared to their competition, Hagerty Insurance claims that many of their employees, whether in customer service, claims, or even upper management, are just as passionate about classic cars as you. In fact, Hagerty claims that 10% of their net profits go directly toward supporting the classic car community.
But despite the large number of vehicles insured by Hagerty, does this necessarily mean that they're your best option? Consider the following:
Hagerty's Insurance Products
Overall, Hagerty's Insurance products fall into 3 main categories:
Classic Car Insurance
Hagerty's classic car insurance covers:
Classic and collector vehicles (dated 1884 through 1979)
Classic trucks and utility vehicles (1989 and older)
Classic military vehicles (1992 and older)
Antique tractors (1868 - 1983)
Vintage motorcycles and scooters (1989 and older)
… and more.
From a coverage perspective, Hagerty Insurance provides guaranteed value coverage, which provides 100% of your car's insured value (as well as OEM parts) in the event of a total loss, as well as flexible usage with no fixed mileage restrictions.
The company's Hagerty Plus option is a "a comprehensive 24/7 full service roadside assistance program for lockouts, battery jumps, tire changes, emergency fuel delivery and more," that even includes guaranteed flatbed towing.
In addition to these coverages, keep in mind that Hagerty's classic auto policies are customizable to specifically meet your needs, such as if your car is in the middle of a restoration, if you travel with your car to different shows, etc.
For additional details, be sure to check Hagerty's Does My Vehicle Qualify page, as well as their Value Your Vehicle tool. If you're interested, you may also want to subscribe to the Hagerty Price Guide.
Classic Boat Insurance
Hagerty's classic boat policies cover the following types of watercraft:
Fiberglass (manufactured in 2000 or earlier)
Wooden (including originals and high-quality reproductions)
Runabouts
Utility boats
Launches
Cruisers
Sailboats
Like their auto policies, Hagerty's classic boat policies are agreed value (depending on the level of coverage you choose) and come with other helpful benefits such as restoration coverage, trip interruption coverage, and coverage for consequential damage, spare parts and tools, valuable papers coverage, and more.
In addition, Hagerty claims to provide no fixed usage limits on your boat and to provide unlimited coverage within US and Canadian waters (within 12 miles of the coastline). In fact, Hagerty claims to cover your boat even when it's trailered and being towed to another location.
If you'd like to get an idea of how much Hagerty will insure your boat for, be sure to take a look at their Value Your Boat tool.
Other Insurance Products
In addition to Hagerty's auto and boat policies, the company also offers several other types of specialized insurance.
Hagerty's Motorsports insurance offers guaranteed value coverage for your classic auto, although this only applies while it's not on the track (most insurance carriers exclude coverage while a vehicle is being raced).
Hagerty's Private Client Services (PCS) insurance is specifically tailored to individuals with large auto collections. This service includes automatic coverage for value increases, up to $2.5 million in automatic coverage for newly acquired vehicles, up to $50K for VIN theft and fraudulent titles, in addition to trip interruption coverage.
Then, Hagerty's International coverage provides insurance for overseas travel with your classic or antique auto, including shipping, touring and events, guaranteed value coverage, and more.
Finally, Hagerty's business insurance can provide coverage for auto-related businesses and groups, including restorers, builders, museums, dealerships, storage facilities, car clubs, and more.
What's the Difference Between Stated Value & Agreed Value?
Compared to many non-specialized insurance carriers, one of Hagerty's primary "claims to fame" is that they offer agreed value coverage on their policies. But what does this mean?
According to the Hagerty website:
"An Agreed Value policy (which is the same as Hagerty's Guaranteed Value policy) guarantees the policy will pay the full insured amount of the vehicle – with no depreciation – in case of a covered total loss. A stated value policy (sometimes called stated amount or maximum limit of liability) does not promise upfront to pay this stated amount. In the event of a covered total loss, it may pay less than the stated amount, as the insurer has the right to pay the lesser of your collector car's depreciated actual cash value (ACV) or its replacement cost. Also, many insurers that offer stated value policies require periodic appraisals to substantiate the insured amount, adding cost and inconvenience to the client."
In layman's terms, think about it this way: Let's say you have a fully restored 1967 Mustang GT insured for $30,000 and you're involved in a accident. After a claims adjuster reviews your case, your vehicle is confirmed to be a total loss.
If your vehicle was insured on a stated value basis, this means the company can pay "up to" $30K, but this doesn't necessarily mean that's what you'll receive after depreciation and a whole host of other factors are considered.
On the other hand, an agreed value policy means that you would receive a check for $30K to cover your Mustang in the above example.
Who Won't Qualify for a Hagerty Insurance Policy?
Although Hagerty is a very large company, this doesn't mean that they can insure every risk that comes their way. As such, there are many different factors that the underwriter will have to consider, such as:
The insured vehicle cannot be your daily driver. In fact, many of the complaints we read online (more about this in moment) claimed that all other vehicles in the household must be less than 5 years old. However, there is nothing on the Hagerty website confirming this.
In addition, while one or two minor accidents or citations are typically acceptable, no one in your household can have a DUI, reckless driving, or other serious citation.
Other Classic / Antique Insurance Carriers
Finally, keep in mind that although Hagerty may be the largest antique car and boat insurance company around, they definitely have some competition. This includes popular companies such as American Collector's Insurance, J.C. Taylor, Grundy, Chubb, and more.
What Are Customers Saying about Hagerty Insurance?
Overall, considering the number of vehicles Hagerty insures, it seems that they have a fairly positive online reputation.
With this said, on Yelp, Hagerty Insurance held an average rating of 2 stars based on 15 customer reviews, with common complaints citing difficulty obtaining policies (strict underwriting guidelines), high premiums, and rude customer service. In fact, taking a look at most online complaints regarding Hagerty, these concerns are continuously raised.
From a company perspective, The Hagerty Group, LLC based out of Traverse City, MI held an A+ rating with the Better Business Bureau with just 4 closed complaints, as of 5/18/15. There, these complaints appeared to revolve around less coverage than what the policyholder thought they had, as well as difficulty obtaining coverage after jumping through numerous hoops.
Hagerty Insurance Pricing
Like any other insurance policy, how much you'll pay to insure your car or boat through Hagerty depends on hundreds of factors, including the type of vehicle, how your vehicle will be used, accidents/citations held by you and any other household members, and much more.
With this said, Hagerty claims their classic car insurance is, on average, 43% lower than daily driver insurance you'd find through a non-specialty carrier.
If you're interested, you can obtain a quote by calling a Hagerty representative at 877-922-9701.
Is Hagerty Insurance the Right Choice for You?
Chopping to the point: Compared to more mainstream companies, such as GEICO, State Farm, Farmer's, and more, specialty insurance carriers like Hagerty will often have much stricter underwriting guidelines, so you may have to jump through some hoops before obtaining a policy (e.g. sending photos of your vehicle/the inside of your garage, descriptions of other vehicles/drivers in the household, etc.). And, even after going through all of this, you're still not guaranteed a policy, which was actually one of the most common online complaints regarding Hagerty.
With this said, you can only find out if you qualify by contacting Hagerty directly to obtain a quote. Also, you might want to consider speaking with an independent agent in your area who represents more than one specialty insurance carrier (in addition to Hagerty). This way, they can work to get you the most policy for your money.
Hagerty aka Essentia will use ANYTHING to DENY CLAIMS, BEWARE

By Andre G.

,

California

,

Nov 15, 2019
Verified Reviewer

I cannot share my full experience, however, I am a valid first party claimant and filed a claim in May 2019. It is now November 2019, Hagerty took possession of the insured property and brought IT TO A SALVAGE YARD KNOWING THAT THE YARD WOULD BE PICKING UP THE VEHICLE WITH A FORKLIFT AND DRAGGING IT WITH A TRACTOR. This was an intentional act of a Hagerty claims adjuster who still is controlling MY 1971 SS Chevelle. Hagerty took my vehicle and refused to disclose its whereabouts for 13 days. Then they refused to allow me to talk to the adjuster hence not allowing me access to see or move my Chevelle. I waited 2 months for an appointment for an EUO. EUO was conducted by two unlicensed individuals one of which threatened me with criminal prosecution, and told me to drop my claim. Now the claim has been denied in full and the vehicle is completely ruined beyond repair. So I had a classic 1971 SS Chevelle insured and protected by Hagerty that was not only denied the valid claim for any loss but Hagerty intentionally breached their policy and caused further loss during while actually claiming they were protecting the vehicle against further loss! I am filing a class-action lawsuit against Hagerty, Essentia and Markel (parent company). Hagerty intentionally devalues the insured's property to undercut premiums and thus their competition. BUYER beware, the premiums are so cheap, and their competition cannot compete. They deny valid claims because the premiums paid are in no way close enough to cover an insured's property claim and only investigate anything they believe will negate their responsibility under the policy. If you make a claim RECORD/DOCUMENT IN WRITING EVERYTHING the law allows you to. Hagerty is in the business to NOT PAY CLAIMS. Run, run, RUN away!

Bottom Line: No, I would not recommend this to a friend

---

Effortless

By Warren L.

,

San Diego, CA

,

May 22, 2019
Verified Reviewer

Hagerty is much easier than JC Whitney, who I have had for many years through Old Cars Weekly. Hagerty was recommended by a friend who has multiple collector cars insured and has never had any issues in years of service. I insured 5 motorcycles and 2 collector cars and the savings over the other companies is substantial.

Bottom Line: Yes, I would recommend this to a friend

---

Advertisement

---

Good luck if you ever have to file a claim

By Eleanor M.

,

Maryland

,

Apr 10, 2019
Verified Reviewer

Filing a claim with Hagerty has been the most difficult and insufferable process I've ever had when filing a claim. There is never an adjuster available to speak with (or any upper-level management for that matter), and when you finally do get someone on the phone, they are of no help. Hailey makes no effort to expedite the process, even after making promises to do so. It's been three weeks since I filed my claim and I am still fighting tooth and nail to get things done. I overnighted my title to ensure my total loss would get processed and my rental extended before they all disappear for the weekend, and even though they promised to process it that Friday, they pushed me off until next week. My tracking shows that my title was received at 10 am that morning, but no one felt the need to take care of it. Now I will have to return my rental this weekend while they are in possession of my original free and clear title. Hagerty has no integrity and abysmal customer service.

Bottom Line: No, I would not recommend this to a friend

---

Outrageous renewal quote!

By Richard A.

,

Nevada

,

Mar 9, 2019
Verified Reviewer

My premium went from $492 with a $0 deductible $13,000 worth of coverage to after 4 calls $705 with a $1500 deductible $15,000 worth of coverage all because I was honest and told them I purchased 22" wheels for my Impala SS. Could have lied and said nope, still has the stock wheels since they sit right alongside my vehicle in my locked garage inside my gated community. I even explained I don't care to cover the wheels I want my Impala covered. I was advised that's not a choice for me now and because I was honest I show intent to want bigger wheels so there was nothing I could do. Outrageousness is the best word I can use. People check out American Modern, American Collectors, Gundy, Safeco or JC Taylor. Hagerty is not the only company out there. Don't let them bully you into higher insurance. Thanks for reading.

Bottom Line: No, I would not recommend this to a friend

---

Advertisement

---

Did not repair windshield after shop messed up installation

By Jeffery H.

,

Conway, AR

,

Dec 22, 2018
Verified Reviewer

Hello, I'm Jeff. I had purchased collector car insurance with Hagerty not even a year ago and it cost me 290 bucks, full coverage. Yahoo, right? So, that's for two cars too. Well, one 67 Tempest untouched car and a 66 LeMans under construction sorta, to say with nearly $20,000 in parts...nice cars.

So, I woke up to find a windshield crack straight down the center of the LeMans one morning. I called Hagerty, I told them I knew a shop that did work for me before in the 90s called Linn's Auto Glass Conway, Arkansas, and I could take it there to get fixed. They said great, do that and have them fax us the invoice. They called me and told me the car was done, they sent in the invoice, and I picked up the car.

I got home, inspected the windshield, and noticed they didn't install it correctly, they didn't space the windshield properly and the molding around the glass was not meshing properly, and the windshield was too far away from molding, they didn't use the proper spaces. So, I accepted the fact people make mistakes. So under the shop's advice when I picked up car, they said don't wash it for 24 hours. Then after the wait, I washed it and it leaked above the driver's side into the car. I took it back and they applied more if this RTV, they said was the best.

Then when I left, I washed the car three days later and it leaked. They pulled apart "the molding" and found a hole where the molding clips where it is supposed to adhere to by these little nubs. But this nub was broken off. And I knew that when I first took it to them and told them here is the ribbon for the windshield and the new fasteners and the screws that take place of the nubs. Nothing was installed, just RTV, and without it even being properly spaced.

I called them after that visit and said it's leaking still. I said at this point I think the best thing to do is remove the windshield and install it properly again. The shop "bill" said no, I'll just shove some more RTV in the leak. I said yeah, sure, so I'll bring you the car and when it's done and there is no leak, call me. He said great...

I got off phone and thought I need to call Hagerty to let them know the windshield issue. I talked to Jesse, she was really nice to take all the info and let me submit the pictures to here and she on other hand was going to call the shop. Two days went by and I haven't heard anything from Jesse. I called the third day, asked for her, and was told she and some others were on lunch, and that they were getting someone else to talk to me. After a small hold time, a gentleman comes onto the phone and listens to the story as I told it to him. He comes back and tells me they already paid to get the windshield fixed and there's nothing else they can do for me. They said at this point their hands are washed from this deal.

So, bottom line is, I paid for full coverage through Hagerty for classic car insurance. I somehow got a cracked windshield, I called my insurance company, Hagerty, and they told me to take it, get it fixed, and the shop screwed up the windshield installation and it leaks even. Hagerty refuses to go any further in helping out their customer and even states they're washing the hands on the deal, and if I am not satisfied with the shop, I need to take them to court. LOL, sounds pretty lame to me. I thought insurance companies were supposed to have your back. It's like this, as an example, I go and need a paint job on the entire car, a shop doesn't prep the primer right, I get a car wash and it chips off the car, to find the shop used finger paint, LOL, and Hagerty says well sorry, we did our part. LOL, in which they didn't do their part.

Now, Hagerty also told me on the windshield thing that the reason their decision to not go further with this shop or claim I guess was because I used a shop that wasn't on their approval list. LOL, well, shouldn't they screen where I was talking the car to first hand? I would have. LOL.

So here it is my plans. I'm am going to get the shop to do it right once and for all. Because if they don't, I can sue them, and I've never sued anyone before. But check this out, which I find funny as heck, my insurance through Hagerty for one year full coverage was 250 bucks or so. The shop charged them $500 to do the work, not to mention the shop told me $230 before I decided to use my insurance, LOL, but charged Hagerty $500.

So, now after all this, do you think Hagerty has my back? LOL, I think they don't. And do you think they would in the future? I think that's another no. Well, that can be expected right! LOL, and just because these businesses can and have acted like this, I will ensure that someone (I guess the shop in this instance) is held accountable, and I'm pretty sure I could go after Hagerty.

Now, I am thinking I should have just paid like I was going to do out a pocket to get windshield fixed? Well, the same thing would have happened I suspect, but I wouldn't have this nasty taste in my mouth about Hagerty. I paid $250 for the insurance, they paid $500 to fix the windshield and lost the customer because they refuse to enforce or hold the shop accountable. So, I already got one up on Hagerty. Or that shop does anyhow because I still have a windshield in my $15,000 worth of parts 66 LeMans, LOL. I just got off the phone with StateFarm, my other insurance, who said that wouldn't have happened if I had them still and that they will insure my cars for the same price and same coverage. So, see ya, wouldn't want to be ya, Hagerty...

Bottom Line: No, I would not recommend this to a friend

---

Hagerty SUCKS! Find another insurer when you can.

By Mark S.

,

Franklinton, LA

,

Sep 16, 2018
Verified Reviewer

I have discussed this claim with multiple agents, including Senior Adjustor Adam Hogan, who accuses me of being a hammer looking for a nail, when it is Hagerty which reneged on the stated coverage I had been told was acceptable BEFORE the driver wrecked my car. BEWARE of doing business with Hagerty! It has been my personal experience that they will not hesitate to attempt to use any excuse to save them money, even though they already have YOUR money.

Is Haggerty fraudulent or a scam? In my experience, they are both.

Bottom Line: No, I would not recommend this to a friend

---

Okay UNTIL you make a claim

By David P.

,

Huntsville, AL

,

Jul 12, 2018
Verified Reviewer

My classic pick-up truck was totaled due to no fault of my own. Hagerty even collected from the other guy's insurance company. They were very very slow in dealing with me, and it was over two months before the total amount was ever mailed to me. They always wanted some other type of form, one thing after another. I still have two other classics insured with them, but I am definitely going to change companies soon because I don't want to ever have to go through this process again if I should ever have to make a claim again.

Bottom Line: No, I would not recommend this to a friend

---

Unwilling to be accommodating

By Adam L.

,

St. Louis, MO

,

May 27, 2018
Verified Reviewer

After having a policy with this insurance company for now going on five years and always paying it in full, I called to see if a payment could be done instead of paying it in full this year. To go back to 2013 when I first got the policy, I asked the same thing. I was told that because I was a new policyholder and had no history with them that I had to pay the policy in full. So having no choice, I agreed and did so.

Irrelevant, but this was on the heels of arguing with them about the value of my boat. They absolutely would not insure it for the value that I what I wanted. We eventually settled on a valuation, less than I wanted, but what could I do.

Now five years later I called to ask the same question about possibly making a payment on the policy, being that I've been a customer with them for five years now, and I was told NO.

Bottom Line: No, I would not recommend this to a friend

---

They DO NOT pay claims!

My car was hit due to no fault of my own. The at-fault driver was ticketed, but his insurance fell short of my stated value. I turned to my own Hagerty policy after my agent advised me to do such.

Hagerty has done nothing to help me for nearly two months. Now they keep asking for ridiculous documents, pure craziness. I have cooperated fully, but it is to the point that you give one thing and they want ten more. I have had to refer them to my attorney at this point to even begin to make any sort of sense of it. It is my belief that they will never pay me due to all of the reviews I have read. It seems to be what they do as a customary business practice; collect premiums for coverage that you think you have, but you're really not covered at all.

This company is a complete FRAUD! I have cancelled my entire policy with them since no insurance is better than thinking you have something you really don't! They will steal $11,000.00 from me, and my car is totaled, and they've collected premiums for 5 years! Buyer beware!

Bottom Line: No, I would not recommend this to a friend

---

Lack of customer service commitment

By Dan OKelly

,

Denton, TX

,

Oct 12, 2017
Verified Reviewer

I had a '51 Chevy, '52 Chevy, and a '40 Ford all insured with Hagerty, including roadside assistance.

After leaving a car show, the '52 died and wouldn't restart. We called Hagerty and not only didn't they have a record of our roadside assistance, they had no record of our insurance! And I was holding the insurance card they sent me! Not even the supervisor could find us in the records!

After 3 hours in nowhere under the hot sun, we got a tow at our expense. TWO WEEKS later, Hagerty found a record of us and offered a $50 gift card. They refused to do anymore even under threat of me canceling. So I did. Now I have Grundy.

Don't waste your time with Hagerty.

Bottom Line: No, I would not recommend this to a friend

---

Walk the other way

By Jeremy Stone

,

Atlanta, GA

,

Mar 17, 2017
Verified Reviewer

This is a terrible company. My dad had two Cutlass 442s covered by them for a year. One was stolen and they never paid him. Their trick is that they are going to try to make it seem as if you had something to do with it. They ask you for all types of documents, recorded statements, phone records, and never pay you. Run the other way. Fast.

Bottom Line: Yes, I would recommend this to a friend

---