Handy Heater Reviews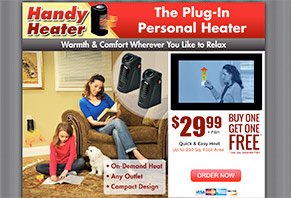 Handy Heater is a plug-in personal space heater that uses thermo-ceramic design to take up less space and provide more warmth just about anywhere in your home.
About Handy Heater
Using its thermo-ceramic design to reduce size, while still providing "incredible" whole-room heat, Handy Heater plugs into any outlet and provides warmth for pennies a day. The process is so easy that it works over three steps:
Plug Handy Heater into any outlet.
Use the digital control to set your ideal temperature.
Handy Heater's two-speed fan will circulate air and keep the room warm until it shuts off using an automatic timer.
This way, you can quickly heat just about any room in your home (up to 250 square feet), including bathrooms, offices, dens, basements, and more, and still save money on your heating bill. Handy Heater's compact design even means that you can take it with you when you travel.
Spring might be nipping at Old Man Winter's heels, but there are still enough cold days ahead to think about low-cost heating options.
In your quest for effective and inexpensive warmth, is Handy Heater worthy of being on your radar? Or, are there other options you should consider first? We'll help you make the decision.
To start, let's find out if Handy Heater is revolutionary, or just a slightly redesigned version of products already available.
What Does Handy Heater's Competition Look Like?
First, we should unpack the term "thermo-ceramic design." Although it sounds high-tech, it just means that Handy Heater "generates heat using a heating element of PTC (Positive Temperature Coefficient) ceramic."
Ceramic heaters are extraordinarily commonplace, and you'll find them in all shapes and sizes at most stores with a housewares section.
In fact, ceramic heaters are so common that you can see how many options you have by typing the phrase "personal ceramic heater" into any search engine.
Granted, they might not all be designed exactly like Handy Heater, but they could provide more value for the money.
Add to this that many of these other options feature long cords—in contrast to Handy Heater, which has to be plugged directly into an outlet—that could provide more adjustability when you're trying to get the ideal amount of heat.
Speaking of which, how much heat will you get from Handy Heater? Will it be economical?
How Much Heat Can You Expect Handy Heater To Provide?
If you searched online for personal ceramic heaters when reading the previous section, you probably noticed that they come in a wide range of wattages; anywhere from 200 to 1,200+. Handy Heater falls at the lower end of this range with 350 watts.
According to this wattage to BTU calculator, this means that Handy Heater puts out 1,193.5 BTU. And since every square foot of a room requires about 10 watts to heat, this means that in order for Handy Heater to warm a 250 square foot room (as the website claims), it would need to put out 2,500 watts, or 8,525 BTU per hour.
So, while Handy Heater might be a solid option for temporarily warming a small area, such as a cozy bathroom or a personal workspace, it might not be your go-to for heating anything much larger than 100 square feet (or so) of your home.
And even if Handy Heater can warm up 250 square feet of space, it's easy to imagine that it won't be quick.
Pro tip: Also, consider that the layout of the area you're trying to heat can make a huge difference as well. For example, if you're heating a small bedroom but have furniture in the way, this could greatly impact Handy Heater's performance.
Or, if you're attempting to heat a small corner of a large room (such as a den), a lot of your heat can be lost to the rest of the room.
How much will the warmth provided by Handy Heater cost you?
Our First-Hand Handy Heater Test and Review
We thoroughly tested the Handy Heater to see if it delivers on its claims. To find out everything we experienced, watch the video below:
For more product tests and shopping tips: Click here to subscribe to HighYa's YouTube channel.
Is Handy Heater's Price Snuggle-Worthy?
One plug-in Handy Heater will cost you $29.99 plus $8.99 S&H. Like many ASOTV products, you'll be able to purchase a second unit at checkout for an additional $8.99 S&H.
Note: All Handy Heater orders are subject to a $1 web service fee.
Handy Heater comes with a 30-day refund policy, less S&H charges. Did you take advantage of the BOGO offer? If so, this means that by the time you ship them back to the company, you could lose almost as much in S&H charges as you'll get as a refund.
Nonetheless, you can request a refund by calling OnTel Products customer service department at 844-463-1125.
Given all of this, what's the bottom line about Handy Heater?
Is Handy Heater a Convenient, Affordable Way to Heat Your Home?
Handy Heater is up against some pretty stiff competition from more mainstream manufacturers, many of which are priced about the same, while offering a lot more wattage (read: heating power) for the money, along with longer cords for more customizable heating solutions.
Finally, Handy Heater doesn't appear to be UL Classified, so this definitely raises questions about safety and long-term reliability.
Taking all of this together, if you're willing to roll the dice on S&H to give Handy Heater a try, we think it might be ideal for a small enclosed area with no airflow blockages, such as a small bathroom or bedroom (as long as no furniture is in front of Handy Heater's fan), as well as a personal office space.
As long as you keep these things in mind, you just might be satisfied by its performance.
---
Handy Heater

By Paul Swansen

,

Putnam Valley, NY

,

Dec 7, 2016
Verified Reviewer

Overall Experience:

This is the best little heater I ever bought. The electricians say it's a fire hazard, but I told them to prove it. I have 2 and am going to buy 2 more.

Bottom Line: Yes, I would recommend this to a friend

---

Overall Experience:

My wife and I live on a boat and there always has been a dampness in the bedroom and main bathroom. We installed one in each room and they worked perfectly. They draw very little electricity and most of the time we have them on the low setting. Perfect product that works amazingly well. Highly recommend this product.

Bottom Line: Yes, I would recommend this to a friend

---

Advertisement

---

Common sense

By Mike Ferraro

,

North Haven, CT

,

Mar 20, 2018
Verified Reviewer

Overall Experience:

You need common sense to believe any of the "As Seen On TV Items" are going to perform as they advertise. I purchased this Handy Heater in a grocery store on clearance for $7.50. I bought it to use in the basement to speed up paint drying time on my model car projects, and it works just fine. The timer setting helps out for my use. Great deal and I would never expect this tiny little heater to heat up a room!

Bottom Line: Yes, I would recommend this to a friend

---

I love mine!

By Selena S.

,

Montana

,

Jan 20, 2019
Verified Reviewer

Overall Experience:

I don't know what product you all purchased, but I love my Handy Heater. I was giving it as a gift and it gets so hot I have to shut off! I have it plugged in where I work from my desk in an addition added to my home that has no insulation, and my feet are like popsicles, but this little heater keeps me thawed and heats me up. I have to shut it off after working to keep it from heating the room due to with the heater running the room gets TOO hot for both! I love, love, love mine and have recommended them to friends!

Bottom Line: Yes, I would recommend this to a friend

---

Advertisement

---

Works great in a small RV bathroom

By Wolfgang C.

,

Midwest, USA

,

Jan 8, 2019
Verified Reviewer

Overall Experience:

Although it cannot be expected that a 350w heater could successfully heat a room to a comfortable temperature, we have found that Handy Heater is the perfect heater for providing a comfortable temperature in the bathroom in our RV. Due to the heater's size, it can be placed to be unobtrusive. We have recommended the heater to other RVers.

Bottom Line: Yes, I would recommend this to a friend

---

Works great

By Melissa E.

,

Minnesota

,

Dec 26, 2019
Verified Reviewer

Overall Experience:

Tried it in a somewhat larger room and it heated up the room effortlessly. And with the adjustable thermostat, you can set it for your needs. I think it's a lot safer than a space heater.

Bottom Line: Yes, I would recommend this to a friend

---

Would help...

By Anita

,

Montevallo, Alabama

,

Dec 19, 2016
Verified Reviewer

Overall Experience:

It would help and saved me money to know ahead of time that you can't use it on the bathroom plug that has a "reset/test" button. I purchased mine for the bathroom and can't use it. Even in everything I read about it not one single word was said about this. It works great but you need to tell people this little problem.

Bottom Line: Yes, I would recommend this to a friend

---

It's ok, but not much

By Steve D.

,

New Freedom, PA

,

Dec 13, 2018
Verified Reviewer

Overall Experience:

The Handy Heater is good for your bedroom but not for basement living room or rec room. Put one in your bedroom before you go to bed and it works. But not for the whole house. I bought this at Walmart for $29.

Bottom Line: Yes, I would recommend this to a friend

---

Very noisy

By Pamela Embury

,

Cheshire, United Kingdom

,

Nov 10, 2017
Verified Reviewer

Overall Experience:

I bought two of these heaters as I thought they would come in handy to give a boost to the conservatory when the heating just comes on. I noticed they are very, very noisy. I thought at first it was just one, but when I plugged the other one in, that was just as noisy as the fan being so loud. If I have one on in the lounge downstairs, I can hear it upstairs in the bedroom, even with the TV on. You could not sit and watch TV in the same room with it on, unless you wanted to have the television on really loud. Pretty disappointed with this item. I bought from JML after seeing the TV advert.

Bottom Line: No, I would not recommend this to a friend

---

Overall Experience:

I ordered three paid, plus three free, but didn't receive what I thought I was getting. I wanted the one with the thermostat because the one they displayed on TV had a thermostat, but I got six without a thermostat because I didn't say "yes" when they ask me if I wanted to "upgrade?" I didn't know I needed to "upgrade" or I would have.

By the time "I" paid the shipping to send them back, I may have gotten back a few dollars overall per heater. I sent them back because I may have missed something that told me I needed to upgrade to get the "upgrade." I never saw one without a thermostat until I got mine in the mail.

Bottom Line: No, I would not recommend this to a friend

---

False Advertising. Heater is a piece of crap. No star rating for junk.

By Pamela Adams

,

Oak Park, Michigan

,

Dec 2, 2016
Verified Reviewer

Overall Experience:

Purchased Handy Heater 11-15-16 from local hardware store. It does not live up to claims made by company, unable to heat a 9x9 room.

11/21/16 talked to Danny B., a Las Vegas customer service supervisor, refused to have me mail product back to them and get a refund. The product is not broken or malfunctioning, it just doesn't live up to the advertisement. They want me to take it to the store it was purchased from, that would be fine if there was a defect in the product.

It's a piece of crap please don't purchase this product since it was falsely advertised. I want Ontel to refund my money. If you see this product in any store just keep walking, these people are hustling the customers. I will be notifying the Better Business Bureau.

Bottom Line: No, I would not recommend this to a friend

---