Hartford Insurance Reviews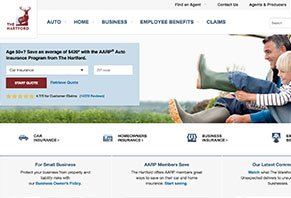 Hartford Insurance specializes in a broad variety of property & casualty and commercial policies, such as home, auto, business, group benefits, and more.
About Hartford Insurance
In business for 200+ years, Hartford Insurance offers a wide variety of insurance policies to their customers, all aimed at one goal: to help you protect what's important.
This includes car, homeowners, and business insurance, as well as group benefits, and even assistance with mutual funds.
Are you an AARP member? If so, you stand to save even more with Hartford Insurance's auto and home policies, as AARP has promoted and endorsed The Hartford for more than 25 years.
Even if you're not an AARP member, you might like the fact that Hartford Insurance was named one of the World's Most Ethical Companies by eight years running by Ethisphere.
Regardless of how long they've been in business, who they partner with, or what kinds of awards they've won, you're here to find out one thing: Is Hartford Insurance right for you? That's exactly what we'll help you answer in this review.
Hartford Auto Policies
Typical Coverage on a Hartford Auto Policy
Bodily Injury (BI) – This covers any physical harm you cause to another person while driving. Coverage can be shown as split limits (e.g. 300/300, which means $300K per person/$300K per accident) or as a single limit (e.g. $500K per accident).

Property Damage (PD) – Similar to BI, except that it covers damage to personal property. PD limits are almost always displayed in a single format.

Medical Payments – Medical payments can cover you for—you guessed it—medical expenses, in the event you're injured while driving, regardless of who's at fault.

Uninsured-Underinsured Motorist Bodily Injury (UM/UIM) – As the name might lead you to believe, UM/UIM covers you if you're hit by a driver without any insurance in place, or who has insurance in place, but it's not enough to address your injuries.

Personal Injury Protection (PIP) – PIP is generally considered a more extensive version of Medical Payments, since it also covers lost wages, physical and occupational therapy, psychiatric expenses, and more. In many instances (depending on the state where you live), you'll find either Med Pay or PIP available.

Collision – Compared to most other coverages, there's no limit listed for collision coverage, which pays out in the event your vehicle collides with another vehicle or a fixed object. Instead, your overall rate is based on your deductible (the amount you must pay out of pocket before the coverage kicks in).

Non-Collision (also known as Comprehensive, or Other than Collision) – Comprehensive basically covers everything not covered under Collision, except what's specifically excluded by the policy.

Misc. Coverages – This includes towing, rental car coverage, personal umbrella coverage, and more.
Benefits of a Hartford Auto Policy
Hartford Insurance claims you'll be able to tailor your coverage to obtain an ideal premium, and that once your policy is active, your premium will be locked in for one year (something the company calls 12-month rate protection).
Hartford auto policy customers will also receive access to a variety of other benefits, including RecoverCare, which will pay for "essential home services" you can't complete on your own, such as cleaning, maintenance, and so forth if your injuries aren't covered by Medicare or health insurance. And as long as you continue paying your premium and maintain an active license, your policy will remain in effect.
If you're in an accident and your vehicle is deemed a total loss, Hartford Insurance will replace your vehicle if it occurs within 15 months or 15,000 miles (whichever comes first), without deducting for depreciation. If it's not considered a total loss, you'll be able to use one of The Hartford's 1,600+ authorized repair centers, and your repairs will be guaranteed for the life of the car (or the lease).
If you choose their Advantage Plus program, your Hartford auto policy will also include first accident forgiveness (it won't impact your premium), disappearing deductible, single deductible for simultaneous losses (such as two vehicles damaged at the same time, or a vehicle and your home), deductible waiver for not at-fault accidents, and more.
Hartford offers policyholders discounts for multiple policies (such as a renter's or homeowner's policy), anti-theft devices, airbags, driver training, and more. Looking to insure another type of vehicle? The Hartford also writes classic car coverage, RV, ATV, boat, golf cart, and snowmobile insurance!
The Hartford Home Policies
Typical Coverage on a Hartford Home Policy
Coverage A – Dwelling: This covers the home itself against a specific set of perils (or, against everything except excluded perils, as with an all risk policy). The number shown in this section is generally the maximum your policy would pay out, unless endorsements are added to increase this amount by a certain percentage (more about this below).

Coverage B – Other Structures: This covers detached structures, like garages, fencing, pools, decks, etc.

Coverage C – Personal Property: If you could pick up your house, turn it on its side, and shake it, anything that could fall out would be considered personal property. Common examples include furniture and clothing, while less common examples include cabinetry and countertops.

Coverage D – Additional Living Expenses: If you normally spend $250 per week on essentials, but had to spend $500 per week after moving out due to a covered loss, this additional $250 could be covered under your policy.

Coverage E – Liability: If someone is injured on your property (due to a slip and fall accident, for example), your liability coverage might kick in to cover the loss.

Coverage F – Medical Payments: Medical payments often cover immediate medical expenses, regardless of liability, such as ambulance rides, emergency room visits, and so forth.
Benefits of a Hartford Home Policy
Like with their auto policies, Hartford Insurance's homeowners, renters, and condo policies can be tailored to match your budget. If you also have a Hartford auto policy in place, you could receive up to a 20% discount on the home policy. Additional credits include renewal, retiree, and protective devices.
Depending on the coverage package you choose, you Hartford homeowner's policy could also provide full replacement cost (up to 125% of the value of your home), ID fraud coverage, personal injury liability (libel or slander) coverage, a disappearing deductible, green rebuilding coverage, assisted living care coverage, and more.
You might even be able to waive up to $5,000 of your deductible in the event of a loss totaling $25,000+ through Hartford's ProtectorPLUS Zero Deductible benefit.
In the event of a claim, The Hartford's "streamlined" claims process can also assist with finding a reliable contractor in your area, valuing your property, inventory assistance, emergency clean up services, and more.
Hartford Business Insurance
According to their website, The Hartford has been insuring businesses for more than 200 years, and today insures more than 1 million businesses.
To do this, the company provides a range of policies and coverage types that can be tailored to meet your needs, including a business owner's policy, worker's compensation, commercial auto and flood, general liability, surety and fidelity bonds, employment practices liability, and more.
Hartford Insurance Employee Benefits
Finally, Hartford Insurance offers a variety of employee benefits programs (e.g. group life and accident, group disability, absence management, etc.), voluntary benefits like disability, critical illness coverage, and life insurance. They can even help you manage your annuities and mutual funds!
Given the length of time they've been in business, along with the different types of insurance they provide, it might be easy to believe that customers are pleased with The Hartford. Is this necessarily the case, though?
Are Customers Happy with Their Hartford Insurance Policies?
If you search online for Hartford Insurance reviews, you'll quickly be met with a wide variety of opinions. On one hand, some of the most common compliments cited by Hartford policyholders include solid customer service and claims departments, big savings compared to previous carriers, and easy application process.
On the other hand, whether you're browsing Credit Karma, Consumer Affairs, or anywhere else, you'll find the most common Hartford Insurance complaints tend to revolve around premiums that increased (we'll actually delve deeper into this topic in the Pricing section), poor customer, and unfavorable claims decisions.
From a company perspective, The Hartford Financial Services Group, Inc. had an A+ rating with the Better Business Bureau at the time of our research, despite 247 closed complaints (as of 4/19/16).
Speaking of premiums, how much will you pay for your Hartford Insurance policy?
How Much Do Hartford Insurance Policies Cost?
Even if you and your neighbor lived in identical houses and drove identical cars, you could each end up with very different homeowner's and auto insurance premiums. Why? Primarily because these are risk-based policies; meaning, the greater the risk you pose to the company, the higher your premium will be.
For example: Let's say you had an at-fault auto accident two years ago, while your neighbor's water heater broke a few months ago, causing a $10K water loss. In this instance, you'd probably pay a higher auto rate than your neighbor (assuming their record was clean), because statistically, you represent a greater risk. Conversely, they'll probably pay a higher homeowner's premium, assuming you also haven't had any losses.
Enter Multivariate Rating
For decades, rating insurance policies was so simple that it could largely be done by hand. If someone had a loss within X amount of time, their premium increased by Y.
In more recent years, however, most insurance companies have moved toward something known as a multivariate rating system. In a nutshell, this is an extremely complicated method of rating a policy, as each individual piece of information can affect every other piece of information on a policy in unique ways.
And while this system allows for ultra-personalized premiums, it can also mean that changing a seemingly inconsequential piece of information (the year you purchased your home, for example) can drastically affect the premium.
Pro tip: This also includes not at-fault accidents. So, don't be surprised to see your premium increase if you've had a NAF accident within the past 3-5 years. Also, this means your premium can increase at renewal if you have a NAF accident mid-term, so be careful out there!
What's the point in covering all of this? Basically, there's no way to know what you'll pay for a Hartford Insurance policy without contacting an agent and requesting a quote.
Is The Hartford the Right Insurance Company for You?
The insurance industry is highly regulated, and companies are required to obtain rate approval (whether increasing or decreasing rates) with the Department of Insurance prior to putting them into effect.
Often times, companies will purposely increase rates for exposures that they might be too "heavy" on, such as those with an at-fault accident within the last year, water claims over $30K, etc.
This way, any risks meeting their updated criteria will be priced disproportionately​ higher than the competition, causing many policyholders to abandon ship. This process can also be reversed if a company is looking to gain specific types of risks.
The point is that, depending on the type of risk you represent, you may or may not find Hartford Insurance's rates to be competitive today. Depending on the company's strategy though, you might obtain a quote a year from now and find that they're highly competitive.
In either case, often the best course of action is to locate a local agent who specializes in writing policies with several top-tier carriers.
This way, you'll have a personal connection with someone who's concerned about meeting your insurance needs, and who can obtain quotes from many (or all) the companies they represent in a matter of minutes.
Ultimately, whether or not Hartford Insurance is the right company for you depends on hundreds of unknowns, but if your agent finds their rates to be competitive, you'll certainly join a long line of satisfied customers and become part of a company that's been in business for over two centuries.
Poor customer service and help

By Nadine G.

,

New York

,

Nov 18, 2019
Verified Reviewer

I am a renter whose apartment got flooded by a nor'easter "bomb" storm that allowed a great deal of water to come into my apartment. The agent I was working with locally said I was covered. I had to throw things out, stay in a hotel, and get rugs cleaned, etc. She said to save my receipts. The national headquarters called me and said because it came in through the roof (and they felt the roof wasn't kept up well enough by the landlord) that I wasn't covered. And to make it even more upsetting the woman who called from there sounded like an automated machine reading from some script. She spoke in a monotone voice. She had no feelings at all. She didn't say that she was sorry for what I was going through or sorry about anything - just that a report was sent in by independent contractor (that they paid) and he found that the wind (during a nor'easter!) didn't have anything to do with the rain coming in - so I wasn't covered. This company is slow to get back to you and even slower to care. Don't sell insurance if you don't want to help people in need.

Bottom Line: No, I would not recommend this to a friend

---

I'll starve before they pay.

By Timothy C.

,

Buffalo, NY

,

Sep 22, 2019
Verified Reviewer

I have disability insurance through the Hartford. Only took one page of information to sign up and my money. Then when I needed to use my benefits it takes 10 pages of information and third parties (my doctors) hand written response to collect any pay from them. They don't care that I'm starving.

Bottom Line: No, I would not recommend this to a friend

---

Advertisement

---

Auto and homeowners insurance coverages

By JOHN G.

,

Michigan

,

Aug 29, 2017
Verified Reviewer

For a lengthy number of years, I was a policy holder of both auto and home owners insurance through Hartford because I was able to take advantage of discounts offered on insurance rates as an AARP member. Over time I found that my rates increased on both coverages due to certain aspects, such as my credit history. I recently found very similar coverage for substantially less and saved a thousand dollars annually on combined coverage for home and auto with a well-known competitor.

Bottom Line: No, I would not recommend this to a friend

---